Best Hiking Boots of 2021
Nobody knows hiking boots like Backpacker. We sent testers around the world with the latest boots and shoes to see how they perform in varied conditions. These 10 rose to the top.
Heading out the door? Read this article on the new Outside+ app available now on iOS devices for members! Download the app.
Our best hiking boots are featured in Backpacker's 2021 Gear Guide. For the full product reviews—and a ton more perks—become an Active Pass member today. We take our responsibility to provide readers with fair and accurate gear advice seriously, and when you make purchases based on these reviews, we may earn a commission.
How We Test Boots
Footwear is among the hardest backpacking gear to test. The best hiking boots for expedition-style hikes may be too heavy for a quick day outing—or vice-versa, depending on the hiker. Each person's foot and stride are unique, and what feels comfortable to one person might cause immediate blisters in another. That's why, for footwear testing, we put multiple testers in each sample pair to suss out subjective feedback: Does this trail runner not lock down the heel, or is it just better-suited to folks with higher-volume feet? We also put footwear through every type of terrain, weather, and trip length possible. We consider performance across mud and scree, through rain or heat, and on dayhikes and weeklong treks. If a pair of shoes or boots excel across multiple hiking scenarios—or does one thing especially well—we deem it worthy of a review.
What Makes the Best Hiking Boots
Above all, the best hiking footwear is the one that fits your foot. No matter how well a boot has tested on others, you won't benefit from any of that performance if you get blisters and can't hike in it. That being said, the best hiking footwear does have some objective benchmarks: If it's a medium-weight or heavier model, it should provide ample support for your foot over long days and under heavy pack loads. It should protect your feet from rocks and roots, and from precipitation if you're hiking in a wet climate. In lighter models or trail running shoes, it should allow you to move down the trail nimbly, and breathe well. In all cases, it should provide the traction for moving securely and confidently down the trail.
The Best Hiking Boots and Hiking Shoes
Need a little more support, or planning to tackle tough terrain? These pairs have sturdier soles for heavy use—but that doesn't mean they'll weigh you down.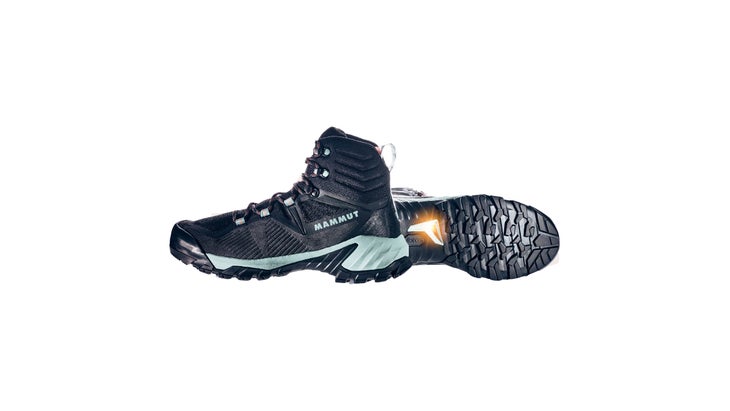 Best All-Around: Mammut Sapuen High GTX
For big miles and heavy packs, a boot with a little extra structure is a godsend, but you wouldn't want to wear it for dayhikes if it's too stiff. We'll happily take the Mammut Sapuen anywhere, though. This boot is supportive yet light, thanks to a corrugated sheet of shape-retaining steel that acts as a combination shank and rock plate. $189 Buy Now / Read the Full Review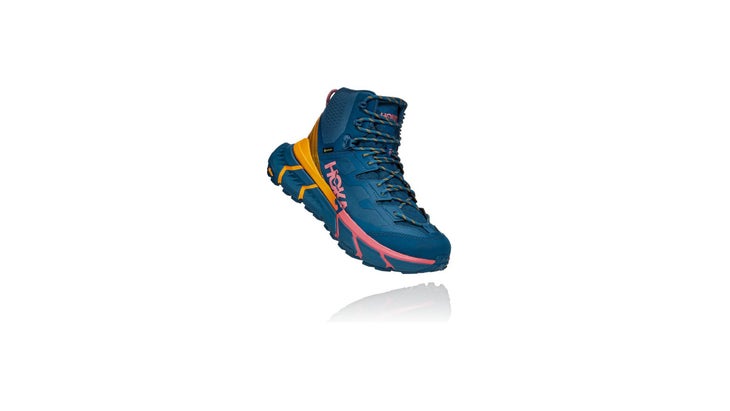 Best Cushion: HOKA ONE ONE TenNine Hike GTX
It's a boat! (No, a water ski!) It's a spaceship! (The Millennium Falcon!) Whatever it is, the HOKA ONE ONE TenNine Hike is relief for your achy knees and feet. This futuristic-looking boot is equipped with 33 towering millimeters of foam composite in the midsole (the boot has a 4-millimeter drop), as well as a gigantic heel that sticks out nearly 2 inches behind the foot. The cushioning and massive landing pad soften heel strikes on every step. $250 Buy Now / Read the Full Review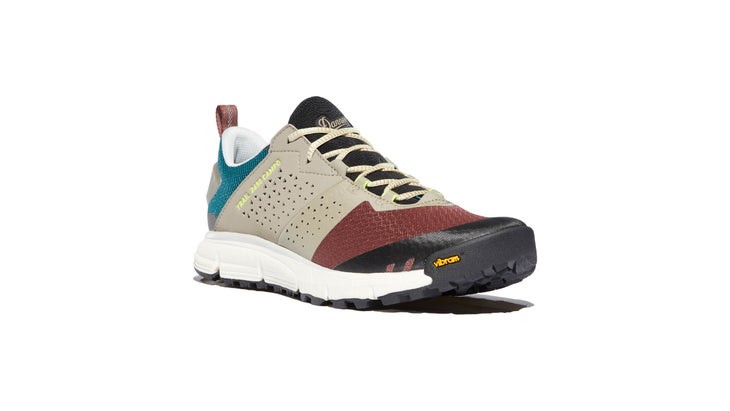 Most Breathable: Danner Trail 2650 Campo
Hot, dry conditions call for a special type of hiking shoe. Designed with the southern section of the Pacific Crest Trail in mind, the Danner Trail 2650 Campo kept our feet from overheating on hikes in the Tetons and climbing approaches in Idaho's arid City of Rocks, largely thanks to a lightweight perforated upper. We suffered no blisters even when temps climbed as high as 90°F, and the Campo dried quickly after stream crossings thanks to water-draining ports in the midsole (no waterproof membrane on this shoe). $140 Buy Now / Read the Full Review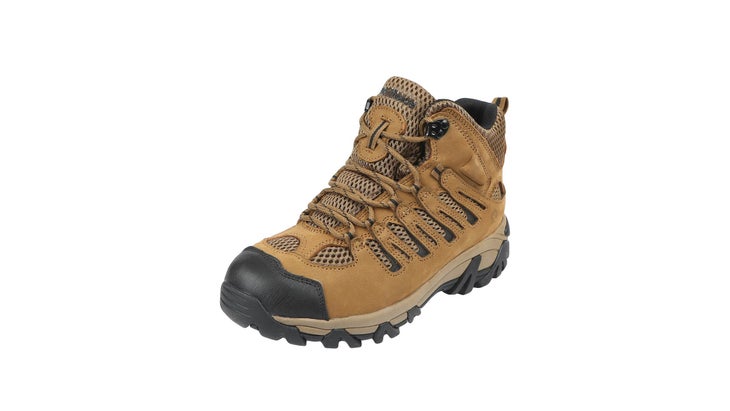 Best Value: Northside Stimson Ridge Mid WP
If a pair of sub-$100 boots can take a season of beating in the Alaskan wilderness without falling apart, it passes muster. We hiked around 130 miles in the Northside Stimson Ridge, and found its nubuck-and-mesh construction surprisingly tough—the seams never loosened and the mesh never failed—even after dense bushwhacking around Bird Creek. $85 Buy Now / Read the Full Review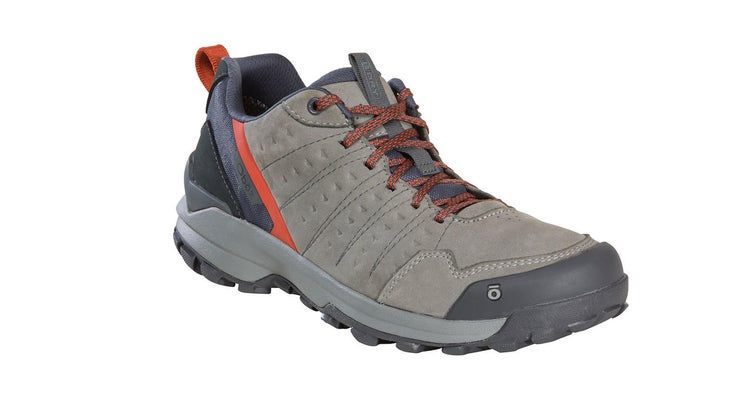 Most Versatile: Oboz Sypes Low Leather B-DRY
If we were only allowed to own one pair of hiking shoes, the Oboz Sypes Low would be our pick. We took it on both long trips and dayhikes, through the airport and up peaks, and it never let us down. This shoe's low profile and roomy fit make it comfortable for daily activities (plus, it doesn't look too "hiker-y" for off-trail use). $145 Buy Now / Read the Full Review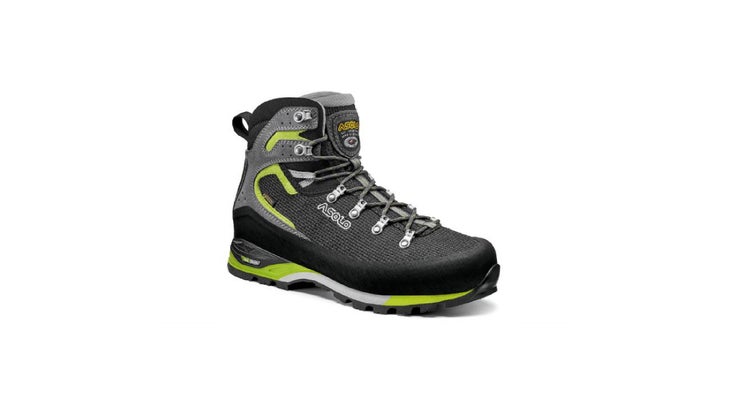 Best Support: Asolo Corax GV
You'd be forgiven for mistaking the Asolo Corax for a mountaineering boot, at least until you put it on. Combining the support and ruggedness of an alpine boot with the lightweight comfort of a backpacking shoe, the Corax was our go-to for big trips under a heavy pack. On a four-day trek through Montana's remote Absaroka-Beartooth Wilderness, we never worried about our 50-pound load on off-camber trails or scrambling up trailless, rocky slopes to Lake of the Clouds. $355 Buy Now / Read the Full Review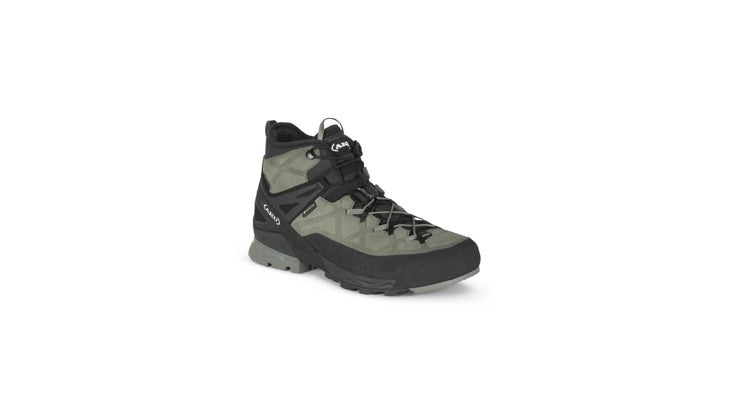 Best Fit: AKU Rock DFS Mid GTX
Double the laces, double the security: That's the equation the Aku Rock DFS Mid is designed around. It has standard lacing like most boots do, but also adds a second, smaller quick-lace atop the main one so wearers can easily snug up on terrain that requires precision. The second set of laces also transfer tension into straps along the sides of the shoes, which hugged our feet from all sides. $180 Buy Now / Read the Full Review
The Best Trail Runners
These stripped-down shoes will help you move fast and stay comfortable.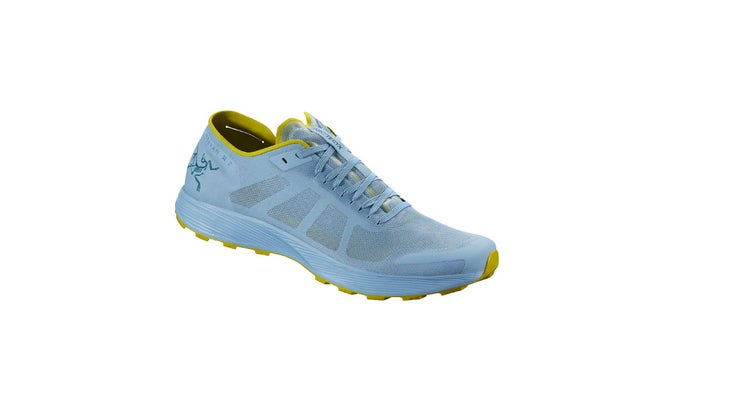 Lightest: Arc'teryx Norvan SL 2
We've found minimalist bliss: Wearing the 12-ounce Arc'teryx Norvan SL 2 is almost like going barefoot, if your foot had a sticky, tough outsole. With a mesh upper that one tester says felt like he was wearing sandals, an integrated mesh insole, and a 12-millimeter stack height (with a 7-millimeter drop), this shoe is as pared down as anything else we tested this year. $160 Buy Now / Read the Full Review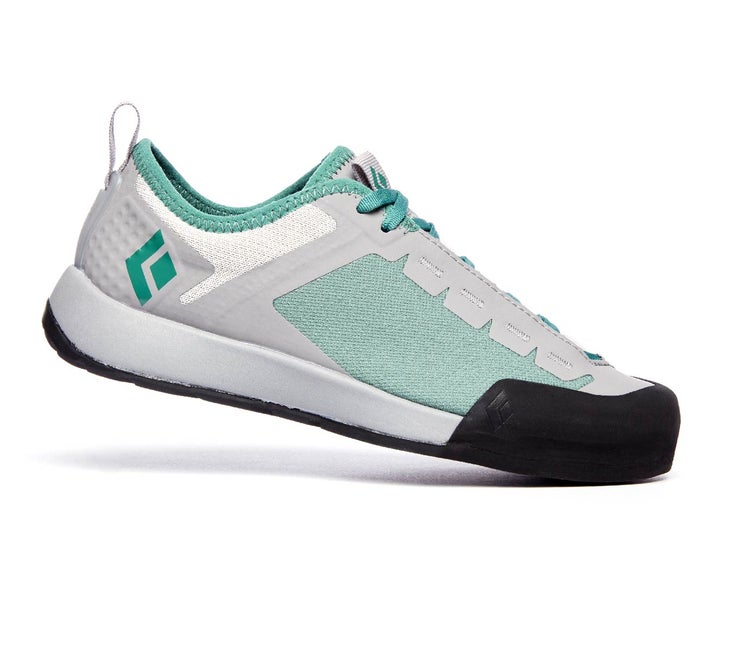 Best for Scrambling: Black Diamond Fuel
For hikes that head into rocky, slabby terrain, think of the Black Diamond Fuel as an underfoot security system. "I was comfortable wearing this shoe on scrambles that bordered on actual rock climbs," one Northeast guide says, crediting Black Diamond's sticky, proprietary rubber outsole with impressively bridging the gap between rock traction and trail grip. $170 Buy Now / Read the Full Review
The Best Camp Shoe
Stay comfy around the fire with this new pick.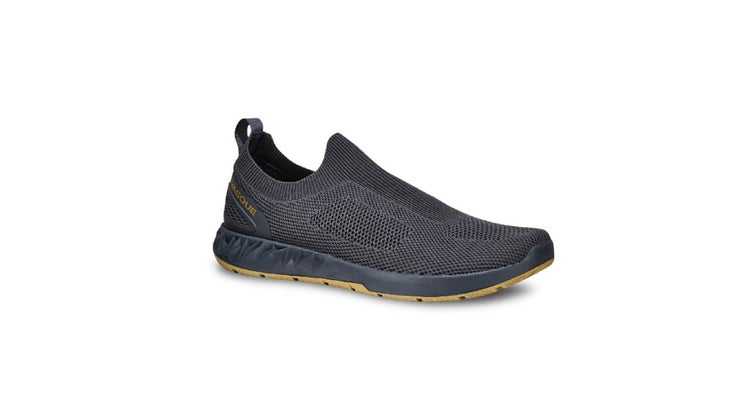 Vasque Satoru Moc
Light and compressible enough to disappear in your pack and airy enough for you to forget you're wearing it, the Vasque Satoru Moc is our new favorite camp accessory. Its pillowy foam midsole and proprietary rubber outsole kept us protected while we navigated rocks and roots around camp in Washington's Alpine Lakes Wilderness, even as we did a little light scrambling on the cliffs behind our tentsite. $100 Buy Now / Read the Full Review
How to Pick the Best Hiking Boots
When you're picking out a hiking boot, there are a few things to keep in mind. First of all, consider shopping in a store rather than shopping online. Every brand of hiking boot fits differently, and the last thing you want is to buy a boot that fits wrong and discover it on the trail. Try on several different pairs with a loaded pack; if you didn't bring a pack of your own, borrow one from the store you're visiting.
Second, make sure you move around to get an idea of how the boots will actually function when you're using them on the trail. Walk up and down stairs. If the store has an incline board—a small piece of wood, sometimes with some climbing holds on it—try walking up and down on it. You're looking to see if your heel lifts up (this is a recipe for blisters) or if your toes bang against the front of the footbox (a sure sign that the boot you're wearing is too big.)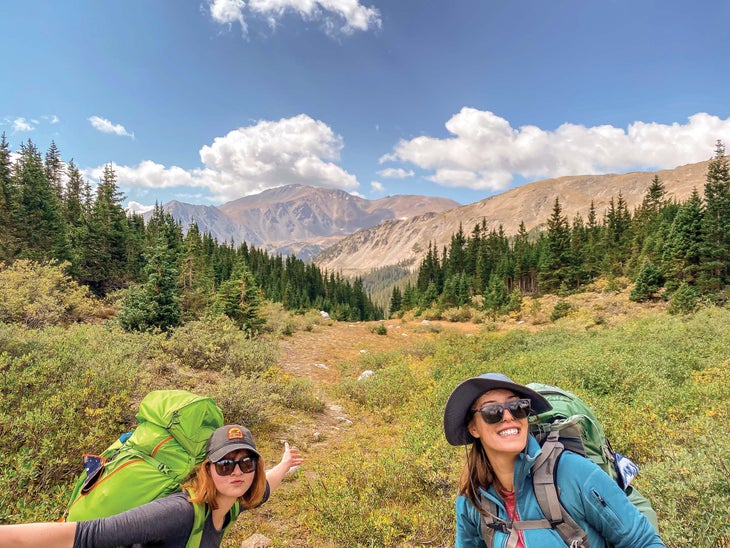 Find a Boot That Matches Your Style
There are as many different kinds of hiking boots and hiking shoes. To pick which you need, think about what you're going to use it for.
Trail runners are the lightest hiking shoes that you could use on the trail. With flexible mesh uppers and lightweight EVA midsoles, they're best suited for dayhikes, but they can also work for lightweight backpacking trips (just watch how much you have in your pack, and take care not to turn your ankle on rough terrain.) Some minimalist trail runners are favorites of thru-hikers on long trails like the Appalachian Trail and Pacific Crest Trail. If you're going to be hiking on rough trails, look for a model with a rock plate, which will keep your soles from getting bruised.
Hiking shoes are a middle option between the firm support of hiking boots and the lightweight of trail runners. This low-cut footwear is usually a bit beefier than a trail runner, boasting a stiffer sole and often a tougher upper made of thicker synthetic material or leather. On the other hand, they may not be as suited to moving fast.
Hiking boots are the toughest, most supportive option, with a lace-up mid- or high-top cuff, deep lugs, and a durable upper made of leather, synthetic, or a combination of the two. This is the best bet for backpackers who will be carrying a heavy pack or trying to move across rough terrain. A higher cuff may also provide some protection from snakebites in rattler country.
Trail running shoes, hiking shoes, and hiking boots all come in waterproof and non-waterproof versions. Most hikers will do better with a non-waterproof hiking boot or hiking shoe, which will vent better and dry more quickly than one with a membrane. The exception is hikers who do most of their trips in wet climates like the Pacific Northwest; they may want to consider a waterproof-breathable hiking boot. Other, more specialized footwear choices may be your best bet in certain circumstances. Hiking sandals are great for hot weather, river walks, and other treks where you might expect to get wet frequently. For difficult or technical climbs above treeline where you're using crampons, a stiff-soled pair of mountaineering boots do the trick.
Boot Maintenance and Care
Hiking boots get dirty—that's just a fact, especially when you're taking them on muddy or dusty trails. Knowing how to clean your boots will extend their life and protect your investment. Resist the temptation to toss your hiking boots or hiking shoes in the wash, as you risk wearing out the upper or even warping the shape of the footwear. Instead, clean off mud and dirt from the outsole of your hiking boot or hiking shoe with a stiff brush (it may be easier if you let the mud dry first.) Using a rag, clean the upper of your boot with a solution of warm water and dishwashing soap or specialized boot cleaner. If your hiking boots or hiking shoes are made of leather, you can use a specialized leather conditioner to keep it soft and supple, but don't use mink oil or similar products meant for work boots, as they're too powerful for the flexible leather used in hiking boots.

Best Hiking Boots: Conclusion
No matter your foot shape, hiking style, or the nature of your next trip, there's a hiking boot or shoe out there that's the right fit for you. The best hiking boots are the ones that match your style, but also your budget. Our picks above cover a wide range of fits and activities, but you should still try on a pair before you buy it. Once you find the right style, though, the trail is yours to explore in comfort.