First Look: Aventure Step-Through Ebike
With 4" fat tires, 28 mph top speed, and 45-mile average range, Aventon's Aventure Step-Through brings the versatility of ebikes to the great outdoors.
Gone are the days when backcountry travel has to be accomplished on the power of your legs alone. The Aventure Step-Through Ebike from Aventon is bringing the accessibility and versatility of ebikes to the great outdoors.
The bike sports a 45-mile range on a single charge, thanks to ​​a rear hub motor that peaks at 1130W and 720Wh battery, so it's more than capable of tackling extensive all-day adventures or providing reliable stress-free transport for multi-day camping trips. An ample 80mm front suspension lets you handle rocks, sticks, and other rugged terrain with ease, while burly 4-inch fat tires can tackle everything from pavement to trail, and integrated fenders keep you free of dust, mud, and other grime. The 28-mph top speed means it more than keeps up on small-town roads, coming in handy for quick jaunts to a local grocery to grab extra food, firewood, or other supplies.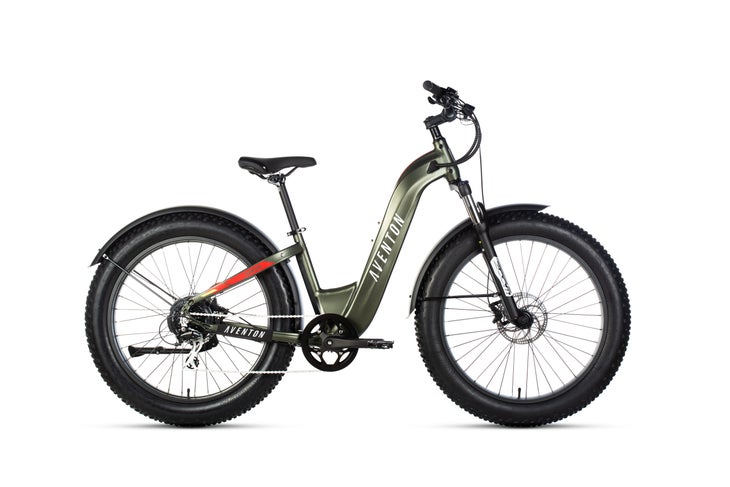 This variant on their popular Aventure Ebike also features a "step-through" frame (a frame without a top-tube or bar across the upper linear portion of the bike). This provides more space for stowing bulky dry bags when bikepacking or running errands, plus in the case of a minor crash you're less likely to get entangled or injure yourself on the frame. 
A variety of affordable Aventon accessories, such as front and rear racks for luggage, a high-powered headlight, and a compact trailer to tow your little ones (or tents, sleeping bags, food, packrafts, and other extra gear that won't fit on the bike), add to the Aventure Step-Through's versatility.
All told, the Aventure Step-Through is a standout choice to spice up your next camping trip, whether as a reliable method of transport around camp and town, an exertion-free intro to bikepacking, or a just a go-to partner to explore local trails.