Every Hiker Has a Piece of Gear They'll Never Give Up. This Is Mine.
Gear keeps getting lighter and better—but there are some products we refuse to give up. Three hikers explain why.
Heading out the door? Read this article on the new Outside+ app available now on iOS devices for members! Download the app.
I've never been overly sentimental about my physical possessions. If I hang onto clothing or other outdoor gear, it's usually because I think it might need it in the future, not because I'm emotionally attached to it. I tend to have a steady rotation of items in my gear closet, and since I'm fairly utilitarian and streamlined with my gear, I don't often keep old equipment. 
The exception to this rule is a nondescript Black Diamond Spot headlamp from 2011. It was a gift from my dad, shipped to a General Delivery address when I was living in Yellowstone National Park. Before that summer I had been strictly a day hiker; I had just started venturing into short overnights. I'd bought my first backpacking setup as well: a Therm-a-Rest ProLite sleeping pad, a bulky Mountain Hardwear zero-degree sleeping bag, and a five-pound Kelty Gunnison two-person tent that I strapped to the bottom of my 70-liter Gregory Deva pack. 
My dad has always been one of my main inspirations for getting outdoors and exploring the backcountry. When I called him from my new home in a cabin in Wyoming and told him about my first backpacking setup, he was thrilled I was following in his footsteps. A week or so later, I got a package in the mail. He had gone to the local gear shop and bought me my first headlamp, a simple, utilitarian model perfect for a first-timer. The light unit was a little clunky and it had one button that functioned as an on-off switch, with no other brightness settings. It wasn't rechargeable, and had no flood, strobe, or red light settings. It probably had around 250 lumens, and the batteries lasted forever. 
In the years since, I've become notorious among my friends for losing headlamps. But somehow, this one has survived more than a dozen moves across three different states, countless backpacking and camping trips, and who knows how many gear purges. It's been demoted a few times: This was my go-to headlamp for my first few years of backpacking, then it was my car-camping headlamp. It had a good run as the spare headlamp I keep in my truck, and because the batteries last so long, it's still the light I grab when I work overnight jobs. 
Still, I can't seem to let it go. I've given away all of the other gear from my original backpacking setup—plus countless other items since then—but this has stayed in my gear closet. No matter how light or powerful headlamps get, I'll probably keep it forever.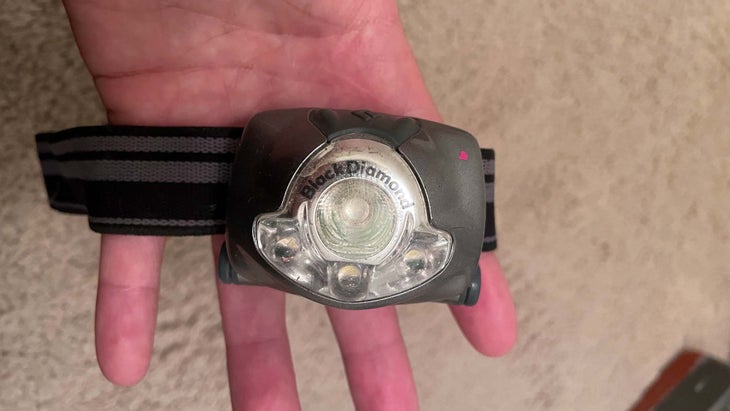 I know a lot of other avid backpackers who hang onto some of their first pieces of gear, whether those items make it onto every trip or just have a special place on the gear shelf.  My friends who work in the outdoor industry space often have access to the newest, lightest gear, but for writer Katie Kommer, her "one item" is the original Jetboil.  It was the first thing she bought when she started working at REI. 
"I have lighter options but I always take that one," she says. "I thought it was the coolest piece of gear ever."
When I asked another fellow outdoor writer Andrew Marshall if he had anything sentimental that transcended the offerings and perks of his gear-testing job, he immediately sent me a picture of a red Victorinox Swiss Army Knife. 
"My parents gave it to me for my birthday one year," he said. "Many ultralighters just carry a razor blade or a very minimalist knife, and I carry this." His knife is engraved with solvitur ambulando, a Latin phrase that means "it is solved by walking" and could describe his dedication to the trail.
As we get further into our years of backpacking and the miles stretch out behind us, holding onto special pieces of gear is a way to maintain links with our past. While I agree that the memories and experiences are the real keepsakes, for me, there's something special about this one slightly clunky, maybe outdated headlamp that I've kept through all the years, all the moves, and all the upgrades. 
My elderly Black Diamond Spot might not make it into my pack for every backpacking trip, but it's special to me for two reasons. It was part of my initial setup, and it still reminds me of what it was like to be a beginner, just venturing out into the woods for the first time. It was also a gift from someone special to me, a memento that when I hike, I'm not just having fun, I'm carrying on a family tradition too. And above all, it's reliable in the way that a lot of old gear is: Even today, when I pull it out of my pack, it still turns on without a fuss.