The Best Water Filters of 2023
We dunked 19 filters across the country, from silty streams in California's Agua Caliente Creek to clear lakes in Washington's Olympic Mountains, to find the year's best.
Heading out the door? Read this article on the new Outside+ app available now on iOS devices for members! Download the app.
Water filters are one of those pieces of gear you don't mess around with—there are few worse outcomes to a backpacking trip than a surprise parasite. To ensure you don't bring home an uninvited guest, we dove deep into this year's offerings to find water filters that not only do their primary job of keeping you healthy, but do so quickly, efficiently, and with minimal finger numbness.
The Winners at a Glance:
Best Squeeze Filter: LifeStraw Peak Collapsible Squeeze 1L Bottle with Filter
Best Press Filter: Grayl UltraPress Ti Water Filter & Purifier Bottle
Best UV Purifier: Waatr HydroCap
How We Test
Number of Testers: 5
Number of Products Tested: 19
Number of Gallons Filtered: 100
Dirtiest Water Source: Scummy lake water from Ward Lake in Olympia, WA
Our team of 5 testers evaluated 19 filters and purifiers in four states across a variety of water sources to find the best water filters for this season's gear guide. We tested in locations ranging from city reservoirs and established campsites to backcountry mountain lakes. Water quality varied from clear streams in Olympia, Washington's Capitol State Forest to silty and scummy lake water in the Central and South Cascades. We looked at variables including flow rate, ease of use, packability, durability, and weight in order to separate the very best filters from the average or gimmicky.
Meet Our Lead Tester
Dan Hu grew up in Hawaii and has lived in Washington State since 2013. A healthcare professional by training, he spends his free time hiking and backpacking in the Pacific Northwest and writing about his adventures.
Our Test Team
Jonathan Daley: Civil engineer
Matt Gardner: Emergency medicine pharmacist
Zoe Gates: Senior editor, Backpacker Magazine
Emma Veidt: Assistant editor, Backpacker Magazine
The Reviews: The Best Water Filters of 2023
Best Squeeze Filter: LifeStraw Peak Collapsible Squeeze 1L Bottle with Filter ($44)
Weight: 3.9 oz
Pros: Durable, packable and lightweight, several filtration modes
Cons: No handle for scooping water
Squeeze filters have long been favored by backpackers for their simplicity, affordability, and packability. One common complaint? Durability. The LifeStraw Peak Squeeze challenges that stereotype as one of the most robust squeeze filters we've ever used. We found that we could confidently twist, squeeze, and crush the tough thermoplastic polyurethane (TPU) material used for the bladder body (which comes in 650 mL and 1 L sizes) without any concern of failure, unlike competitor products made of Mylar foil or polyethylene. The bladder's seam runs down the middle instead of the sides, which mitigates weak points while squeezing. The Peak Squeeze folds (or rolls) down to palm-size for packing, and easily lashes to the outside of a pack—or, in the case of one tester, onto his stand-up paddle board—thanks to a burly cap loop. The Peak Squeeze filter can be seated internally to reduce bulk in a running vest-style pocket, but it also threads externally to the bladder and other standard water bottle mouths, which allowed testers to squeeze out the last few drops of water. (The filter can also be used on its own as an emergency straw if the bladder fails.) We found flow rate to be just average, between one and two liters-per-minute, but the Peak Squeeze resisted clogging better than comparable models. Despite repeatedly filtering water from mountain streams in Olympic National Park and the muddy shores of Washington's Cedar Lake, we never reached a point where the filter was truly impaired. An included threadable syringe makes backflushing a piece of cake, although it also means you have to carry an extra accessory everywhere you go. Another ding? While the rigid loop was big enough for a carabiner, it wasn't large enough to use as a handle for dragging the mouth through water while submerged, making filling the bladder a challenge in lakes and streams. With a few accessibility tweaks, the versatile, durable Peak Squeeze has the potential to be the best squeeze filter on the market.
Bottom Line: An affordable, durable squeeze filter for solo hikers and backpackers.
Best Press Filter: Grayl UltraPress Ti Water Filter & Purifier Bottle ($200)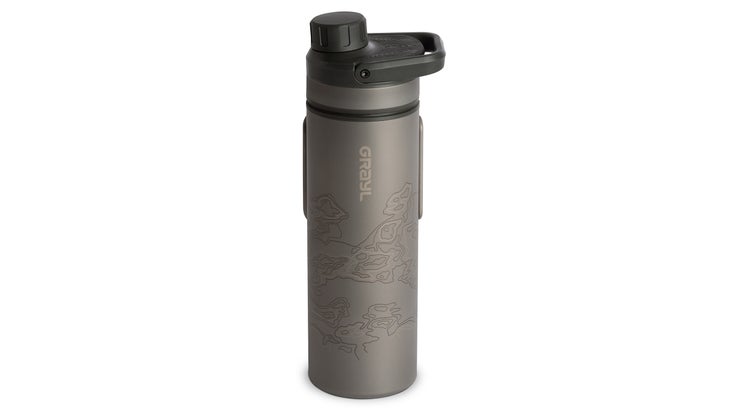 Weight: 14.1 oz
Pros: Good-looking, electrolyte-compatible, three-in-one design
Cons: Pot function not particularly practical, heavier than original, expensive
Grayl, progenitor of the press-style filter, hasn't changed its fundamental design much since it first came to market in 2016. The brand's new titanium version, however, offers a deluxe, multi-featured variation on the tried-and-true model. For starters, the UltraPress Ti simply looks good with its sleek, laser-etched topographic design. But the Ti offers more than just a shiny exterior: A silicone one-way valve allows users to add electrolytes or flavorings to the water without compromising the filter medium. That means you don't have to worry about accidentally "backflushing" lemon-lime powder into your snazzy $25 filter. And thanks to two fold-out handles, it can easily pull double-duty as a Sierra cup, shaving a few ounces off of your pack weight. (It is 1.6 ounces heavier than the regular UltraPress, however). The all-metal construction also means that, with the filter cartridge removed, the Titanium essentially becomes an elongated pot for use directly on a stove or in a campfire. (Grayl sells matching cooking accessories, like a pocket stove and a titanium cookware set.) Using such a tall, narrow vessel has its drawbacks, however. "Unless you have your setup on a completely level surface, it's a bit precarious to balance a stove," reports Olympia, Washington tester, Matt Gardner. It also takes roughly 5 minutes and 30 seconds for the full 550 milliliter-volume of water to come to a boil—and easily spills over the narrow rim when full. Careful cooks looking to minimize the amount of gear they bring into the backcountry might find the imperfect setup worth babying, however.
Bottom Line: A good-looking option for backpackers who want a water filter, mug, and cookpot all in one and are willing to compromise cooking capability for that convenience.
Best Ultraviolet Purifier: Waatr HydroCap ($99)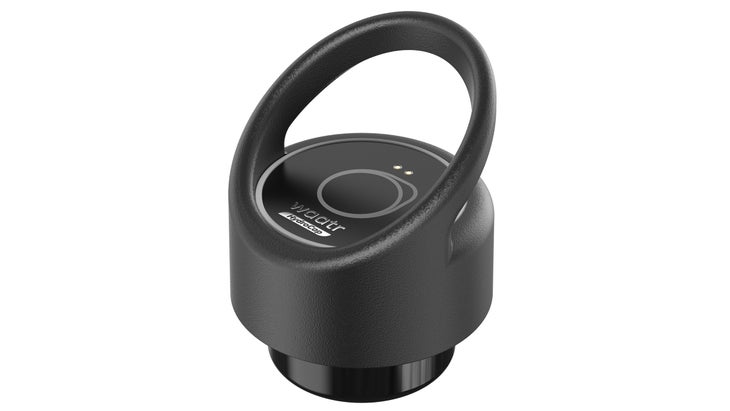 Weight: 4 oz
Pros: Compatible with many bottles, easy to use
Cons: Only works with sediment-free water sources
One of the drawbacks to Waatr's previous UV-style purifier is that it only fit the brand's narrow-necked water bottles. This year, the lifestyle-focused purification company solved that problem with the HydroCap, which is compatible with a host of 2.28-inch wide-mouthed bottles including those from Hydro Flask, Klean Kanteen, and ThermoFlask. Like its predecessor, the CrazyCap, the HydroCap is dead-simple to use. A push of the glowing top button activates two UV-C LED lights that purify pathogen-filled water, with options to activate a "Normal" 60-second cleaning, or a double-dose "Pro" cleaning. An optional "self-cleaning" function activates the LEDs for 15 seconds every hour to prevent funky odors, although testers noted that it's not a particularly good use of battery life. (The HydroCap also deactivates when it senses that the cap has been removed from the bottle, which keeps users from accidentally irradiating themselves.) Testers averaged 38 sterilization cycles before needing to recharge with the portless, magnetic USB charger, or about 75% of the 50, 1-liter treatments you'll get out of the gold-standard UV purifier, SteriPEN. But Dan Hu, Outside's water filter category manager, found the HydroCap to be a more convenient way to purify water compared with SteriPEN-style devices. "It easily screws onto many bottles and is a no-fuss option. There's no need to dig through your pack or pocket, and the operation is as simple as pressing a button." And as with any UV-purifier, the HydroCap doesn't actually filter particulates out of dirty water, nor can it be used in any water source that isn't clear—like a running mountain stream. To the end, we think the HydroCap is best reserved for international traveling, where viruses are of particular concern, and on day hikes or short backpacking trips where pristine, running water sources are guaranteed.
Bottom Line: A versatile, easy-to-use option for day hikers and travelers who primarily use wide-mouthed bottles and thermoses.
How to Buy a Water Filter
When selecting a filter, the main factors are the number of people you'll be providing water for, how many days you'll be hiking, and how dirty your water sources are likely to be. For an adventure with just 1-2 people, a pump, squeeze, or press-style filter will get the job done. Squeeze and press-style filters are also great for day hikes, or as a secondary backup filter thanks to their light weight and/or water bottle compatibility. Inline filters, which sit between your bladder and your drinking hose, are easy to use while in motion, but cumbersome to deal with for cooking or groups. Larger groups may want to consider a gravity filter, which allows you to filter more water at once. Lastly, UV-based purifiers (which don't filter particulates) can be a quick and easy option if you'll be near sources of clear water. They're also a critical piece of equipment if you'll be traveling out of the country where viruses are a concern. No single filter can cover every situation, but fortunately, there are lots of options to choose from.
When it's time to upgrade your gear, don't let the old stuff go to waste–donate it for a good cause and divert it from the landfill. our partner, Gear Fix, will repair and resell your stuff for free! Just box up your retired items, print a free shipping label, and send them off. We'll donate 100 percent of the proceeds to The Outdoorist Oath.