First Look: Petzl's Latest Hybrid Headlamps
Featuring dual-compatibility for power and 50:50 burn time, these two headlamps are ready for any adventure
Petzl's hybrid headlamps are the best of both worlds, with a HYBRID CONCEPT that is compatible with either a CORE rechargeable battery or three AAA batteries. So with the ACTIK CORE and TIKKA headlamps, you can plug in before setting out on any adventure with plenty of juice—and when it comes to multiday jaunts, AAA batteries have you covered for the long haul. 
Whether you're relying on a full charge or fresh batteries, both headlamps operate with a 50:50 Brightness to Burn Time ratio—a point of pride for Petzl. This ratio is an industry benchmark that measures a headlamp's brightness over time. Of course, burn times depend on a lot of factors, but you're in good hands with a Petzl headlamp. The ACTIK CORE's and TIKKA's 50:50 ratio means each headlamp retains 50 percent of its brightness halfway through its burn time—more than you might see from other brands.
Although these headlamps offer similar core features, their differences lie in the details. Here's a look at what you can expect from each of these headlamps in the Petzl lineup.
ACTIK CORE
For serious adventurers who want high performance and peace of mind after the sun goes down, the ACTIK CORE is the go-to headlamp. At just 88 grams, this lightweight but sturdy device puts out up to 600 lumens and includes a variety of features that make it ideal on any after-dark run, hike, or mountaineering mission.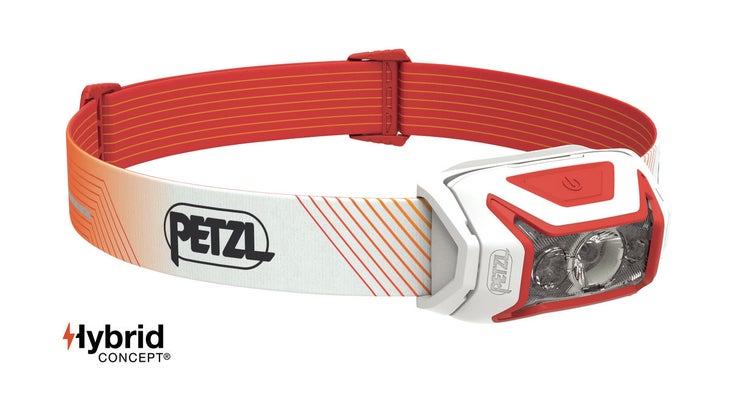 The headlamp's rechargeable battery uses a standard type-B micro USB port and performs well even in low temperatures. AAA batteries (not included) offer a slightly longer burn time at a lower brightness. No matter which you choose, a built-in indicator shows the battery level so you won't be left guessing how much life is left.
The ACTIK CORE comes with a storage pouch that can turn the headlamp into a lantern. Two beam patterns—flood or mixed—allow you to see things up close or far away. The light itself sits on a Full Tilt Lamp Body, so you can point it exactly where you need it. With just one button you can easily control all aspects of the lamp: turn it on and off, switch among three brightness levels, or use the red-light mode. And you don't need to worry about the headlamp turning on accidentally when it's packed away: the lock feature guarantees you'll use precious battery life only to light the way.
TIKKA
Everything you need and nothing you don't—the Petzl TIKKA is a simple, packable headlamp perfect for camping, hiking, traveling, or keeping on hand at home. Priced at just $30, this budget-friendly headlamp comes with AAA batteries but is compatible with Petzl's CORE rechargeable battery (sold separately) so you can upgrade to meet your needs.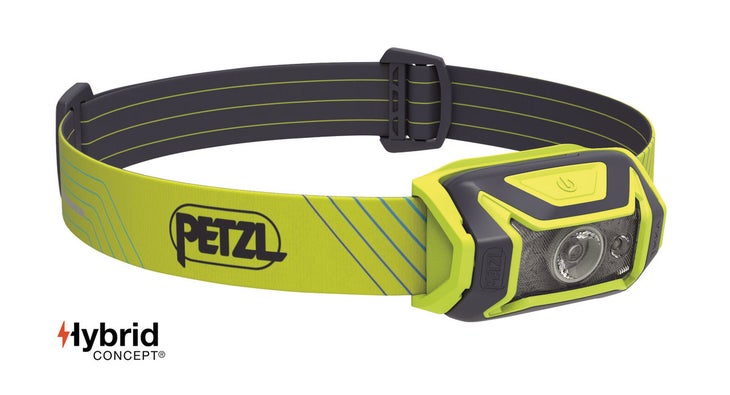 The TIKKA headlamp delivers 350 lumens (with an increase of 100 lumens when you add a CORE battery) and the same 50:50 Brightness to Burn Time ratio as the ACTIK CORE. With Petzl's single-button design, easily switch among three brightness levels—proximity, movement, and distance—plus a red light.
Weather-resistant and equipped with a detachable and washable headband, the TIKKA holds up to all kinds of dusty, sweaty, or muddy adventures. Separate mounting accessories let you attach the lamp to a helmet or bike, and its Full Tilt Lamp Body lets you point it wherever you need to see.
---
Petzl is committed to creating safer places. For those who work and play in the vertical and dark worlds. For those who want to access their inaccessible everyday. Sharing, educating, building. Together.