These 4 Emergency Headlamps Weigh Nothing and Could Save Your Bacon
Getting lost on the trail after dark is a nuisance. As two dayhikers in Big Sur discovered this month, doing it without a headlamp can become an emergency.
Heading out the door? Read this article on the new Outside+ app available now on iOS devices for members! Download the app.
From GPS units to e-readers to cameras to emergency beacons, your cell phone can replace a bevy of different gadgets. One thing it can't sub for: your headlamp.
Just ask the two dayhikers who SAR personnel rescued near Big Sur last weekend. After soaking their clothes in a series of river and creek crossings, the pair became lost in the dark. With no headlamps, they attempted to navigate by the weak beams of their phones' flashlights. Within hours, one of the phones' batteries had died, and the other was rapidly dwindling.
At some point in their lives, most hikers will find themselves unexpectedly still out after dark. It can happen because they got lost, started later than they meant to, or just moved more slowly than expected. Being caught by dusk isn't necessarily an emergency—it's the same trail at night as it was during the day, after all. As long as you have the layers to handle the chill and are mindful of falls, fast-moving rivers, and other hazards, it doesn't have to be anything more than a minor inconvenience. 
Get caught without a light, though, and things can quickly take a turn for the worse. Without a proper headlamp or flashlight, it can be almost impossible to navigate; hikers also risk injury if they can't see the trail, no matter how technical. As the hikers rescued on Saturday discovered, cell phone lights, which burn through battery and are designed to be effective at short range, will only help you so far.
Still, forgetting your headlamp (or bringing a dead one) is a common mistake. I've reviewed lighting for Backpacker for most of the past decade, have a minimum of three headlamps and a lantern floating around my car at any given time, and even I'm not immune. The most foolproof solution I've found is to stash a headlamp in my daypack, and never take it out.
You can save the 1,000-lumen head cannons for night skiing: There's a whole lineup of ultralight, emergency headlamps on the market that will give you just enough shine to navigate safely without taking up any meaningful amount of space or weight in your pack. Below, we share four that passed muster with Backpacker's testers on their own (planned and unplanned) night hikes.
Those two Big Sur hikers ended up finding a spot with enough cell reception to call 911 before their phone lights sapped the last of their batteries. Rescuers from the Monterey County Sheriff's Office SAR team and California State Parks managed to locate them and hike them out—with the help, California's KSBW News notes, of a few extra flashlights they lugged in. Take our advice: It's easier and faster to just bring your own.
"Most emergency headlamps are just that—last-ditch lights for when things go wrong. With the Flare, Black Diamond designed a lamp that's compact enough that it can slip into a breast pocket, but capable enough to provide all the light we needed on dawn patrols and short overnights." Weight, 1 ounce; max output, 40 lumens; 2 lithium CR2032 batteries
Petzl e+LITE,
$30

"Headlamps don't get smaller than this classic mini model, which runs for up to 15 hours on two watch batteries. Its 40-lumen output is enough to keep you moving after dark, and its tiny size disappears into a pants pocket." Bonus: The e+LITE can sit in storage for a full decade without losing power. Weight, 0.9 ounces; max output, 40 lumens; 2 lithium CR2032 batteries

Prefer to go rechargeable? The Bindi's onboard battery charges via a micro-USB cable. It's also by far the most powerful headlamp of the bunch, putting out a peak of 200 lumens on high with a maximum beam distance of 40 meters. That makes it bright enough to use as a daily driver if you're looking for a one-headlamp quiver. The elastic cord is more compact than a flat headband, and easy to adjust thanks to a single toggle. Nice touch: The central pivot on the headlamp housing makes fine-tuning which direction its pointing easy. Weight, 1.2 ounces; max output, 200 lumens; rechargeable
S.O.L. Venture Headlamp ($23)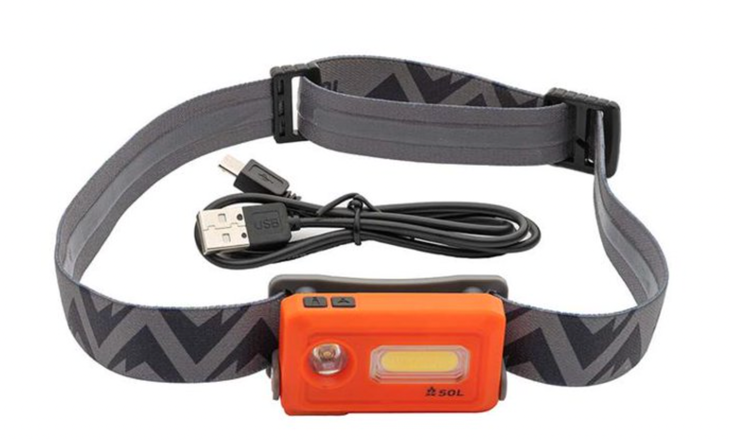 We're not going to lie: This headlamp felt cheap out of the box. With its lightweight plastic construction, it has a decidedly toylike vibe. But when we put it to the test, the Venture delivered. With an output of up to 150 lumens and a maximum 20 hours of battery life, this headlamp is a solid performer that's strong enough for regular use, and it's affordable too. Four magnets hidden in the back of the housing let you stick it to any ferrous metal for use as a lantern. It wasn't the absolute lightest in the test, but it was featherweight enough that we could have forgotten we were wearing it. Weight, 1.5 ounces; max output, 150 lumens; rechargeable