The Best Cold-Weather Apparel for Getting Your Kids Outside This Winter
Keep your little ones warm and dry with this cold-weather kit.
Heading out the door? Read this article on the new Outside+ app available now on iOS devices for members! Download the app.
Getting outdoors with little kids in the winter is the stuff of Hallmark memories—think children happily making snowmen, mastering the art of the pizza on the bunny hill, and tromping around the woods with snowflakes on their eyelashes. At least, that's what we parents assume, until we try it without the proper kids' winter attire. Then, those idyllic snowy moments can degrade into a whining, crying, nose-running fiasco before you even lose sight of the car. Let the parent who's never had to listen to a child's inhuman shriek over cold fingers throw the first snowball. 
But outfit the littles in the right apparel, and those magic moments are indeed possible. We tested the latest kid gear on a winter's worth of snowy adventures from the Cascades to the Midwest to find the pieces that truly keep kiddos warm, dry, and happy. Which, of course, means the whole family is happy.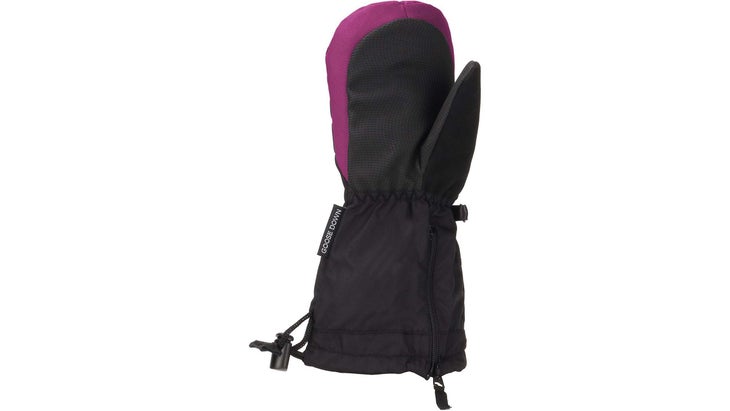 Gordini Children's Snugget Mitt
For warmth, mittens beat gloves, er, hands down—and these kept our 3-year-old Montana tester's digits toasty through sledding, skiing, and snow fort-building. A cloud of 600-fill insulation (a mix of goose down and feathers) maintained coziness down to 16°F on the Rendezvous Ski Trails in West Yellowstone. "Sometimes I'd check my son's hands and be surprised by how warm they were in these," says a parent. And more importantly, a waterproof/windproof insert under the woven nylon shell defied even wet slush, keeping little hands dry. Unlike lesser mittens that let snow sneak in at the wrist, these feature an extended nylon cuff that stayed tucked into jacket sleeves and a cinchable drawcord; a cuff zipper makes putting them on easy. XXS-XL
Buy Now; $35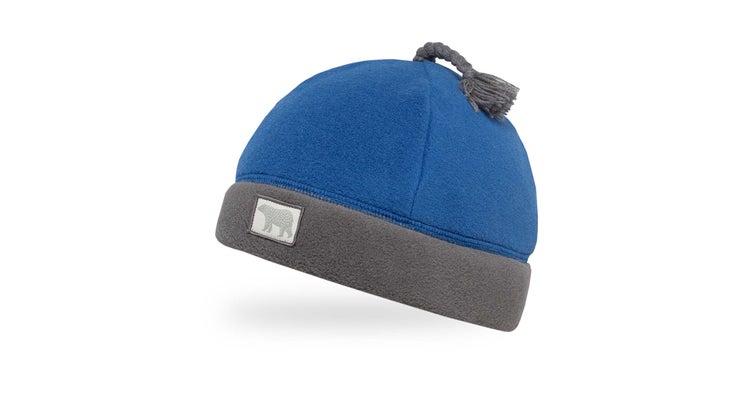 Sunday Afternoons Infant Cozy Critter Beanie
Yeah, baby hats are cute—but too many of them are designed for aesthetics first, warmth second. Not this fuzzy topper. Made of a thick single layer of 100-percent recycled polyester fleece, this beanie kept an infant Montana tester comfortable down to the 20s riding in a backpack on the Holland Falls Trail and cruising behind her cross-country skiing parents at Pattee Canyon Recreation Area. A thicker, double-layer fleece earband stayed put over her ears. More cheers: It's UPF 50-rated for sunny days and the fleece is approved by environmental and ethics certifier bluesign. And lest you fear sacrificing form for function, it's pretty darn cute, too. Notes: The single size (6-12 months) runs large—it still easily fit one 19-month-old tester—and it requires hand-wash, line-dry care. 1 size (6-12 months)
Buy Now; $22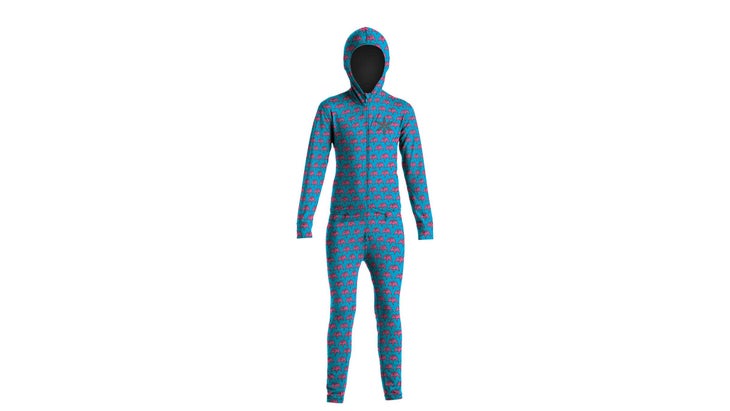 Airblaster Youth Ninja Suit
Take all the features grown-ups love about one-piece baselayers—simplicity, no gaps for snow or wind to sneak in, full-body warmth—and count them double for kids. "The ninja style keeps everything neat, without things coming untucked, no snow down the pants, and you only have to remember one baselayer instead of two," says one parent. "Mom, I don't feel any cold air going down my neck!" the 6-year-old tester added while skiing with the hood up at Washington's Stevens Pass. The plush fabric (96-percent polyester and 6-percent spandex) kept kids toasty down to 22°F (it gets too warm for active use in the mid-30s and up) and dried within about 15 minutes when one tester sweated it out on a sledding session. And what about gotta-go-now bathroom breaks? "I was worried it would be a pain to deal with the onesie, but the two-way front zipper and butt zipper made it quick and simple," reports a tester's parent. Bonus: Fun, kid-approved patterns. XS-10/12
Buy Now; $80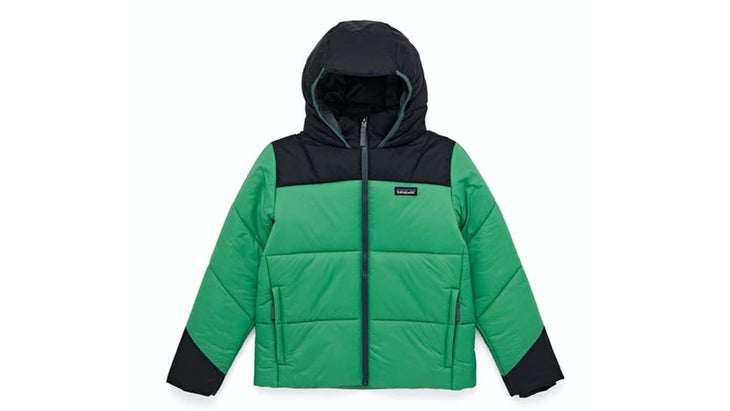 Patagonia Synthetic Puffer Hoody
Wherever we were on the thermometer, this versatile jacket kept our kids in the comfort zone. Credit the lightweight-yet-warm polyester insulation (bonus: It's 92 percent recycled), which proved breathable enough for exploring the zoo at 50°F, cozy enough for hiking at Skokie Lagoons in Illinois down to 16°F, and (like all synthetic fills) water-resistant enough for burrowing into the snow without wetting out. Smart details, like a high collar that's separate from the hood to seal out drafts at the neck; soft, snug polyester taffeta wrist cuffs; and an elastic-lined hood seal in heat and keep icy breezes out. And after a winter of building forts and digging, "there are no rips or signs of heavy use—important because we pass our coats down," reports a parent. More eco cred: A 100-percent recycled nylon shell with PFC-free DWR. XS-XXL
Buy Now; $139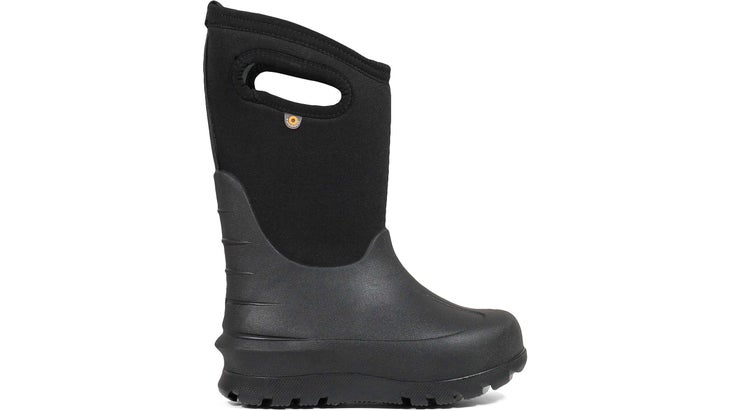 Bogs Neo-Classic 
Ninety bucks for kids' boots? Hear us out: After dealing with lesser winter footwear that falls apart, leaks, and fails to live up to its warmth claims, these Bogs have proven themselves the gold standard that make snowy outings with kids actually fun. The high cuff plus waterproof outer (a combo of durable rubber around the foot and stretchy polyester on the calf) fended off snow from all sides, and an inner, waterproof, insulating bootie made of neoprene kept toes toasty down into the low teens at Montana's Blue Mountain Recreation Area. The sturdy rubber outsole proved plenty grippy, too: "My son could zip around on packed, icy trails at Missoula's Maclay Flats without slipping," says a tester's parent. Nice touch: The side handles make it easier for kids to put them on alone (or for Mom and Dad to wrestle a squirming 3-year-old into them). And after a season of hard use, our Bogs look ready to survive several more rounds of hand-me-downs—which takes some sting out of the price. Little Kid 7-13, Big Kid 1-6
Buy Now; $90