How a Multi-tool Can Make The Day
You won't want to forget your Leatherman on your next trip to the backcountry
There's nothing like reaching camp after hiking all day, peeling off a heavy pack, and kicking back to soak in the views. A hard day on the trail leaves us a with a deserved sense of accomplishment. After all the effort of carrying our own supplies into the wilderness or summoning the courage to try something new, there are rewards to reap: alpine sunsets, hot drinks around a campfire, and all sorts of exciting new sights, sounds, and feelings. 
But we all know a memorable outdoor trip doesn't start at the trailhead, and it doesn't stop at camp, either. A multi-tool helps smooth out these in-between moments, making it all the easier to savor the adventure experiences themselves.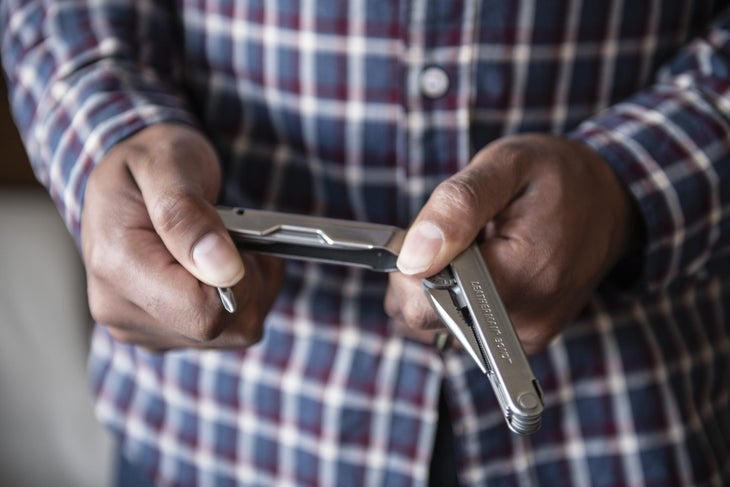 The new Leatherman Bond includes 14 different tools, yet it weighs just 5.8 ounces and folds smaller than a deck of cards, making it a go-to accessory for every type of outdoor activity. Whether you're thru-hiking where weight is of the essence, or mountain biking where pack space is limited, this tool will have your back.
Of course, preparing for an outdoor trip requires planning, and often it involves packing and driving. If an automotive fuse blows en route to the trail, the Bond's needle-nose pliers are the perfect size for putting tiny fuses back in place so you don't miss any minutes on the trail. The regular pliers can help keep you on track, too, by plucking out objects like thorns or nails from car tires just as easily as the tires on a bike. 
Out in the field, estimating the distance from one point on the map to another can be helpful when planning snack and water breaks. Use the Bond's four-inch ruler alongside a map's scale to loosely figure out how near or far a water source or camp spot might be. Once you arrive at camp and take in the views, it's typically time to set up the tent and get comfortable. The Bond's metal file can sharpen dulled tent stakes, making it extra-easy to drive them into the ground and ensuring you're not wasting any precious energy. Then gather some sticks, open the 420HC knife, and use it to whittle down the wood into the perfect marshmallow roasting wands. Offer them up to your crew and you'll be the star of the night.
Once you're back in the frontcountry, celebrate with your favorite cold drink—the Bond has a bottle opener to help you crack open a fresh one. And if you need to clean out any dried mud or debris from your gear, try using the needlenose pliers or knife to clear the crevices in your boots or trekking poles to ensure your kit is ready for your next adventure. 
Outfitting yourself for the outdoors can get expensive and grow daunting. If you dabble in a variety of disciplines with different types of gear—bikes, skis, camping, climbing equipment—it adds up fast. At $49.95, the versatile Bond won't stress your wallet like it won't stress your pack, keeping your focus on the adventure at hand.
In such a fast-paced world, it's a treat to spend time in the moment. Take pleasure in the little things with the Bond's compact, versatile, and ergonomic design—you'll be adding to your experiences wherever the trails take you.