How to Take Your Dog Backcountry Skiing
Plus: the best winter kit for your canine.
Heading out the door? Read this article on the new Outside+ app available now on iOS devices for members! Download the app.
As anyone with a pup will tell you: A day in the mountains is better when the dog comes along. But it's important to understand how to safely chaperone and care for your canine friend in an alpine environment, especially when touring in backcountry snow, where hazards like avalanches, winter weather, and sharp gear abound.  
After talking with backcountry experts and veterinarians and testing canine-approved gear in the field, here's the scoop on best practices and equipment to keep you and your pooch safe and comfortable while ski touring.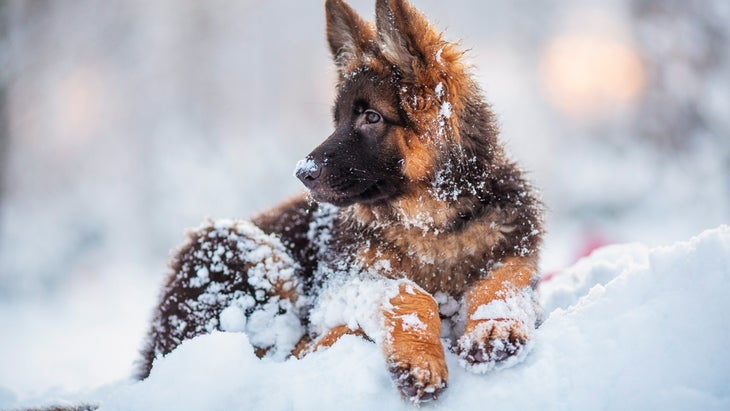 How to Prepare Your Dog For the Backcountry
Dog fitness and training
Consider your dog's ability to move through snow and withstand cold weather—as with humans, you don't want to overexert your pup without training up to it—and moving through powder and staying warm in snow will take more energy than summertime hiking. Says veterinarian Caroline Cervelli of Breckenridge Animal Clinic: "Any dog older than one year that is well trained by voice command and trained to stay away from the actual skis [which can injure your pet] can go on backcountry adventures." Start slow and gradually build up endurance. 
Be a responsible owner
Be courteous to your fellow backcountry travelers, says Ethan Greene, director of the Colorado Avalanche Information Center, and follow land management agencies' local laws and regulations: pack out dog poop, use a leash where required, and keep your furry friend away from avalanche-prone slopes, ski/snowboard descent lines, and wild animals. Before you head to the mountain, be sure to communicate with your partners; don't surprise them with the added variable of bringing a dog.
Route planning and execution
"In general, people should consider the risk to any animal before taking them into avalanche terrain," recommends Greene. When plotting your route, assess the terrain's slope angle and exposure from your dog's perspective—too steep or too icy, and your pup won't be able to maintain traction like you can with your skis and skins. Start with low-angle slopes and build up from there.
Once you're in the backcountry, says Greene, be sure to use the same safe travel procedures with all of the animals in your group. That involves communication between canine and human members to minimize off-piste dangers: Travel one-at-a-time, keep your exposure to avalanche hazard at the level you've all agreed on, and stay on the agreed-upon route.
One important mistake to avoid: "People should not put avalanche-rescue transceivers on non-humans," says Greene. "The risk is having an accident with multiple burials and not being able to differentiate between humans and non-humans."
Essential Canine Snow Gear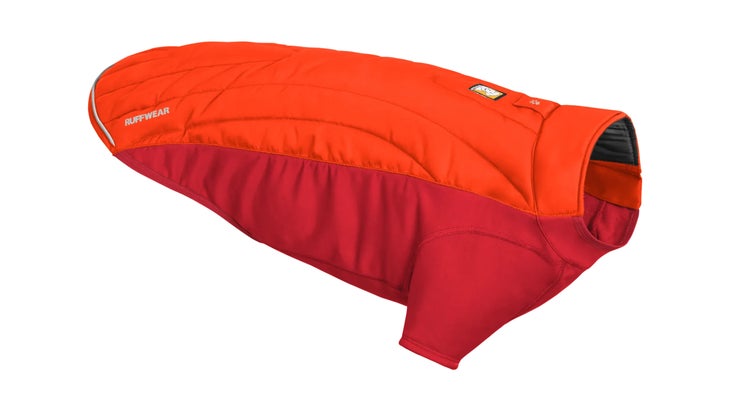 Ruffwear's Powder Hound Jacket
Jackets help dogs stay warm and block wind. According to the American Kennel Club, large dogs with thick, dense coats (like Alaskan Malamutes and Siberian Huskies) are well protected from the cold and won't need jackets. But small, lean, old, or short-haired dogs—whippets, pit bulls, or mixed breeds, for example—need help protecting themselves when temps drop below freezing. The Powder Hound Jacket effectively kept out snow and didn't inhibit movement thanks to four-way stretch sleeves. Recycled polyester fill and a 30-denier polyester lining with a DWR finish helps keep dogs warm and dry.
Buy Now | $90; XXS-XL
Rex Specs V2 Goggles
"Most dogs don't need to wear goggles in the snow," Cervelli says. But shepherds (Australian, German, and Belgian), huskies, and large breed dogs are more susceptible to eye conditions that worsen with exposure to sunlight, which can be extreme when amplified by snow glare. Goggles have the added bonus of protecting from branches and wind, too. If needed, try the V2 goggles, which come with interchangeable clear and shaded lenses and stay on better than others we tested due to their easy-to-customize, adjustable fit. 
Buy Now | $85; XS-XL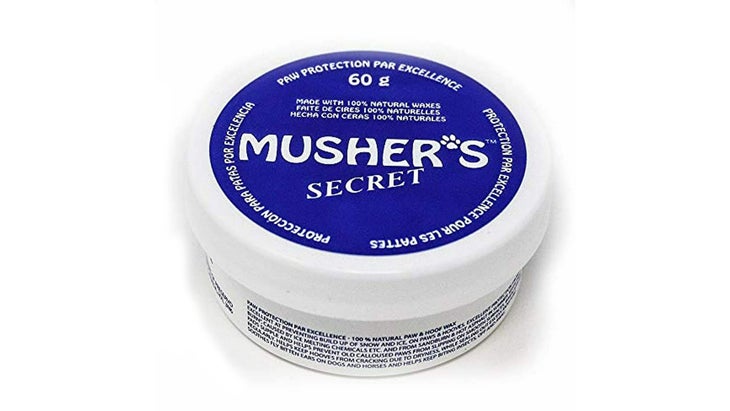 Musher's Secret
This topical ointment keeps painful ice balls from forming in hair and between toes and is made from food-grade wax, just in case your dog is a careful groomer.
Buy Now | $25 for a 7 oz. jar
Pawz Waterproof Dog Boots
This middle-ground paw wear offers more protection than wax, but is less bulky than boots. The water balloon-like rubber slip-ons give your pup a good connection with the ground and are reusable.
Buy Now | $16 for a 12-pack in M; "Tiny"-XL
Original All-Weather Muttluks
The dog bootie approach won't work for every canine, especially traveling in deep snow. But on packed, icy paths and salty parking lots, we found that Muttluks, with their nylon outer, stretchy cuffs, and rubber soles, work better than other booties on the slopes.
Buy Now | $60 for a set of 4; "Itty Bitty"-XXL