Coming Soon to a Trail Near You: Dirt-Cheap, Chinese-Made Ultralight Gear
3F UL's equipment costs a fraction of its American cottage counterparts. Is it any good?
Heading out the door? Read this article on the new Outside+ app available now on iOS devices for members! Download the app.
AliExpress has become the go-to marketplace for shoppers looking for a deal that's too good to be true. Whether its an iPhone, diamond jewelry, or carbon fiber bicycle, the massive e-commerce site—owned by Hangzhou, China-based tech company, Alibaba—is a virtually endless sea of dirt-cheap options for anyone who's willing to wade through the pitfalls: potential knockoffs (not all of those iPhones are authentic), unfamiliar brands, poorly translated product descriptions, and months-long shipping times. 
In the last few years, ultralight backpacking gear has started to crop up on the popular international site. While off-brand backpacking gear is nothing new, the ultralight niche is a much higher bar to clear. Most of the offerings on AliExpress are of dubious origin and quality and dramatically stretch the definition of ultralight. Still, there are a number of intriguing products available at incredible prices, sustainability and ethics be damned. In a few minutes of searching, I found a down mummy bag for $60, a 1.5 pound bivvy tent for $12, and a 40-liter frameless pack for $45.
Spend enough time looking at backpacking gear on AliExpress and one brand will show up again and again: 3F UL Gear. Of all the direct-from-China brands, 3F seems the most legitimate. They offer packs with the classic ultralight silhouette—roll top closure, stretchy back pocket, two large side pockets—and constructed of Robic nylon or X-Pac. Their most popular tent, the Lanshan 1, is supported by trekking poles, made of 20-denier silnylon, and clocks in at 27 ounces. (Stay tuned to Backpacker for a long-term field test.)
3F started much like our favorite cottage brands: a couple of committed backpackers designing ultralight gear, first for their friends, then for the growing market in China. The brand only recently launched to an international audience. What's more, 3F predates many of the well-known Western gear brands that it is sometimes accused of copying: the company was founded in 2008 when a Korean-owned tent factory closed due to the economic crisis. Facing unemployment, the factory's technology manager PeihongYe—also an avid hiker—recruited a few laid-off coworkers and started a small workshop focused exclusively on lightweight hiking gear.
"At the time, lightweight hikers were a minority, niche group in China," says Yu Liu, 3F's brand and design manager. "They lacked equipment and most of the gear was homemade. At the beginning, lightweight gear was just our hobby."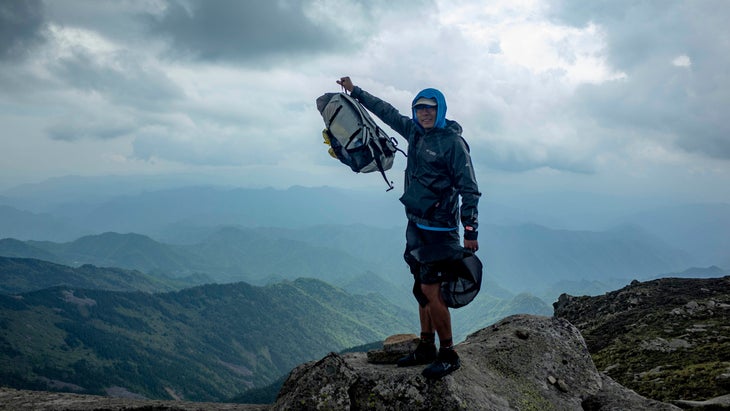 Like American cottage companies, 3F's team turned to online forums and message boards to track down ideas and potential customers. It helped that most of the company's small staff were hikers themselves, says Liu: The brand's lead product designer, XueYan Liang, was also PeihongYe's hiking partner, and other employees would field test the equipment. "A few of us have some reputation in China's ultralight hiking community," says Liu. "We've used our own manufactured gear to walk some unusual routes—not as long as the trails in the U.S., but still difficult and adventurous."
Today, 3F still does most of its business within China, where long-time hikers have watched the brand grow and improve over the past 15 years. But, increasingly, overseas demand has become a challenge. Though Westerners see China as a manufacturing behemoth, 3F is still a small company with a small factory. They've had to streamline production, at times scrapping new designs in favor of producing more of their top sellers. "We have many other types of ultralight tents, such as the traditional pyramid tent, but due to lack of production capacity—which is a problem for most workshop brands—we cut them to make way for the Lanshan," says Liu, referencing the brand's lightest and most popular tent. 
Even as a cottage brand, 3F's prices are very low by American standards. The Lanshan 1 sells for about $140. The brand's least expensive pack, the QiDian 40, is only $60. Liu says these low prices come from China's production cost advantages. One aspect is cheaper labor, but that's not the full story. 3F has also adopted labor-saving measures like laser-cut panels and heat-sealed seams, and benefits from lower prices for high-end fabrics. "There are many excellent fabric manufacturing companies in China which are only three-to-four hours away from us," says Liu. "We can source high quality fabrics at a lower price, which significantly reduces the price of the products." 
As Western hikers start to take notice and the Chinese hiking community grows, there are signs that the company is expanding its focus—and prices. Its latest pack, the Yue 45, is made from X-Pac LS21 and costs $230. A lighter, single-wall version of the Lanshan, the Lanshan Pro, is now available as well, for a $40 premium. 
As for concerns about quality that potential Western customers might have, especially coming from an e-commerce giant like AliExpress? Liu admits that achieving the high quality they wanted  was difficult in the company's early years, but says that particular problem has since been resolved. "As a person who knows the 3F factory well, I would say that quality is the easiest problem to solve," he says. "The hard part is the design and manufacturing process innovation, which is what we have been working on." 
If 3F's materials and design can live up to the standards set by the West's avid ultralight community, it could mean steep competition for American cottage brands.