Build an Ultralight Backpacking Setup for Less Than $650
You're getting ready to hit the trail but you don't want to spend a year's salary on gear. Fear not: It's possible to find a gear system that's both high-performance and affordable.
Heading out the door? Read this article on the new Outside+ app available now on iOS devices for members! Download the app.
Conventional wisdom goes like this: The lighter gear gets, the more expensive it gets. While that's broadly true, you can still cut your pack weight without bankrupting yourself. You just need to know where to look.
One good way to cut costs is to check out cottage gear companies. These brands, though lesser-known, often make top-notch gear for a fraction of the price of large manufacturers. Because they're small shops, they usually have longer lead times, and may run out of inventory. But as long as you're prepared to wait for a few months before receiving your gear, you can get a great kit for less than you'd pay from a retailer.
Below, we've sketched out an affordable ultralight kit you can buy right now for less than $650; we've also added some options in case you need better weather protection or more warmth. Add a few more ounces for your extra layers, toiletries, and essentials like a light first-aid kit, and you've got yourself the makings of a great adventure.
Cost: $645
Weight: 3 lbs, 14.1 ounces
Weight Capacity: 15 lbs

Backpack
A lot of new backpackers want to be ultralighters, so they'll invest in a light, frameless pack. But if the rest of your gear doesn't follow the same philosophy, it might not be long before the seams of your pack—and your shoulders—are splitting. (It's extremely important to check the weight limit on your backpack before you stuff it full of gear.) Don't forget about food and water, either: A common rule of thumb is to give yourself a 10-pound grace window.
The Gossamer Gear Murmur 36 Hyperlight Pack is a great ultralight option for anyone who has their gear setup dialed in. At $186 and 12.7 ounces (8.1 without the belt or sit pad), it's both truly lightweight and affordable. Its nylon construction provides breathability and support, and the recommended carrying capacity of 15 pounds is low but manageable
If you spend a lot of time hiking in rainy climes, consider investing in a Superior Wilderness Designs pack. These backpacks are made with either XPac or Dyneema (your choice), and both fabrics are supremely water-resistant. This can be a complete game-changer in wet environments: I hiked the Colorado Trail with the Long Haul, and even after a few days of thunderstorms, hail, and snow in the San Juans, my gear remained dry. The Superior Wilderness Designs Superior Frameless Pack is $219 and weighs 14 ounces with all of its accessories; you can even remove the pockets and other accessories to strip it down even further. It can handle up to 20 pounds.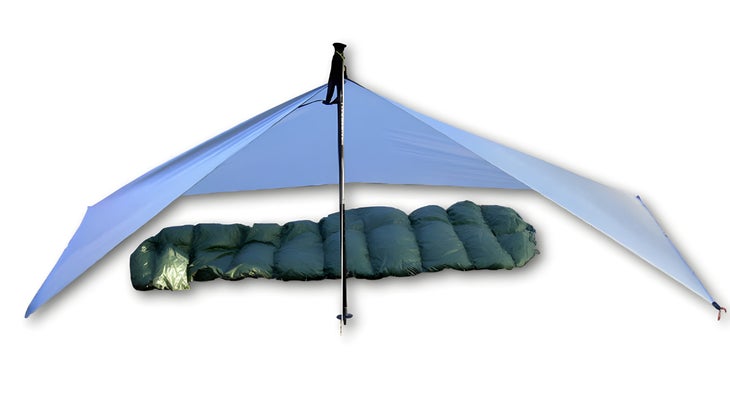 Shelter
Each trail brings different challenges and characteristics. The Appalachian Trail can be wet, the PCT bounces between extreme temperatures, and hikers on the Continental Divide have to contend with summer storms. What kind of terrain you typically hike should determine what kind of shelter you spring for. The lightest option is a tarp, but if you expect to encounter a lot of rain or swarms of bugs, an enclosed shelter might be better.
Among the top-tier tarps, the Mountain Laurel Designs Monk Flat Tarp gives you the best bang for your buck, costing just $110 and weighing 8 ounces. It measures 5 feet in width and 9 feet in height, which will give most hikers plenty of space for themselves and their gear. But if you'd prefer an enclosed option, a tent like the Six Moon Designs Lunar Solo ($260, 26 ounces) will give you extra protection without sending costs skyrocketing.
Sleeping Bag or Quilt
Unless you're planning to dip into winter hiking, a 20°F to 30°F bag will get you through most three-season backpacking expeditions. Finding the right sleeping bag or quilt can make a significant difference in how comfortable you are: If paired with a warm sleeping pad, your sleep system can keep you safe through nearly any condition you'll find between spring and fall.
HammockGear's Economy Burrow Ultralight Quilt is technically designed to be a top quilt for hammock users, but it functions the same as standard top quilts for tent sleepers. The 30°F version of this 850-fill down quilt is $235 and it weighs 20.6 ounces. If you're a cold sleeper, you can select the 20°F version, which costs $245 and weighs 23.9 ounces. HammockGear also allows you to customize your quilt color and length.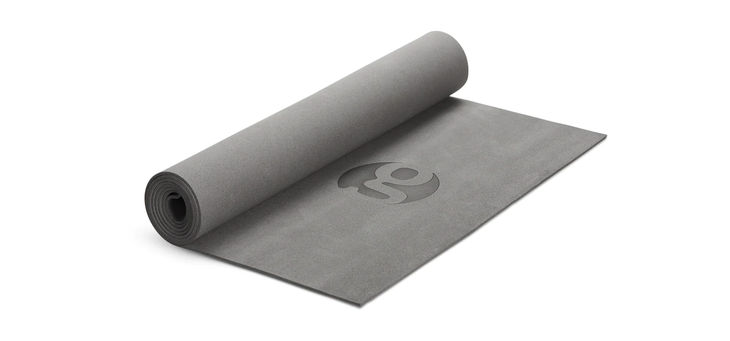 Sleeping Pad
When you're hiking with a frameless pack, having a closed-foam sleeping pad can give you a supportive, makeshift frame. While closed-foam sleeping pads are generally less comfortable than inflatable options, they're more durable, more affordable, and offer a quicker setup. Want to go as light as possible? Gossamer Gear's 1/8-inch thick Thinlight Foam Pad weighs just 2.7 ounces, and will run you $22. If that's not quite cushy enough, the classic Thermarest Ridgerest SOlite costs $21 and weighs 14 ounces. (With an R-value of 2.1, it's still best used for three-season adventures.)
If you're determined to find an inflatable sleeping pad, a good alternative is the Klymit Static V. It costs $65 (compare that to competitors, which can be as expensive as $150), weighs 18 ounces, and has an R-value of 1.3. While it's less insulated than the Ridgerest, it does the trick in moderate weather.

Trekking Poles
Can you hike without trekking poles? Sure. But studies suggest that using them will take up to 30% of the stress off your joints. They can also be used with many ultralight shelter setups in lieu of complicated brow lines or heavy tent poles. The big question: Do you really need two? On my Appalachian Trail thru-hike, I found that using just one was supportive enough with a light load, and freed my hands up to scramble through rough terrain.
If you're willing to hike with one trekking pole, the three-section Dolomite 7075 OLS costs $30 and weighs 10 ounces. Its adjustability allows you to use it with a tarp. It also features clasps rather than twist locks, which are less likely to strip and become unusuable over the course of a long trail.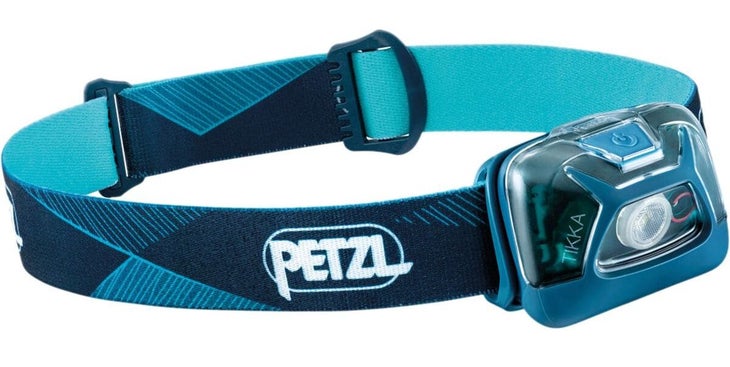 Headlamp
It might seem like a small item, but investing in a quality headlamp is essential. Whether you're night hiking in the desert or you want to be able to keep tabs on your campsite in the dark, having one will make your life much easier. You can make do with any cheap hardware-store headlamp, but a legit outdoor one will likely stand up to weather better and last longer. The Petzl Tikka is a reliable classic. You can still snag the older version of it now; at 3 ounces, $21, and 300 lumens on its max setting, it's a good performer for the money. Three AAA batteries will keep it humming for as long as 240 hours. Bonus: the IPX4-rated lamp is water-resistant enough to handle a backcountry storm.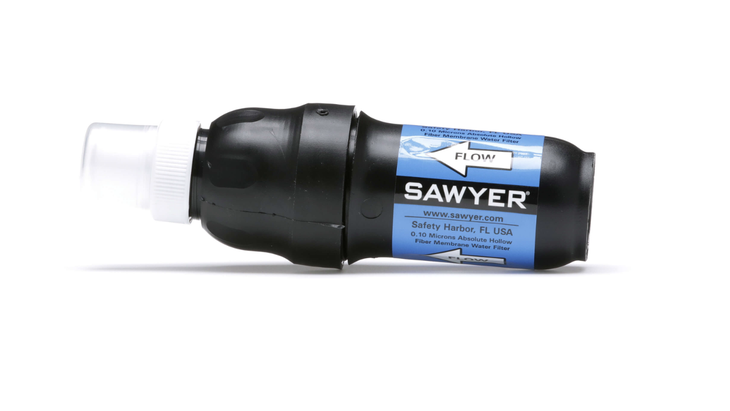 Water Filter
A filter like the Sawyer Squeeze is a dependable way to dodge giardia. At just $30 and 2 ounces, it allows you to remove bacteria, protozoa, sediment, and microplastics This is also one of the more versatile filters on the market, since it allows you to filter your water in a number of different ways, from installing it inline to screwing it on top of your water bottle. While the Squeeze isn't the most sediment-friendly option on the market, you can back-flush it with the help of a bottle with a squirt nozzle. Many hikers choose the Sawyer Mini because it's smaller and lighter, but the faster water flow of the Squeeze is worth the extra weight. Caution: In winter, ice can damage the filter's hollow fibers. Bring chlorine or iodine tablets instead.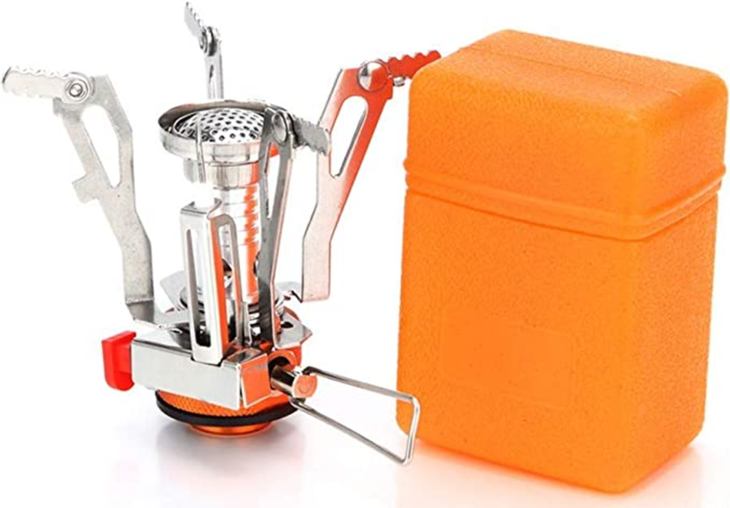 What About a Stove?
If you're trying to go as light as possible, you're better off ditching the stove and cold-soaking your meals. Bring an empty peanut butter jar with a screw-on lid, add your meal with water, and let it rehydrate while you hike. Can't stand the thought of missing a hot meal? A direct-from-manufacturer canister stove from Amazon will run you about $11 and weighs 3.9 ounces—comparable to brand-name options, though it's missing nice touches like a regulator and wide pot supports.
Originally published 2021; last updated April 2023 for pricing, specs, and availability