Best Backpacking Tents of 2022
Find shelter from the storm with these excellent backpacking tents.
Heading out the door? Read this article on the new Outside+ app available now on iOS devices for members! Download the app.
Whether you're headed out for a quick overnight or trekking the Continental Divide for several months, your tent is the first line of defense between you and the elements. From weight to wind resistance, dozens of factors play into finding the right tent for your adventure. To help narrow down the search for this big-ticket piece of gear, we've highlighted our best backpacking tents on the market, along with helpful tips for sizing up your potential home away from home.
---
Best Backpacking Tents At a Glance
Looking for something more specialized? Check out our favorite ultralight shelters and tarp-tents and our top winter tents. 
---
What to Look For in a Backpacking Tent
Weight
As one of the heaviest items you'll carry on your trip, nothing cuts pack weight like an ultralight shelter. There are inevitably tradeoffs to dropping weight, which typically include a higher price tag, less durable materials, less interior space, and a non-freestanding pitch. A small backpacking tent that can stand up to the elements may be labeled as ultralight. The best ultralight tent for you is one that combines the key features that match your style of camping.
Backcountry tents don't have to always focus on weight, though. The lightest tent may be too flimsy for harsh weather or camping in rough terrain. An ultralight 2 person tent may be too cramped, for example, so it is reasonable to add a little weight for more interior space. 
Livability
Yes, you'll want to buy a tent that fits however many people you plan on hiking with—but there's so much more to sizing a shelter. Many solo hikers will still bring a two-person tent for the extra space and to keep gear inside. Some tents cut weight by narrowing dimensions, especially at the foot of the shelter, which could be a no-go for your non-cuddly camp-mates. If you are tall or need more space in general, be sure to check length before choosing a tent. If you tend to hike in stormy climes, a generous peak height makes passing time in your shelter that much more pleasant. 
Double- or Single-Walled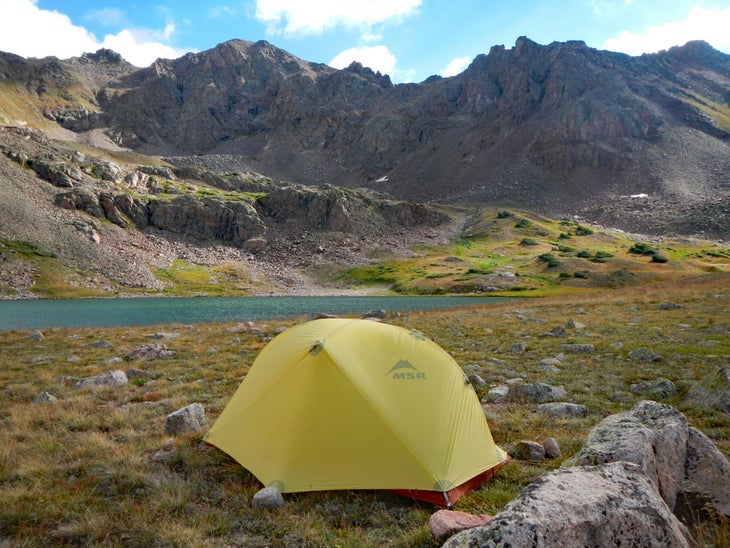 Most conventional three-season backpacking tents are double-walled—meaning they have a dedicated inner mesh body, pole structure, and external rainfly. They tend to breathe much better than single-walled tents and therefore reduce condensation buildup. The downside? They're usually heavier than single-walled tents, which use a single waterproof or water-resistant body fabric.
Pitch Style
Freestanding tents don't need to be staked out. That's an important feature when camping in areas with solid rock ledge or loose sand, where sinking a stake may not be an option. Semi-freestanding tents often require only two stakes on one end, while non-freestanding shelters often require four to six stakes for a proper pitch. Some tents, especially non-freestanding ones, also have a bigger footprint, which means slotting into narrow campsites might be difficult. 
Weather Resistance
Design and material choice will affect how well the best backpacking tents stand up to heavy winds and precipitation. There's no easy way to divine how well a tent will hold up to the elements on paper, so testing it out on a short shakedown trip is always a good idea. That said, tents with higher profiles tend to be more impacted by wind, and, while they are technically stronger than aluminum poles, carbon poles are more likely to snap under stress rather than bending. Tall bathtub floors and a rainfly that extends all the way to the ground will aid in keeping water from splashing into your tent.
Durability
In most nylon and polyester tents, you'll see a denier specification, which is a measurement of the fabric's weight and thickness. Lightweight tents tend to use a lighter denier (denoted by a lower number) and are more prone to punctures and tears. Tent floors tend to have a higher denier to protect against ground abrasions, but you might want to invest in a groundsheet regardless if your tent is particularly fragile. Dyneema is an ultra-lightweight alternative to commonly used sil-nylon in tents, but is extremely expensive and still prone to punctures despite its strength.
Types of  Backpacking Tents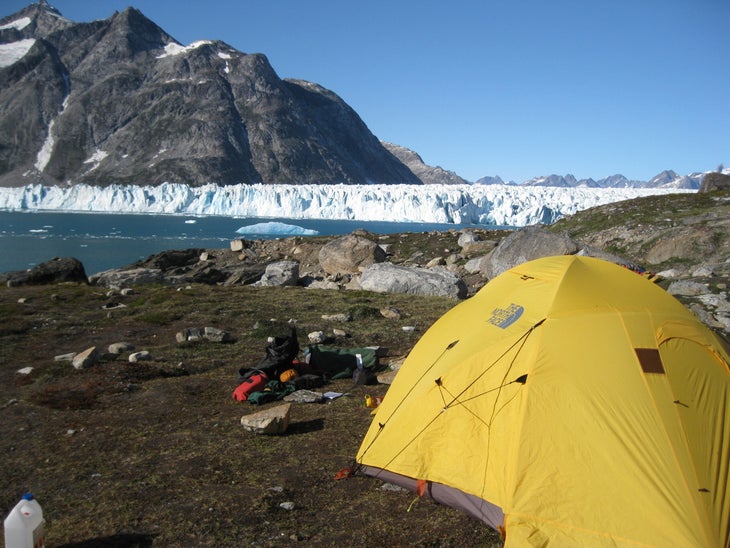 2 Person Tents
2 person tents work for two people, as designed. They are also nice for the solo backpacker who wants to keep gear in their tent or for the classic backpacking duo of human and dog. Ultralight 2 person tents can get a little tight for taller, larger folks.
3 Person Tents
3 person tents aren't necessarily condemned to house three people. These spacious tents are a great option for two people who want a little more room for gear or simply to stretch out. Our team also likes using them for two people and up to two medium-sized dogs.
4 Person Tents
4 person tents are ideal for backcountry adventures where a team is willing to share space. Divvied up between team members, 4 person tents can minimize the per-person burden if one carries the poles, another the fly, and another the main tent itself. These tents often serve well for casual backpacking adventures for two people who want to really live it up the backcountry.
Ultralight Tents
Ultralight tents are made of durable-yet-light fabrics. Despite their gossamer appearance, many ultralight tents are quite tough and can stand up to harsh weather. Ultralight tents are often more expensive than standard tents and their weight-saving geometry may result in close quarters, low ceilings, or thin footprints. The weight you save, however, may be worth it, especially on longer camping outings or terrain that may require scrambling or climbing to reach your campsite.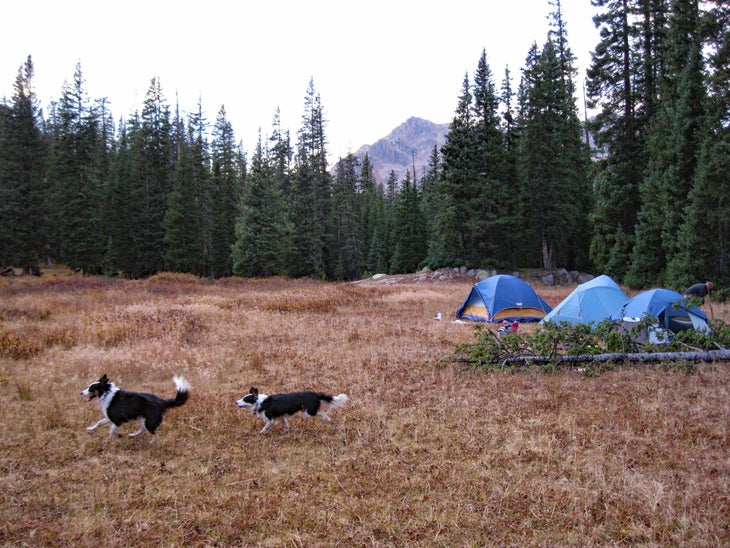 ---
Best All-Around Tent: Sea to Summit Telos TR2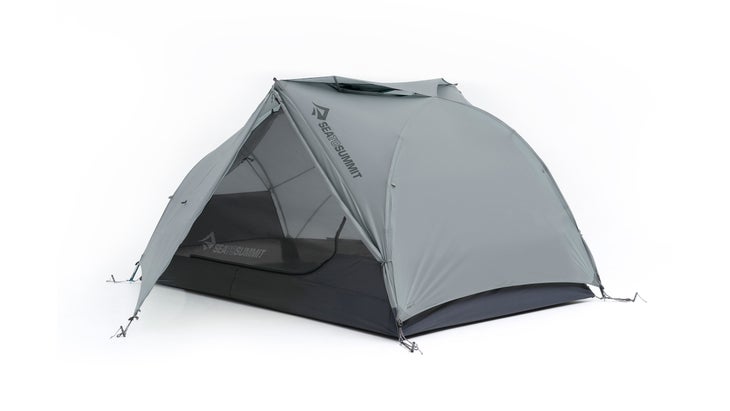 Price: $559
Weight: 3 lbs. 11 oz.
Buy Now at Sea to Summit / Buy Now at Backcountry.com
✅ Pros: Strong, weatherproof, excellent interior space
❌ Cons: Heavy, Expensive
If the devil is in the details, then this is the most unholy tent we've ever occupied. Nothing, it seems, escaped the attention of legendary tent designer Jake Lah, who collaborated with Sea to Summit for this sturdy, freestanding tent. For most backpackers, this will simply be the best 2-person backpacking tent. Naturally (since Lah is the guy behind DAC poles), it all starts with the structure. The single, multi-hubbed pole has an inverted V-shape top section that creates twin peaks and props up near-vertical walls. The design equates to a ton of livable space inside, while still being tensioned enough to prevent water from pooling atop the sil/PeU fly and strong enough to shrug off 25-mph winds when we camped at treeline in Colorado's Indian Peaks Wilderness. —Backpacker Editors
---
Lightest Freestanding: Big Agnes Tiger Wall 2 Platinum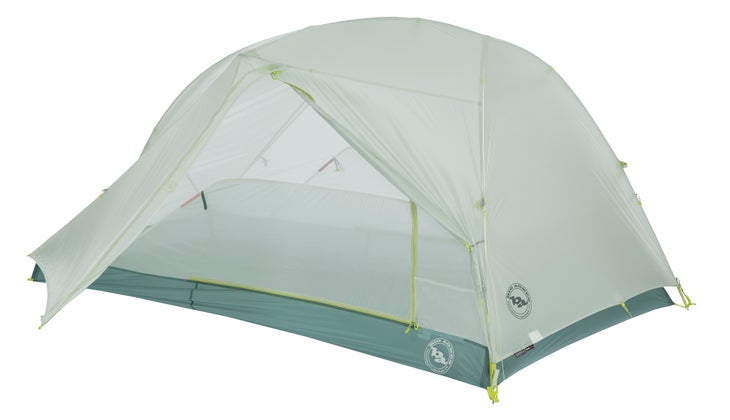 Price: $600
Weight: 2 lbs. 4 oz.
Buy Now

✅ Pros: Very lightweight for a freestanding tent, full-featured
❌ Cons: Expensive
When it comes to freestanding tents, designing one to weigh 2 pounds or less is a bit like breaking the four-minute mile. The Tiger Wall 2 Platinum is the first two-person tent we've tested to flirt with the 2 pound packaged weight benchmark that doesn't also have a handful of drawbacks. Some critical attributes? Two doors, two vestibules, double-wall construction, and a hassle-free pitch. The generous 28-square-foot interior left plenty of room for two, while the 8-square-foot vestibules sheltered a pack and boots. While the Tiger Wall needs to be staked out at the foot for a taut pitch, it's a breeze to move around when selecting a campsite. The tent had excellent breathability thanks to a full mesh body, and a hubbed-pole system held up to 25-mph winds and rain in Nevada's Lahontan State Recreation Area. Yes, it's pricey. But for a fully-featured, self-supporting tent that weighs less than many one-person shelters, it's a worthy splurge. —Eli Bernstein
Looking for more ultralight tents, tarp tents, and shelters? Check out our 6 best ultralight tents 
---
Best for Casual Backpackers: REI Co-op Half Dome SL2+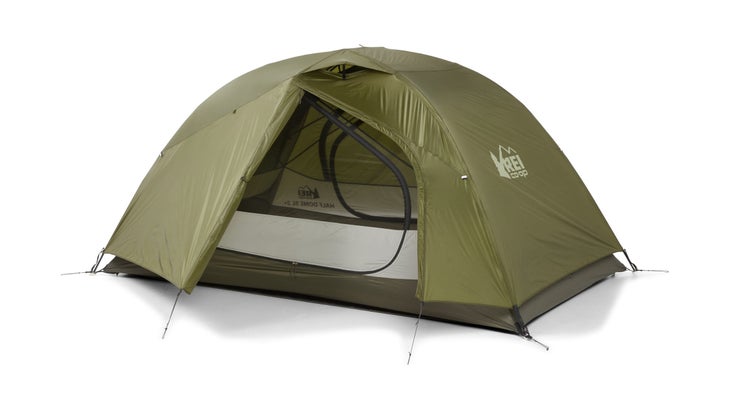 Price: $279
Weight: 3 lbs. 15 oz.
Buy Now 
✅ Pros: Affordable, spacious, full-featured
❌ Cons: Heavy
The Half Dome SL 2+ is our choice for the best combination of price, spaciousness, ease of setup, and durability. Costing less than $300, it boasts 35.8 square feet of floor space, two 11.3- square-foot vestibules, and a 42-inch peak height. "I'm 5'11" and I had plenty of headroom and space to sprawl out," one tester said after a weekend in Big Dominguez Canyon, Colorado. "It's extremely livable for two, and you could even squeak in a dog." Two closeable ceiling vents and plenty of mesh in the upper tent body keep air moving, and our testers experienced no condensation during 35°F nights in western Colorado. The Half Dome offers ample interior storage for headlamps, phones, and other small items in its six pockets—one at each bottom corner, and two up top. The interior stayed dry during passing storms. —Will McGough
---
Best Space-to-Weight Ratio: Nemo Dragonfly 3P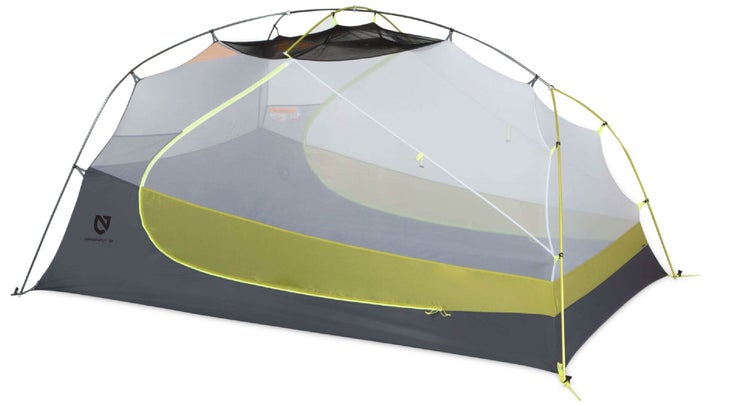 Price: $530
Weight: 3 lbs. 15 oz.
Buy Now
✅ Pros: Lightweight for a 3-person tent, spacious
❌ Cons: Tapered interior can be tight for wide or large sleeping pads
Opulent and ultralight aren't usually mentioned in the same breath, but with the Dragonfly you can have both. "With an average width of more than 65 inches and near-vertical walls, three won't be a crowd. But because it's so light, I often carried it as an extra-roomy two-person tent when camping with my girlfriend," one tester says. The tent's 41 square feet of floor space is plenty of room for three to spread out if you do pack it to capacity, and two 10-square-foot vestibules can stash gear for the group. The tent is easy to set up with a single, hubbed pole. —WM
---
Best Budget: Sierra Designs Tabernash 2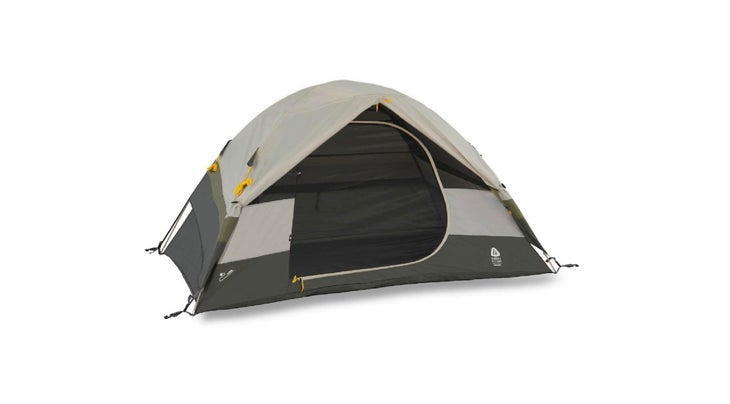 Price: $100
Weight: 6 lbs. 4 oz.
Buy Now
✅ Pros: Very affordable
❌ Cons: Very heavy
If you've ever been frustrated that "budget-friendly" tents cost around $200, Sierra Designs would like to have a word. Its new double-walled shelter is only $100, and for the price, there's a lot to like: At 6.2 pounds, the Tabernash is relatively light for a frontcountry tent (it packs to 20 inches by 5 inches, and you could probably push it into easy backcountry duty), and a single large, D-shape mesh door aids in ventilation. The tent's 48-inch peak height is generous for a shelter of its size, and our testers were able to change clothes and perform camp tasks inside. —WM
---
Best Protection: Hilleberg Helags 3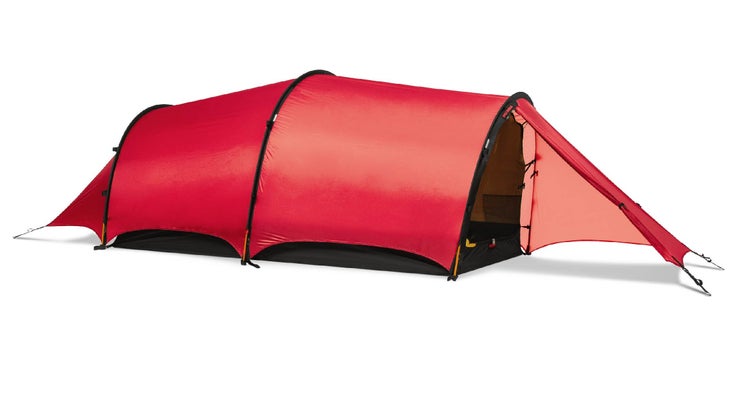 Price: $1065
Weight: 5 lbs. 12 oz.
Buy Now
✅ Pros: Very weatherproof, spacious
❌Cons: Very expensive, heavy
The price tag on the double-walled Helags 3 will definitely sting. But, its excellent strength-to-weight ratio and ability to withstand weather and the test of time might make the sticker shock easier to swallow, especially for those who regularly camp in nasty weather and unfriendly terrain. This shelter uses Hilleberg's proprietary silicone-coated material known as Kerlon—one of the strongest tent fabrics on the market—in its fly (the inner is made from DWR-treated, 10-denier ripstop nylon). Once properly staked out (the pitch is bomber, with three DAC poles, six guy-outs, and 16 stakes) the tube-shaped Helags can stand up to the toughest summer storms. "Wind from all directions just rolls over its low-profile shape, and the pitch stood firm in strong, 30-mph gusts in Colorado's Book Cliffs area," one tester says. The Helags has a 40-square-foot floor, the end walls are vertical, and its sides are near-vertical, creating comfortable space for three sleepers. Two 14-square-foot vestibules hold gear for a trio. —WM
---
Best Tent for Families: Klymit Maxfield 4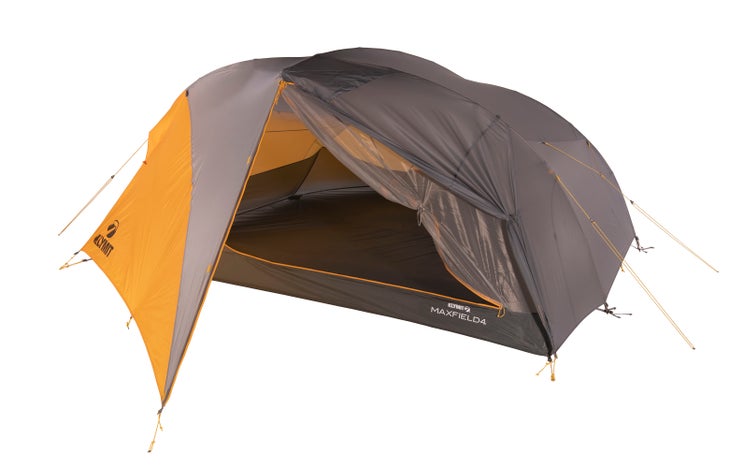 Price: $500
Weight: 5 lbs. 9 oz.
Buy Now
✅ Pros: Very lightweight for a 4 person backpacking tent, easy to pack
❌ Cons: Small interior 
The Maxfield is one of the lightest four-person shelters out there, making it great for family trips that tend to be heavy on gear. Its 53-square-foot floor is slightly smaller than average, but still fits four standard sleeping pads (everyone can sleep facing the same direction). Two huge mesh ceiling pockets at the head and foot are ideal for organizing a family's-worth of stuff. Bonus: "Instead of a standard stuff sack, the Maxfield rolls up fast into a burrito-style bag," said one tester after a group outing to Colorado's 10,007-foot Kebler Pass. "Just throw everything on it and roll it up. No stuffing or folding required." For this reason, it has earned top honors for our best 4 person backpacking tent.  —Heather Balogh Rochfort
---
Honorable Mentions 
Exped Lyra II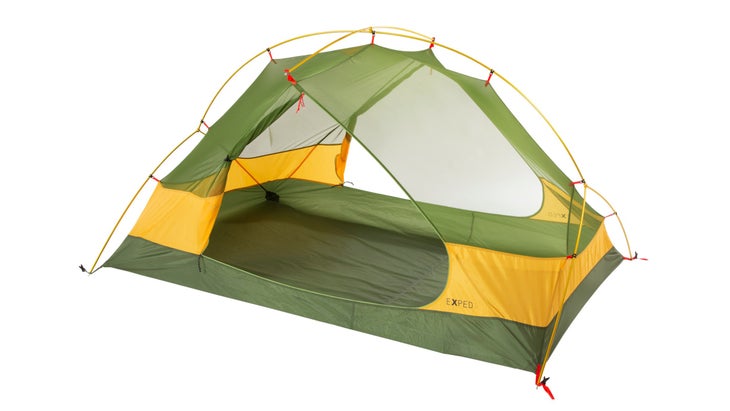 Price: $279
Weight: 4 lbs. 4 oz.
Pitch the Lyra II wherever you want—credit the multi-hubbed pole and 68-denier polyester fly and floor for the bulletproof design. This double-wall, freestanding shelter kept us dry through bouts of heavy rain, ice, snow, and 25-mph gusts during a storm on New York's Finger Lakes Trail. —HBR
---
Marmot Superalloy 2P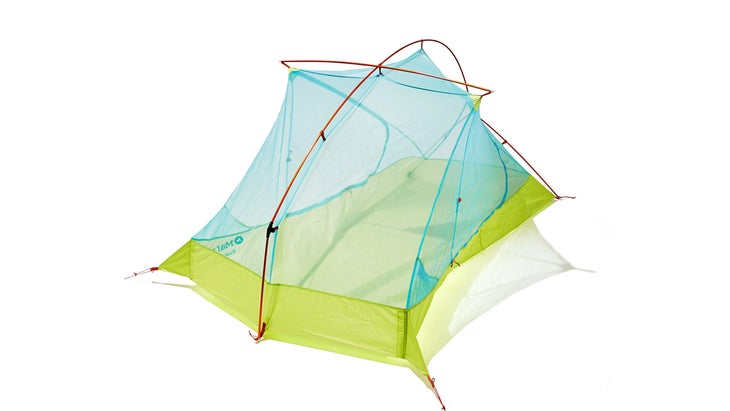 Price: $429
Weight: 2 lbs. 11 oz.
The Superalloy achieves an attractive trifecta: livable, lightweight, and affordable (for an ultralight shelter), making it a good pick for minimalist hikers on a budget. Its 28-square-foot floor fit two 6-foot testers thanks to an 87-inch length and nearly vertical walls, and two 6.5-square-foot vestibules each fit a pack apiece. —HBR
---
Mountain Hardwear Mineral King 3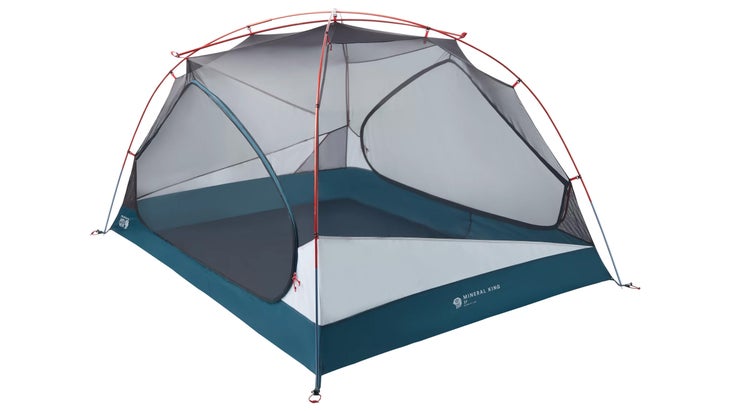 Price: $350
Weight: 7 lbs. 1 oz.
When a tent is an all-around solid performer and has eco cred to match, it's a keeper. The Mineral King impressed us with its oversize doors, all-mesh walls and rollback fly for stargazing, and balance between weight and price and doesn't use toxic fire-retardant compounds commonly found in tents. —HBR
---
Nemo Aurora 2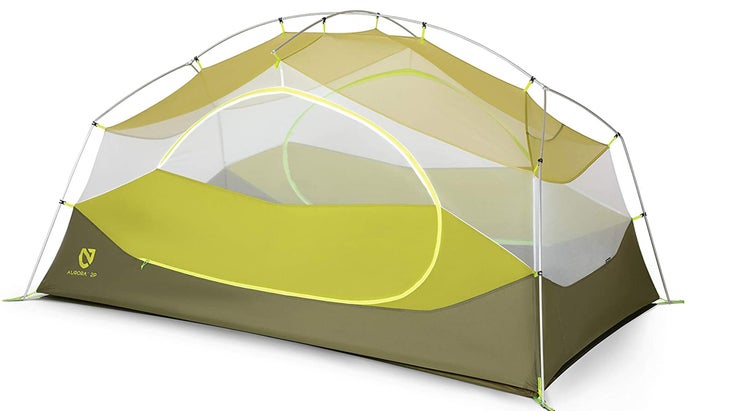 Price: $250
Weight: 4 lbs. 9 oz.
For backpackers who would rather tax their backs than their wallets, the double-wall Aurora is a can't-miss choice. Its above-average, 32-square-foot floor feels palatial, and vertical walls expand the roominess. The Aurora's price also includes a footprint (7.8 ounces) for pitches on rough terrain. —HBR
---
Klymit Cross Canyon 2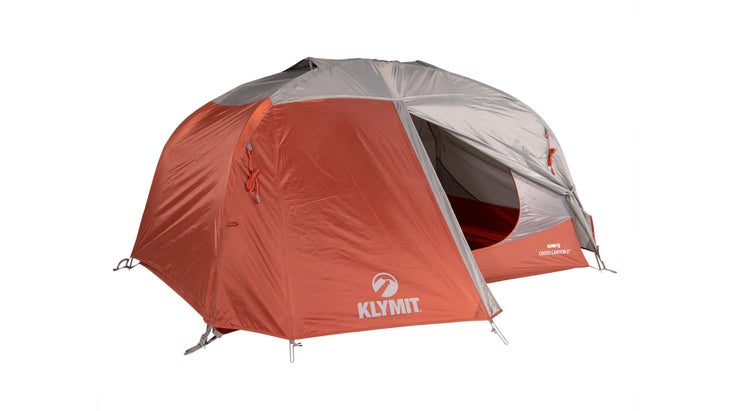 Price: $200
Weight: 5 lbs. 6 oz.
With its combination of breathability, ample storage options, and affordability, the double-walled Cross Canyon is a great pick for car-camping duos who want to occasionally head into the backcountry. —WM
---
The Best Backpacking Tent For You
Heading out on your first overnight or multi-night trip? Err on the spacious side by bringing a two-person tent rather than a one-person. Having all of your gear inside the tent with you is a huge convenience. You can always slim down to a spartan one-person tent if the extra space isn't worth the weight penalty.
If you primarily go car camping or only take the occasional, short backpacking trip, choosing a roomy, affordable tent makes plenty of sense, as long as it's light enough to carry in your pack (less than 5 pounds is a good benchmark for a two-person tent) and protects you from the elements. 
Bringing a dog? Up your tent size by a full person or risk becoming a human dog bed. Make sure to choose a tent with a thick, durable floor to avoid punctures from your pup's claws. 
If your regular backpacking destinations are particularly rocky or sandy, consider investing in a freestanding tent—you may not be able to drive stakes into the ground.
Less Critical Backpacking Tent Features to Consider
Get up to pee a lot? It happens. Consider a 2-door tent if your bladder regularly makes a request to see the stars in the middle of the night. Your tentmate will appreciate it!
Tent color is generally an arbitrary trait but isn't entirely insignificant. A majority of tents are blue, green, or yellow, as these are calming colors. If you're stuck in a rain-soaked tent for days on end, a yellow tent may be a little cheerier than a blue tent. Do you like to sleep in a darker environment? A gray tent fly can help.
Gear lofts are an option offered by most tents, as are interior side pockets. These organizational features can be extra useful on an early-morning summit day when your brain wakes up three hours after the rest of your body. Organize the night before and grab-n-go!
Finally, stuff sacks. Some tents are an absolute fight to mash into their specific stuff sacks. Burrito-style bags have become popular because packing can be done with semi-reckless abandon. Splitting up tents and poles with a partner? The person carrying the fly/tent may consider a "third party" compression stuff sack to free up valuable backpack space.
---
Tent Care and Maintenance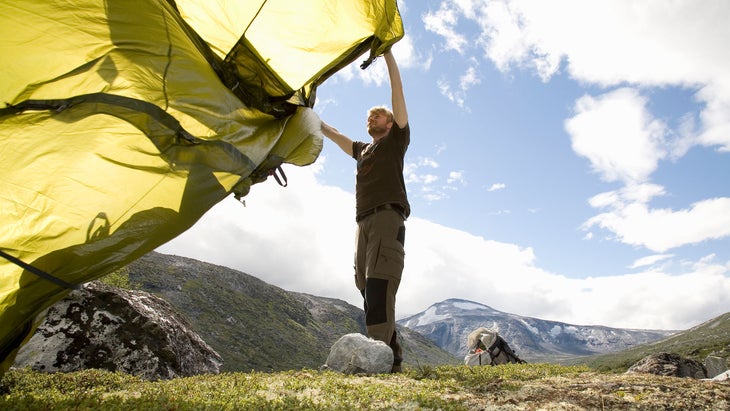 Even the best backpacking tents need regular maintenance to perform at their peak. Most issues can be fixed, including:

Broken tent poles

Worn out shock cord in poles

Minor tears in fabric/mesh

Broken zippers

Torn grommets

Delaminated seams

Small amounts of mold or mildew



Sometimes, however, a tent in really bad shape will require reordering parts or in the worst-case scenario, it will have to be retired. (Pro-tip: keep a retired tent around for donor parts!) This includes:
Extensive, long-term mold or mildew

Extensive UV damage to fly or tent body, making it too brittle to use or recoat

Chewed to bits by wolverines
Tent Care At Home
Tent storage after your adventures and during the off-season is critical in extending your tent's life. Here are some tips for home care:
Clean out your tent after every use. This may require light scrubbing with soap and water and shaking out a whole lotta' dust (and the occasional freeloading insect)

By sure your tent is totally dry before you pack it away. Mildew is the nemesis of all tents

If you can spare the space, do not store the tent in its stuff sack. Keep your tent in a covered storage bin, loosely stacked

If you have to keep your tent in a stuff sack,

stuff

it in—don't meticulously fold your tent or fly. This habit can cause creases that evolve into weaknesses over time
Tent Care on the Trail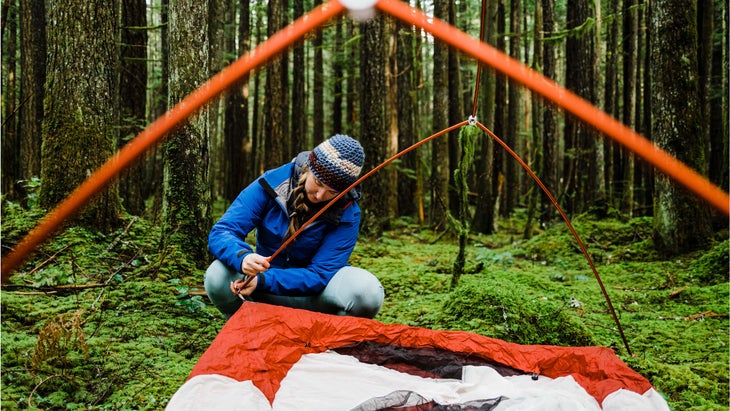 Spend enough time in the backcountry and something is going to break on your tent. Packing along a tent repair kit is a great idea, especially for trips lasting more than 3 days. These kits usually include patches, tent pole sleeves, duct tape, spare zippers, and seam sealer. 
Tent sleeves are light tubes that can reinforce a cracked pole. They are temporary fixes but will salvage an otherwise fractured pole. 

Floppy shock cord can make your poles too slack, rendering them useless in holding up your tent. Ideally, check your shock cord integrity before you leave. If you are using an older tent, packing in a replacement cord is wise. 

Rips and tears should be patched right away so that they don't get bigger. Mosquitos only need the tiniest of slits to invade your tent and ruin a good night's sleep. 

Bad zippers can be the bane of your existence. Pinching them with pliers tight to the track can help somewhat. Replacing zippers in the field is a 50/50 proposition, but sometimes it does the trick. Field-repaired zippers tend not to last, so get your tent to a repair shop when you're back in the frontcountry (alteration sewing shops can often fix zippers if you don't have a dedicated outdoor gear repair shop in your area).
Should I Use a Tent Footprint?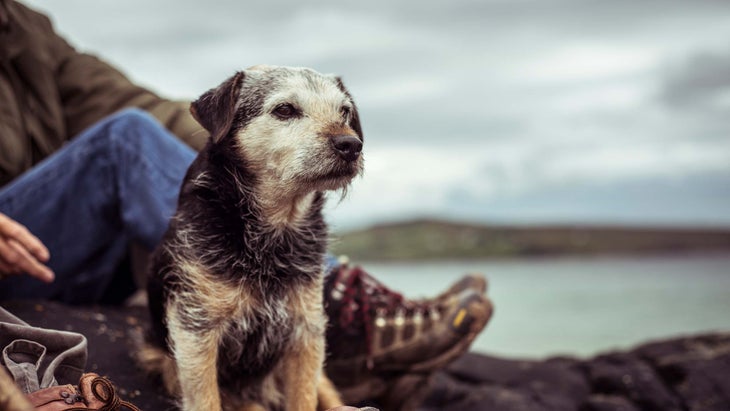 Tent footprints are specialized tarps that sit between your tent floor and the ground. They are not necessary but can certainly take some of the wear and tear off of your tent floor. Footprints add weight and can take up space in your backpack, but in certain cases, they are worth the trouble. 
These include:
Backcountry camping on abrasive sand or rock

Camping where rocks, sticks, and other pointy things could pierce the tent floor

Camping where water can seep through the floor via the ground

Car camping on gravel
The best conditions for not using a footprint would be in dry, flat, spots with soft dirt or decomposing pine duff. 
It's worth mentioning that yes, a cheap-o tarp can do the trick. The advantage of a dedicated tent footprint is it will be lighter, pack easier, and will be contoured to your specific tent. Footprints are usually only $5 – $10 more than a generic tarp so the upgrade is worth it. 
---
How to Realize the Full Potential of Backpacking Tents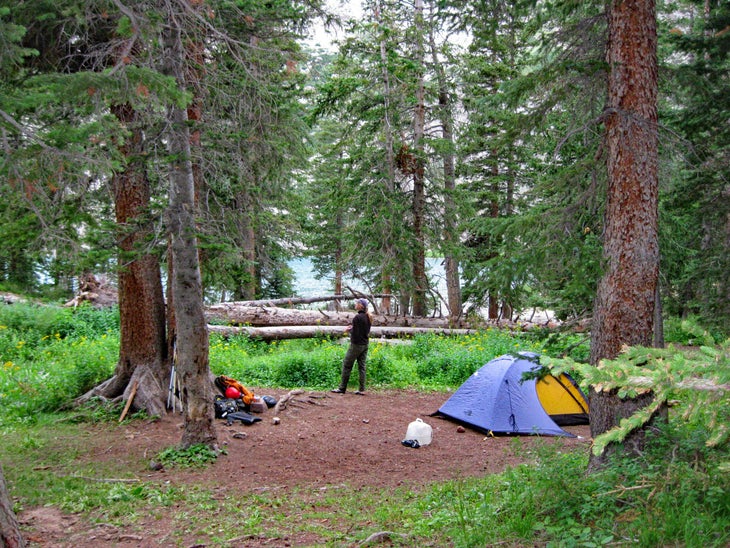 The more time you spend in a tent, the more you'll begin to appreciate the finer details of what separates an excellent backpacking tent from just an average one. Even the best tents may require modifications based on terrain, distance, and accepted levels of discomfort. Here are some of Backpacker's best tips on becoming a power user in tent camping. 
Tent Stakes
Most tents come with solid all-around tent stakes that will perform well across various terrains. Upgrading to lighter tent stakes can reduce pack weight, while investing in heavier, larger tent stakes may be the right strategy for camping on snow or in loose sand. Adding sets of stakes to your collection is relatively affordable and can make a huge difference in keeping your tent secure.
 
In forest settings with good, compact soil, ultralight stakes made of titanium, aluminum, or carbon fiber are a great choice. These whisper-light pegs have good holding power when set correctly, though you may want to cap them with a rock once they are pounded in for added security.

In rocky or rooty soil, ultralight stakes have a habit of bending—or in the case of carbon fiber stakes, shattering. Sturdier aluminum stakes—the standard for many stakes that come with tents—or even more robust steel stakes get the job done here. Steel stakes are often too heavy for most backpackers' taste but have unrivaled durability.

Specialty twist screws/stakes are made for the extremes of hot and cold: snow and sand. These stakes intentionally increase the total surface area and can be driven in vertically or laid horizontally (a technique known as "deadmanning"). Ultralight stakes are often useless in these environments. In extreme icy situations—usually mountaineering—ice screws may serve double duty as tent stakes.

Finally, how about the no-stakes-at-all option? Some places offer no possible places to drive stakes, such as camping above treeline in boulder fields. This requires clever use of guy lines (see below) and natural anchors. However, stakes may still help (for example, wedging them in a split between rocks) and are worth carrying. In this case, a reserve supply of ultralight stakes can foster ingenuity when trying to secure your tent. 
Bug Proof Your Tent
All it takes is a single, ambitious mosquito to completely ruin a good night's sleep. In the quiet of the backcountry, mosquitos can hum like lawnmowers as they ungraciously attempt to suck blood from your ears. Always remember to fully zip your tent closed when you aren't in it. This includes stepping out for those 2 AM bathroom breaks. 
Many shelters use mesh material in the tent body so be sure to check for holes before embarking on your adventure. If bugs are a major nuisance, a single-door tent can reduce points of entry. 
Vestibules and Interior Pockets
Vestibules are especially valuable when camping in rainy areas. They serve as a place to keep gear dry as well as a sheltered space to put on boots. Conversely, if you're camping light and have enough room to spare in your tent, you may not bother to stake them out. You may find having a large vestibule to be a worthy investment. Or you may find it a waste of space and added weight. Either way, consider what a vestibule brings to the equation when investing in a new tent. 
Interior pockets are nearly ubiquitous on all tents. They bring order to the chaos that inevitably happens on the inside. Some tents are marginally heavier due to having four interior pockets vs. two, but often that extra space for organizing gear is worth it—especially if you're headed out in the predawn morning for a summit hike and need to quickly account for your gear. 
Tents often sell optional gear lofts that hang from the high point of the tent interior. These are ideal for drying out soggy socks or storing headlamps so you'll know where are when groping about in the darkness. 
Ventilation
Tents can become very smelly very fast. Good ventilation minimizes funk, mitigates condensation, and circulates fresh air. Conversely, colder conditions may be cause for holding on to the warmer air you generate—funk and all—by swapping out mesh walls for solid nylon. In 3-season set-ups, it's usually worth going for a warmer sleeping bag rather than sacrifice ventilation, but if you're a particularly cold sleeper you may prefer solid walls. 
Freestanding vs. Non-Freestanding
The majority of backpacking tents are freestanding. Given the advances in technology that have drastically reduced the weight of freestanding tents, the previous advantage of non-freestanding tents has all but evaporated. Non-freestanding tents require the use of poles, trees, or other tensioning devices to stabilize them. They have their place among certain ultralight enthusiasts but the hassle to set them up is not most backpackers' cup of tea.
Picking a Campsite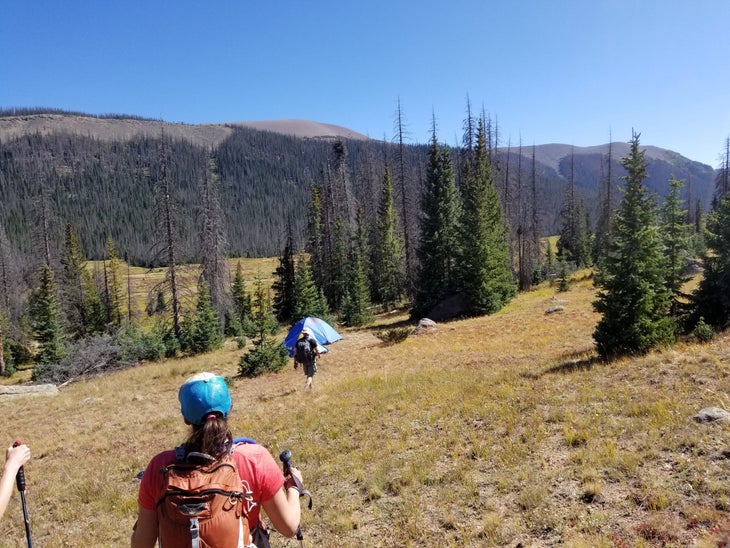 One of the best ways to prolong the life of your tent is to develop a savvy eye for picking the perfect backcountry camp spot. Obviously, camping on sharp rocks, roots, and soggy earth is a poor idea, but so is needlessly exposing your tent to excessive rain, sun, or wind. If you've pitched your tent on a red ant nest, you have learned the hard way that's a bad idea.
A good campsite benefits from the shelter of healthy trees. Trees block the wind, provide shade, and serve as anchor points for tying down your tent. A good campsite also has compact soil for tent stakes. It's worth scouting out for the best possible campsite, even if you're weary from a long day of hiking. An extra 15 minutes of searching is often all you need to find a site that will help protect your tent and lead to a good night's sleep. 
Tent Weight
Many tent manufacturers include a trail weight and "lightest weight" in their specs. The difference is usually marginal but for some backpackers, knocking off an extra pound may be part of the game. For example, if you're only going out one night and the forecast is crystal clear, you may want to ditch the fly. Or perhaps you don't plan to stake out vestibules, so leaving two stakes at home is part of a larger weight-saving equation. 
"Lighter is better" isn't a perfect motto, as heavier tents tend to hold up better in tougher conditions (and they tend to be less expensive). You may prefer a roomier 3 person tent for your 2 person party, thus adding more weight. The more time you spend in the backcountry, the easier it will be to prioritize what creature comforts suit your camping style and adapt your tent set up accordingly. 
Guy Lines – What Are They & How to Use Them
I've seen 15-year-old tents where the owners never even bothered to unfurl their guy lines. Guy lines provide reinforced contact points on your fly (and sometimes on the tent body itself) to add security by attaching these lines to anchors. These anchors can be trees, rocks, or even extra tent stakes brought along for just that purpose. 
In general, guy lines should be set up every time the tent is used. A more advanced use of guy lines is to set them up relative to the angle of headwinds to give extra support where it is needed most. Guy lines can also be used to increase ventilation in the space between the tent and the fly.  An unintended but inevitable role of guy lines is creating a trap for campers to trip over in the middle of the night. But they also work as impromptu clotheslines as well, so the secondary functions aren't all bad. 
Master the Bombproof Set-Up
Anyone who has taken a NOLS or Outward Bound course knows that learning how to set up a bombproof tent is an essential skill. Getting in the habit of securing your tent to withstand worst-case weather scenarios is an excellent way to learn the ins and outs of your shelter. This extra effort includes securing guy lines, putting rocks over stakes, staking out vestibules, and scouting out the best possible camp spot. 
Why Invest in a High-End Tent
High-end tents try to solve very specific problems. Some are made to withstand violent weather while others aim to be as light as possible while still being functional shelters. These types of tents cater to specific conditions. 
There are also higher-end all-around backpacking tents as well, such as several mentioned in this review. These tend to be made of more durable materials. These features include smoother zippers, lighter and stronger poles, cleverly engineered designs for more space, and more breathable tent flys. 
Entry-level tents by reputable brands are fine for most backpackers (and car campers). But if you plan on spending more than 10 nights out a year, you'll start to appreciate the higher quality functions of a better-designed tent. 
With great tent comes great responsibility. Higher-end tents are an investment that can last a decade or more with proper care. Keep your tent clean, store it in a loose container in a closet or other UV-safe environment, and regularly check poles, stakes, and floor for any excessive wear. Replace and repair worn-out parts of the tent ASAP. 
---
What a Backpacker Editor Looks For in a Backpacking Tent
Benjamin Tepler, Assistant Gear Editor
"As someone who's experienced my fair share of broken poles, torn rainflies, and hole-ridden tent floors, I prize durability above everything else. High-denier material in the body and fly, along with a stable, well-reinforced pole structure, helps me sleep at night."
---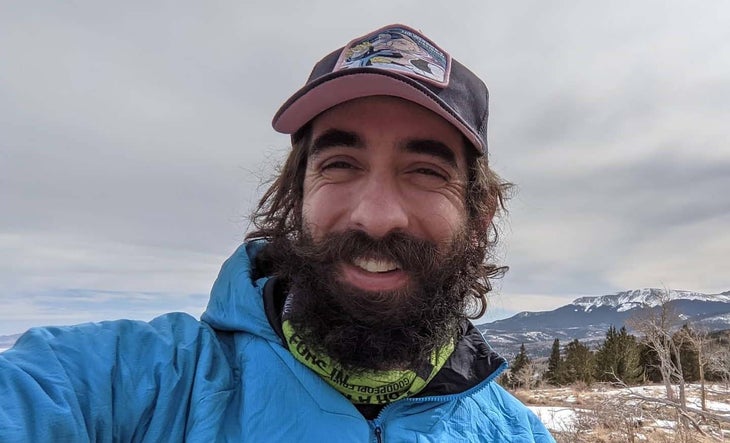 Adam Roy, Senior Digital Editor
"These days, I spend a lot of time camping with either my toddler son or my perpetually-anxious Chihuahua, so I gravitate toward budget tents that I don't have to stress about wearing out. Yeah, they're a little heavier, but both of my backpacking buddies have little legs, so I can't hike that fast anyway." 
---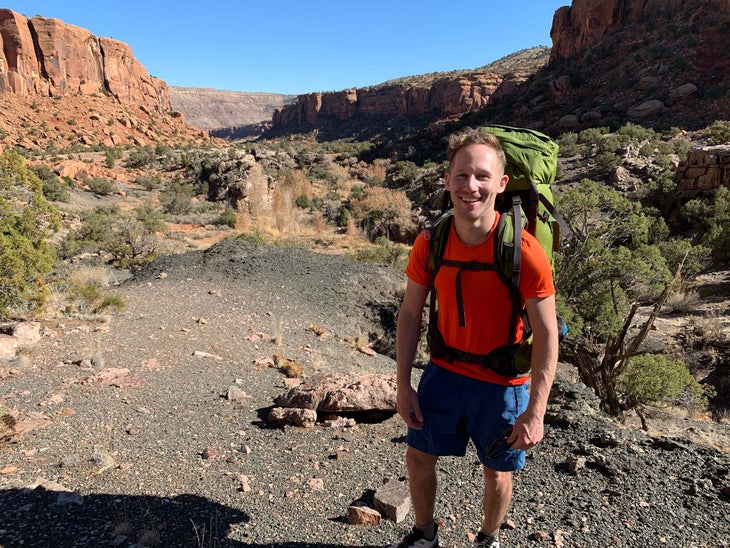 Eli Bernstein, Senior Gear Editor
"I'm all about space-to-weight ratio, so I seek out roomy tents that don't weigh too much. This often means that I make concessions to price and durability, but I put those out of my mind as I fall to sleep with plenty of room for me, my hiking partner, and gear inside my palace. If I can, I will usually take a light three-person tent for a two-person trip to maximize headroom."
---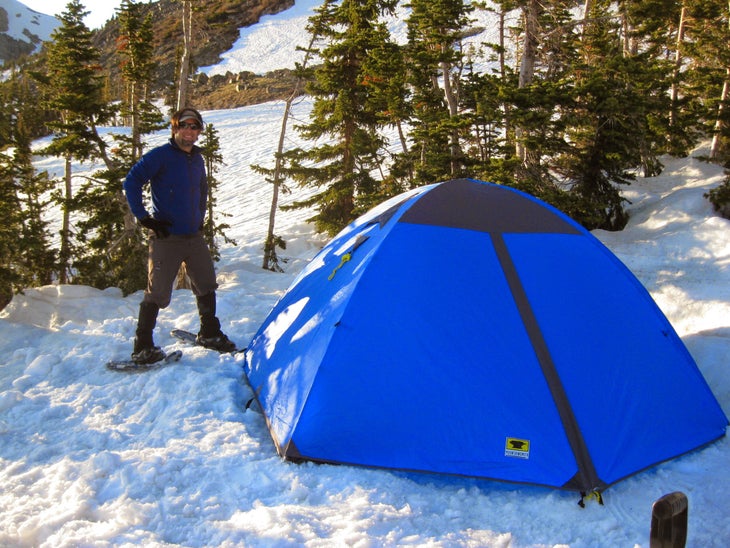 "When it comes to backcountry adventures, sleep is king. So I tend to lean toward the more luxurious side of backpacking tents. I'll bring a 3-person tent when it's just me and my dog. I'll use my 2-person tent when going solo. Many of my adventures mix in peak bagging, so pushing big miles usually isn't on my agenda. Give me a tent that is quick to set up, spacious, and weatherproof and I'll gladly bear the burden of an extra pound or two."
---
About our Experts