First Look: The deuter Trail Series
Versatility meets inclusive sizing meets next-level support in this new pack series
 If you like your outdoor adventure with a big dose of variety—hiking, climbing, alpine ascents—you probably have a closetful of curated gear to match. You can keep the assortment of shoes and sleeping bags, but here's a smart new way to cut the pack clutter.  
From easy day hikes to scrambling on challenging mountain trails to ascending fixed-rope routes, the deuter Trail series can get the job done—and well. Here's how: 
Superior Organization
Ditch the gear ties. The Trail 28 SL and Trail 30 have eliminated the need to creatively clip, tie, and bind tools to the exterior of your pack. For alpine pursuits, there's a secure ice axe attachment, trekking pole holder, and loops for the detachable helmet net accessory. An interior pocket snuggly stores a water bladder (or sweaty apparel).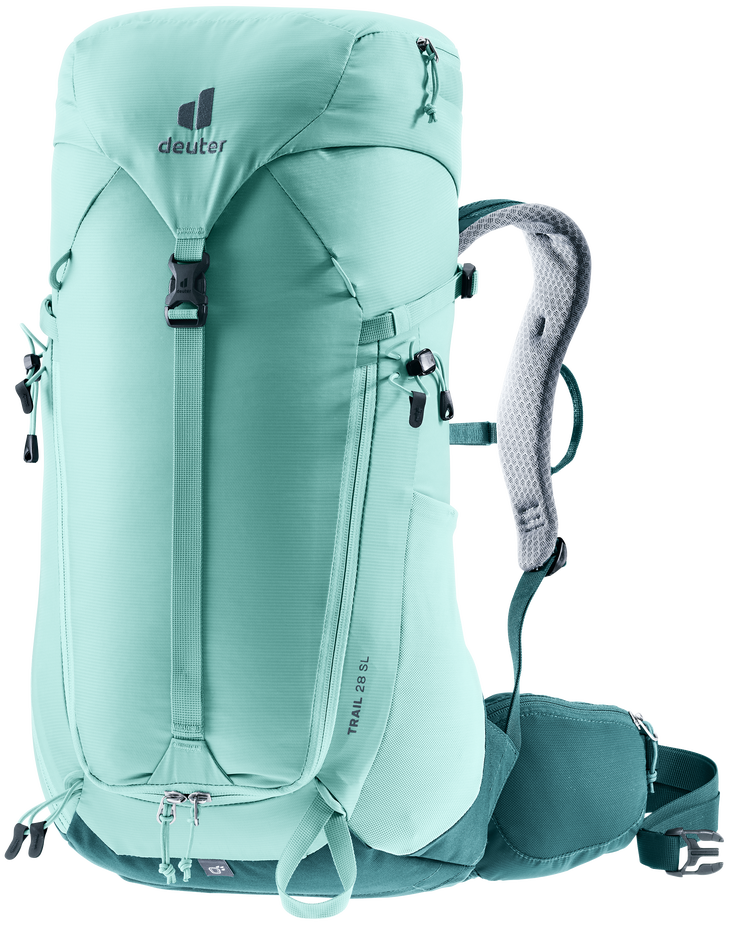 The 28- and 30-liter sizes are ideal for big-day, gear-intensive pursuits, but the packs are light and compact enough for speedy hikes as well. And the pocket design helps you get organized and stay organized.   A flexible pocket on the hip fin and the spacious lid compartment are ideal for storing quick-access  items such as your map, first aid kit, and  phone, while the two zippered side pockets are perfect for grab-and-go layers. The large main compartment cinches securely, and has additional access through the front zipper.
Eco-Friendly Materials
As part of deuter's commitment to creating environmentally friendly products, the Trail series is climate-neutral certified and made with more than 50 percent recycled materials. Plus, it's completely PFC free. These chemicals, frequently found in outdoor gear as  a protective, water-repellent coating, do not break down naturally in the environment and have been found in water sources as well as in different animal species. Instead, deuter uses a DWR treatment, which adds water resistance without the harmful environmental impacts.
Slim Line Sizing
The deuter Trail series is designed for explorers of all sizes. All packs in the series include adjustable hip and shoulder straps for a customized fit—but that's not all. The SL (Slim Line) series offers an entirely different sizing option to accommodate shorter back lengths and smaller builds. With shoulder straps designed for narrower bodies and hip fins that comfortably hug petite waists, the SL fit suits anyone at the smaller end of the range.  
Advanced Comfort
All of this wouldn't matter if the packs couldn't carry a load with all-day comfort. During long miles on technical terrain, breathability and stability are key. With a flexible, tensioned Delrin U-shaped frame, the pack will flex to support movement without compromising shape and stability. The frame's two Aircontact pads distribute the load evenly and circulate air as you move with an innovative hollow-chamber design. And effective compression straps keep everything secure and well-balanced.  
---
For 125 years, deuter has been making high-quality, reliable backpacks for outdoor adventures all year round. As a pioneering backpack innovator, deuter introduced the first mountaineering backpacks for women. The deuter Promise is the German brand's commitment to sustainability and a responsible approach to people and planet throughout its entire production chain.