Finally, Backpacks Actually Designed for Plus-Sized Hikers
Gregory's new line is a step in the right direction.
Heading out the door? Read this article on the new Outside+ app available now on iOS devices for members! Download the app.
I thought I had the perfect backpack, until it almost killed me. I so wanted to be in love with it: a top-rated pack that I'd seen on many of the other hikers prancing up boulders on the Long Trail, a 273-mile ridge line path stretching the length of Vermont. While it was a wonderful backpack in many ways, it wasn't for me—a hiker making her way through 100 miles of that same trail, carrying not only gear, but an extra 100 pounds of body weight, most of it centered around my hips, thighs, and derriere.
I picked up my not-to-be-named pack at The Mountain Goat in Manchester, VT, an outfitter that felt like home, with the smell of new hiking boots and the swish of people zipping in and out of sleeping bags. The store employee introduced me to the grey beauty, but I already knew it intimately. (It's a popular make and model—one Backpacker has reviewed and given accolades to.) He adjusted the straps over my cushy arms and thick middle. I loved the way it felt, even when he loaded it with simulated trail weight. I was smitten, leaving the store excited about the adventures I'd have with this pack.
My feelings towards the pack changed rapidly when I took my first few steps onto the Long Trail from Route 140 heading north. It felt as though there was a teenager clinging to my back in a piggyback position. The straps dug under my armpits; my center of balance teetered backwards. With each step, my butt shelf nudged the pack ever more northward, eventually pushing my head forward. I was a turtle disappearing into my shell. We bailed that day, and I never wore the backpack again.
Gear—like clothing—has to fit for it to work. As a plus-size adventurer, I've learned there is no one-size-fits-all. As outfitters continue to accommodate plus-sized women, which make up 67 percent of the female population in America, there is room to grow beyond just apparel. That's why Gregory's new line of plus-size backpacks, which launched in the summer of 2020, is so groundbreaking: the entire lineup is geared towards individuals who generally wear 2x-6x apparel.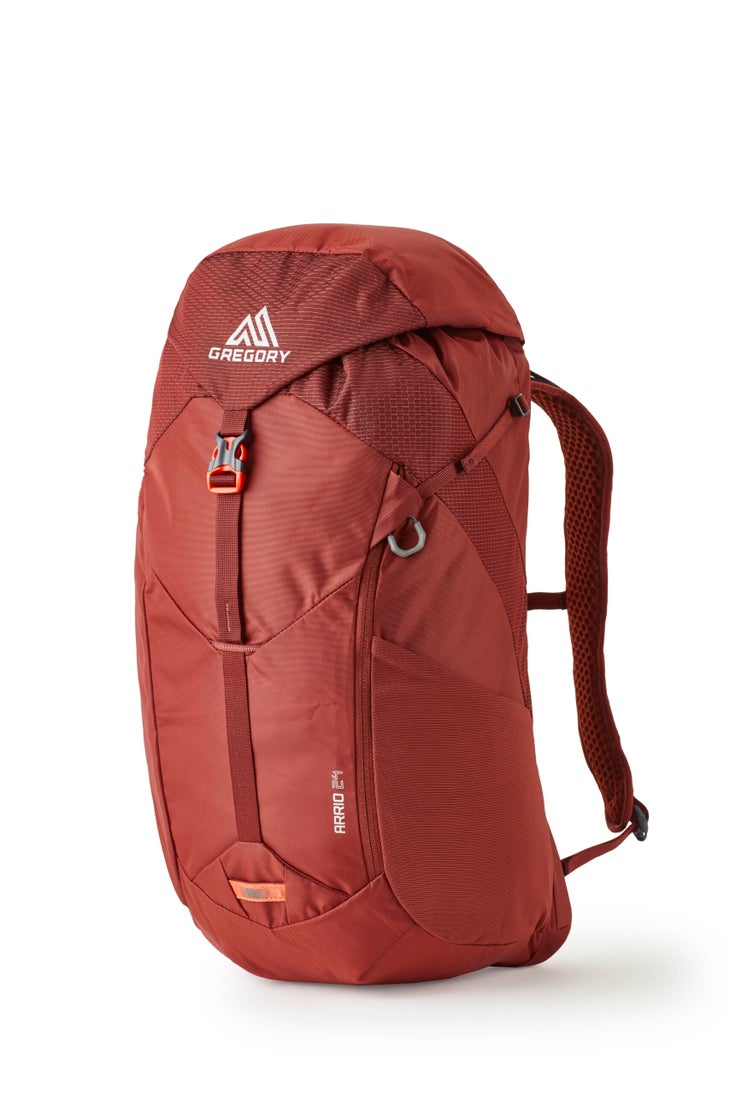 Trying out both the overnight-ready Amber 44 Plus and the Arrio 24 Plus daypack, I love that both have hip belts that fit all the way around the widest part of my body. (Previously, I had to wear the hip belt higher up around my waist, making the rest of the fit completely out of whack.) Other key parts of Gregory's adjustable design: longer shoulder straps, and more space between those straps, set at a wider angle. It makes dialing in the perfect fit much easier, and avoids digging into the shoulders and under the armpits. For the first time—with a pack that wasn't riding up, wobbling around, or bouncing in all the wrong places—I could feel what a backpack was designed to do: balance the weight on your back in a way that doesn't hinder your experience. 
The Amber and Arrio aren't perfect. I'd like a stronger pocket game: The Arrio 24 only has one mesh pocket, meaning I can't pack a Nalgene on one side and stash my poles in the other. On the larger Amber I would have preferred a stand-alone compartment on the bottom of the pack for my sleeping bag and pad. Everything else—clothing, pads, sleeping bags—is bigger when you're a plus-sized hiker, too, meaning ample space is more important than ever. 
Still, this new line represents a huge leap forward for the plus-sized outdoors community. That other coveted backpack made me feel like a wannabe. These Gregory packs give me a sense of belonging—like it was made for me in the same way I feel made for the trails.