The 6 Best New Daypacks for Every Kind of Hiker
From short hikes to long runs that push the definition of a dayhike, these six packs will be your constant companions.
Heading out the door? Read this article on the new Outside+ app available now on iOS devices for members! Download the app.
From family-friendly jaunts to grueling summit pushes, your daypack is your constant companion, so choose it wisely. At 35 liters or less and all under three pounds, these rucksacks have the smart features and robust suspensions you need to adventure as far and as often as you please.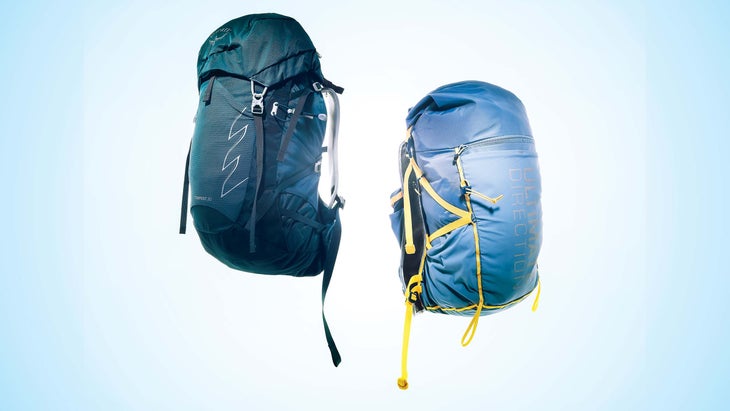 Best Suspension: Osprey Talon 33/Tempest 30

 
Overall Rating: 4.6
Price: $165
Weight: 2 lbs. 6 oz. (m's M/L)

Sizes: m's S/M and L/XL, w's XS/S and M/L

Buy Now
Suspension:
4.8
Like our favorite backpacking packs but in miniature, the Talon 33 (the Tempest is the women's version) comes with load-lifters, a beefy hipbelt, and best-in-test adjustability—all of which contribute to an extremely stable carry, even with 25 pounds on board. The superior load-transfer starts with the S-curve backpanel, which contours to your back and eliminates pack sway. Horizontal ridges in the stiff foam allow vertical flex but prevent barrelling. We also appreciated the wide, bell-shape hip fins, which wrap both the hips and lumbar spine to seamlessly transfer weight to the lower body.
Comfort:
4.6
The Talon's multiple sizing options and adjustable shoulder harness make it easy to find the perfect fit. We never experienced chafing, thanks to the spacer mesh and thin layer of die-cut foam padding on the shoulder harness and hipbelt. Shallow horizontal foam strips in the mesh-wrapped backpanel provide modest air flow, but we still soaked our T-shirts on 70°F days in the Colorado high country.  
Organization:
4.4
Two zippered hipbelt pockets are smartphone-size, and dual side pockets easily fit a 1-liter Nalgene (though we needed a buddy to reach it while hiking). We appreciated the roomy toplid, which fit a headlamp, extra snacks, and a small first aid kit, as well as the stretch-mesh dorsal sleeve for keeping a rain shell at the ready. 
Durability:
4.4
Even after 200 miles of testing over a season in Rocky Mountain National Park, we've seen no wear to the 100-denier/210-denier recycled nylon on the main pack body, or the 420-denier nylon on the boot. The PFC-free DWR deflected light rain without issue, but as to be expected we did need to add a pack cover during all-day showers on Washington State's Olympic Peninsula. 
Best for Big Days: Ultimate Direction

 

Fastpack 30/Fastpackher 30

 
Overall Rating: 4.5
Price: $165
Weight: 2 lbs. 6 oz. (m's M/L)

Sizes: m's S/M and L/XL, w's XS/S and M/L

Buy Now
Suspension:
4.7
Whether you're after an FKT or just want to pack in more views before dark, the Fastpack 30 is a perfect companion for the ultralight- and long distance-minded. Broad, 3.3-inch-wide straps on the running vest-style harness distribute weight across the shoulders and chest. The laminated-foam backpanel was sturdy enough to tote 20 pounds of overnight gear for a bivy on Colorado's Mt. Massive. A webbing hipbelt and dual sternum straps meant zero jostling, even when loaded down.
Comfort:
4.3
Thanks to light padding on the contoured shoulder harness, we never experienced pinching or soreness. "The zig-zagging adjustment straps let me pull the load snug against my back," explains one tester. "I could get a really perfect fit." Breathability was decent: The backpanel's mesh and 2-inch-wide central channel kept air moving even on humid, 75°F hikes in Washington's Chuckanut Mountain Park. The Fastpackher 30 has a slightly shorter and narrower backpanel, as well as smaller arm openings, to dial in a better fit for female hikers.
Features:
4.7
The Fastpack's 12 chest pockets might sound like overkill, but that level of easy-access organization meant we never had to stop to remove the pack. The two biggest pouches each fit a 500-milliliter soft flask (not included) and others fit snacks, sunscreen, and additional small essentials. A wide stuff-it pouch and side zipper streamlined layer access—which one tester appreciated when he was surprised by snowfall on Colorado's La Plata Peak. 
Durability:
4.4
The 210-denier ripstop nylon thrived over a season of rough treatment, including rocky bivies and long scrambles. The PFC-free DWR easily repels light rain and snow. The only bummer: After about 100 miles, the elastic on the vest pockets is already stretching out. 
"I was surprised to discover that with the Fastpack 30's body-hugging shoulder harness I could actually run with an overnight kit—including a sleeping bag, puffy pants, and coat. That was a game-changer for me. There are so many new trail link-ups I can do with a quick bivy—this pack got me more stoked on running and rekindled my love of simple, light backpacking." – Reid Kalmus, Gear Tester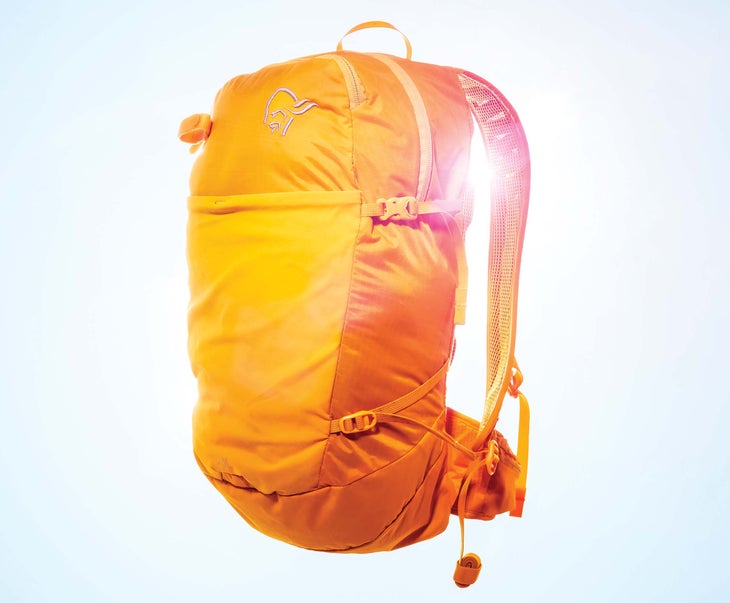 Lightest: Norrøna 20L Pack
Overall Rating: 4.4
Price: $129
Weight: 1 lb. 2 oz.

 

Sizes: unisex, one size

Buy Now 
Suspension:
4.2
When the mountains are calling, your pack should say, "Let's go!" Thus declares this pack's ultracompact design, which made it our gear editor's favorite for grab-and-go missions in the Tetons this year. The tapered, contoured backpanel wraps the hips and upper back, supporting up to 15 pounds and eliminating pack sway on everything from rocky hikes to mountain bike rides.
Comfort:
4.4
Ventilated EVA-foam padding on the hipbelt and shoulder straps hits the Goldilocks zone: not too firm, not too plush. "The hipbelt is wide for this pack size, which I appreciated on a 12-mile hike in Colorado's Indian Peaks," reports one tester. "I never experienced sore shoulders or back." Tradeoff: Even with a shallow air channel, the backpanel's body-hugging fit almost guarantees a sweaty back on hot days. 
Features:
4.5
A U-shape zipper fully opens the packbag, which we found surprisingly roomy for the 20 liters advertised. We fit a water reservoir, a handheld bike pump, and extra layers in the main compartment, and keys, sunscreen, and snacks in the top zippered pouch. Add a single large hipbelt pocket and a stretchy dorsal sleeve—plus compression straps and an ice-axe loop—and you've got a feature set dialed for any day-length mountain adventure. 
Durability:
4.6
We slung the 20L onto rocks, stuffed it under airplane seats, and spent a full season mistreating it, but the 70-denier nylon (coated in a PFC-free DWR) never showed a scratch. Bonus: More than 50 percent of the pack's nylon fibers are recycled from used fishing nets, among other sources.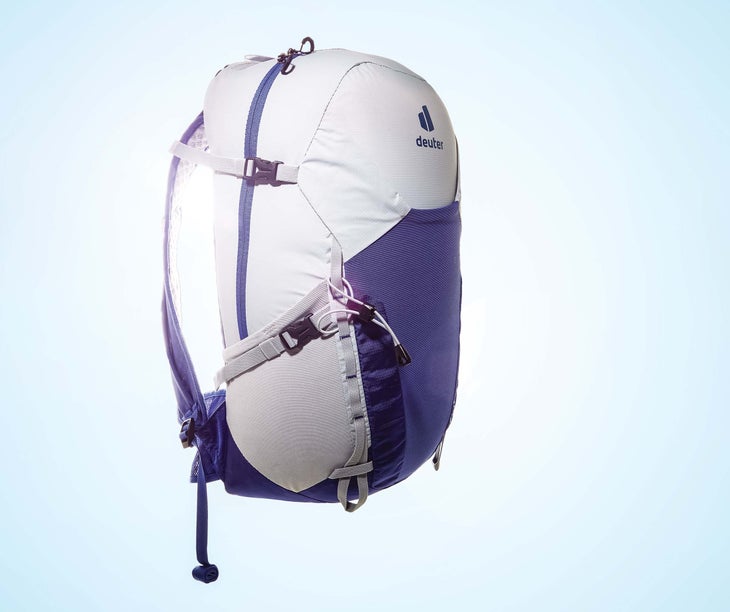 Most Comfortable: Deuter Speed Lite 25/23 SL
Overall Rating: 4.3
Price: $160
Weight: 1 lb. 9 oz. (m's)

Sizes: m's and w's, one size each

Buy Now
Suspension:

4.0
Some hikes are so hard that you just need a hug. With the Speed Lite, you won't need to beg your partner for one. The snug, body-wrapping fit comes from a combo of 3-inch-wide, vest-style shoulder straps and a supportive hipbelt. A long, tapered backpanel and low-profile silhouette ensure loads are never bottom-heavy. Add a U-shape, plastic perimeter frame—one of only two true frames in the test—and you get easygoing carry of up to 20 pounds. One tester knocked out five summits and over 2,000 vertical feet of scrambling in a single 16-mile day—a modified Skyline Traverse in Boulder, Colorado's Flatirons—and reported zero back or shoulder soreness at the finish. 
Comfort:
4.7
The contoured shoulder harness snugs seamlessly across the front of the body, earning the Speed Lite its best-in-test comfort rating. The lightly padded hip fins are soft enough to wrap the top of the hips without rubbing, and the breathable backpanel mesh kept us dry during an 80°F hike on Canyonlands National Park's Slickrock Trail, despite the pack's close fit.
Features:
4.7
One zippered hipbelt pocket fits snacks, sunscreen, and headlamp. There are two chest pockets: One is zippered and fits a smartphone, and the other is elasticized for securing snacks. A roomy top pocket holds keys and a wallet, and a generous mesh front pocket proved perfect for stuffing rain layers during one tester's bat-monitoring field work in the Colorado Front Range. 
Durability:
3.7
A 140-denier ripstop polyamide defends the base of the pack, while a 100-percent recycled, 100-denier polyamide on the main packbody is enough to withstand light bushwhacking (though we wouldn't trust it against thorns). The whole package is coated with a PFC-free DWR, which did its job: After six miles of heavy rain on Seattle's Hidden Valley Trail, we were pleased to find our stuff still dry.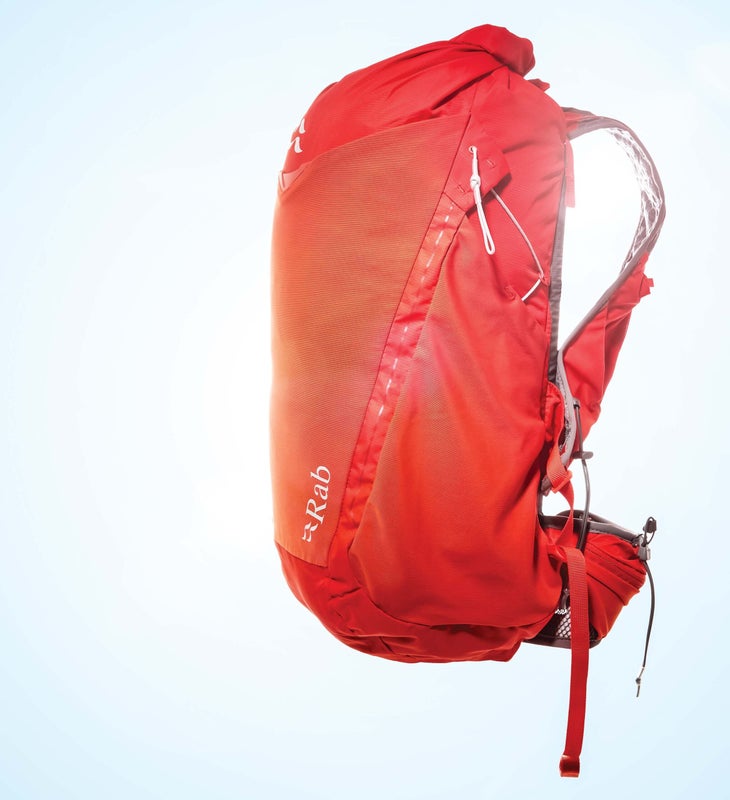 Best Organization: Rab Aeon Ultra 28
Overall Rating: 4.3
Price: $165
Weight: 1 lb. 9 oz.

Sizes: unisex, one size

Buy Now
Suspension:
4.0
Light but durable, slim but feature-rich, the Aeon Ultra 28 offers the best of all worlds for fastpackers, dayhikers, and peakbaggers alike. A dense EVA framesheet radiates the force of the load out to both the hips and shoulders, where a running vest-inspired harness and broad hipbelt distribute up to 15 pounds. Dual sternum straps keep loads battened down, and a clingy fit stamps out pack sway. 
Comfort:
4.1
The Aeon Ultra's wide, seamless hipbelt fins and broad shoulder straps (the widest in the test at 4.3 inches) prevent hot spots, while a soft, lightweight mesh on the body-hugging portions promotes breathability. Four diamond-shape trampoline cutouts in the pack's backpanel—one behind each shoulder blade and two at the lower lumbar—provide airflow through the back. 
Features:
4.8
A small zipper in one of the chest pockets, which fits a narrow 500-milliliter soft flask (sold separately; $18), lets you adjust the pocket's compression to keep water pressure up, letting us sip without squeezing. The other chest pocket fits several energy bars, as do each of the zippered stretch-mesh hipbelt pockets. "The main pack allowed me to carry tons of soft goods—bulky jackets, gloves, and water—which was great for Colorado Fourteeners," says one peakbagging tester. A mesh shove-it sleeve and dual side bottle pockets make it easy to keep extra water and rain layers close at hand.    
Durability:
4.3
A rolltop closure keeps out light precip, and the Aeon Ultra's 70-denier/140-denier nylon blend fabric (which is made from 50-percent recycled material) withstood scraping in sandstone corners and chimneys on Utah's 500-foot-tall Washer Woman Tower. "Between that and all the usual rigors—throwing the pack down on rocks and going over the handlebars of a mountain bike—it held up well. No scuffs or scratches," said one tester after a season of adventuring in the Southwest.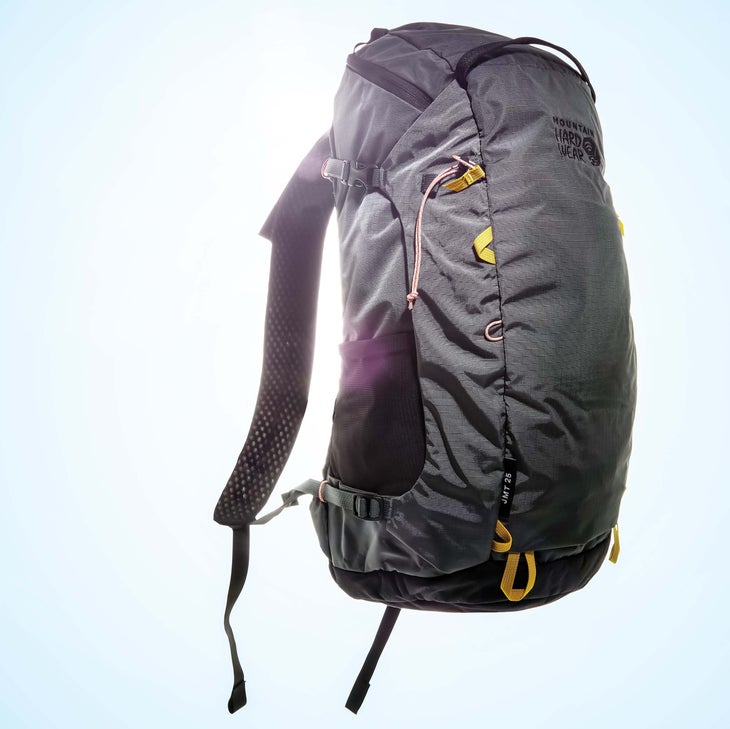 Most Versatile: Mountain Hardwear JMT 25

 
Overall Rating: 4.2
Price: $140
Weight: 2 lbs. 4 oz. (unisex)

Sizes: unisex and w's, one size each

Buy Now
Suspension:
4.6
Thanks to its adaptable features and unobtrusive suspension, the JMT 25 was our go-to for multisport adventures of all stripes this season. A rectangular, spring-steel perimeter frame—the only metal suspension in the test—that encircles the trampoline backpanel is rigid enough to support up to 15 pounds of load, yet flexible enough to move with us on scrambles. Four points of attachment to the hipbelt—which is angled to cup the tops of the hipbones for even load distribution—let it move with us without swaying. We appreciated the belt's low profile on rock climbing and mountain biking outings, and it also retracts into a sleeve if you don't need it. 
Comfort:
3.6
Thin padding on the hip fins and shoulder straps prioritizes breathability and ease of movement over plushness, something our minimalist testers loved and our maximalists found sufficient to prevent chafing. Four sections of corrugated foam recessed in the mesh backpanel provide both horizontal and vertical air channels. We were able to avoid total swampout, even while toiling uphill on smoky, 85°F days in the foothills near Boulder. 
Features:
4.1
A small, zippered pocket in the bucket-style lid holds keys, a headlamp, and sundries. Dual hipbelt pockets (one zippered, one not) are just shy of phone-size, though each fits several energy bars. Testers also appreciated the retractable mesh pocket on the front of the JMT 25, which tucks into a hidden pocket when you want a more rugged, streamlined pack. 
Durability:
4.5
We put over 100 miles on this pack, and its 210-denier ripstop shell—reinforced with 500-denier Cordura on the boot—is holding strong. "No signs of wear so far," reports one tester, who spent five days thrashing the JMT 25 in Yosemite—including on the Valley Loop and Mt. Watkins trails—this fall.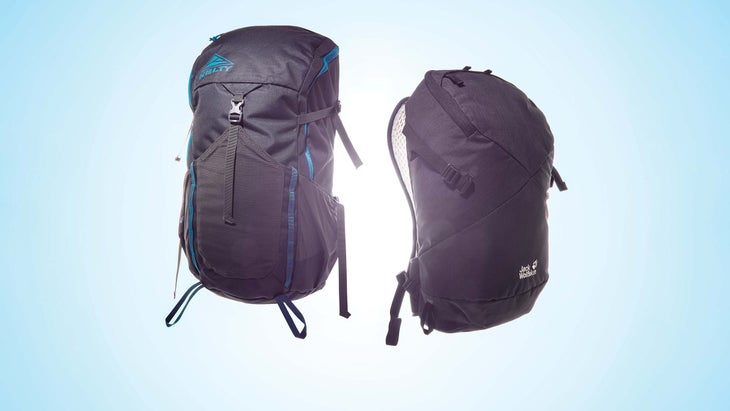 Best Value: Kelty Asher 35
Overall Rating: 4.1
Price: $100
Weight: 1 lb. 12 oz.

Sizes: unisex, one size

Buy Now
Suspension:
3.5
The Asher 35's key ingredient is an hourglass-shaped, high-density foam framesheet, which held firm against our lumpiest cargo. Wide (nearly three inches across), padded shoulder straps spread the weight evenly across our shoulders. But heavy packers beware: The simple webbing hipbelt is meant for load stability, not weight transfer, and we were happiest with under 15 pounds on board. 
Comfort:
4.3
Closed-cell foam covers the backpanel and shoulder straps, which let us carry 13 pounds over 10 miles in the Grand Canyon without any collarbone rubbing. Breathability is decent: An open polyester mesh stretches across die-cut holes in the foam backpanel, allowing some airflow, though we still soaked it with sweat during 80°F days on Grand Canyon National Park's South Kaibab Trail. 
Features:
3.7
A stretch-mesh shove-it pocket holds gloves and layers. Lateral side pockets and a toplid pouch provide access to on-the-go essentials. But the biggest winner is the best-in-test gear access provided by the full zipper, which starts just behind the loadlifters and extends two-thirds of the way down the pack on either side, allowing it to open like a suitcase. "The Asher's bucket-style opening was amazing for quickly loading all my gear and hitting the trail fast," reports one Arizona trekking guide. 
Durability:
4.9
The most budget-friendly pack is the one you'll never have to buy again—and the Asher 35's best-in-test durability and price-to-volume ratio ensures it's exactly that. Its 600-denier polyester—the same material Kelty uses for reinforcement panels on its larger packs—shone over a season in rough desert terrain. It defied clawing branches on bushwhacks in Utah's Grand Staircase-Escalante National Monument, and light rain rolled off the PFC-free DWR coating. Only the pocket mesh ended the year with a slight snag. 
Scenes from a Mission
It was mid-October the day we climbed Washer Woman Tower in Utah's Canyonlands National Park. Washer Woman is a freestanding, 500-foot pillar split by a narrow sandstone arch. Climbing it is a classic objective, but my four buddies and I decided to turn it into an even bigger adventure—by tacking on a 60-mile mountain bike loop. 
We split into two groups. Danny, Derek, and I loaded our bikes into our car and drove to the base of the tower. There, we started the approach on foot—800 vertical feet of hiking in just under a mile—right after sunrise to get a head start on the other group. Meanwhile, Charlie and Tom had started biking from the canyon rim at 3 a.m. The timing was perfect. They were able to drop bikes and climb the route just behind us. We all met up on the summit, whooping and cheering, standing high above the canyon floor under bluebird skies. Then a rappel through Washer Woman's iconic sandstone arch, a hike down to our stashed bikes, and a 60-mile loop to drop off Charlie and Tom at their starting point on the rim and finish out the adventure. The summit was great, but I think the coolest part was when the sun went down and the full moon came up. It was so bright we didn't even need headlamps. We were cruising down a 20-mile stretch of sandy road under the moonlight, winding through this desertscape of sandstone fins, towers, and hoodoos. It was a 24-hour day, but with a solid crew and stellar objective, the time just flies. 
— Ryan Marsters, as told to Corey Buhay
Most Eco-friendly: Jack Wolfskin Terraventure 22
Overall Rating: 4.0
Price: $160
Weight: 2 lbs.

Sizes: unisex, one size

Buy Now
Suspension:
4.0
With post-consumer recycled fabrics, recycled mesh, and algae-based foam, the Terraventure wins top marks for eco-cred, as well as for its carry. The backbone of the pack is a dense foam board, which helps direct up to 15 pounds of load to a lightly padded hipbelt. The foam—both in the board and in the layers of padding lining each side of the spine—is made from algae harvested from polluted lakes in China (its harvest leaves drinkable water behind). The whole package contours to the back for a close fit that shone on steeper trails. "I really appreciated the streamlined shape while scrambling up 9,139-foot Lolo Peak in Montana—it never shifted on me or inhibited my arm movement," reports one tester. 
Comfort:
3.5
While minimalist, the thin padding on the hipbelt and shoulder yoke was enough to prevent soreness when the pack was fully loaded. The backpanel, which is wrapped in a 100-percent recycled polyester mesh, rests securely against the lower lumbar but arches away from the upper back, permitting enough airflow to cool us during the dog days of a smoky Montana summer. 
Features:
4.0
We fit keys, snacks, and a small first aid kit in the zippered top pocket, and the single lateral pocket held a hat or gloves. A small zipper expands the one exterior pocket from bear spray-size to water bottle-size. Nice touch: The Terraventure is the only pack in the test with an integrated waterproof cover, which tucks into a pouch at the base of the pack. 
Durability:
4.3
Testers reported no scratches or stains on the 300-denier ripstop polyester material (which is 100-percent post-consumer recycled and bluesign-certified). Even the recycled stretch-mesh on the side pocket emerged with nary a scuff after a long season of testing. 
How We Tested
With more and more brands getting into the daypack game these days, sniffing out the right one is harder than ever. This year we looked at more than 30 contenders, then narrowed the field to meet our guidelines: Each one had to have a hipbelt and/or wide, padded shoulder straps to stabilize and distribute loads. We looked for backpanels and internal frames capable of supporting at least 15 pounds. We also filtered for durable fabrics that could handle occasional brushes with rocks and tree branches, and prioritized thoughtful organizational features designed to keep essentials within grabbing range. We then deployed 17 testers from Washington State to North Carolina, who took to the field to find out which models performed best. Packs that tore, busted seams, lacked organization, chafed hips, or left shoulders achy were disqualified. Of those remaining, we picked winners for each category. —Corey Buhay, Packs Testing Manager
Testing Stats 
Total mileage:

 

940
Total Vert:

 

123,300 feet
Heaviest Load:

 

30 lbs.
Coldest Temp:

 

0°F, Indian Peaks Wilderness, Colorado
Hottest Temp:

 

105°F, Austin, Texas
Worst Weather:

 

40-mph winds, Mt. Washington, New Hampshire
Heaviest Water Carry:

 

8 liters (17.6 pounds)