The 12 Best Backpacking Backpacks of 2022
A comfortable carry comes down to finding your perfect rucksack.
Heading out the door? Read this article on the new Outside+ app available now on iOS devices for members! Download the app.
A backpack is arguably the most important gear purchase for extended trips in the backcountry. But choosing the right hauler isn't as simple as picking out the correct size and calling it good. The hottest new ultralight rucksack might not support your week's worth of rations. One hip belt design could be heaven for one person, and a constant irritation for another. 
To find the best packs for every kind of backpacker, we spent hundreds of nights testing backpacks across the spectrum, from lightweight, low-structure ones to built-up, expedition-ready models. Here, we round up the very best backpacking backpacks for several different scenarios to help take out the guesswork.
Our top picks at a glance:
Best All-Around for Most People: Osprey Aether 55 / Ariel 55
Best All-Around With More Features and Adjustability: Gregory Baltoro 65 / Deva 60
Most Durable: Lowe Alpine Cholatse 52:57 /Cholatse ND 50:55
Best Bargain Pack: Kelty Asher 55
Most Comfortable: Gregory Katmai 65/Kalmia 60
Most Breathable: Mammut Ducan Spine 50-60
Best for Transitioning Ultralighters: Gossamer Gear Mariposa 60
Best for Big and Tall Hikers: Granite Gear Perimeter 50
Best for Heavy Loads: Mystery Ranch Terraframe 65
Largest Capacity: Deuter Futura Air Trek 60+10/Futura Air Trek 55+10 SL
Best Budget Pack for Expeditions: Kelty Coyote 65 / Coyote 60
Most Eco-Friendly: Fjällräven Kajka 65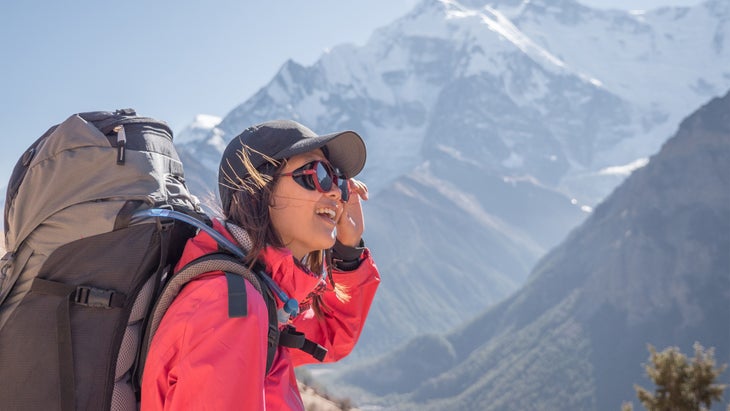 What to Look for In a Backpacking Backpack
Carrying Capacity
For three-season backpacking trips that take a weekend or longer to complete, most backpackers will want a pack between 50 and 80 liters in capacity. If you're simply doing an overnight trip or have an ultralight kit, you can make do with a smaller pack.
Frame Type 
Most backpacks have an internal frame, which lives inside the backpanel and can consist of anything from aluminum stays to plastic frame sheets, allowing users to carry significant loads comfortably. Frameless packs, popular amongst ultralighters who have very low pack weights (under 25 pounds), generally require that the majority of your equipment is also ultralight, and that you pack your gear carefully, as there isn't the extra material to provide structure to your pack. External frame packs, the primary design for older backpacks, are still available and can offer the most support of any pack at a hefty weight penalty. 
Fit
Many packs come in several sizes for various body types. Torso length can usually be adjusted with either simple tools or on the fly with built-in mechanisms. Most brands have gender-specific backpacks to better conform to height, waist-size, and shoulder strap style preference. Beyond simply "men," "women," and "youth," some companies design packs for a wider range of body types, like plus-sized hikers, in the recognition that not everyone fits the same cookie-cutter pack layouts. 
Features
The number and type of pockets, layout and opening style, and extra bells and whistles, like an ice axe loop, are all considerations that you should weigh against your style and objective. Most internal frame packs come with a basic list standard features including side water bottle pockets, a reservoir pouch, a mesh pocket on the back, and side compression straps. Beyond the basics, check for your personal must-haves: Are the hipbelt pockets big enough for your smartphone? Does the hydration hose strap to your favored side? 
The Best Backpacking Packs on the Market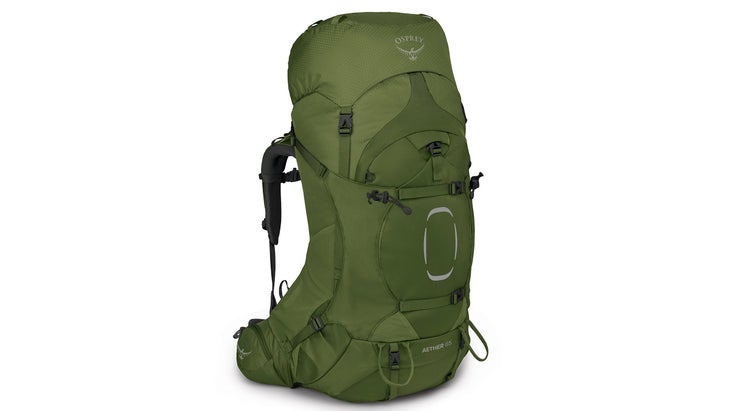 Best All-Around Backpack for Most People: Osprey Aether 55 / Ariel 55

Price: $270
Weight: 4 lbs. 2 oz.
Buy Now
Pros: A classic, extremely comfortable, good weight-carrying capacity
Cons: On the heavier side
Sometimes you use a piece of gear for the first time and you just know. That was the case when our gear editor took the Aether 55 (the Ariel is the women's-specific design; both have been around in various forms since 1997) on a trip in northern Colorado's Rawah Wilderness. This pack is as well thought-out and as handsomely appointed as a luxury car, expertly balancing a comfortable ride, back-saving support, and smart features. Designers augmented some of the most cushiony hipbelt and shoulder straps we've ever worn—they're like structured pillows for your hips and collarbone—with a wire perimeter frame and a dense, injection-molded plastic framesheet that distributes weight to all the right places. "Because it was a holiday weekend and I was playing guide for a couple friends, I loaded the pack up with way too many goodies. Everything probably weighed around 35 pounds," he says. "I was dreading our 11-mile hike to a lakeside camp, but then I put the Aether on and knew I'd be fine." —Eli Bernstein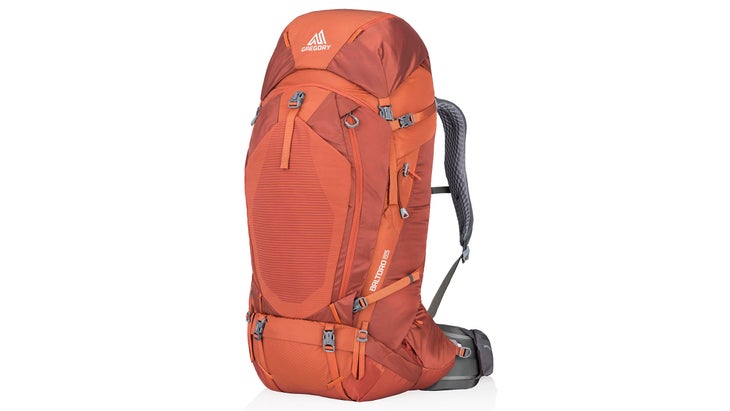 Best All-Around Backpack With More Features and Adjustability: Gregory Baltoro 65 / Deva 60
Price: $300
Weight: 4 lbs. 14 oz.
Buy Now
Pros: A classic, extremely comfortable, good weight-carrying capacity, highly adjustable
Cons: On the heavier side, expensive
In 2008, Gregory designers brought comfort and durability to the fore, knowing that hikers who log big miles with big loads will gladly accept a slight weight penalty for top-notch load carry. And so they made a pack with a suspension system that swivels on a pivot, self-adjusting with the hiker's hips. It worked then—and it works now. "I hauled 50 pounds on treks in New Zealand, the Grand Canyon, and California's Trinity Alps, and I never got sore hips," one editor says. Over the years, Gregory added and improved details while shaving off ounces. The Baltoro/Deva wins over more converts with angled water bottle pockets that make it easy to grab a drink on the move, a waterproof hipbelt pocket that fits a smartphone, and a clever hydration sleeve that turns into a daypack. The pack features three inches of adjustability and overlaps considerably with the next size up or down. Between that and the extendable hipbelt wings, the Baltoro/Deva makes it easy for off-sized hikers to find a small pack with a big hipbelt or vice versa. All said, the Baltoro now rivals your average big-load pack in weight—while still carrying like a Baltoro. If you want to tell the world you're all about going fast, there are other packs for you. But if you want to send a message that you're going far, and often, with any load, the Baltoro is still your pick. —Dennis Lewon
You can find a detailed comparison of these top Osprey and Gregory packs here.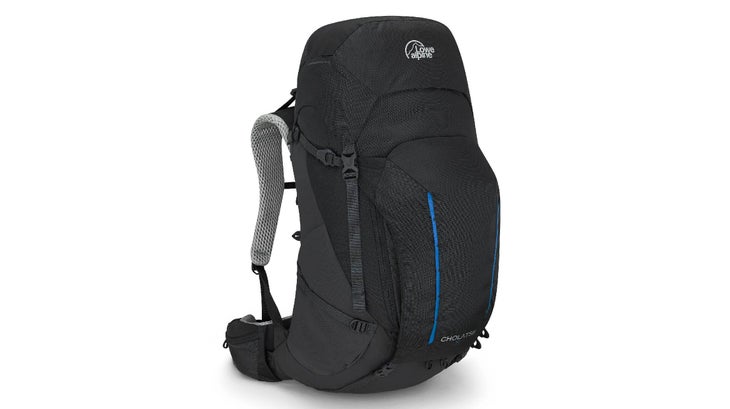 Most Durable: Lowe Alpine Cholatse 52:57 /Cholatse ND 50:55
Price: $200
Weight: 4 lbs. 2 oz.
Buy Now
Pros: Very durable, good stability
Cons: Thin hipbelt
Hard on your gear? Challenge accepted. We threw everything we could at the Cholatse (the ND is the women's version), but its reinforced stitching, minimalist profile, and 420-denier and 210-denier Robic ripstop nylon resisted both butt-slides through steep Colorado scree and bushwhacking in Alaskan scrub. "I put it through the wringer over six days of thrashing off-trail in Denali National Park, and it still looks brand-new," reports one tester. The Cholatse's suspension dealt with the rough terrain just as handily: An ergonomically curved, heart-shape aluminum frame transfers weight directly to the lumbar area via a form-fitting hipbelt. "The pack was stable and didn't swing, which was important when I was scrambling up a 40-degree chute on all fours," said one Colorado tester, who lugged 30 pounds over the Continental Divide. One ding: While we found the shoulder straps wide and padded, the minimally cushioned hipbelt chafed on one bony-hipped tester. —Corey Buhey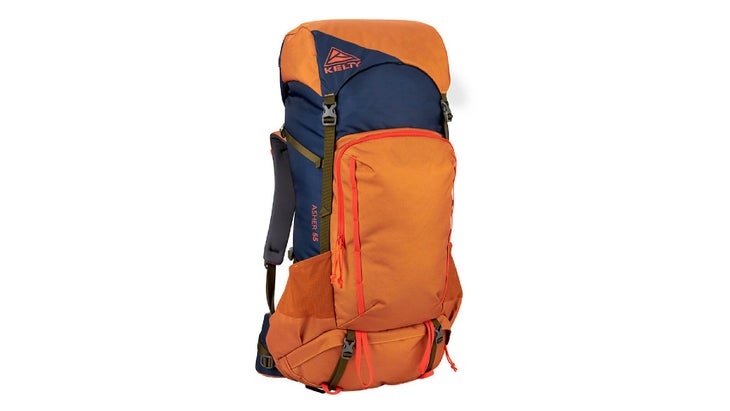 Best Bargain Pack: Kelty Asher 55
Price: $130
Weight: 2 lbs. 12 oz.
Buy Now
Pros: Affordable, lightweight, durable, fully-featured
Cons: Lower weight-carrying capacity 
If you're on the fence about shelling out for your first pack, ease in with the Asher. This all-purpose weekend warrior is kitted out with the essentials—adjustable fit, bottom sleeping bag access, a big U-zip-access external pocket, and a decent suspension that transfers moderate loads to the hips—at a killer price. Unlike most folks' first packs (and any external-frame hand-me-downs in the family attic) the sparse feature set and basic spring steel perimeter frame keep it under 3 pounds. The Asher's burly 600-denier Oxford polyester bottom (roughly comparable to 420-denier nylon in terms of durability) and 420-denier Stafford polyester body withstood rough treatment and scrapes against rock during overnights in the Colorado Front Range. Caveat: Testers found the trimmed-down suspension most comfortable for loads up to 30 pounds. —CB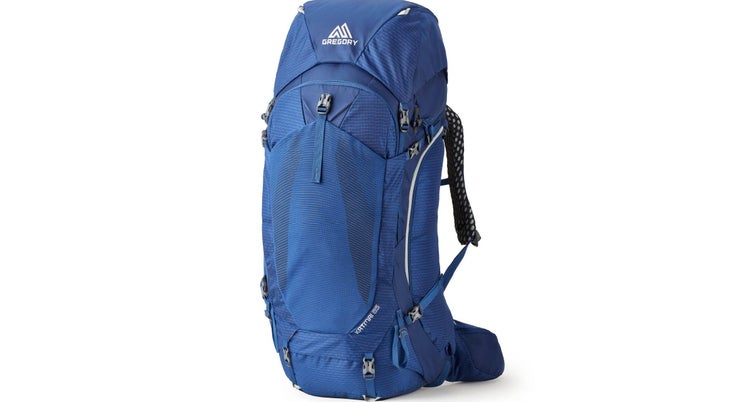 Most Comfortable: Gregory Katmai 65/Kalmia 60
Price: $300
Weight: 4 lbs. 12 oz.
Buy Now
Pros: Extremely comfortable, good breathability, good storage, high weight-carrying capacity
Cons: On the heavier side, expensive
It's hard to feel giddy while carrying a heavy pack, but the Katmai (the Kalmia is the women's version) kept us smiling. "The load felt lighter than it was, thanks to the well-padded hipbelt and shoulder straps, in addition to supportive tension across the backpanel," says one tester who used the Katmai to lug 40 pounds during a luxe weekend trip to Michigan's Pictured Rocks National Lakeshore. The Katmai's cargo-hauling chops come from a spring steel-alloy perimeter frame that's reinforced with a fiberglass cross stay. The frame transfers weight directly to the center of the seamless, wraparound hipbelt. Breathability kept pace, even while we toiled in 80°F temps. The Katmai cleverly evades the shirt-to-back suction characteristic of most trampoline backpanels via two channels that create an inch of blessed separation (and no testers reported pack sway). Pockets abound: The toplid alone has three, and even though the mesh shove-it pouch is small, it conceals a massive dorsal pocket that splays open via a U-shape zipper to hold lunch, a first aid kit, a headlamp, and a windshell. And if something didn't fit in those pockets, it didn't matter: We could access any point of the pack's interior via the arching, full-length side-zip or the bottom sleeping bag compartment. —CB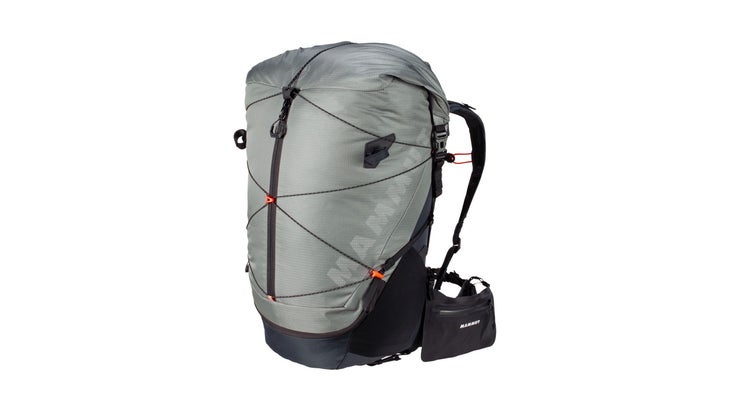 Most Breathable: Mammut Ducan Spine 50-60
Price: $250
Weight: 3 lbs. 6 oz.
Buy Now
Pros: Excellent breathability, good stability, high weight-carrying capacity
Cons: Squeaky suspension, weak sternum strap
Mammut has taken the latest step forward in the quest to eliminate backsweat with the Ducan Spine. This pack's backpanel, a narrow strip of reinforced polyester with a central fiberglass stay, lets air flow freely and avoids the shirt-to-back suction common with full backpanels. "I never felt sweaty, even hiking along the Olympic Coast in 70°F weather—with 90 percent humidity," one tester says. Two swivels, centered between the shoulder blades and iliac crest, respectively, absorb gait sway while transferring weight to the hips. The result is stabilization of loads up to 40 pounds. Mammut subs external pockets for a detachable hipbelt pouch and mesh pockets on the shoulder straps (some testers missed the extra organization). Expanding the generous roll-top adds 10 liters of capacity. Little misses: The sternum strap is too stretchy to hold tension under a heavy pack, and one tester complained about the squeaky suspension. —CB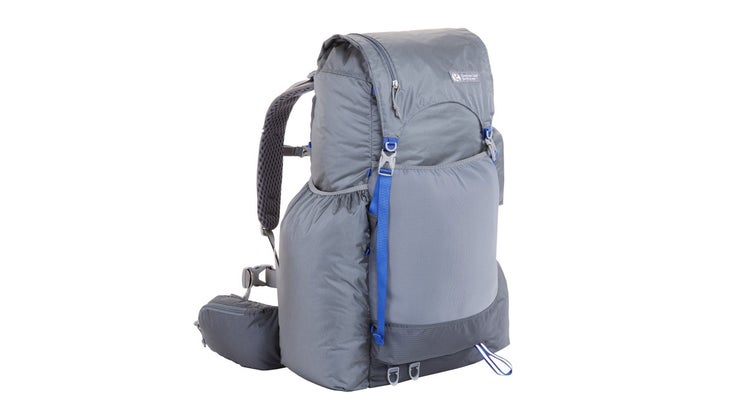 Best for Transitioning Ultralighters: Gossamer Gear Mariposa 60
Price: $210
Weight: 2 lbs 6 oz
Buy Now
Pros: Excellent weight-carrying capacity for a UL pack, excellent organization
Cons: Average weight-carrying capacity for a traditional pack, inelegant top lid
Ultralight packs are not traditionally known for their support and weight-carrying capacity. But the Mariposa did fine with up to 35 pounds aboard thanks to the removable aluminum stay and wide shoulder and hip pads (although careful packing is required to prevent barreling). When the day is done, slide out the ventilated foam backpanel and double it over to use as a sit pad. The simple, cavernous packbag carried six days worth of gear and food on a hike around Colorado's Gore Range, with easily-accessible exterior pockets oriented toward big-mile days. A stretchy shove-it pocket on the front fits raingear, gaiters, and a hiking umbrella and has a drain hole to purge excess moisture. On the side, another tall, stretchy pocket swallows a tarp or minimalist shelter. "That's the last thing you want to pack up on a rainy, cold day, anyway," says our deputy editor." — Casey Lyons 
Looking for the best ultralight backpacks? Find our top 5 right here.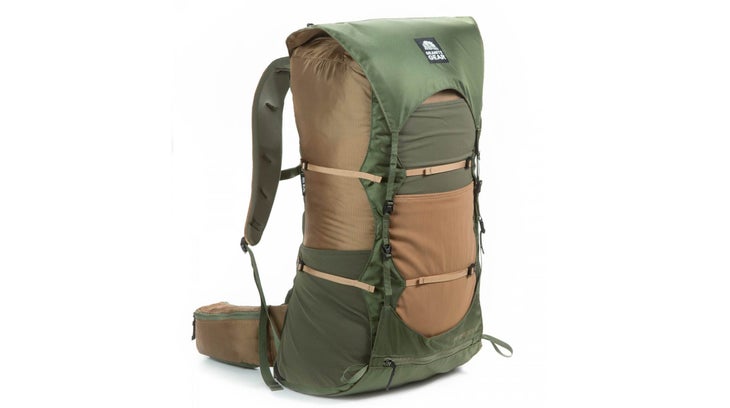 Best for Big and Tall Hikers: Granite Gear Perimeter 50
Price: $230
Weight: 3 lbs. 2 oz.
Buy Now
Pros: Excellent adjustability and customization, good weight-carrying capacity
Cons: Too many fussy straps
We gave the Perimeter to our hardest-to-fit testers—everyone from a long-torsoed woman to a 2XL, 6'2" man—and each one had the same first impression: "It's actually comfortable!" This pack gets its crowd-pleasing reputation from multidimensional adjustability: Each size offers four full inches of torso adjustment, as well as both wide and regular shoulder width settings. Granite Gear also offers an interchangeable hipbelt that accommodates up to a 52-inch waist (available separately, no extra charge). Each side of the bifurcated shoulder harness clips to a grid of daisy-chained webbing, allowing a fast, custom fit. "I have a big arch in my back, so most packs hang heavily from my shoulders. This was the first time they didn't ache at the end of the day," declared one lifelong backpacker after a 15-mile trip near Alaska's Crow Pass. Good fit isn't the only factor in pack comfort, though. The Perimeter follows through with a stiff PE board framesheet, which spans the center of a spring steel perimeter frame to effectively transfer weight to a generously padded hipbelt. Testers reported a snug fit and lack of sway while lugging 35 pounds. —CB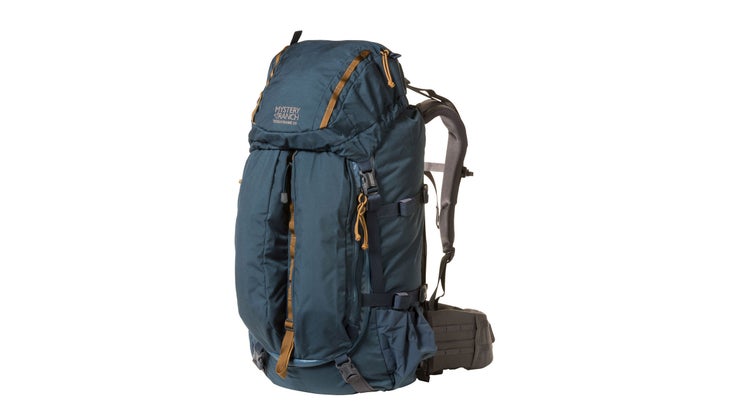 Best for Heavy Loads: Mystery Ranch Terraframe 65
Price: $449
Weight: 5 lbs. 11 oz.
Buy Now
Pros: Excellent weight-carrying capacity, excellent stability
Cons: Expensive
For packrafters, overpackers, or anyone who's just gotta have that second case of beer, the Terraframe offers a unique solution originally conceived for backcountry hunting: a 7-inch-deep shelf that accordions out from between the main packbag and backpanel. The shelf provides you a spot to load your heaviest gear right against a reinforced carbon-fiber lattice frame (which, by the way, is rated to carry up to 150 pounds). Thank a maximalist engineering approach for that best-in-test load capacity: Four vertical carbon stays provide rigidity and transfer weight to the hips, and four horizontal stays (also carbon) provide stability as well as enough torsional flex to avoid pack sway. The beefy load lifters and hipbelt keep weight against the spine even when the shelf is extended. "Best pack I've ever used," says one Alaska tester, who carried 94 pounds of food and field equipment in Denali National Park. "The weight transfer is so good, my shoulders felt more comfortable the more I loaded it down. They never ended up sore." —CB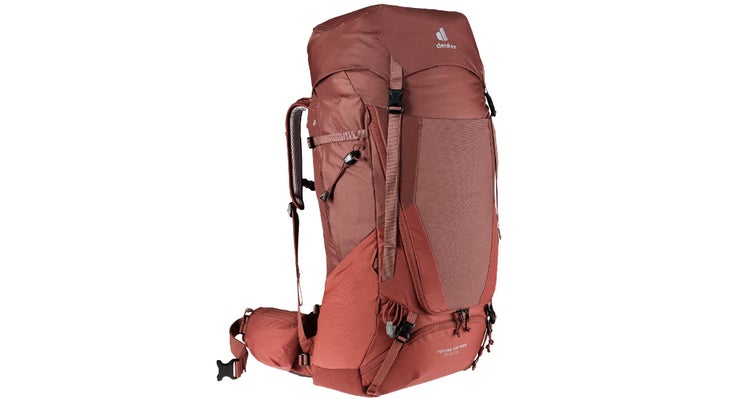 Largest Capacity: Deuter Futura Air Trek 60+10/Futura Air Trek 55+10 SL
Price: $260
Weight: 4 lbs. 12 oz.
Buy Now
Pros: Excellent internal storage, excellent weight-carrying capacity
Cons: Average durability
The Futura Air Trek is built to go the distance, and big enough to take it all with you. This pack stands out for its load-levitating suspension, which let us haul heavy cargo day after day. Two vertical, spring steel stays transfer loads to the lumbar region of the pack, which is thickly padded with foam and integrated into a wide hipbelt. "I was shocked at how comfortable this thing was," said one tester after 80 miles and 20,000 feet of vertical gain in Wyoming's Wind River Range. "With all the support, my 35-pound load felt like nothing." Another tester reported pain-free shoulders, even after 40-pound water carries on the Arizona Trail. Credit the weight transfer to the pivoting hipbelt, which connects to the frame just behind the lumbar, and the S-shaped shoulder harness on the women's version. —CB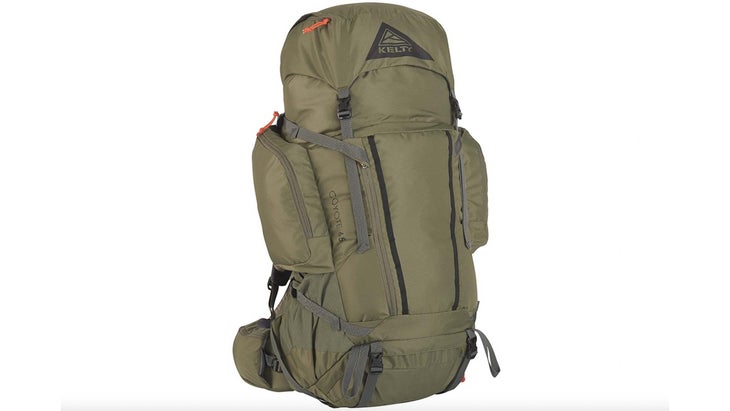 Best Budget Pack for Expeditions: Kelty Coyote 65 / Coyote 60
Price: $160
Weight: 4 lbs. 10 oz.
Buy Now
Pros: Extremely affordable, fully-featured, durable
Cons: Toplid is hard to access
The Coyote provides pro-level comfort at an entry-level price: Our testers maintained a natural, sway-free gait no matter how much they packed. Diagonal compression straps run from the front of the pack across the side pockets, pulling weight up as well as in. "They not only secure items in the pockets, but tighten the pack and keep loads close to your back," explained one tester after a trip through Colorado's Uncompahgre National Forest. One zippered hip pocket fits a phone and headlamp, and one non-zippered mesh belt pocket holds a few granola bars. Our testers also loved the space between the lateral zipper pouches and the packbody, which creates a hollow sleeve: "You can run tent poles or trekking poles through the sleeve and into the mesh bottle pockets. That way they're easy to load and unload without unstrapping anything," one says. Ding: The toplid is side-access only. —CB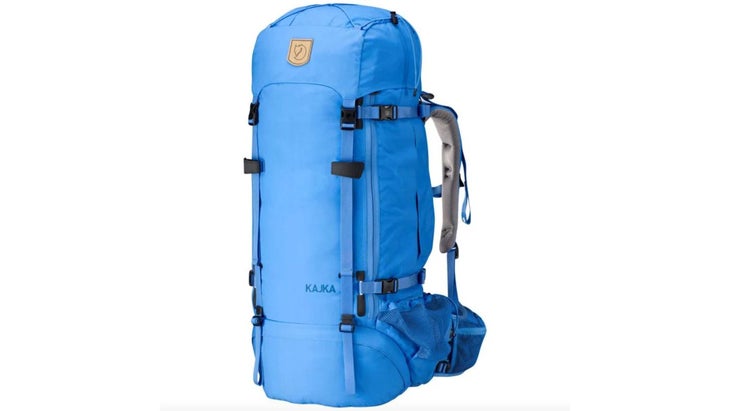 Most Eco-Friendly: Fjällräven Kajka 65
Price: $375
Weight: 7 lbs. 1 oz.
Buy Now
Pros: Excellent weight-carrying capacity, excellent adjustability, eco-conscious materials
Cons: Very heavy, expensive
We may complain about heavy loads, but the Kajka never does. (We mean it: The eco-friendly canvas and birch-wood frame don't squeak like plastic or metal.) Its sturdy-but-flexible parallel wooden stays mimic a spring-steel frame surprisingly well (caveat: they're more expensive). They kept loads from wobbling, even with 60 pounds of cargo on Zion National Park's steeper trails.  Perhaps the best part of the Kajka? A generous 6.7 inches of torso-length adjustability make it easy to find a perfect fit. "I'm 6' tall, and I have a hard time finding women's packs that actually fit," explains one guide tester. "But once I hit the sweet spot, this one rode well on my hips and never pulled on my shoulders." —CB
The Best Backpacking Backpack For You
Looking for a great, do-anything pack without any caveats? Both the Osprey Aether 55 / Ariel 55 and Gregory Baltoro 65 / Deva 60 are excellent picks.
Rarely hike or tight on budget? Nab the $130 Kelty Asher 55
Hauling an epic load? Bring the 150 pound-rated Mystery Ranch Terraframe 65
Don't fit neatly into the outdoor industry's sizing scheme? Try on the Granite Gear Perimeter 50
Interested in transitioning into the ultralight world? The Gossamer Gear Mariposa 60 could be your jam
What a Backpacker Editor Looks for In a Backpack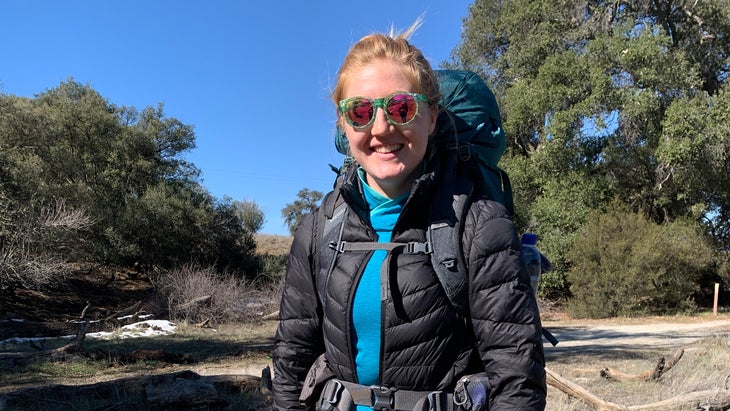 Emma Veidt, Assistant Skills Editor
"Exterior pockets are an absolute must. When I'm backpacking, I'm a bit like Goldilocks: one mile I'm too cold and need my puffer, next mile I'm ravenous and need some pretzels, and so on. So everything can be 'just right' on the trail, my backpack's exterior pockets make it easy to access whatever I need at a moment's notice."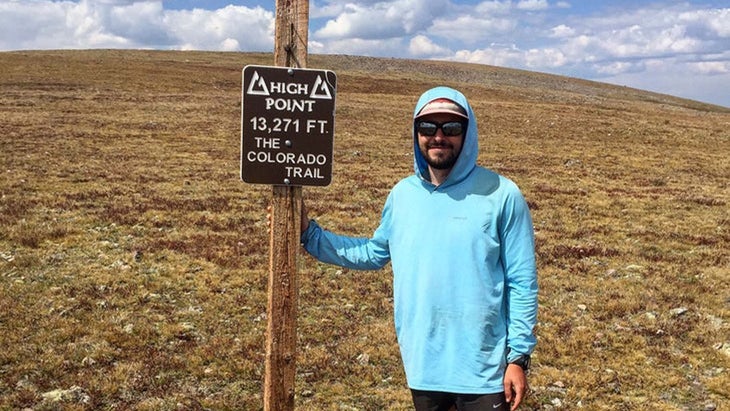 Benjamin Tepler, Gear Editor
"I sweat like crazy when I exercise, regardless of the weather. That's why I favor rucksacks with well-designed, ventilating back panels and breathable mesh, which keep the air flowing between my body and the back of the pack."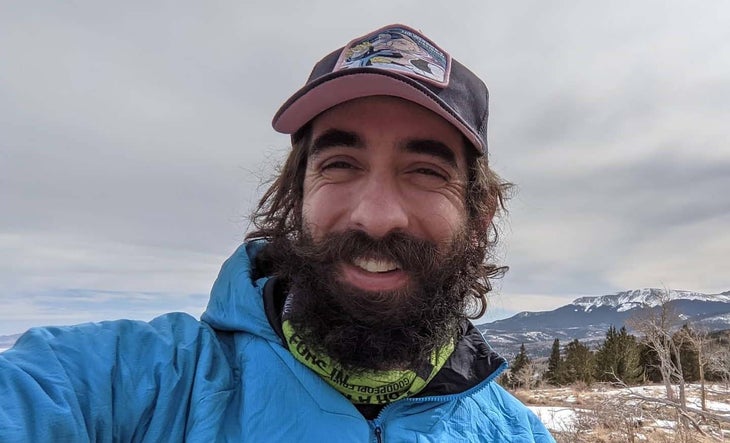 Adam Roy, Senior Digital Editor
"When I can go light, I go light: For solo overnights and weekends, I usually go for a frameless backpack and use my closed-cell foam pad to provide structure. But if I have to carry a load for work or for a family, I swing to the opposite extreme, looking for a beefy suspension and a well-padded hipbelt. Light or heavy, durability is non-negotiable: I tend to treat my gear pretty roughly and don't want it sprouting holes after a single trip."
How to Maintain Your Backpack
As a best practice, aim to clean your backpack once a year at the end of the season. Shake or vacuum out your pack to remove any dirt, rocks, sand, or food crumbs. Next, scrub especially dirt and oil-prone areas like the back, bottom, and shoulders with warm water and mild dish soap. For a deeper clean, remove the individual components (brain, hip belt, straps, and frame) and dunk in warm, soapy water, scrubbing high-use areas. Rinse with clean water and hang dry in the shade to avoid UV damage.