The Best Touring Pants of 2023
We had 28 testers check out 30+ pairs of bottoms for winter backcountry adventures. These ones rose above.
Heading out the door? Read this article on the new Outside+ app available now on iOS devices for members! Download the app.
When it comes to aerobic winter activities in the alpine, a good pair of shell bottoms is imperative. You need something that keeps your legs protected from wind and precipitation yet still offers enough breathability and ventilation to support the extreme body-heat and sweat output that comes with high-effort days in the mountains. All that, plus fit and features that allow for full range of motion and easy bathroom stops.
How We Test
Testing touring pants is a lesson in embracing the elements. Our team of 28 climbed volcanoes in the Cascades, skied from craggy peaks in the Alps, braved negative 20 degree mornings in the Rockies, and schwacked through overgrown forests in the Midwest to assess the protection, ventilation, and durability of this year's new breathable shell bottoms. In total, we put 32 products through the wringer—roughing them up on bootpacks, stuffing them in base camp duffels, slogging in them through hours of trail breaking, and even using some of them as pillows on an overnight winter camping trip (not recommended).
Testers from all backgrounds—brand new skiers, expert ski mountaineers, self-proclaimed lifelong lovers of skiing in the rain—hit the skintrack in 12 states and four countries to filter out the best of the best. We disqualified pants and bibs that ripped, held in too much heat, wetted out too quickly, or felt overly crunchy. We praised the ones that breathed well, allowed us to dance our way up the skintrack unrestricted, protected us from Mother Nature, and kept our snacks safe and within easy reach.
Testing Stats
Number of testers: 28
Number of products tested: 32
Number of miles: 800
Vertical feet: 38,000
Meet Our Testers
Lily Krass
Lily Krass is a freelance ski journalist whose writing has been featured in SKI, Powder Magazine, Freeskier, Teton Gravity Research, and Ascent Backcountry Snow Journal. She spends winters backcountry skiing in Grand Teton National Park and riding lifts at Jackson Hole Mountain Resort, with the occasional trip to the Alps (for the food, obviously). In addition to an all-consuming addiction to powder skiing mixed with heavy doses of Type II fun, Lily takes snacking seriously, and when she's not writing or sliding on snow, she's likely deep into a baking project in her tiny kitchen. She is the co-author of Beyond Skid: A Cookbook For Ski Bums, a collection of dirtbag-friendly recipes inspired by life in a mountain town.
Steve Johnson
Wisconsin-based scribe Steve Johnson is author of more than 30 books from destination guides to children's titles, longtime Backpacker contributor, and Outside gear editor. He also writes for Nat Geo and Forbes while cultivating inspiration from copious time hiking in the Midwest and Colorado's high mountains. He camps at every opportunity, cycles competitively, and makes priceless memories with his kids.
Reviews: The Best Touring Pants and Bibs of 2023
TNF Summit Stimson Futurelight Pant ($450)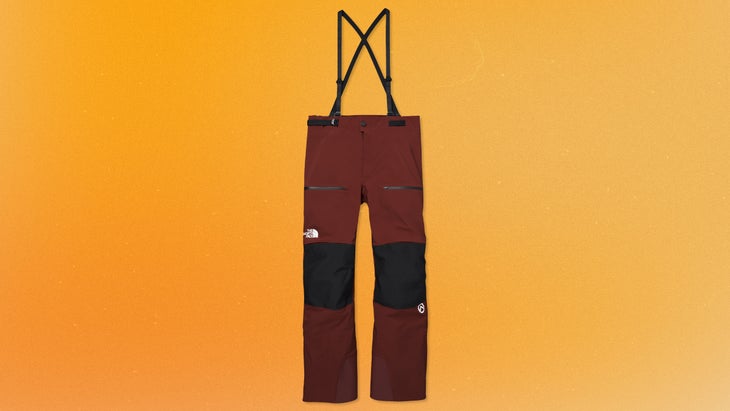 Size: Women's XS-XL / Men's XS-XXL
Women's Men's
Pants that you can put on and leave on for both spring skiing and storm chasing is the holy grail of winter outerwear. Testers found the new Summit Stimsons (formerly known as the Freethinker) walked that line between protection and comfort. They boast a sleek cut that's just the right amount of tailored—fitted for easy, unfettered movement, but not overly tight like skimo racing pants. That fit is bolstered by a thin, stretchy implementation of TNF's Futurelight technology. (The ultra-thin air-permeable waterproof membrane is constructed by tweaking fibers individually to lower or raise the density of the fabric depending on the intended use—in this case, high-output touring.) The stretchy, soft 50-denier shell allowed for long, natural strides. Still, it impressed testers with extreme tear-resistance while scrambling up rocky summits in Chamonix, France and aptly fought off moisture during a wet spring storm near Washington's Crystal Mountain. Extra ripstop reinforcements in the knees and ankles were a boon while transitioning on craggy peaks, and while working with crampons and ice axes. Features are another highlight. Sleek removable suspenders kept the pants from sliding around while booting up couloirs in the Alps. Meanwhile, the supple gaiters are easy to pull over slim touring or mountaineering boots as well as heftier hybrid boots (there's a hook to hold them in place), which was a nice touch when transitioning from midwinter powder skiing to spring mountaineering. Two zippered thigh pockets kept a low profile, even when carrying a beacon on the right and snacks on the left. In a nutshell, the Stimsons are sleek yet non constricting. "These pants are so easy to move in, they feel like wearing joggers in the backcountry," noted one female tester.
Bottom line: Sleek and stretchy touring pants that can handle the rigor of ski mountaineering.
---
Strafe Scarlett Bib ($529)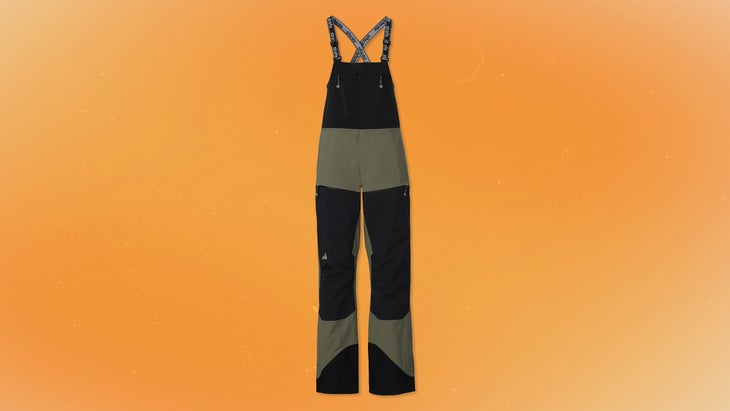 Size: Women's XS-XL
Buy Now
One of our longtime favorites is back, now in a lightened design. Strafe updated the women's-only Scarlett Bib with a thinner and more tightly woven 40-denier nylon face fabric that sheds a few ounces from past models but also boosts waterproofing. Testers in Silverton, Colorado appreciated the unique center front zip running from the chest down to just above the crotch. This creative design made it easy to get the bibs on and off, and also allowed for quick venting while skinning on a sunny 38-degree April day. Meanwhile, the full-length left-side zip made for smooth bathroom breaks even while squatting in a 10-degree snowstorm. This zipper also doubles as a vent, along with a shorter right-side zip. Also new (as of last year) and a score for midwinter tours: adjustable cross-back suspenders, which are an improvement over the old halter-top design that was problematic with backpack straps. That, combined with a high neckline, yields more protection and coverage than any of the other women's bibs we tested. This came in handy when testers were exploring the white room on deep winter pow days. Still, the Scarlett Bibs never felt stifling, thanks to the fact that the chest portion is built from an incredibly breathable four-way stretch, DWR-treated nylon-spandex fabric—perfect for skiing sans jacket during spring outings in Chamonix. Features are thoughtful and functional: two vertical chest pockets ideal for stashing a pair of sunnies and a packet of peanut butter cups, and two beacon-sized thigh pockets, which some opted to use for ski straps and multi-tools. A final note on fit: these bibs are baggy and run a little large. A five-foot-eight, 120-pound tester opted for an XS instead of her usual small.
Bottom line: A high-coverage bib for protection and maneuverability while seeking out powder in the backcountry.
---
Rab Khroma Kinetic Bib ($365)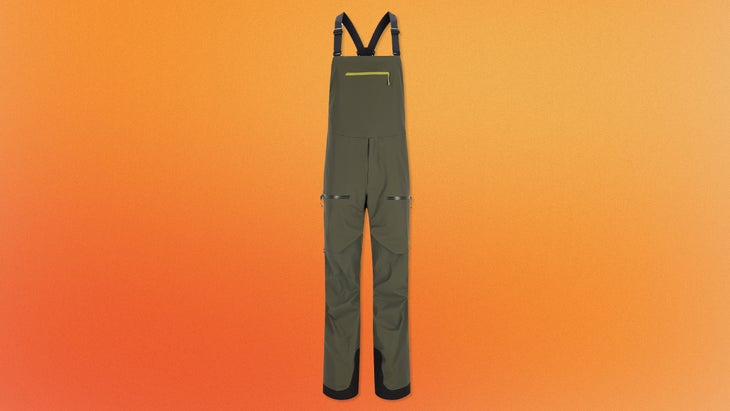 Size: Women's XS-XL / Men's S-XXL
Women's Men's
The streamlined Khroma Kinetic Bibs prove that sometimes less is more. For testers in Aspen, Colorado and Jackson, Wyoming, comfort and mobility set these bibs apart from the rest. They're built from nylon Proflex—one of the softest, stretchiest waterproof fabrics out there—and while they only have four pockets, they punch above their weight in terms of storage capability. That's thanks to a cargo-inspired design that balloons away from your legs to fit all the goodies without tightening the material around your thighs. One female tester thought they looked a little silly at first, but quickly came around during a hut trip in Colorado's Elk Mountains. "I put a phone, applesauce pouch, liner gloves, bar, and a ski strap in the two thigh pockets and still had full range of motion," she said. The 20-denier stretch-woven fabric flexed easily while kick-turning and maneuvering up technical climbs, and the chest-high bib top provided extra coverage and easy-access storage via a single large zippered pocket. These bibs fit slim compared to some of the baggier options (like the Strafe Scarlett), although a five-foot-seven tester noted that they did accommodate her athletic build and wider hips better than expected.
Bottom line: A slim-fitting and breathable bib for those who appreciate a minimalist design.
---
Black Diamond Recon Stretch LT Pant ($335)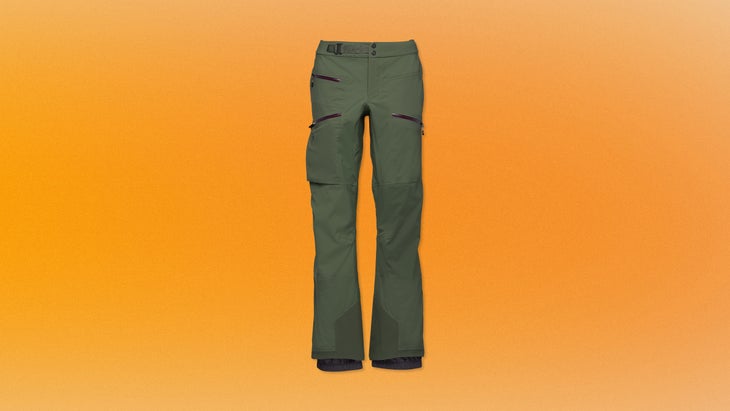 Size: Women's S-XL / Men's S-XL
Women's Men's
Testers have loved Black Diamond's Recon Stretch—protective yet highly breathable touring pants—since they came out in 2020. This year, the brand added a new lighter, more uphill-oriented version, the LT, which combines the same breathability and sturdy feel with a thinner, stretchier 40-denier waterproof-breathable nylon construction. Testers raved about the unobtrusive, lightweight feel while chasing powder in January and knocking out big lines in April. But despite their light and stretchy bonafides, the LTs responded well to a mixed bag of March conditions on a six-day hut trip in British Columbia. They breathed impressively on a 3,000-foot climb on a sunny 30-degree day and repelled sticky spring snow when a low pressure system came in with a vengeance. In general, it was these pants' simplicity that made them stand out. But one feature rose above: The beacon-specific thigh pocket that includes a protective sleeve and a tether. (One tester who prefers to stash his beacon in a chest harness noticed that this pocket also made a great place to keep a phone slightly warmer during a negative-20 degree morning in Grand Teton National Park.) Note that these pants fit on the large side. Lean testers opted to size down for a relaxed fit, and even our muscular five-foot-six tester noticed extra room in the waist.
Bottom line: Breathable and lightweight pants for long days on the skintrack.
---
OR Hemispheres Bib ($599)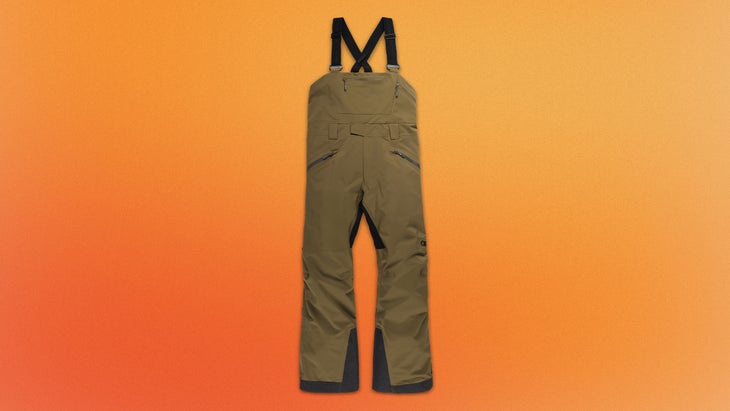 Size: Men's S-XXL / Women's XS-XL
Women's Men's
The Hemispheres nail the balance of all-day warmth, protection, and breathability. The 70-denier nylon outer sluiced off snow and grabby foliage; it also never wetted out on deep snowshoe romps and stormy high-alpine missions. But it's backed with Gore-Tex C-Knit—a liner technology that boosts stretch—for maximum comfort on everything from high-summit bootpacks in Colorado's Sneffels Range to patio barstools during apres. Waist-to-knee leg vents with glove-friendly two-way zippers make shedding heat easy. "I wore these bibs on a sunny day with 5,000 feet of vert in the San Juans and rarely needed to unzip the vents," said one veteran Colorado tester. "But when I did, they were easy to open." Ample storage space comes from two glove and beacon-friendly front pockets (one with an integrated device clip and mesh sleeve) and a handy kangaroo pouch on the upper bib. One ding: The suspenders slider loosened several times on a couple of separate outings.
Bottom line: A plush feel ensconced in a iron-tough shield.
---
Mountain Hardwear Viv Bib ($600)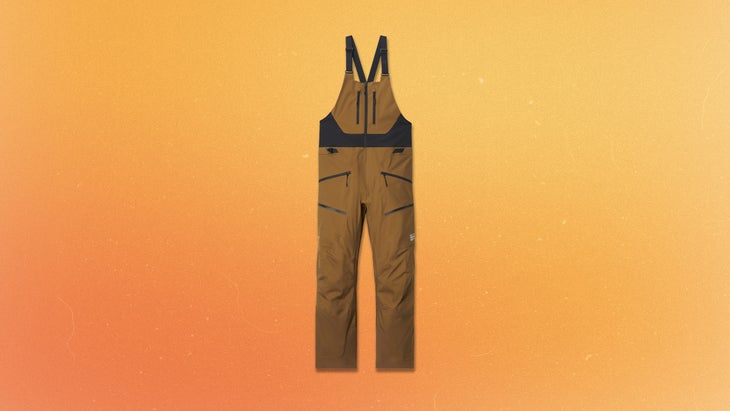 Size: Men's S-XXL
Buy Now
Snowshoeing in deep Colorado fluff, one tester raved about the Viv's armor-strong construction and comfy fit. The former is thanks to a Gore-Tex Pro waterproof and windproof membrane housed inside a recycled nylon 30-denier face that stands up to the surliest conditions. Case in point: On narrow trails with clingy branches in Michigan's Porcupine Mountains, the Viv emerged without a blemish. The latter is due largely to the adjustable shoulder straps and webbing belt, which yield a dialed fit. On top of this, the Vivs are also extremely breathable for ski touring, hiking, and hard-charging backcountry powder missions. That's thanks largely to the glove-friendly outer-thigh zip vents, which make it easy to offload excess heat—even breaking trail on a 50-degree midwinter afternoon. Like to bring lots of ancillary gear? Store it like a hoarder in four ample front thigh pockets, and two vertical chest pockets. One tester summed it up best: "They excel in powder and wet precipitation. They're also extremely light and durable for bibs with so many features, and they kept me dry and comfortable on an all-day snowshoe trip in Pike National Forest." But note that our stoutmale tester found the upper bib fit tight in the chest.
Bottom line: Bombproof tech paired with all-day comfort for everything from touring to skimo.
---
Norrøna Lyngen Gore-Tex Pro Pant ($479)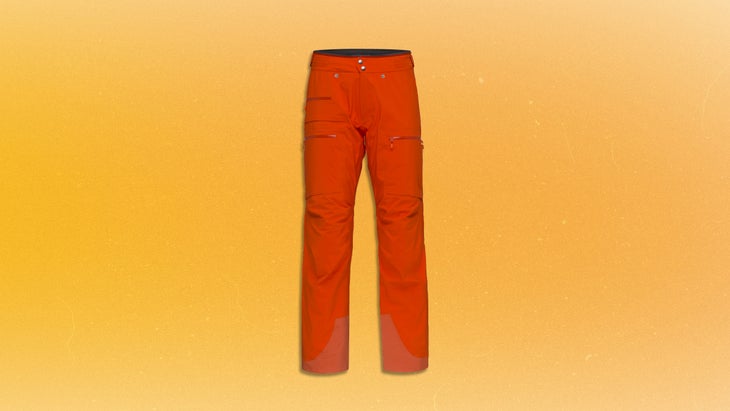 Size: Men's S-XL / Women's XS-L
Buy Now
A stellar durability to weight ratio made these ultra packable waterproof and windproof gems our go-to pair for all-day ski touring. The star: a sub-five ounce, three-layer Gore-Tex Pro membrane paired with a 100 percent recycled 70-denier nylon outer that provides all-day protection in changing weather conditions and stays breathable when you're going full throttle. Liquid-crystal cuff reinforcements help too. They fended off scuffs and tears for a full season. "I stayed comfortably dry even though I was sweating and huffing uphill in snowshoes," said one Colorado tester after a day out in the Neota Wilderness. "The pants never bowed to blowing snow or let in a hint of moisture." On warm days with no precipitation, the pants' two-way, hip-to-knee zips on each thigh allow even more ventilation. In keeping with the long-lasting but lightweight construction, the Lyngens have a tux-like fit out of the box, which you can further tailor with Velcro tabs at the waist. Still, an upper side pocket and a pair of generous thigh pockets (with internal sub-pockets) provide plenty of stowaway space for a GPS or gloves. Solidly built and almost unnoticeably light, these versatile pants offer go-to performance breaking trail or carving turns. The only drawback is the price tag.
Bottom line: Lightweight armor for big backcountry missions.
---
Maloja AldeinM Men's Pant ($599) / VilliniM Women's Pant ($589)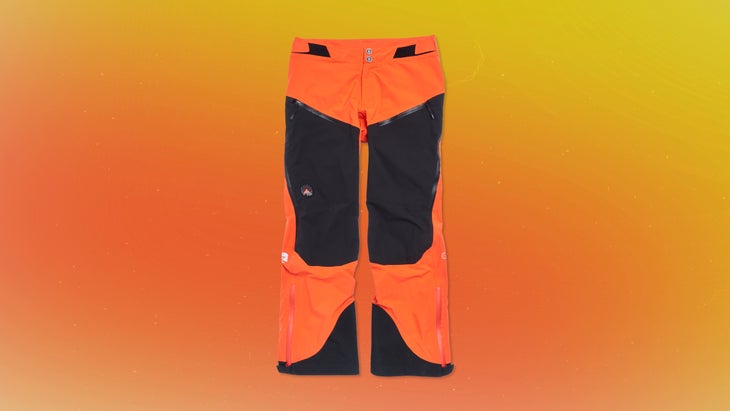 Size: Men's XS-XL / Women's XS-XL
Women's Men's
These pants' greatest gift is a cocoon-like fit and feel. The stretchy, waterproof recycled polyester fabric kept one tester comfortable guiding on consecutive deep-snow days and booting up Colorado couloirs. Meanwhile, reinforced cuff guards thwarted rocks and stout foliage. Small touches seal the deal: taped seams, reflective details for visibility, and Velcro adjustment at the waist. Zip and button closures at the cuffs make boot access easy, and generous side vents keep things airy. "I wore these with a lightweight merino layer in 20- to 40-degree temps and never overheated," said our Colorado-based guide tester. The women's VilliniM offers the same great features and function for backcountry or on-piste. Bonus points: The polyester shell fabric is recyclable at the end of the pants' lifespan. Our only wish is for a dedicated beacon pocket and belt loops on future iterations.
Bottom line: A go-to pant for early morning mountain skins or day-long ski touring.
---
How to Buy
The first thing to pay attention to when buying shell pants is the fabric. Look specifically for a three-layer waterproof material that's light, stretchy, and breathable, so you can remain dry while still dumping heat. But, because most shell fabrics these days perform quite well in that department, the real decision often comes down to features—the number of pockets, the size of the pockets, the orientation of vents and suspender straps, whether or not there's a beacon pocket. If you're into ski mountaineering or light-and-fast touring, streamlined bottoms with minimal features and ultralight fabric are the way to go. If you're willing to take on a smidge more pack weight, you'll get more cargo-carrying capacity and slightly more durable construction.