The Best Women's Hiking Tops of 2023
Twelve testers donned 36 tops to find this summer's best new shirts, midlayers, and baselayers.
Heading out the door? Read this article on the new Outside+ app available now on iOS devices for members! Download the app.
Make no mistake, these pieces are all business when it comes to performance: They wick sweat, banish chafing, and survive skirmishes with rocks and scrub. But each one also has a softer side that won the hearts of our trail-loving tester team. Beyond wowing us with their fit and comfort, this season's top performers inspired affection and sometimes, true love. Here's what made us swoon.
The Winners at a Glance
Maloja LindaM ($165)
Le Bent Ultralight Racerback Tank Top ($75)
Eclipse 37.5 Hoody ($93)
Poc Transcend Cap ($30)
The North Face Trailwear Wind Whistle Jacket ($140)
How We Test
Number of Testers: 12
Number of Products Tested: 36
Number of Miles Hiked: 299
Number of Holes Golfed: 18
Number of Continuous Pitches Climbed: 3
Pounds of Blackberries Foraged: 1
Number of Jelly Spills: 1 (staining avoided)
Women defy generalization. No single "women's fit" can celebrate all bodies. And a woman's definition of a great hike is just as varied: for some, it might involve shadowing a toddler for an eighth of a mile, for others, pushing themselves through an 100-mile ultra. So to make our reviews relevant for the broadest possible audience, we recruited testers from a diverse pool. For starters, we recruited women hikers of various sizes. But we didn't stop there: We asked our testers to report on the micro-details that affect whether a high-performing hiking top makes or breaks the grade. Large breasts, extra-long arms, swimmer's shoulders, sensitive skin—these and other realities helped us evaluate and winnow out the products that didn't fit and feel comfortable on an array of women's bodies. These hikers also represented varying climates from across the U.S. and Canada. We tested gear in Maine's dense forests, Minnesota's humid lakeshore, the Rockies' wind-bitten summits, Utah's sandstone canyons, and California's arid hills.
Meet Our Lead Tester
Over the 20 years that Kelly Bastone has been subjecting her 4'11" frame to the gear-testing mission, she's watched the outdoor industry make significant improvements to the fit and function of women's gear. Yet even now, pants rarely earn her approval (properly fitting her pear shape requires an above-average attempt at patterning). Living in Steamboat Springs, Colorado puts a wealth of testing opportunities at her doorstep—she hikes, mountain bikes and fly-fishes across the Rocky Mountains and adjacent canyon country. For her testing squad, she recruited Backpacker editor Emma Veidt, Colorado River hiker and rafter Sabrina Motta, youth outdoor coach Kelly Landers, and a range of additional women representing various outdoor experiences and body types (from XS to XL).
The Reviews: The Best Women's Hiking Apparel of 2023
Maloja LindaM ($165)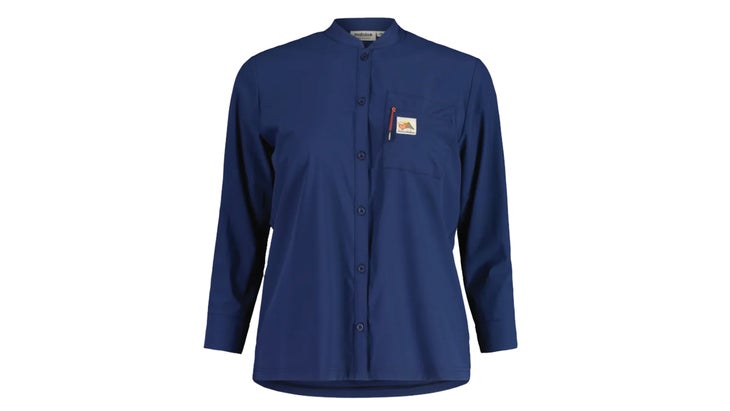 Weight: 7 oz (medium)
Size: XS-XL
Pros: Progressive styling using an airy fabric with stretch
Cons: Top-shelf fabric is expensive
Collared shirts are as stodgy as they are practical, so Maloja updated the tried-and-true button-down by subbing in a banded collar and three-quarter-length sleeves. The neckline prevented chafing from backpack straps while the sleeves reduced sunscreen use and (without dangling cuffs) stayed cleaner during multi-day hikes. The nylon fabric (with 12-percent Spandex) is double-woven for durability and superior moisture management: The nubbed texture of the shirt's interior promotes airflow and wicks sweat to the material's smooth-faced exterior. "Here's the one shirt I'll reach for in all three seasons," reports category manager Kelly Bastone, who praised the LindaM's ability to keep her tolerably cool through 97-degree temperatures in Utah's San Rafael Swell. The loose cut reduces stink, but lacking an antibacterial finish, the synthetic fabric accumulated noticeable odors on Day 3. Four-way stretch let Bastone thrust a trekking pole across a creek without feeling straitjacketed. And the sleek styling transitions smoothly from sandstone to sidewalks.
Bottom Line: The Maloja LindaM is a stylish performer that's versatile enough to justify the cost.
Le Bent Ultralight Racerback Tank Top ($75)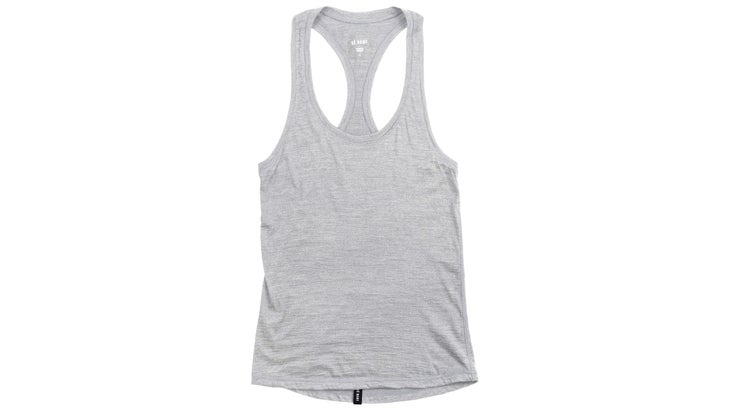 Weight: 2.5 oz. (small)
Size: XS-L
Pros: Sustainably-sourced fabric feels soft and wicks sweat
Cons: Racerback cut can lead to backpack chafing
Soft, breathable fabric elevates this basic tank into a beloved essential that testers wore everywhere. Blending non-mulesed Merino wool with rayon that's produced from organically-grown bamboo, the material scores high marks for sustainability and feels silky enough for anytime wear (even some wool-averse testers deemed this tank to be itch-free). The blend also aced the moisture-management contest: The textured fibers feature tiny divots that promote airflow and speed sweat's evaporation. "My waistband was soaked, but this top stayed dry," reports one tester after a prolonged climb in Colorado's Elk Mountains. She also liked the racerback design, which let her pack's ventilated padding soak up sweat (another tester disliked this same feature because her backpanel chafed her shoulder blades).
Bottom Line: If minimalist coverage is your jam, you'll love the versatile Le Bent Ultralight Racerback Tank Top.
Eclipse 37.5 Hoodie ($93)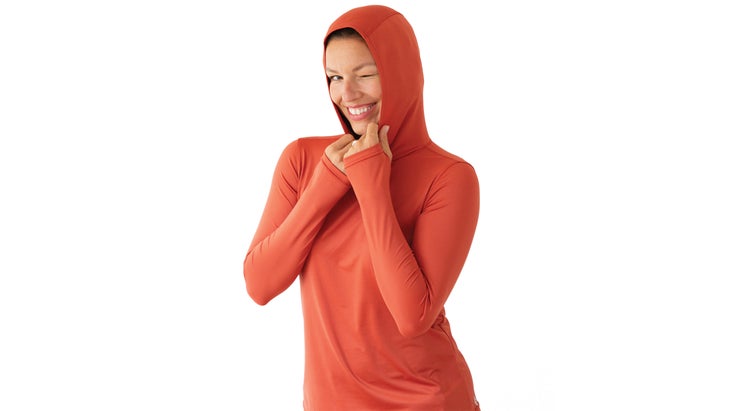 Weight: 6 oz. (small)
Size: S-XL
Pros: Featherweight, breathable fabric; hood design covers the front of the neck
Cons: No ponytail port
Too many sun hoodies use thicker, heat-trapping knits—but this one features the thinnest fabric we've tested, which proved extra breathable in the hottest climates. "It's fast drying and breathable, so I didn't feel too sweaty while hiking on Grand Mesa or rafting Ruby Horsethief," reports Colorado-based Sabrina Motta. Credit the 37.5 fabric technology, which embeds the polyester (blended with 13-percent spandex) with volcanic minerals that increase the fibers' surface area. That, in turn, speeds sweat's evaporation to cool the skin. Another nice feature: the 50+ UPF rating, which blocks cancer-causing rays. Testers also praised the hood's wrap design, which effectively covers the front of the neck. Thumbholes at the cuffs extend sun protection across the backs of the hands. Overall, the body-hugging fit offers just enough movement to feel airy.
Bottom Line: The Eclipse 37.5 Hoody offers full-coverage sun protection that truly keeps you cool.
The North Face Trailwear Wind Whistle Jacket ($140)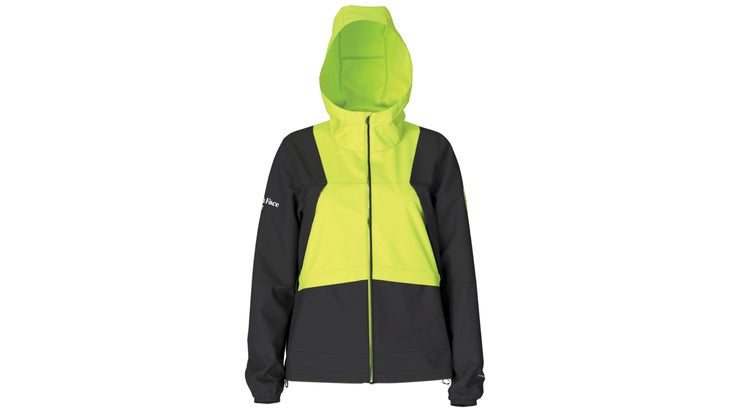 Weight: 10 oz. (small)
Size: XS-XXL
Pros: Snazzy patterns, ventilated fabric panels, and sizing that extends to XXL
Cons: Baggy cut is flappy in high wind
"So comfy!" raves Backpacker editor Emma Veidt, who made this her everywhere topper because it pairs cool-kid good looks with trail-worthy durability: "I tripped and completely ate it while wearing this jacket, but the cuffs kept my wrists from getting scraped," she reports. (The 75-denier, 100-percent recycled polyester fabric also escaped without harm.) Ventilated panels across the upper back make the Wind Whistle less clammy-feeling than most windbreakers. And the densely-woven fabric with attached hood offered adequate shielding during moderate breezes (although the strongest gusts bit through, Veidt reports). Two snap-top bellowed pockets hold snacks or a tube of sunscreen, a PFC-free DWR finish repels drizzle, and the jacket packs down to liter-size.
Bottom Line: The North Face Trailwear Wind Whistle Jacket is a good-looking, well-ventilated, durable windbreaker for day hikes and ferry rides.
Poc Transcend Cap ($30)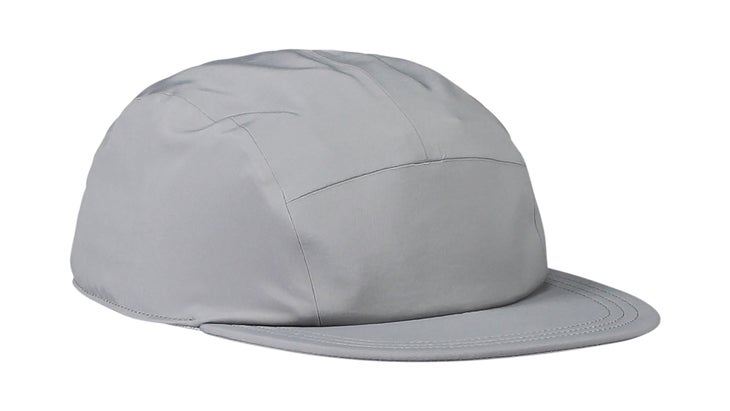 Weight: 2 oz.
Size: One size
Pros: Smooth interior reduces chafing; brim is perfect size for hiking
Cons: No ventilation panels
This cap combines technical construction with street-ready style. At six centimeters deep, the flat brim shields against sun without blocking your view when hiking uphill. Taped interior seams eliminate rough spots that could chafe over hours of wear. And with its extra-soft sweatband and stretchy, ultralight polyester fabric, the Transcend proved itself to be a whopper of a sweat-mopper during a blazing 88-degree hike near Sedona, Arizona. Low-bulk construction lets it nest smoothly beneath a bike helmet, allowing one tester to wear it during her work commutes.
Bottom Line: The Poc Transcend Cap is a high-performing hat that doesn't look tech-geeky.
How to Buy
Fit is paramount. Apparel that doesn't suit your shape can prove uncomfortable on the trail. It's also likely to languish in your closet because you won't feel excited about wearing it. Once you've found apparel that fits, consider its fabric content: Different fibers deliver various performance benefits and drawbacks:
Nylon resists abrasion and dries fast, but can feel rough against the skin.
Polyester is softer to the touch, but sometimes less durable. Unless treated with an odor-resistant finish, it also gets stinky after contact with body sweat and bacteria.
Elastane (sometimes branded as Spandex) provides stretch but slows the fabric's dry time
Merino wool is breathable, temperature-regulating (it cools you in warm weather and insulates you in chilly conditions) and naturally odor-resistant, but can be less durable than synthetics.
Finally, consider how garment features may dovetail with the rest of your hiking kit. Is the shirt's hem long enough to stay tucked beneath the buckles of a waist pack? Are the chest pockets accessible underneath pack straps? By forecasting how your apparel will integrate into your ensemble, you can avoid buying pieces that disappoint you while hiking.
When it's time to upgrade your gear, don't let the old stuff go to waste–donate it for a good cause and divert it from the landfill. our partner, Gear Fix, will repair and resell your stuff for free! Just box up your retired items, print a free shipping label, and send them off. We'll donate 100 percent of the proceeds to The Outdoorist Oath.