The Best Women's Hiking Bottoms of 2023
Twelve testers ran, trekked, and squatted in 45 products to find this summer's best new hiking pants and shorts.
Heading out the door? Read this article on the new Outside+ app available now on iOS devices for members! Download the app.
Diehard hikers often rank their bottoms—be they pants, shorts, or skorts—as their single most important piece of performance apparel. That's because bottoms serve several functions, all of them critically important: They shield against chafing, manage sweat, and fend off assaults from trailside brush and branches. These pants, shorts, and skorts do all that—and more.
The Winners at a Glance
Houdini Daybreak Shorts ($130)
Kühl Haven Joggr ($109)
Kuiu Attack Pant ($149)
Mountain Hardwear Mountain Stretch Skort ($65)
How We Test
Number of Testers: 12
Number of Products Tested: 45
Number of Miles Hiked: 299
Number of Holes Golfed: 18
Number of Continuous Pitches Climbed: 3
Pounds of Blackberries Foraged: 1
Number of Jelly Spills: 1 (staining avoided)
All hikers are wonderfully unique, which is why we tapped a group of testers with the most diverse body types and hiking habits we could wrangle. One tester who serves on Search and Rescue and rarely registers fatigue before mile 80 struggles to find pants that accommodate her extra-capable calves. Another tester loves short-shorts but hates inner-thigh chafing. Short legs, broad bellies, sensitive skin—these and other realities helped us evaluate and winnow out the products that don't fit and feel comfortable on an array of women's bodies. Our diverse group of testers put these bottoms through their paces all across the United States and Canada, from Maine's deep forests to the gusty summits of the Colorado Rockies.
Meet Our Lead Tester
Over the 20 years that Kelly Bastone has been subjecting her 4'11" frame to the gear-testing mission, she's watched the outdoor industry make significant improvements to the fit and function of women's gear. Yet even now, pants rarely earn her approval (properly fitting her pear shape requires an above-average attempt at patterning). Living in Steamboat Springs, Colorado puts a wealth of testing opportunities at her doorstep—she hikes, mountain bikes and fly-fishes across the Rocky Mountains and adjacent canyon country. For her testing squad, she recruited West Coast resident Emma Veidt, Colorado River hiker and rafter Sabrina Motta, youth outdoor coach Kelly Landers, and a range of additional women representing various outdoor experiences and body types (from XS to XL).
The Reviews: The Best Women's Hiking Apparel of 2023
Houdini Daybreak Shorts ($130)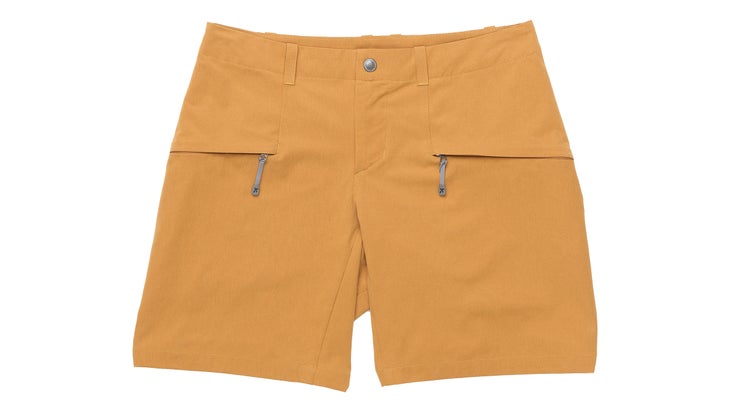 Weight: 6.2 oz (small)
Size: XXS-XL
Pros: Outstanding fit; Lightweight fabric feels tolerable in hot weather
Cons: No hand pockets
It's rare for one pair of shorts to earn raves from all testers, but women of varying shapes agreed that the Daybreak ranks among the best-fitting bottoms they've found. "Like they were made especially for me," says Colorado-based Kelly Landers. Multiple seams improve the fit from hip to belly, so that even pear-shaped testers experienced no gapping at the waist. Scaling a talus slope in 90-degree temps, category manager Kelly Bastone appreciated the lightweight ripstop fabric, which uses mechanical stretch (not elastane, which slows the fabric's dry time) for freedom of movement, and stays in place while walking and high-stepping. It's also Bluesign-approved with a PFAS-free DWR finish that repels drizzle and stains. Two zippered pockets on the thigh are big enough for a smartphone, and a rolled-up windbreaker fits in the large back pocket. The polyester fabric (38-percent recycled) proved plenty durable while shimmying through Utah's sandstone slot canyons, but when these shorts do wear out, they're recyclable: Houdini re-engineers its discards into new duds. Also available for men.
Bottom Line: The Houdini Daybreak Shorts fit so well, you'll wear them everywhere.
Kühl Haven Joggr ($109)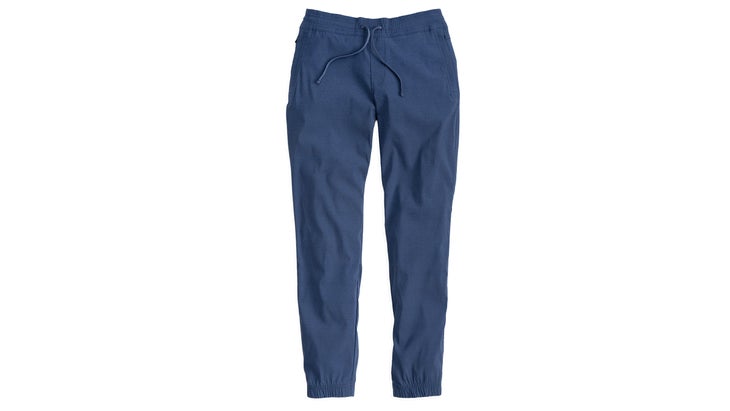 Weight: 10 oz (small)
Size: XS-XL
Pros: Fabric is light but tough enough to survive abuse on-trail
Cons: Hip pocket zippers can create hot spots beneath a hip belt
Joggers made for indoor gyms often use soft fabrics that get snagged and torn while hiking among scrub and rock. Not the Haven: Its ripstop-woven tencel (with 27-percent nylon and 4-percent Spandex) stood up to abrasive conditions, like when our testers wore them slot-canyon slithering in eastern Utah. Yet the fabric is also light enough for hot-weather wear, and the minimal Spandex content adds stretch without slowing the fabric's dry time. "After soaking the cuffs in a stream crossing, the pants were dry again within 15 minutes," reports category manager Kelly Bastone. Nearly all testers approved of the gathered elastic waistband, which is smooth enough to provide everyday comfort and avoid chafing under a pack belt. A drawstring eliminates gaps at the waist, and ample pockets (two back and two hip, all zippered) secure a phone, lip balm, and ear buds.
Bottom Line: Comfort loungewear meets rugged construction in the Kühl Haven Joggr.
Kuiu Attack Pant ($149)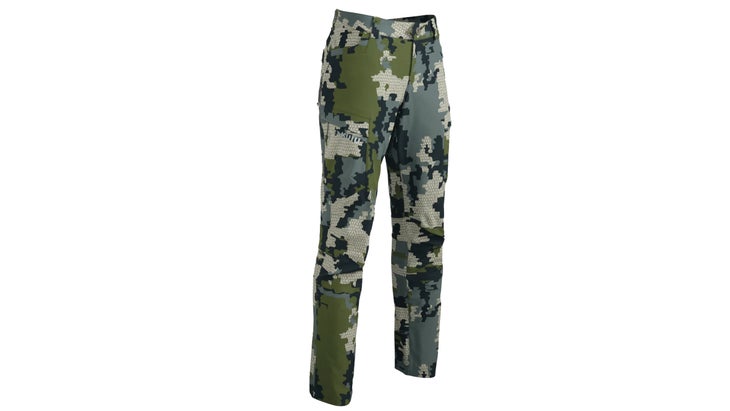 Weight: 15 oz (size 4)
Size: 2-14
Pros: Fit is excellent; Durable fabric doesn't sacrifice all-day comfort; Hems can be lengthened
Cons: Only earth tones/camo available
Some of the most durable fabrics are armor-stiff and noisy—but not this workhorse of a pant, which can stand up to the rigors of hunting and off-trail hiking yet feels comfortable enough to wear while road-tripping and chilling around a campfire. Credit the densely-woven polyester with four-way stretch that let testers scale steep hillsides and fended off thistles and pricks. Its brushed interior feels soft like pajamas, and a DWR finish repels moisture (one mushroom-foraging tester strode through dew-soaked brush and stayed dry). Two zippered, mesh-backed vents on the outer thigh dump heat on sweltering afternoons, and a plethora of streamlined pockets keep stuff organized (four of the six pockets are zippered). The fit is among the best that category manager Kelly Bastone has tested: The curved back yoke eliminates gapping at the waist, and ergonomic patterning (such as a gusseted crotch panel and seaming that accommodates bent knees) creates a body-hugging cut that's unconfining while hiking. Extra fabric stitched into the cuffs (a common feature in kids' pants) let tall testers grow the inseam from 32" to 33.5" just by removing a secondary seam. And an odor control finish prevents stink for a week or more without washing. A men's version is also available.
Bottom Line: The Kuiu Attack Pant is a heavy-duty pant, perfected.
Mountain Hardwear Mountain Stretch Skort ($65)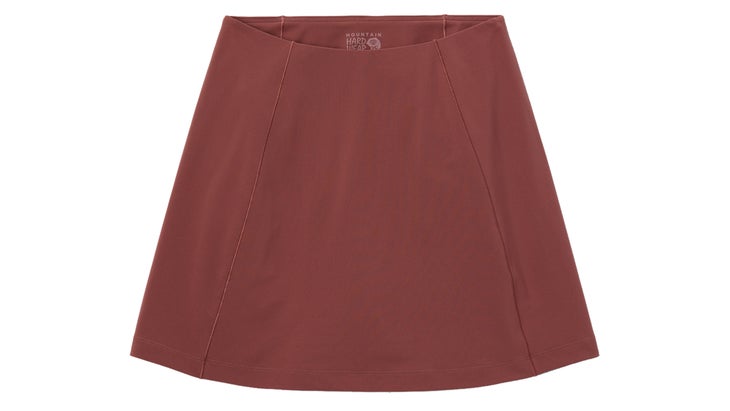 Weight: 2 oz (size small)
Size: XS-XL
Pros: Undershorts stay put; the waistband feels comfortable beneath a hip belt
Cons: High-rise cut felt constricting to some testers
This skort earned vanity points for its figure-flattering modesty (skirts are more body-concealing than shorts). But testers' highest praise went to the comfort of the slightly compressive undershorts, which eliminated inner-thigh chafing. "Unlike the shorts under most skorts, they did not ride up," reports Colorado-based tester Kelly Landers. The minimalist waistband creates a low-bulk interface with a pack's hip belt. But a thigh pouch on the undershorts holds a smartphone or snack, and the 100-percent polyester fabric (used in both shorts and overskirt) feels soft and wicks sweat. And because it looks good when paired with a sweater and spiffy shoes for around-town wear, it streamlined testers' packing decisions when traveling.
Bottom Line: Practical for hiking and backpacking, Mountain Hardwear's Mountain Stretch Skort looks cute off-trail, too.
How to Buy
Fit is paramount. Apparel that doesn't suit your shape can prove uncomfortable on the trail. It's also likely to languish in your closet because you won't feel excited about wearing it. Once you've found apparel that fits, consider its fabric content: Different fibers deliver various performance benefits and drawbacks:
Nylon resists abrasion and dries fast, but can feel rough against the skin.
Polyester is softer to the touch, but sometimes less durable. Unless treated with an odor-resistant finish, it also gets stinky after contact with body sweat and bacteria.
Elastane (sometimes branded as Spandex) provides stretch but slows the fabric's dry time
Merino wool is breathable, temperature-regulating (it cools you in warm weather and insulates you in chilly conditions) and naturally odor-resistant, but can be less durable than synthetics.
Finally, consider how garment features may dovetail with the rest of your hiking kit. Will the pull tabs on zippered hip pockets create hot spots beneath a pack's hip belt? Do the pant cuffs pick up dirt and mud while wearing low-top hikers? By forecasting how your apparel will integrate into your ensemble, you can avoid buying pieces that disappoint you while hiking.
When it's time to upgrade your gear, don't let the old stuff go to waste–donate it for a good cause and divert it from the landfill. our partner, Gear Fix, will repair and resell your stuff for free! Just box up your retired items, print a free shipping label, and send them off. We'll donate 100 percent of the proceeds to The Outdoorist Oath.