The Best Men's Hiking Bottoms of 2023
14 testers zipped, cinched, and buckled 18 pants and shorts. These five are the very best.
Heading out the door? Read this article on the new Outside+ app available now on iOS devices for members! Download the app.
After hiking boots, your pants take the brunt of the abuse on the trail. From scrambling through dew-soaked brush and thorny shrubs to boulder-top rest breaks and bathroom squats, your bottoms need to do a whole lot more than simply keep you presentable. These five are the very best of the year, with breathability, durability, and comfort at the forefront.
The Winners at a Glance
Fjällräven Abisko Hike Trousers
Outdoor Research Cirque Lite
Cotopaxi Brinco Shorts
Helly Hansen Tech Trail Shorts
ExOfficio Give-N-Go 2.0 Boxer Briefs
How We Test
Number of Testers: 14
Number of Products Tested: 18
Number of Miles: 300+
Hottest Temperature: 105 F
With 14 testers from around the country, the team was able to test pants and shorts in a wide range of conditions. Temperatures ranged from the mid-30s in Alaska to over 100 degrees in the foothills near Boise, Idaho. Testers took these pants on treks of varying difficulties, from easy, after-work strolls to demanding multi-day adventures in rain and sleet. Our testers ranged in clothing size (S to XL) and experience level (casual day hikers to seasoned thru-hikers) and reported on everything from comfort and breathability to durability and water resistance.
Meet Our Lead Tester
Our men's hiking apparel category manager is Nathan Pipenberg, an AT-thru hiker and freelance writer who covers ultralight hiking for Backpacker. Other testers include Bruce Etter, a two-time thru-hiker who works and hikes in New Hampshire's White Mountains, and Dorn Van Dommelen, a professor from Anchorage, Alaska.
The Reviews: The Best Men's Hiking Bottoms of 2023
Fjällräven Abisko Hike Trousers ($150)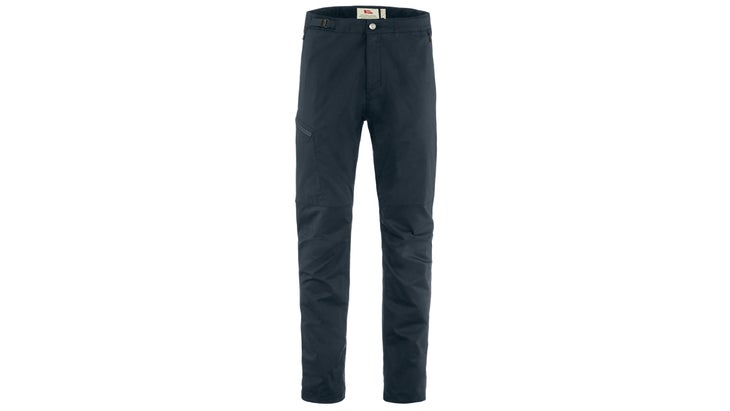 Weight: 11.1 ounces
Size: 29-40
Pros: Excellent fit and durability, great waistband
Cons: The 35-percent cotton blend dries slightly slowly
The Fjällräven Abisko trouser is our pick for a lightweight pair of pants that's durable enough for anything you throw at them, from bushwhacking to splitting firewood. The pants feature Fjällräven's lightest and most breathable fabric, a recycled polyester/organic cotton blend known as G-1000 Air Stretch. Our testers were apprehensive about cotton in hiking apparel, but were soon won over. "These feel like the perfect mix of work and hiking pants," said one, adding that they stood up to long days of cross-country travel through sagebrush and prairie grass. A gusseted crotch and articulated knees improve comfort and durability, and testers didn't report any seam blowouts. Despite the cotton blend, the Abisko pants were fairly quick-drying (a matter of minutes, rather than hours, but slower than thin, synthetic options like the Outdoor Research Ferrosi pants). They don't have a DWR finish, and although Fjällräven does offer a waterproofing wax that can be applied to G-1000 fabrics, we found wax unhelpful in conditions other than wet and freezing, since it compromises breathability. Testers raved about the fit and features, with a tapered leg, three zipped pockets (two hand pockets and one on the right thigh) and a locking adjustable waistband that, once set, never needed to be readjusted. A zippered air vent on each leg allowed us to shed heat in hot weather.
Bottom Line: The Fjällräven Abisko Hike Trousers are hard-wearing pants that fit like a glove—a solid choice for off-trail adventures.
Outdoor Research Cirque Lite Pants ($139)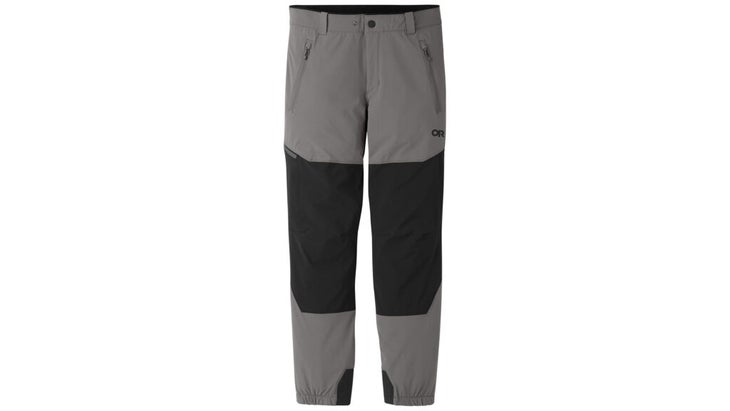 Weight: 12.7 ounces
Size: S-XXL
Pros: Very durable, reinforced leg cuffs
Cons: The aggressively technical appearance is too much for some
The Cirque Lite pants are all about versatility, with the technical specs to withstand inclement weather while remaining light and airy enough for casual hiking. Our resident Alaskan tester, Dorn van Dommelen, wore the Cirque Lite on numerous backpacking and hiking trips across the state throughout the summer and fall. His conclusion? These pants will keep you comfortable from the dog days of summer to when the snow starts falling, thanks to a robust, softshell-esque, 90-denier nylon-spandex blend and DWR finish. Van Dommelen gave the Cirque Lite high marks for durability as well. On a trail run outside Anchorage, he suffered a fairly serious dog bite that left puncture wounds in his leg. The pants emerged unscathed. Convenient features include an adjustable waistband, two standard hand pockets, and a right thigh pocket big enough to house a phone or headlamp. They're also well-suited to mountaineering use, with reinforced fabric on the leg cuffs meant to stand up to wear from crampons. His one critique: With such a technical look, the Cirque Lite pants are wholly out of place for everyday jaunts around town.
Bottom Line: An all-rounder that shines in tough conditions.
Cotopaxi Brinco Shorts ($70)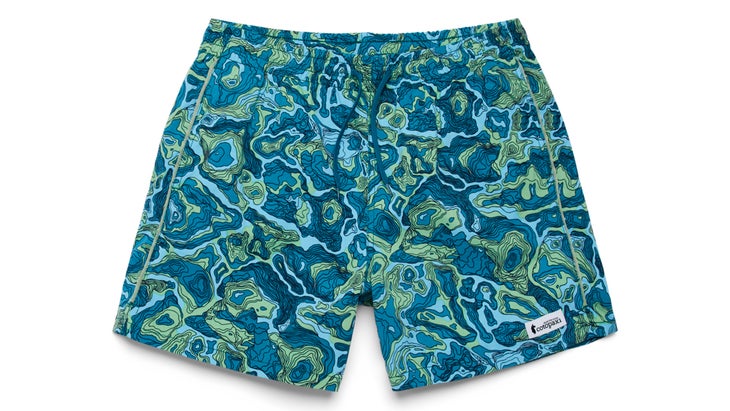 Weight: 7.1 ounces
Size: S-XXL
Pros: Durable and stylish
Cons: The thick fabric and rear pocket are bulky for minimalists
Cotopaxi is ushering in the '90s again with the Brinco shorts, replete with a short inseam (five inches) and bold, colorful patterns. But even if these look like cotton workout shorts from a bygone era, their construction is thoroughly modern. First, there's the thick nylon-spandex blend, which is both stretchy and surprisingly abrasion-resistant. There's also nylon webbing backing up seams on the thighs, which decreases the chances of blowout. Our testers' favorite feature? A mesh liner so thin that even the liner-hating members of the testing group became converts. "Typically, I absolutely despise built-in liners in shorts," said Bruce Etter, a New Hampshire-based tester. "With these, the mesh is stretchy and the seams are very thin. I was surprised how quickly I came to like them."
Bottom Line: The Cotopaxi Brinco Shorts are a vintage-inspired short with modern performance.
Helly Hansen Tech Trail Shorts ($85)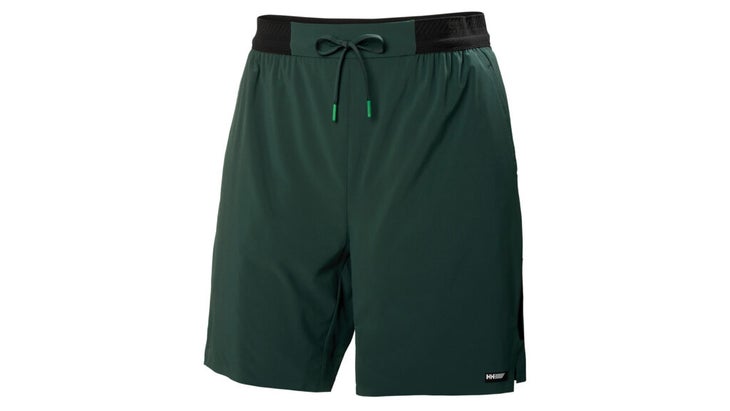 Weight: 5.5 ounces
Size: S-XXL
Pros: Quick-drying and comfy, minimalist
Cons: Steep price tag for a fairly simple pair of shorts
A great pair of trail shorts is often the result of what's left out, rather than what's included. The Tech Trail shorts are the perfect example, with a minimalistic design that's sure to please ultralighters, fastpackers, and anyone who likes their clothing streamlined. The shorts combine a super-stretchy and quick-drying woven polyester (with 11-percent elastane) with just a few well-designed features, like a comfy elastic waistband and drawstring, two hand pockets, and a zippered rear pocket. Despite the light and minimal design, testers found the shorts durable enough to survive overgrown trails in New Hampshire's White Mountains. The eight-inch inseam also hit a sweet spot for our testers, who by and large prefer their shorts to land just above the knee.
Bottom Line: The Helly Hansen Tech Trail Shorts are a lightweight trail short with great performance and comfort
ExOfficio Give-N-Go 2.0 Boxer Brief ($30)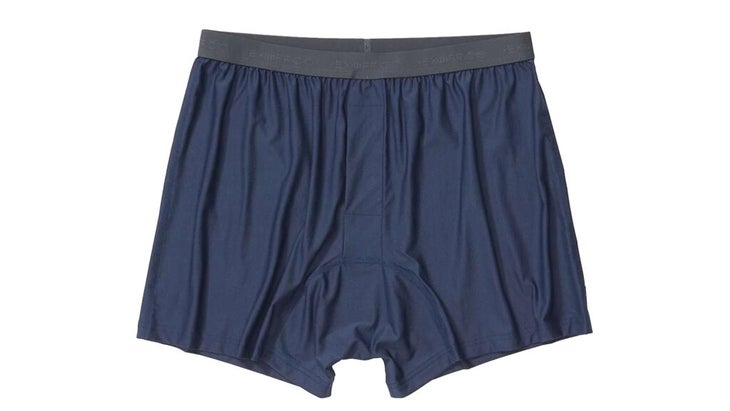 Weight: 4 ounces
Size: S-XXL
Pros: The fastest-drying and most odor-resistant underwear we've found
Cons: No compression or support
ExOfficio's Give-N-Go underwear has always been well-loved among travelers and hikers, and the 2.0 brings only improvements to the line. The updated version is softer, more breathable, and just as odor-resistant as the original model, and several testers swore they could keep the funk at bay, even wearing the same pair for an entire backpacking trip. After extensive use, we also saw little in the way of unraveling seams or waistband stretching. Lastly, the nylon/elastane fabric is unmatched when it comes to drying time. "These boxers are the only pair I can wash in a sink at night and be 100-percent sure they'll be dry the next morning," said one tester.
Bottom Line: The ExOfficio Give-N-Go 2.0 Boxer Brief is a funk-proof, fast-drying undies for both city and trail.
How to Buy
Good hiking pants and shorts are breathable, comfortable, and allow a wide range of movement. In general, look for synthetic fabrics like polyester and nylon that wick moisture and dry quickly. Cotton blends can boost comfort and durability, but take longer to dry and aren't the best choice for wet or cold conditions. Reinforced stitching and fabrics are key for avoiding blowouts, especially if you also plan on using your pants for mountaineering, climbing, or skiing. Small details can make or break your favorite hiking attire, so look for pants with well-placed pockets and zippers for easy access to gear while you're on the move.
When it's time to upgrade your gear, don't let the old stuff go to waste–donate it for a good cause and divert it from the landfill. our partner, Gear Fix, will repair and resell your stuff for free! Just box up your retired items, print a free shipping label, and send them off. We'll donate 100 percent of the proceeds to The Outdoorist Oath.