We Asked 5 Appalachian Trail Hikers What Their Favorite Piece of Gear Was
After 2,194.3 miles, this is the equipment that they loved the most.
Heading out the door? Read this article on the new Outside+ app available now on iOS devices for members! Download the app.
A thru-hike is the ultimate gauntlet for gear: nothing tests equipment like 2,000-plus miles of abuse on the trail. Only the very best designs and most durable construction remain by the time hikers reach the terminus. We asked five Appalachian Trail thru-hikers, most of whom have completed the journey, what their favorite piece of equipment was at the end of the day. And while some are more obvious—like a tent that houses you through months of rain and wind—others are more sentimental, like a faithful spork.   
First Name: Sean
Hometown: Asheville, NC
Trail Name: P-Diddy
Trail Name Etymology: "I was kinda against [trail names], so I always used Sean. I was signing all the logs as Sean, but when I got to Virginia, some folks asked if I was 'P-Diddy' (after Sean P-Diddy Combs.) Apparently, two friends I had hiked with previously crossed out Sean and [wrote in] P-Diddy in the logs after me. At first I didn't like it, but then I embraced it, and here we are."
Favorite Piece of Gear: Snowpeak Purple Titanium spork
"I guard my spork with my life. It's the only piece of gear that has been with me for the entire Triple Crown. I keep it in my shoulder pouch and constantly reach for it to make sure it's still there. It was my only utensil in several apartments, on many road trips, and everywhere else in my life. That spork has been to 45 states and every step of 3 national scenic trails. I remember buying it and thinking: 'How crazy am I to pay $9 for a spork?' But now it's priceless to me. I think I'm going to put it in a shadow box and retire it soon."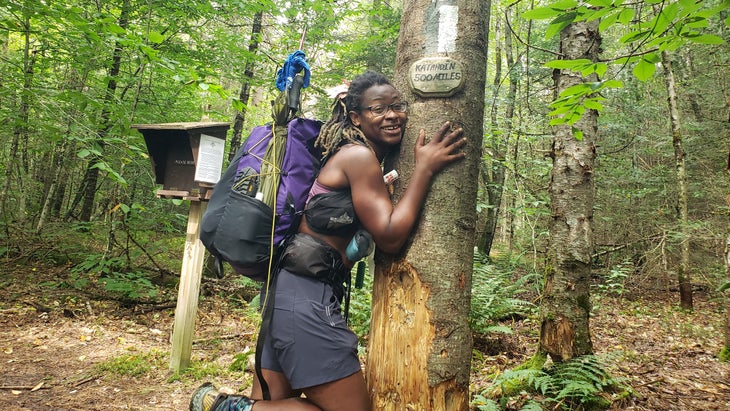 First Name: Shilletha
Hometown: Newark, NJ
Trail Name: Dragonsky
Trail Name Etymology:  "I was on my first overnight backpacking trip with someone that was not pleasant. My hiking partner kept making passive-aggressive comments about how we were never going to make it to camp in time. I started hiking faster and fell into a boulder. My partner said they didn't have time for my tears or feelings. I called my best friend who told me to take some time to myself. So I climbed on top of a boulder and cried. Then, something landed on my head. It was an elegant orange Dragonfly. Dragonflies are my spirit animal, and this one stayed with me until the tears let up. I smiled as it flew away into the blue, sapphire sky and then it came to me: I am Dragonsky."
Favorite Piece of Gear: Six Moons Designs Swift X Ultralight Pack
"I absolutely adore this 40-liter pack and the company that made it. My purple pack carried me from Georgia to Maine with minimal stress to my back. The hip belt is comfy, and I find its pockets to be a game-changer. Whitney 'AllGood,' the founder of Six Moons Designs, designed these packs with a harness that is incredible for those with back issues like myself. With a fractured back, the right—or wrong—pack could literally make or break me."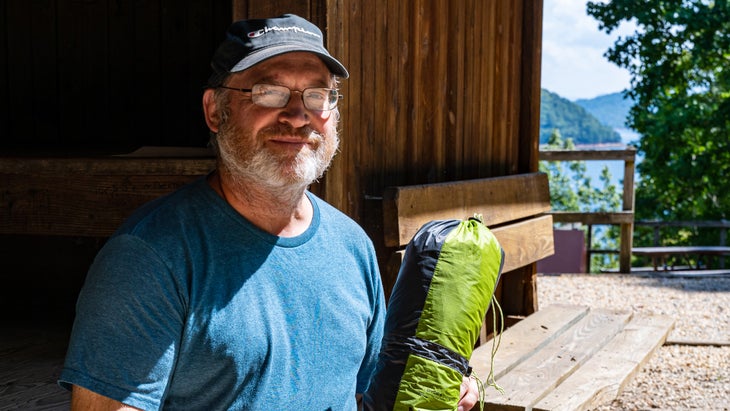 First Name: Matthew
Hometown: Cape Cod, MA
Trail Name: Stringer
Trail Name Etymology: "I'm a violist in a fairly-serious amateur chamber orchestra called 'Gaudete,' which is latin for rejoice. When our hiking group was cobbling together trail names, someone said, 'He plays the violin, what about String or Strings?' I tuned it up a little bit more to my liking. And that's how I became Stringer."
Favorite Piece of Gear: Nemo Dragonfly 2-Person Ultralight Backpacking Tent 
"My tent is definitely my favorite, mostly because it is so light," Stringer said. "I've been getting rid of clothing, personal items, and anything else I can, but this thing really does work. We have had some torrential rains and heavy winds on this trip and it has kept me completely dry and happy."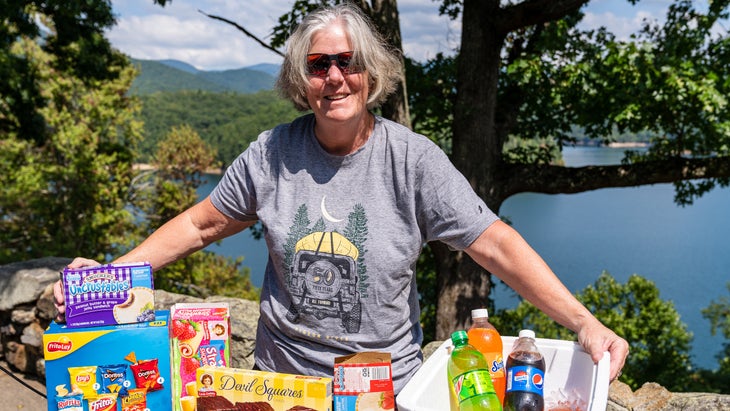 First Name: Julie
Hometown: Cosby, TN
Trail Name: Striper
Trail Name Etymology: "In 2007, I worked with a trail crew in the Great Smoky Mountains National Park. One day we were putting in water bars on the AT," Striper said. "I was the oldest—and one of only 3 women—working amongst mostly young men. The men used an ax to strip the logs. They didn't know I grew up in the woods, and everyone looked at me quizzically when I took a pair of pruning shears, clipped a section of bark about an inch-wide, and stripped it all off in 5 minutes. They said I was the best bark stripper they had ever seen and the name stuck."
Favorite Piece of Gear: Warbonnet Ridge Runner Hammock 
Striper, who is about to finish her third thru-hike of the AT, says her favorite piece of gear is a Warbonnet Ridge Runner Hammock "It has spreader bars, so you can lay flat in it. Not only am I sleeping in the air—I'm sleeping on an air mattress in the air! I can comfortably lay on my side, curl up and it's easier for me to get out compared to a tent, which is big because I deal with osteoarthritis."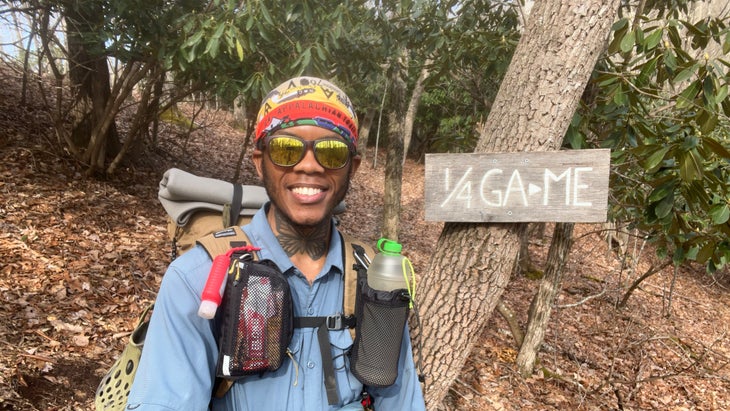 First Name: Justin
Hometown: Baltimore, MD
Trail Name: New Shoes 
Trail Name Etymology: "I came across a couple of women early on the trail and told them I didn't have a trail name. They decided they wanted to give me one, so they started asking me a bunch of questions about myself. I explained to them that I used to work in the fashion industry in New York City, but once I took an interest in being outdoors, everything shifted and I made going outside my first priority. They said, 'it sounds like you traded in your fashion shoes for a new pair of hiking shoes.'" 
Favorite Piece of Gear: Custom-made pack by Allmansright 
[This pack was] my favorite piece of gear because I had it custom-made and specifically measured to my body. It's completely frameless and 40 liters. [It has] a hip belt and a wide top strap, and I was able to choose a specific color. They were even able to put a waterproof outer pocket on the front of the pack, just over the top of the vest pocket, which was a compartment no one else had. I got a lot of compliments: people kept asking me about the pack, so I was pretty proud to wear it. Allmansright even decided to name that pack the 'Trailhead' after my IG handle, @TrailheadJustin."