Is Chinese Brand 3F UL's Ultralight Tent a Good Value?
The budget ultralight brand's shelters beat their competitors on price—but what about performance? We tested the Lanshan 2 Pro to see how it stacks up.
Heading out the door? Read this article on the new Outside+ app available now on iOS devices for members! Download the app.
Lightweight, high quality, and affordable: When it comes to backpacking gear, you generally have to settle for just two of the three. Thanks to a growing, competitive ultralight market, though, that's beginning to change. One company leading the way is 3F UL, a Chinese brand that's taken the ultralight world by storm with good quality products at hard-to-beat prices. We tested one of the brand's most popular products, the Lanshan 2 Pro tent, to see if it lived up to the hype. 
Build Quality
I vetted a four-season version of the Lanshan 2 Pro, built with a 20-denier silnylon fly and a nylon, rather than mesh, inner. The first thing I noticed upon pulling the tent from its stuff sack is that the fly is made of double-sided silnylon, rather than a silicone-polyurethane hybrid. That was a welcome surprise, since polyurethane coatings—which are thicker, heavier, and cheaper to produce—are common on budget tents. Throughout my testing, the nylon used in the Lanshan proved to be equal to what I've seen from other brands. I rarely used the footprint, and the tent floor didn't suffer for it. Nor did the corners show any signs of stress under tension. The inner material, which is a semi-transparent nylon, seemed well suited to the task—substantive enough to repel water splashing under the fly, but thin enough to still provide some ventilation.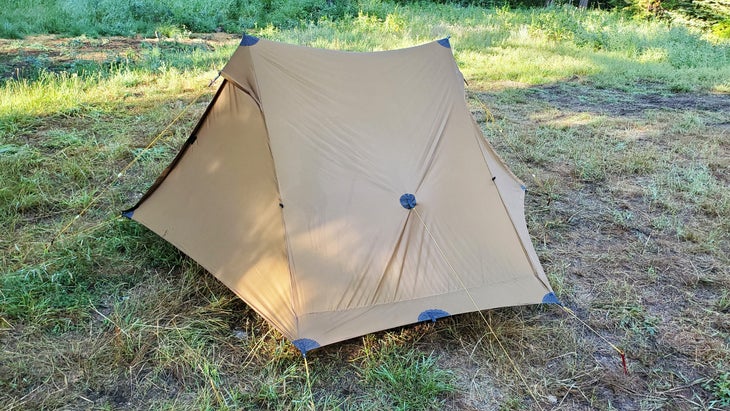 Design
In terms of design, the Lanshan 2 treads little new ground. The layout of the tent will be familiar to anyone who's used a cottage brand trekking pole tent, especially the Six Moon Designs Lunar Duo. The Lanshan also shares design details with many other close competitors. It requires six stakes to pitch, but is more secure with 8 or even 10 stakes.
There are a few small design elements I really appreciate in the Lanshan 2 Pro. The doors have a T-shaped zipper, which means you can open it to the left, right, or both. The tent floor is longer than earlier versions of the Lanshan, and at 6'4" I needed every inch of that extra length. The vents, which open where the trekking poles meet the ridgeline, work well and help reduce some of the condensation issues this tent has as a single-walled shelter.
In short, there's very little that's wrong with the Lanshan 2 Pro. Unlike the various no-name brands you can find on Amazon or AliExpress, 3F UL Gear is clearly well-made and run by well-intentioned people who actually enjoy hiking and camping, despite the reservations that many Americans have about Chinese-made equipment. 
There's also little question that the Lanshan tents are a good deal. The most basic version, the double-wall Lanshan 1, costs only $160, while the Lanshan 2 Pro I tested goes for $197. It uses high-quality fabrics and zippers, has impeccable stitching, and comes with 8 solid stakes and a compression sack. It requires seam sealing (available from 3F for an extra charge) and doesn't include a footprint.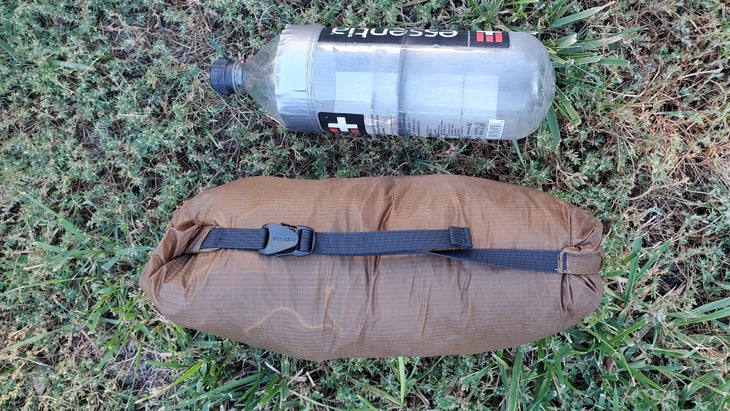 Is It the Best Budget Ultralight Tent?
Is it the best deal on the market? I'm not sure. For one thing, I think silnylon's time as the standard-issue budget tent fabric is coming to an end, with other brands like Six Moon Designs offering silpoly tents that are slightly more expensive—but not by much. After a few months of testing shelters made with silpoly and UltraTNT, the sag and stretch inherent with silnylon was especially noticeable. In a single-wall tent, where it's imperative that your sleeping bag stays off of wet tent walls, the sag of silnylon can mean the difference between staying dry and getting damp. 
The now-ubiquitous Lanshan tent design isn't my favorite. It's finicky to set up, requires adjusting the stakes and guylines repeatedly, and feels a bit cramped near the head and foot. It's a very lightweight design, best suited for models that take full advantage of that, like the 20-ounce Zpacks Duplex. With a trail weight of more than two pounds, the Lanshan is heavy enough that it's worth considering other options that might add a few ounces of weight but a lot of convenience, like a double-wall design and more interior space.
Interestingly, 3F's two-person tents are only about $20 more than their 1-person tents, while many brands charge anywhere from $60-100 more for that upgrade. For that reason, I'd be inclined to purchase a Lanshan 2, but would think long and hard about opting for a Lanshan 1 over something like the Durston X-Mid 1 (for a better design and double-wall comfort) or Gossamer Gear The One (for even lighter overall weight), which only cost $50 or $60 more. 
The Lanshan 2 Pro is a good tent, especially for the price. For anyone new to trekking pole tents or ultralight gear, it's an affordable way to test the waters. For some, it might be the only tent they need for years. But modern ultralight tents have moved beyond what the Lanshan offers. There are more innovative designs using better fabrics that set up faster and offer more interior space. Yes, almost all of these tents are more expensive, but not by much. For most ultralighters, I think the extra $50 to $100 would be money well spent.