2016 Tent Preview
Fun colors & built-in device charging on one hand; even lighter and faster tents on the other. It's the 2016 tent preview from the Outdoor Retailer Show.
Heading out the door? Read this article on the new Outside+ app available now on iOS devices for members! Download the app.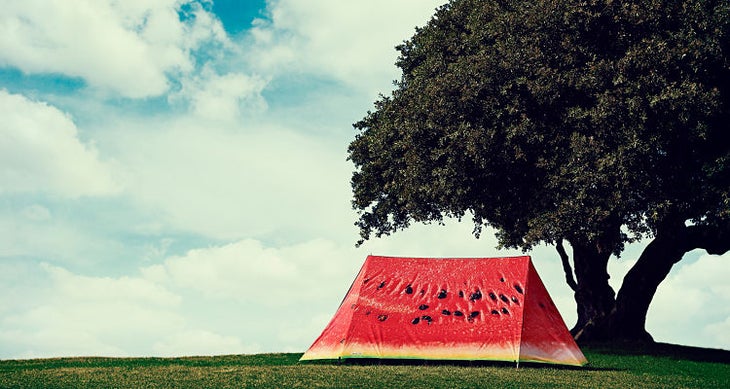 The Original Explorer comes in over 50 different graphic designs – adding fun to car camping aesthetics.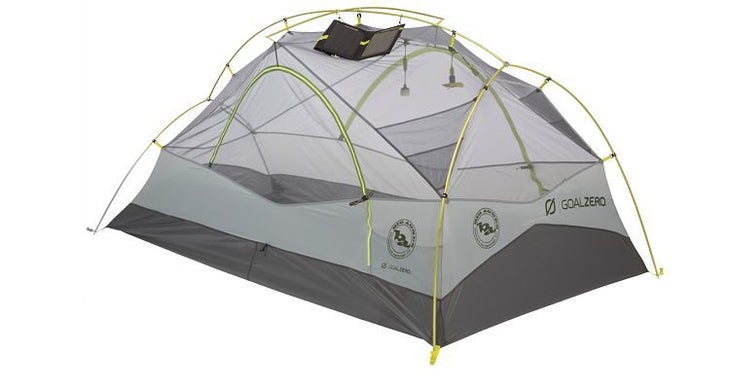 The Krumholtz UL2 incorporates the MtnGlo integrated lighting system as well as a solar-powered fan, lantern, and battery.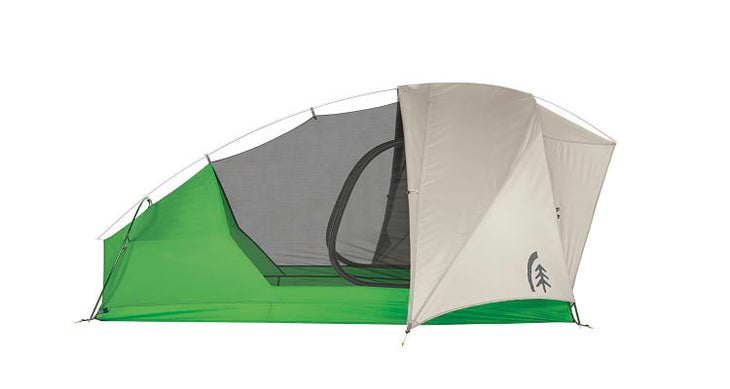 The Nightwatch features integrated interior lighting a roll-up fly for convenient stargazing.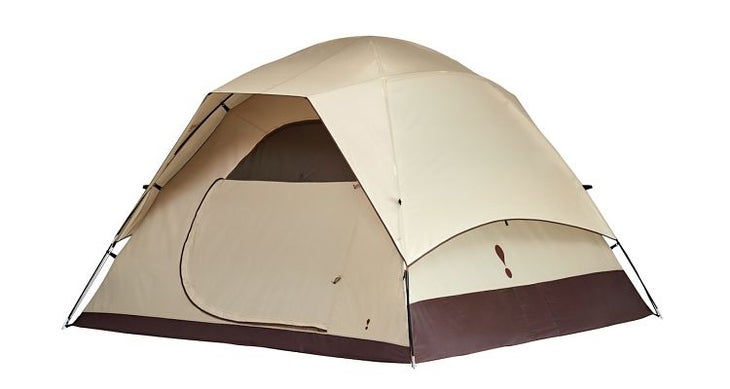 Eureka's family tent comes with storage pockets, tablet mounts for evening video viewing, and a reflective interior to diffuse hanging light.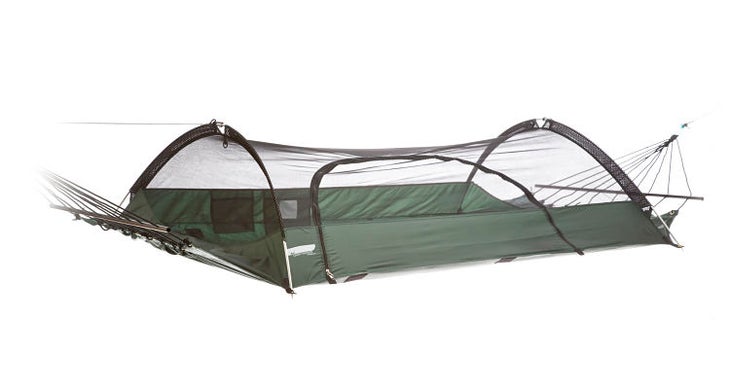 Lawson's single person tent can be either strung up as a hammock or pitched on the ground.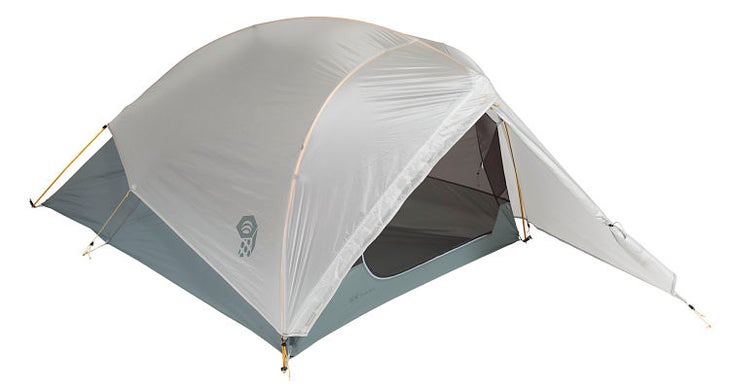 The Ghost UL 2 is bigger, stronger – and lighter – than previous versions.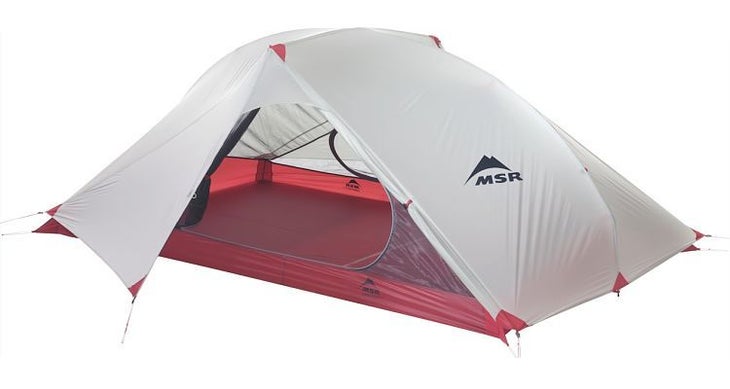 MSR's Carbon Reflex has two vestibules and more headroom than before but still weighs in at jut 2 pounds, 6 oz.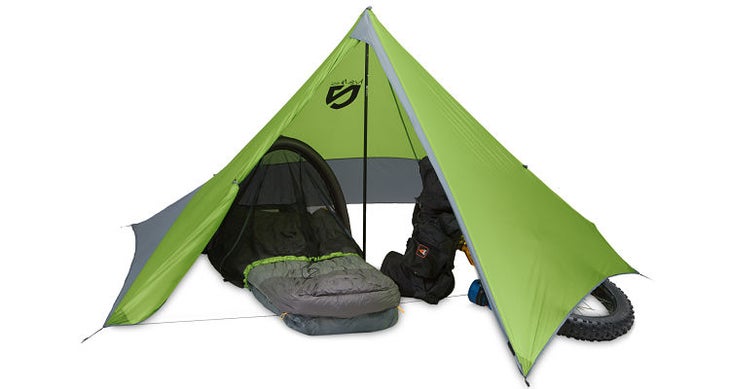 Nemo's ultralight bikepacking tarp is meant to encase a bivy, making it well-suited to ultralight solo hikes.
Note: This is a preview of new technologies being introduced at the Outdoor Retailer show. We have not yet tested any of these products, and they won't be available until 2016.
Outdoor introverts and extroverts are snapping up tents.
On one end, going camping has become a highly social experience for millennials. They're demanding, and brands are delivering, easy-to-set-up tents that offer more space and home-like accommodations packed in increasingly fun designs and colors. Weight isn't necessarily a priority here (maybe they're setting it up on a rooftop in New York City), but even backpackers heading out with a group of friends are demanding lightweight versions of these crowd pleasers.
Woohoo! It's a party!
But wait. Hold the tequila. In this very same market, brand officials tell us that solo tents have never been selling better. Customers still looking to connect with nature on an individual basis — perhaps searching for their very own Cheryl Strayed moment — are scooping up highly technical, ultalight, non-free-standing tents that can be carried over long distances.
Mother Nature is a friend to all types.
For the social crowd, the tent market is getting a lifestyle makeover. Tents for 2016 are catching up to the trend we've seen so prevalent in apparel and footwear — with fun designs, colors and even graphic treatments to the exterior.
Bring on the Fun
Nowhere on the show floor can that be seen more than with newcomer Field Candy. The U.K.-based camping brand brings its Original Explorer tents ($345). The two/three-person models feature a single-layer, classic a-frame construction with more than 50 photograph or graphic designs to choose from on the exterior (from country flags to imprinted shadows of a kissing couple). The tents weigh in at a 12 pounds, 5 ounces — so it's meant more for car camping and festivals, where, we'll assure you, your customers won't lose their tent in the crowd.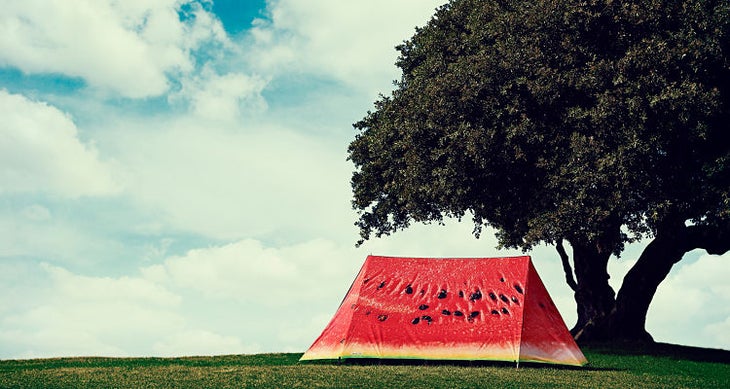 The lifestyle push isn't just about looks, however. It's also about function, and bringing along some of the luxuries of home. For example, The North Face targets picnic, park and festival goers with its new Homestead series including the Shelter ($299) that fits around most campground picnic tables and the Roomy 2 ($229) a two-person tent, claiming 50 percent more room than a typical two-person design and large doors that can accommodate queen-sized air mats.
"It's about being more social and fun versus that fear-based, militant marketing approach of 'you've got to have this tent or you're going to die,' said Austin Robbs, a product manager for The North Face.
Powered Up
Big Agnes targets the social and lifestyle trend by accommodating for the rise in electronics outdoors. "We are not telling people to bring technology into the backcountry, but if they want to, our tents will make that experience better," said Len Zanni the brand's co-owner and marketing director. The Big Agnes Krumholtz UL2 ($650) builds off last year's MtnGLO technology — integrated interior lights and routing systems to keep cords organized and out of the way — with the addition of a Goal Zero solar panel, fan, lantern and battery. For backpackers, Big Agnes adds MtnGLO to one of its lightest tents, the Fly Creek UL2 ($440) — looking to see if those lifestyle touches go over well with core users.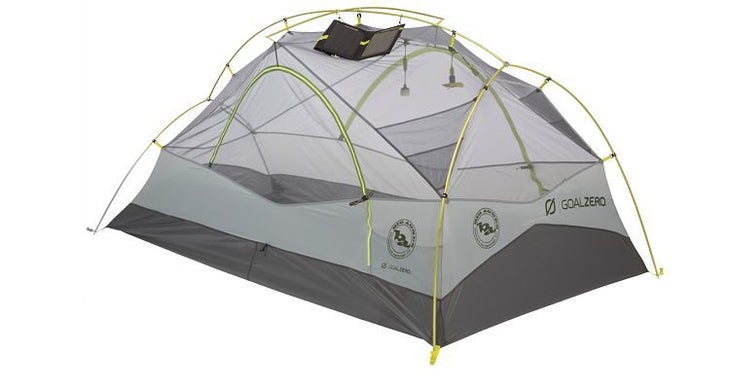 Sierra Designs also targets tent lighting with its new Night Glo accessory ($15). Stick any size headlamp in it and the lightweight polyester taffeta material diffuses and spreads the light to fill the tent. The idea, said Casey Sumnicht, equipment product manager, is that the user's headlamp can serve double-duty as a lantern without having to bring separate lights and more weight. And when its time to turn out the lights and look at the stars, check out Sierra Design's Nightwatch tent ($240), which borrows a technique from sister brand Kelty with an easy-to-roll up fly (even from the inside) to get those skyward views.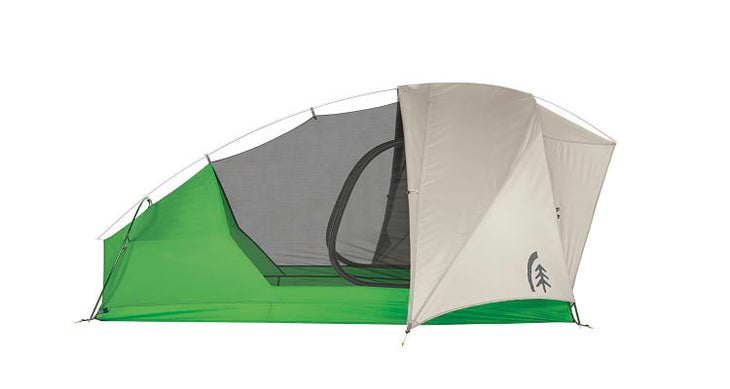 Expect the electronic trend to continue refining comfort at camp, said Nemo equipment Founder and CEO Cam Brensinger. He sees electronic climate-controlled tents around the corner.
More Room
Bridging the gap between lifestyle and lightweight, the one common trend between the two ends of the tent spectrum is the demand for more livable space. Customers are seeking standing room or space for a card table at the family campground and core backpackers want a little more stretch room for a comfortable night's sleep with their partner and/or room for the dog.
"We are adding volume to our lightweight backpacking tents, without losing structural stability or adding weight," Big Agnes' Zanni said. "This means more vertical walls, more head room and more spacious feel to the tent. Everyone can appreciate that."
And while everyone might still view the millennials as young kids, the reality is that the front-end of the generation is starting to have kids of their own. And that means they need more space, said Paul Leonard, product manager at Eureka.
"We're seeing it with car camping, but also what I call 'wilderness base camping,'" Leonard said. "Young families hiking in a half-mile — or maybe just a couple hundred yards from the car — to share that wilderness experience with their kids, but also bring in the big tent, two-burner stove and camp chairs. You can call it car camping, but it's not KOA car camping."
For this, families need a functional, easy-to-set-up shelter for day and night use. Enter the Eureka Tetragon HD Tent, available in 2-, 3-, 4-, 5-, and 8-person models ($90-$260), featuring a full mesh roof for ventilation and 360-degree views when the fly is off. It's loaded with gear lofts, stash pockets — some meant to hold tablets for video viewing — and reflective material up-top to diffuse and spread a hanging light.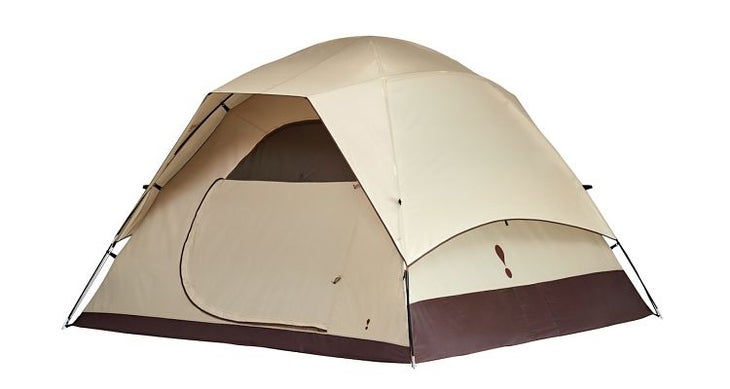 Skewing more technical, brands are also bringing designs that allow for more versatile space. In other words, tents that grow or shrink, depending on the situation. Take the new Colfax series ($269-$369) from Marmot, which tent alone (it comes in two-, three- and four-person versions) are light enough for backpacking, or they can be expanded to include extra vestibule and porch space or connect together for more roomy shelters during car camping and festivals. Steep walls provide a more cabin-like feel and all three windows can be shut for privacy or opened for 360-degree views.
Tarped Up
Minimal shelters and tarps, too, are becoming more versatile. They can be a core-backpacker's minimal, ultralight shelter, or it can serve as a portable sunshade while watching the kids' soccer game. Either way, the Kelty Mirada ($120) offers easy set-up with two poles and plenty of floor space. Or check out Lawson Hammock's Blue Ridge Camping Hammock ($169), a unique hybrid tent/hammock design that can be hung between trees or staked out on the ground as more traditional solo tent.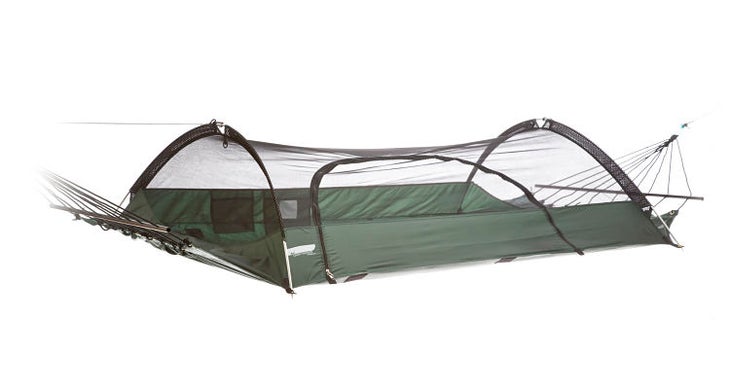 As the miles tick off on the trail and you get deeper into the backcountry, you leave behind the families and partiers. Being social is about teamwork for survival — sharing nature's beauty and its many challenges for a couple days.
For this, the lightweight trend in tents continues strong, and brands are honing in shelters at about a pound per person for the ultralight crowd. See Mountain Hardwear's Ghost UL 2 ($449), at 2 pounds, 2 ounces, which is not only lighter than its predecessors in the line, but larger and more durable.
"We previously used a 10D fabric, and actually found a 20D that was lighter," Mountain Hardwear Global Director of Product Merchandising Robert Fry said. "Its fibers are stronger in the weave and its not as immersed in PU coating. And we were able to keep the water column (protection) the same."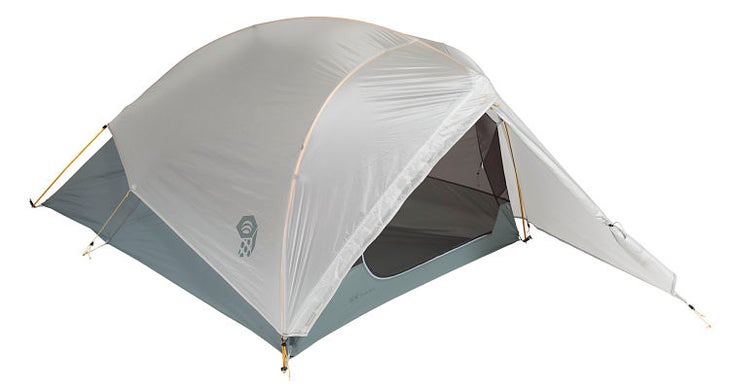 MSR achieves similar goals with its 2-pound, 6-ounce FreeLite 2 tent ($440), concentrating on the construction to give a relatively spacious 30-cubic foot interior (including a top cross bar for extra headroom) and two vestibles, each at half the tent's interior size. 10D nylon walls and 15D nylon floors add to the weight savings.
Similar lightweight advancements are being made with polyester-based tent rain flys, several designers said. Polyester has the advantage over nylon in keeping its shape over time after being beaten with rain and sun, but it's typically been heavier than nylon. Look for that to change, but it isn't quite at the ultralight level yet.
Moving below a pound-per-person, MSR targets the core, ultralight customer with a redesign of its Carbon Reflex series, shaving more than a pound of its lightest tent. The two-person ($499) weights in at 1 pound, 13 ounces thanks to a 7-denier, non-zippered fly and single, carbon-fiber pole. Yet, this tent still features two doors and decent space with vertical corners at the floor, steepening the walls for a little more head and shoulder room.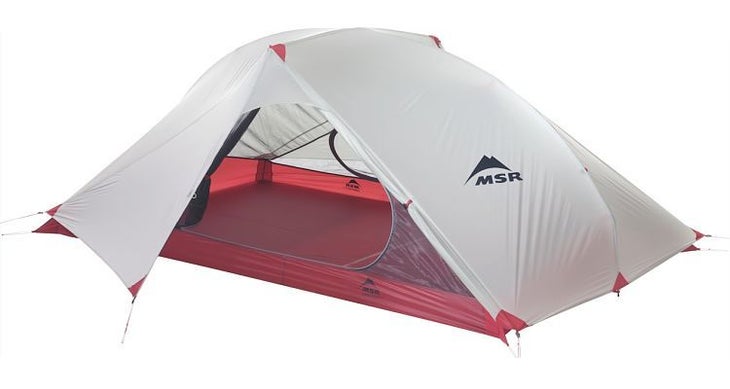 Going even lighter … it's about tarps and floorless shelters. Nemo Equipment brings its Apollo shelter ($250) at 1 pound, 5 ounces, which is meant to be paired with its Escape Pod Bivy ($120), the latter employing an air-filled beam to pitch mesh over the sleeping bag for bug protection. It's a super, ultralight solution tailored for bikepacking, a niche, yet rising trend Nemo's Brensinger said. We suspect, ultralight backpackers will be interested, too.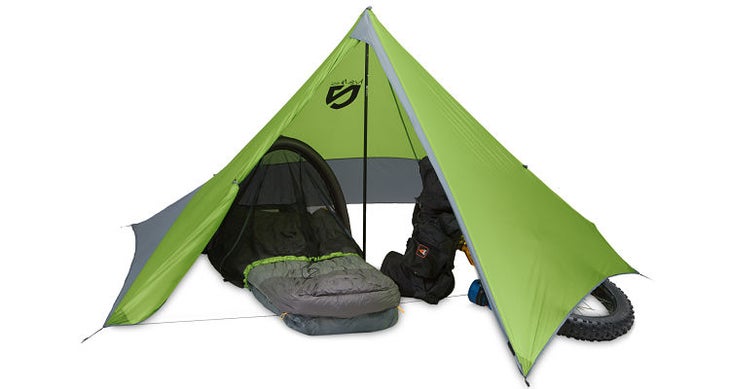 Hilleberg expands its tarp offerings with the Tarp 5, made specifically to cover the minimalist solo backpacker, weighting in at just 11.3 ounces. It's made from the brand's Kerlon 1,000 that touts a stout 17.6-pound tear strength.
But is the lightweight lunge in tents nearing its end? Numerous designers noted they've reached a tipping point in terms of tent weight without sacrificing durability and livability
"When we design tents, we have to look at how people are using the product, not just at the lightest product," said Wade Woodfill, equipment category merchandising manager at Marmot. "As tents reach 15-, 10-denier they're losing their waterproofness and durability. I think consumers will begin drawing the line."
These are just a few of the new products to debut at Summer Market. Be sure to check for more news and trends in the O.R. Daily, Days 1-4, published live at the show, and available digital format each day at www.snewsnet.com/ordaily.