The Best Trekking Poles for Backpackers
Improve your balance and save your knees with the best trekking poles on the market.
Heading out the door? Read this article on the new Outside+ app available now on iOS devices for members! Download the app.
These poles provide shockingly good shock absorption and several can even be adjusted with a single hand on the fly. It's no wonder some hikers won't hit the trail without trekking poles. This list of seven will help you choose the right pole for you.
Gossamer Gear LT4 Trekking Poles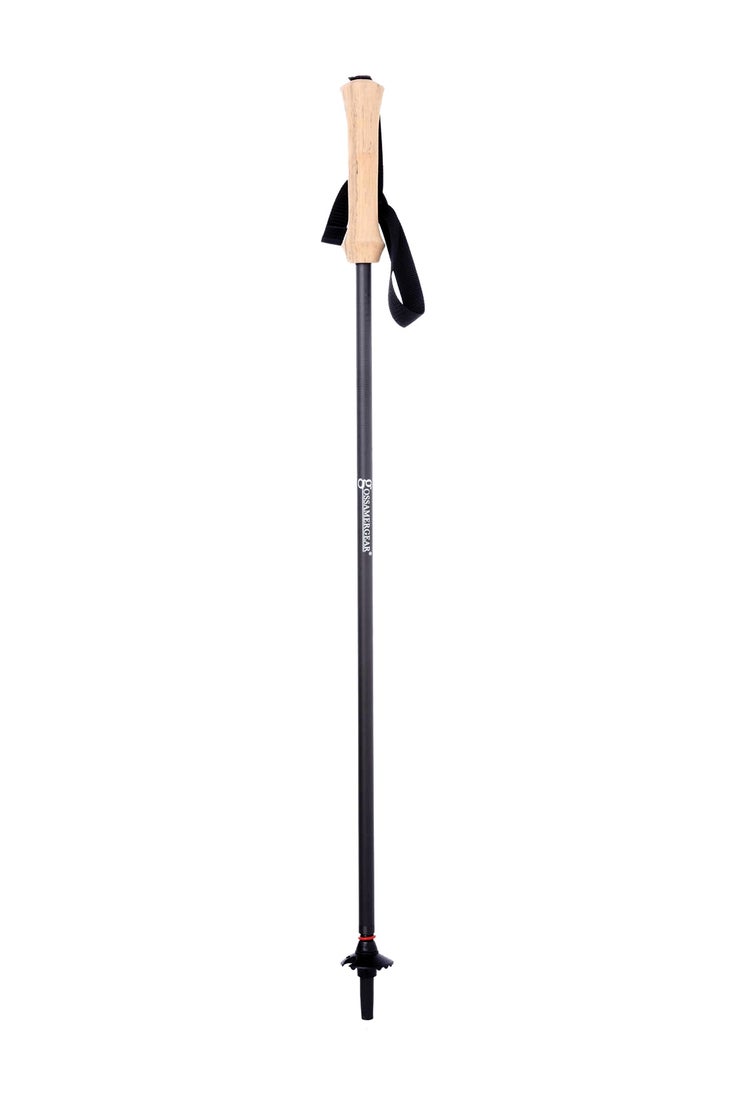 Our take When your empty Nalgene weighs more than your trekking pole, that's some serious weight savings. Gossamer Gear worked with a lab specializing in golf club design to come up with the proprietary carbon wrap-to-resin ratio that makes the LT4 the lightest two-section pole we've seen while preserving vertical strength. (A spiral wrap just above the tip, also cribbed from golf clubs, replaces the aluminum many other carbon poles use for strength.) One 6'1", 170-pound tester saluted the LT4's sturdiness on the ups and downs of a hut trip on New Zealand's North Island, as well as its 20 inches of adjustability, the most of any pole in the test. Drawbacks: Our testers were baffled by the lack of length markings for quick adjustments, and the LT4 rings up at a golf club price, too. Straps are not included, and the polyester ones that come with the LT4S ($206, 9.2 oz.) are skimpy.
Trail cred "They're soft and comfy, but still not too squishy," one tester said of the LT4's molded foam handles.
$191; 8.2 oz; Buy Gossamer Gear LT4 Trekking Poles Now
Black Diamond Distance Plus FLZ Trekking Poles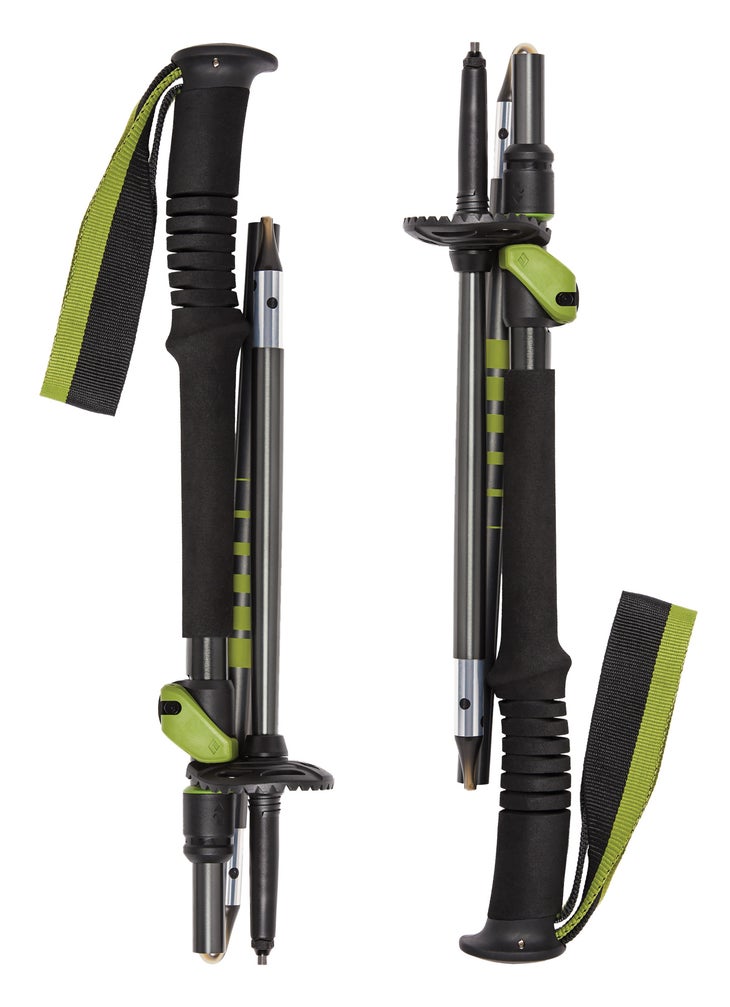 Our take We've been using Black Diamond's Distance FLZ poles for a few summers, and now—thanks to interchangeable baskets—we're pushing them into year-round use. The FLZ has two calling cards: portability and ease of adjustment. Black Diamond's SlideLock system allows rapid deployment and breakdown, and its FlickLock technology makes length adjustments easy. Our tester appreciated how the Distance Plus simplified his kit, and he used it to traverse everything from slick vegetation to ankle-deep mud to early-season powder in Colorado's San Juans. He also lauded the new hard rubber cap on the Distance Plus's foam grip, which stabilized his hands when pressing down hard. The poles come in two lengths, extending up to 49 and 55 inches, respectively.
Trail cred "With a tiny packed length of 15 inches, the Distance Plus is an easy choice to bring on a dayhike even when I'm not sure I'll need poles," our tester says.
$150; 1 lb. 1 oz; Buy Black Diamond Distance Plus FLZ Trekking Poles Now
Montem Ultra Light 100% Carbon Fiber Trekking Poles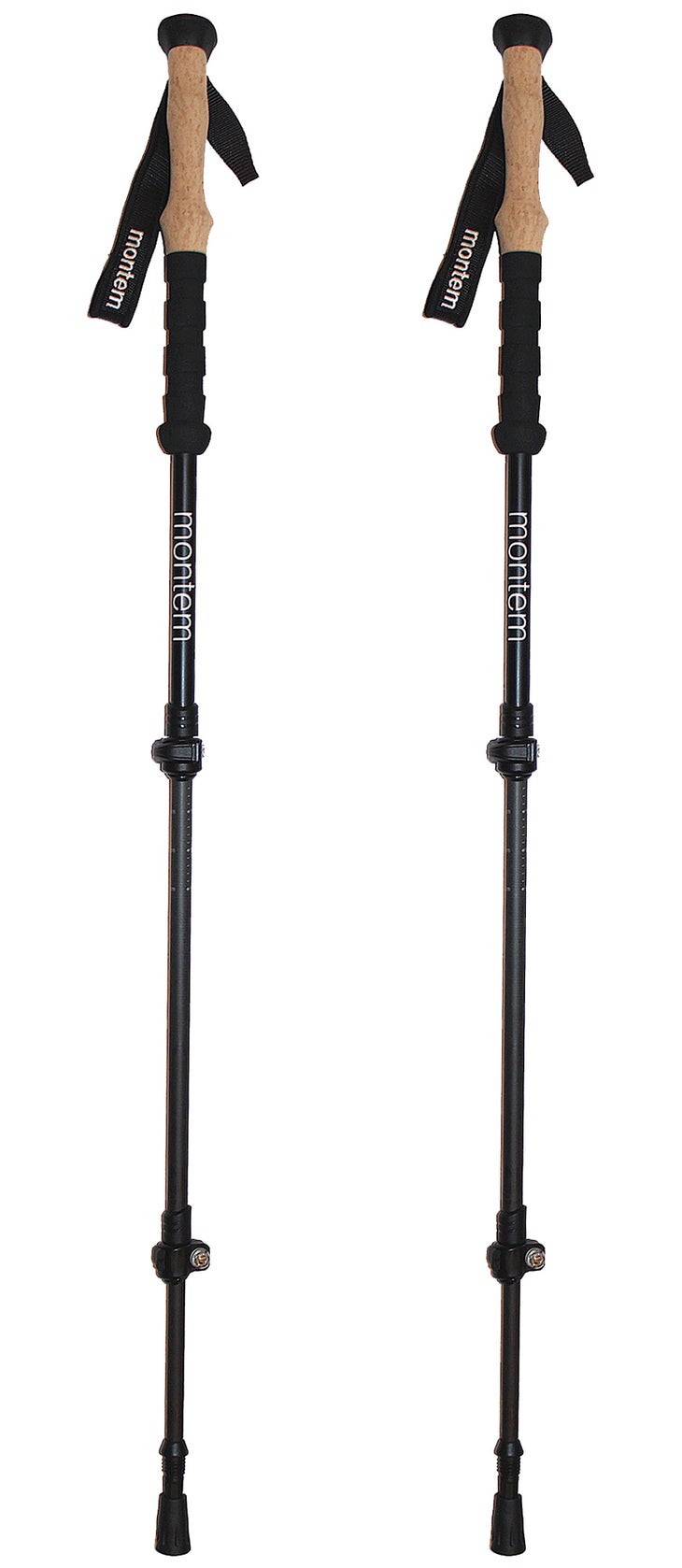 Our take Finally, an affordable carbon pole. Montem answers the most common gripe against carbon—price—with this sub-$80 offering that performs like it costs twice as much. (Montem cuts costs by selling directly to consumers.) Carbon construction keeps the Ultra Light's weight down despite a full slate of features: Dependable flip-lock mechanisms held up over varied terrain and myriad adjustments during one tester's hike on New Zealand's Te Araroa, and over four months of use, the Ultra Light's foam handles molded to his hands. Despite the price, it's lighter than many other three-piece carbon poles, and our tester reported that the shaft remained stable on New Zealand's notoriously steep trails.
Trail cred "I was wary of a budget pole, but the flip locks never budged, even when I put my full weight on the Ultra Light in the scree beneath 5,679-foot Mt. Rintoul," our tester says.
$75; 15.2 oz; Buy Montem Ultra Light 100% Carbon Fiber Trekking Poles Now
Kelty Cairn Trekking Poles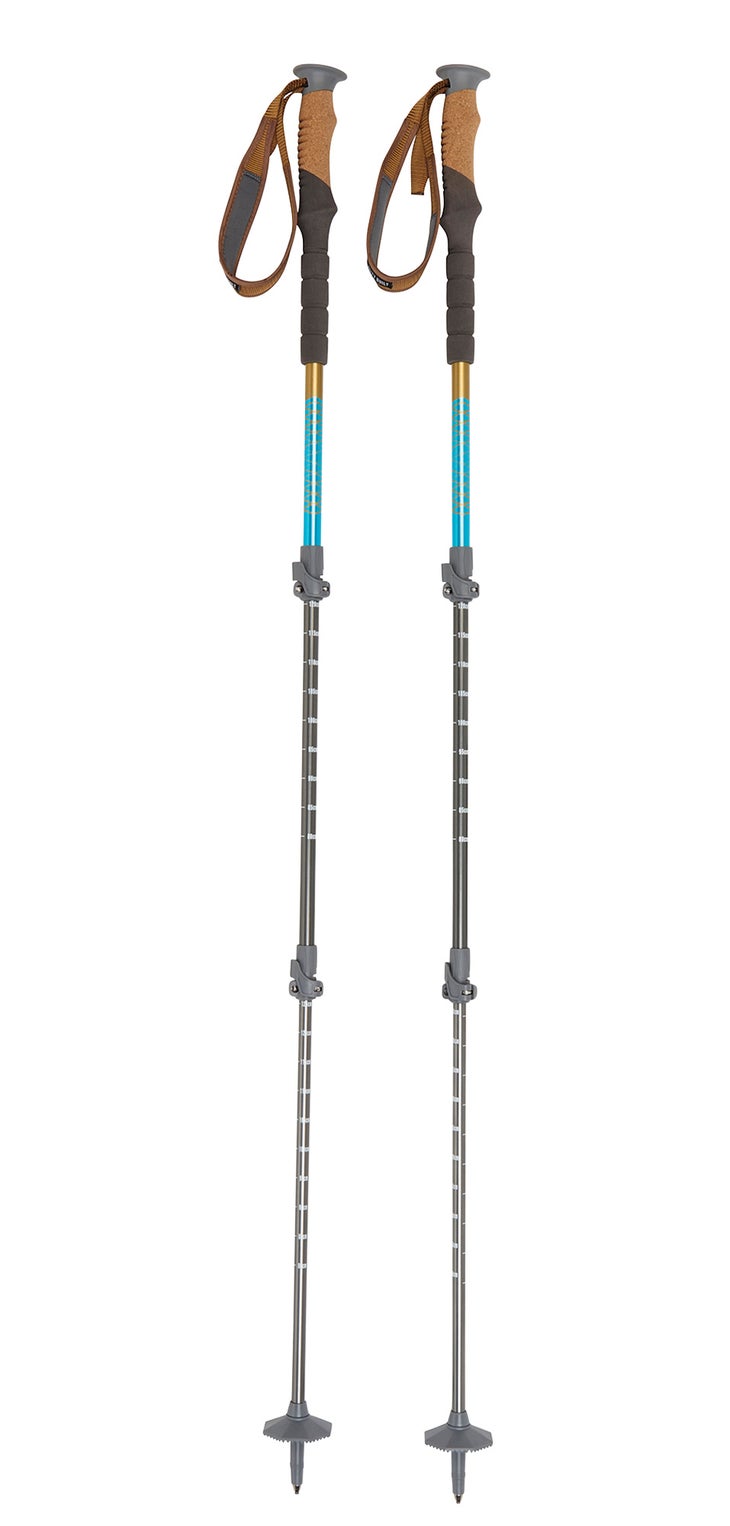 Our take With its full feature set—including three-section adjustability, cushy neoprene straps, and grips designed for smaller hands—and the lowest price in the test, the aluminum Cairn is the best new women's-specific pole we used this year. One tester lauded its performance on a climb of New Mexico's Wheeler Peak: "The flip locks held steady during the knee-busting descent, and the extended cork/foam grips are sized just right and allowed me to choke down as the trail changed," she says. The Cairn's shaft provides sturdy support, but has enough give that our tester never worried about snapping it in steep terrain.
Trail cred "In warmer weather, I appreciated the moisture-absorbing cork on the grip, which prevented my hands from slipping," our tester says.
$70 (on sale for $49 via link); 1 lb. 1 oz; Buy Kelty Cairn Trekking Poles Now
Helinox Passport TL Series Trekking Poles

Our take The Korean company DAC, parent of Helinox, has long made some of the best tent poles on the planet—so it's not surprising that their tech works great in trekking poles. Thanks to a patented alloy (called TH72M), these collapsible poles are strong like aluminum and light like carbon fiber. But unlike both, the alloy is flexible, which allows the poles to bend slightly without snapping. It's not much, but some testers felt unstable when weighting the bend-don't-break poles. The poles fold into 15-inch-long segments, and included hook-and-loop straps keep them bundled neatly together.
Trail cred "The small packed size meant I didn't think twice about stashing these poles in my carry-on luggage," says a tester who took them to Taiwan's Taroko Gorge. "Plus, the wrist straps are exactly what you want—simple, comfortable, and easy to adjust."
$150; 12 oz.; Buy Helinox Passport TL Series Trekking Poles Now
Leki Micro Vario Ti COR-TEC DSS

Our take Think shock-absorbing poles are loud and heavy? Think again. Not only are the shock absorbers in these poles quieter than others we tested (no squeaky springs), but, compared to other adjustable aluminum models, they're significantly lighter. We appreciated them most on hard, rocky trails where impact can affect your knees and back. Our testers lauded the locking clips, which are easy to manipulate with gloved hands and don't slip, making on-the-fly adjustments a breeze. Bonus: LEKI's lifetime warranty against shaft breakage can't be beat.
Trail cred "They're sturdy enough for backpacking, but light and portable enough for ultrarunning," said a tester after a 20-miler in Oregon's Hells Canyon. "After my fastpack, I collapsed the poles and stowed them in my daypack when it was time to run back to the car along Forest Service roads."
$160; 1 lbs, 4 oz; Buy Leki Micro Vario Ti COR-TEC DSS Now
REI Co-op Flash Carbon

Our take Our testers who use their trekking poles as tent supports reached for this telescoping model for its best-in-test adjustability. Carbon-composite keeps the Flash Carbon ultralight, despite the extra hardware needed in an adjustable pole, and, while that construction has been known to have durability problems, ours has stood up to a season of hard use. "I used the Flash Carbons on a tough trail with rocky ridgewalks and white-knuckle stream crossings along Arkansas' Buffalo River Trail, and they handled it amazingly," our tester says. Ding: The paint job lacks durability; length markers on the shaft wore off easily.
Trail cred "The precise adjustability of the pole really helps when I'm erecting my shelter," another tester says. "I can easily make the micro-adjustments necessary for a perfect pitch. Plus, their low swing weight ensures I'm not wasting any excess energy on the trail."
$140; 15 oz; Buy REI Co-op Flash Carbon Now