The Best Trail Running Shoes for Backpackers
Eat up trail miles with these fleet-footed kicks.
Heading out the door? Read this article on the new Outside+ app available now on iOS devices for members! Download the app.
Truly committed to going light? The best trail running shoes can handle anything from long training sessions to long hikes under light loads. Try out one of these essential pairs, and you'll go faster and burn less energy doing it.
Dynafit Ultra Pro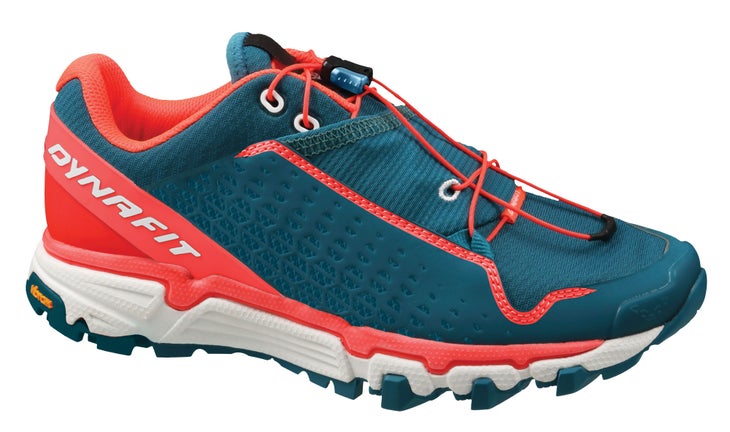 Comfort Our tester deemed the Ultra Pro "as comfortable as a street shoe, and super breathable," thanks to a lighter-than-average mesh upper that allows for ample airflow. While the thick soles cushioned impact on the downhills, they were a bit overkill for some testers. "I couldn't feel the ground that well, which was great for trail pounding but less ideal for rock hopping," our tester says.
Support & stability The Ultra Pro's EVA midsole and 34mm stack height at the heel kept our tester smiling under her weekend load on a trip through Colorado's Holy Cross Wilderness. The heelcup is shallow but still minimizes heel slippage well. Ding: The one-pull laces don't always cinch down completely in the middle, and they're covered by a stretchy mesh flap, which makes adjustments tricky.
Traction The Vibram Megagrip outsole, which has multidirectional, oblong lugs, held tight on rock, snowy scree, and steep mud through a season in the Rockies. "I walked across a stretch of ice on a shaded trail and hardly slipped," one tester says.
Durability The breathable mesh on these trail running shoes is tougher than it looks, thanks to doubled-back construction and ballistic nylon on top of the foot. It resisted scree abuse without any damage. Over the first 150 miles of testing, the Ultra Pro's midsole hasn't compressed and the tread has held up nicely.
$140; 1 lb. 6 oz.; m's 6-12, w's 5.5-11; Buy Dynafit Ultra Pro Now
Altra King MT 1.5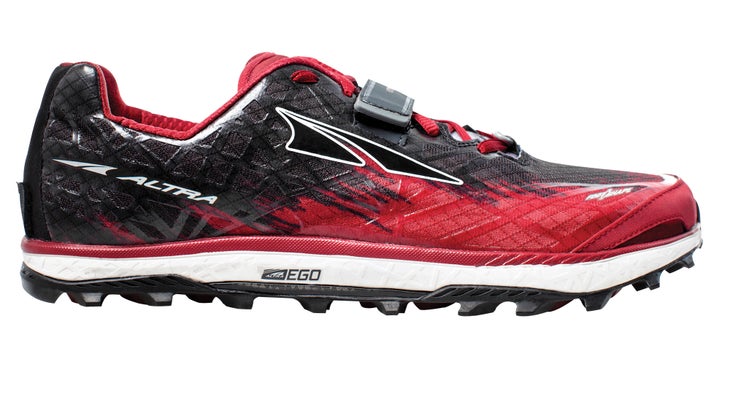 Comfort The King trail running shoes feature Altra's standard, ultraroomy toebox, which is luxurious on long trail days that leave feet and toes swollen. One tester appreciated that the thicker-than-average, 6mm insole prevents rock bruises but doesn't eliminate groundfeel.
Support & stability The 5mm, proprietary foam midsole—it contains more elastomer than average, which enhances rebound—grants a responsive and fast ride. A hook-and-loop strap cinches down internally, securing feet on steep descents, but our average-footed tester felt slippage in the heelcup on Colorado's Tenmile Traverse. Like most thin-soled trail runners, the King is best for lighter loads. Our tester preferred it for dayhikes.
Traction Best-in-test grip had our testers sticking to every surface they tried, from scree to mud to ice. The recipe: The Vibram Megagrip's toothy, 6mm, arrowhead-shaped lugs that mirror the shape of the foot. "I was shouldering extra weight since I was carrying our baby, but not even steep, muddy trails caused me to slip, no matter whether I was going uphill or down," our tester says.
Durability TPU overlays protect the mesh upper from sticks and rocks. But the King is the lightest shoe here, and it showed: We noticed fraying in the upper's thin ripstop nylon after just a few weeks of peakbagging along Colorado's Front Range.
$140; 1 lb. 1 oz.; m's 7-15, w's 5.5-12; Buy Altra King MT 1.5 Now
Dynafit Speed Mtn GTX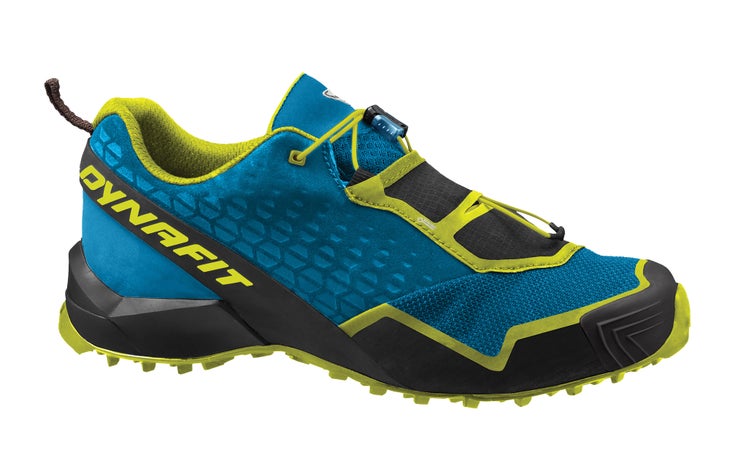 Our take We had our reservations about the slipper-like Speed Mtn trail running shoes, but after 54 days, 140 miles, and 30,000 feet of elevation gain without a slip in these svelte runners, we're converts. "Most folks wouldn't consider the route up Alaska's Mt. Troy a trail at all: You have to run up a stream, ascend through a thick spruce forest, and then cross the rocky alpine zone—but the Speed Mtns easily handled the task," says one tester of his backyard run in Tongass National Forest. The secret is in the durable outsole, which is made of a butyl rubber compound, like a car tire. Known for its weatherproofing, the butyl sole proved just as grippy on snowy forest roads as rocky singletrack. Diamond-shaped lugs vary in depth (up to a cleat-like 6mm) across the sole, while a tough canvas upper, climbing shoe-like rubber rand, and burly toe bumper protect the Speed Mtn from trail debris. And the cost for all those features? Ouch.
The details Our testers liked the speed lacing system, which keeps the shoes cinched evenly, but the protective sleeve is tough to manage with cold fingers. Fit note: Dynafit ditched its standard lasts in favor of a wider one for the Speed Mtn—meaning it fits larger-volume feet and allows for more toe splay.
Trail cred "The ballistic toe bumper kept my feet bruise-free," says one Alaska-based tester with a history of broken toes.
$180; 1 lb. 11 oz.; m's 7-13, w's 6-10; Buy Dynafit Speed Mtn GTX Now
Adidas Terrex Two Boa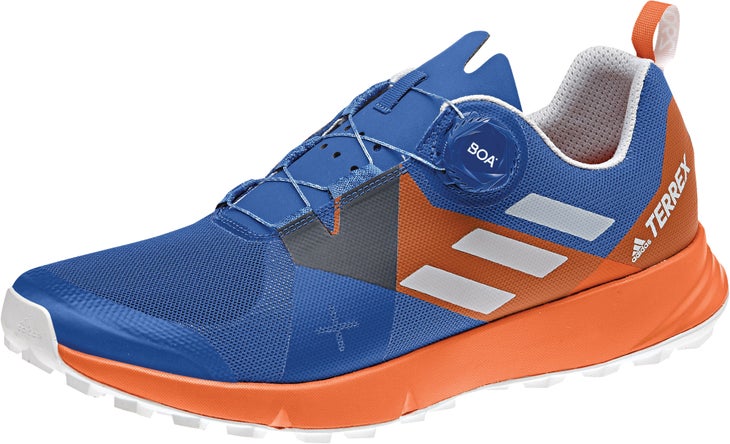 Our take "Like a BMW cruising down the Autobahn," our tester says of these German-engineered low-tops. The recipe for the smoothest ride in our test is relatively simple: a slightly thicker-than-average EVA midsole and a rockered profile with a 6mm drop for a natural, roll-off-your-toes stride. Our feet stayed fatigue-free after big-mile runs and training sessions on steeps. The latter was no problem for the Continental outsole, which also held fast on wet rock and icy singletrack in New York's Durand Eastman Park, thanks to 4mm lugs. The Terrex Two's 26mm-thick heel provides just enough cushion for backpacking with a load under 30 pounds.
The details A Boa dial stands in for laces, making it easy to tweak fit on the fly, and one tester even dubbed the Terrex Two a great camp shoe for the easy-on, easy-off factor. Check fit: One wide-footed runner felt crammed in the slightly narrow toebox.
Trail cred "I normally have a sneaker blow-out by now, but I'm creeping up on 200 miles in these and they aren't even close to falling apart," our New York-based ultrarunner says.
$120; 1 lb. 5 oz.; m's 6-15, w's 5-12; Buy Adidas Terrex Two Boa Now