The Best New Hiking Boots of 2015
Waterproof. Breathable. Tough. The best new hiking boots of 2015 prove that when it comes to footwear, you really can have it all.
Heading out the door? Read this article on the new Outside+ app available now on iOS devices for members! Download the app.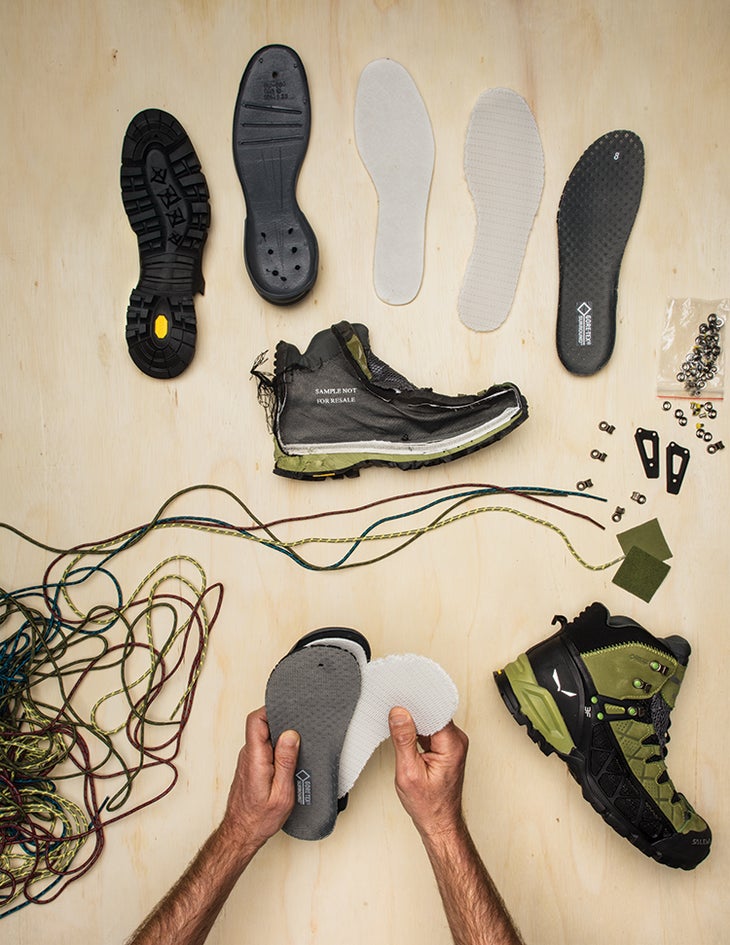 The Test:
Miles hiked: 10,500
Hottest temp: 116°F (Redding, CA)
Coldest temp: -5°F (Sierra Nevadas)
Longest day: 50 miles (Sierra Nevadas)
Trail Runners
[ubergrid id="15237364″]
Light and Mid-Duty Boots
[ubergrid id="15237381″]
Heavy Duty Boots
[ubergrid id="15237385″]
Shoe Shopping Smarts
Shop late. Try on boots at the end of the day when your feet are slightly swollen, like they will be after a day of hiking.
Get measured. Feet change over time. Each time you shop, determine your proper size with a Brannock device and a knowledgable boot fitter.
Bring your socks. Some are thin, some are thick, and they can affect fit. Bring your favorites to the store when shopping.
Find a slope. Check boot fit on an incline board (most good stores have them). Be sure your toes don't bump the front of the boot while hiking down.
Field Tips
Gaiter up. Pair lowcuts with stretchy "spats" to keep out debris (backpacker.com/bargaingaiters).
Creative lacing. You can alleviate a lot of fi t problems with different lacing techniques. Learn how at backpacker.com/perfectlace.
Try different brands. Manufacturers use different shaped lasts (foot molds), which affect the shoe's internal shape; find the one that best fits your foot.
Coming Soon: Shoe Power
Every year, there are new ways to keep your gadgets alive in the backcountry. Battery packs, solar, hydrogen, hand cranks, and heat-powered chargers have all emerged as viable options (see backpacker.com/power for some of our favorites). Now comes a charging solution made for hikers: foot power.
Originally developed by mechanical engineering design students at Carnegie Mellon University (their Kickstarter campaign raised $60,000), SolePower Ensoles have a generator in the heel that creates electricity every time you take a step. A waterproof battery stores the energy in a pouch that attaches the top of the shoe with Velcro. The 1500 or 1800mAh battery will charge your device via USB cable. The company estimates that one hour of hiking will yield 2.5 hours of talk time.
Hikers are becoming more and more power hungry each year, and innovations like this
are a step (ahem) in the right direction. Look for SolePower Ensoles to hit the market in fall 2015. Learn more at solepowertech.com.
Trending: Sticky Rubber
You don't have to be a climber to want climbing shoe traction. To give hikers and trail runners superior grip, more footwear companies are starting to use sticky rubber on all types of outdoor footwear. Climbing-shoe rubber is soft, which makes it more grippy on hard surfaces, but also less durable than conventional hiking-boot rubber. Some boot makers are starting to harness the benefits of both types by blending climbing rubber with more durable compounds or by putting tougher rubber in high-wear areas (see La Sportiva's Bushido). adidas Outdoor has been using Five Ten's Stealth rubber on many of its hiking, running, and water shoes, including the Terrex Scope High GTX. And Merrell is usingVibram's new Megagrip rubber (a blend designed for grip on wet terrain) on its Capra Sport Low.The result? Shoes with better traction on wet surfaces and slabby rock, and hikers with a new sense of confidence in their stride.
Trending: Gore-Tex Surround
Your feet have a quarter of a million sweat glands, which is why boot makers are always looking for better ways to vent moisture through their leather and fabric uppers. The latest innovation? Gore-Tex's Surround technology. Waterproof boots have long been criticized for causing sweaty feet: Gore's membrane is indisputably waterproof, but many feel it lacks sufficient breathability. That's because in order for the membrane to actually start to let sweat vapor escape, a certain level of heat has to build up inside the boot to create a temperature differential that drives the movement. Surround technology creates an active way to start pumping out heat (sweat vapor) faster and more efficiently—through the bottom of the foot.
The key is a spacer in the sole and vents along the upper's sidewalls. With each step, the foot compresses the spacer, which then pumps air out through the one-way vents (heat goes out, but moisture can't come in). A number of boot companies have jumped on board, including Mammut, Salewa, Scarpa, Hanwag, Zamberlan, and TrekSta. We've tested several iterations of this newtech and found its most successful implementation in La Sportiva's Synthesis Mid GTX), which is one of the most breathable waterproof hikers on the market.