The Best Layers for Summer Hiking Adventures
The year's best new layers all point to one truth: No matter where you go, comfort is always in style.
Heading out the door? Read this article on the new Outside+ app available now on iOS devices for members! Download the app.
The Best All-Around Hiking Kit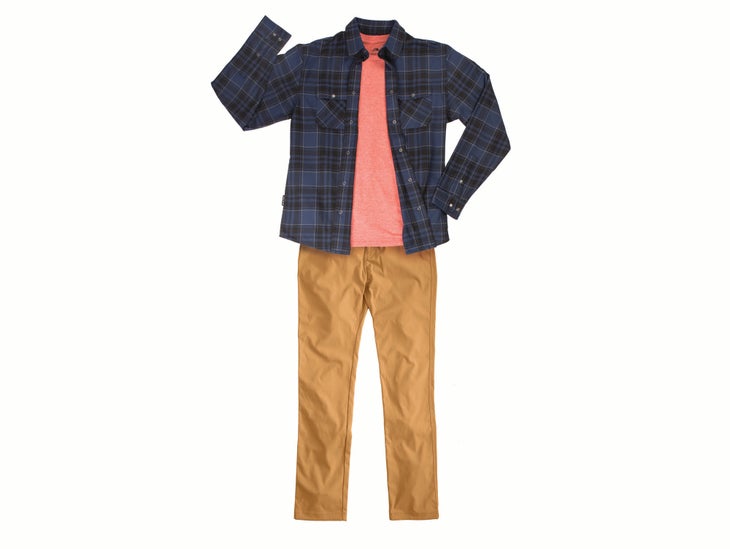 The North Face Day Three Tee
Cotton can be a curse, but The North Face turns it into a blessing with the Day Three Tee, which balances the material's virtues (comfort and cost) with its main drawback (moisture retention). With a 66/34 polyster/cotton blend and a FlashDry treatment, the Day Three has a soft hand, yet still dries like a synthetic. "After a full day of hiking on the Grand Canyon's North Rim, the shirt dried fast enough to leave on at camp when temps dipped to the mid-40s," one tester says. Bonus: Funk-fighting tech lets the shirt pass the smell test after multiple days of use.
$30; 4.9 oz.; m's S-XXL, w's XS-XL; Buy The North Face Day Three Tee Now
Flylow Handlebar Tech Flannel
This flannel is as good for hiking as it is for lounging. Its soft polyester fabric is light enough to use as a sunshirt, and warm enough to wear as a midlayer—which we did while ski touring in Rocky Mountain National Park. The fit is athletic, but not so slim as to restrict movement while scrambling with a heavy pack.
$90; 9.4 oz.; m's XS-XXL; Buy Flylow Handlebar Tech Flannel Now
Western Rise AT Slim Rivet Pant
This five-pocket pant wears like iron and looks as good as gold. "I scraped my way through several miles of scrambling, and although the terrain chewed up my shoes, these pants emerged unscathed," said one tester after a trip in Colorado's Indian Peaks. The secret? A burly nylon canvas. Despite the slim fit, testers never felt tied up, thanks to the 3 percent elastane content and two-way stretch. And the Rivet pulls double duty, too: "I rocked it on a Thirteener in Colorado on Saturday, washed it on Sunday, and wore it to a meeting on Tuesday," one tester says. "We've come a long way since the coolest hiking pants I had were zip-offs."
$129; 1 lb. 3 oz.; m's 28-40, w's 2-12; Buy Western Rise AT Slim Rivet Pant Now
SAXX Kinetic Run 7" Shorts
When summer heat spikes, men know a special brand of discomfort. The Kinetic's lightweight polyester lets in even the lightest cross breezes, and a low-profile elastic waistband feels comfy under hipbelts. But the best thing about these shorts is the integrated pair of SAXX boxer briefs. This stretch micromesh consists of nine separate panels (double the number in most briefs) that offer snug support, while a pouch prevents stickiness (you know what we mean). The light material means fast dry times but not frail construction: Over a season of use, we butt-slid down rocks and hiked through dense brush from the Cascades to the Rockies, and the shorts held up. Downside: You have to wash them as often as undies.
$75; 6.5 oz.; S-XXL; Buy SAXX Kinetic Run 7″ Shorts
—William M. Rochfort, Jr.
The Best Mountain Hiking Kit
Patagonia R1 TechFace Hoody
Take the standard R1 (see our Hall of Fame review on page 54), add weather protection, and out comes a layer that's ideal for going high and fast in the mountains. The TechFace's dense nylon blend fends off wind, and a DWR treatment repels light precip. "When a late-season squall enveloped my party on Colorado's Mt. Audubon, I threw the TechFace on over my baselayer and spent the rest of the hike comfortable," our tester says.
$169; 14.1 oz.; m's XS-XXL, w's XS-XL; Buy Patagonia R1 TechFace Hoody Now
WoolX Ashton/Mia Short-Sleeve V-Neck
Thanks to their comfort and odor control, wool shirts are a gear closet staple—for those who can afford them. But now, WoolX's direct-to-consumer model offers a healthy price cut. Ultrathin, 17.5-micron, Australian-sourced merino fibers keep it itch-free and suitable for alpine climbs and trail runs, and it's the softest shirt we tested. And after dozens of washes, it's showing no signs of wear.
$52; 5.6 oz.; m's S-XXL, w's XS-XXL; Buy WoolX Ashton/Mia Short-Sleeve V-Neck Now
Mountain Khakis Teton Crest Pant
Good news for guys who love pockets: This pair of pants has seven of 'em, letting you store all the stuff you'd normally cram in your pack's toplid. Articulated knees, a gusseted crotch, and a bit of elastane let us high-step through talus fields in California's Ansel Adams Wilderness, and majority-cotton construction makes the Teton Crest comfy. Tradeoff: They're slow to dry.
$80; 5.3 oz.; m's 30-44, w's 0-14; Buy Mountain Khakis Teton Crest Pant Now
Stio Eddy Shirt LS/Sidley Shirt
Those who spend their summers on the water want a shirt that delivers sun protection and dries fast. The Eddy does that—plus its DWR-treated nylon/poly material makes it lighter than most tops we tested. "During a three-day trek through Glen Canyon, Utah, the Eddy was perfect for exposed hikes, and it dried in 30 minutes after dunkings," one tester reports. Caveat: The relaxed fit means material can get bunched up under hipbelts.

$129; 8 oz.; m's S-XXL, w's XS-XL; Buy Stio Eddy Shirt LS/Sidley Shirt Now
adidas Outdoor Voyager Parley Hoody
Save the sea while you're on the trail: Eighty percent of this lightweight hoody's fabric comes from recycled ocean plastic. Beyond its eco bona fides, the Parley's hydrophilic coating moves moisture, and its slightly relaxed fit and UPF 50+ fabric kept us comfy on August trail runs—even with the hood up.
$69; 7.5 oz.; m's S-XXL, w's XS-XL; Buy adidas Outdoor Voyager Parley Hoody Now
—William M. Rochfort, Jr.
The Best Women's All-Around Hiking Kit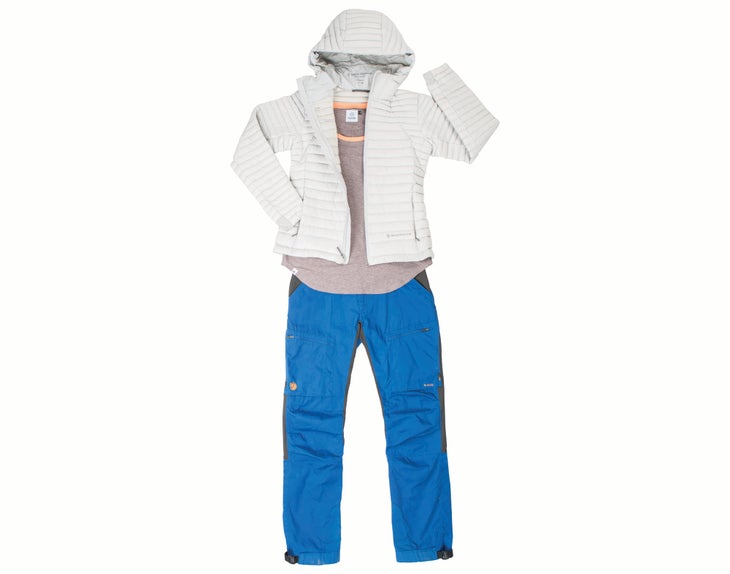 Black Diamond Forge Down Hoody
We never head to the mountains without insurance against a cold night or sudden storm. Consider this 700-fill down puffy an ironclad policy. It vanishes in our packs, thanks to 20-denier nylon and a slim fit, yet still provides electric-blanket warmth (we've worn it belaying in the 20s). The Forge's DWR coating repels light precip, while its generous (but not baggy) cut around the breasts—rare in a slim-fit puffy—accommodates Cs just fine (it squashed Ds, though).
$199; 14.5 oz. (w's M); w's XS-XL, m's S-XL; Buy Black Diamond Forge Down Hoody Now
Flylow Hawkins Shirt
We donned this three-quarter-sleeve tee on summer backpacking trips and shoulder-season trail runs. We wore it mountain biking in the desert and as a baselayer skiing in Rocky Mountain National Park. The Hawkins even found its way into the office (OK, in Boulder). A super-soft hand belies the shirt's makeup: 94 percent poly, 6 percent spandex. That keeps dry time low and mobility high. (Gravy: 50+ UPF sun protection.) Watch fit, though: The Hawkins hangs loosely and sports a longer-than-usual drop tail, so some testers felt like they were swimming in it.
$65; 5.7 oz. (w's M); w's XS-XL; Buy Flylow Hawkins Shirt Now
Fjällräven Abisko Lite Trekking Trousers W
Sure, you could spend less on pants, but upgrade to the Abisko Lite Trekking Trousers and you get what you pay for. They have hand pockets, zippered cargo pockets, thigh-long vents, hem cinches, boot hooks, and stretch panels. And though they can handle the abuse of bushwhacking, these pants are still a good option when the mercury rises. Made with Fjällräven's burly-but-pliant G-1000 Lite material—65 percent poly, 35 percent cotton—the Abisko Lite Trekking Trousers kept us cool enough on a steep Rockies hike in the high 70s with the vents unzipped. Bonus: Despite the utilitarian design, these pants have a slim, Euro-style fit.
$170; 14.1 oz. (w's 29); w's 26-37, m's 29-42; Buy Fjällräven Abisko Lite Trekking Trousers W Now
Columbia Down the Path Short
Women know there's an inverse relationship between pant length and pocket usefulness—which is why we love the Down the Path Short. Despite a 4-inch inseam (about mid-thigh), two front hand pockets easily swallow smartphones and snacks, and two buttoned back pockets hold I.D. and keys. (The elastic, mid-rise waist stays up under a hipbelt, thanks to a drawcord.) Testers also praised the 100-percent cotton poplin material: "It's T-shirt soft and breathable, but tough enough to stand up to the trail," one says. Caveat: Watch dry time. The damp cotton chafed one testers' legs after a splashy creek crossing.
$40; 5.7 oz (w's 6); w's 2-16, 4"-6" inseam; Buy Columbia Down the Path Short Now
—Maren Horjus