The Best Kids Gear of 2018
The days of cheapo kids gear are over. Hook the little ones up with the same kit mom and dad have.
Heading out the door? Read this article on the new Outside+ app available now on iOS devices for members! Download the app.
Hydro Flask 12 oz. Kids Wide Mouth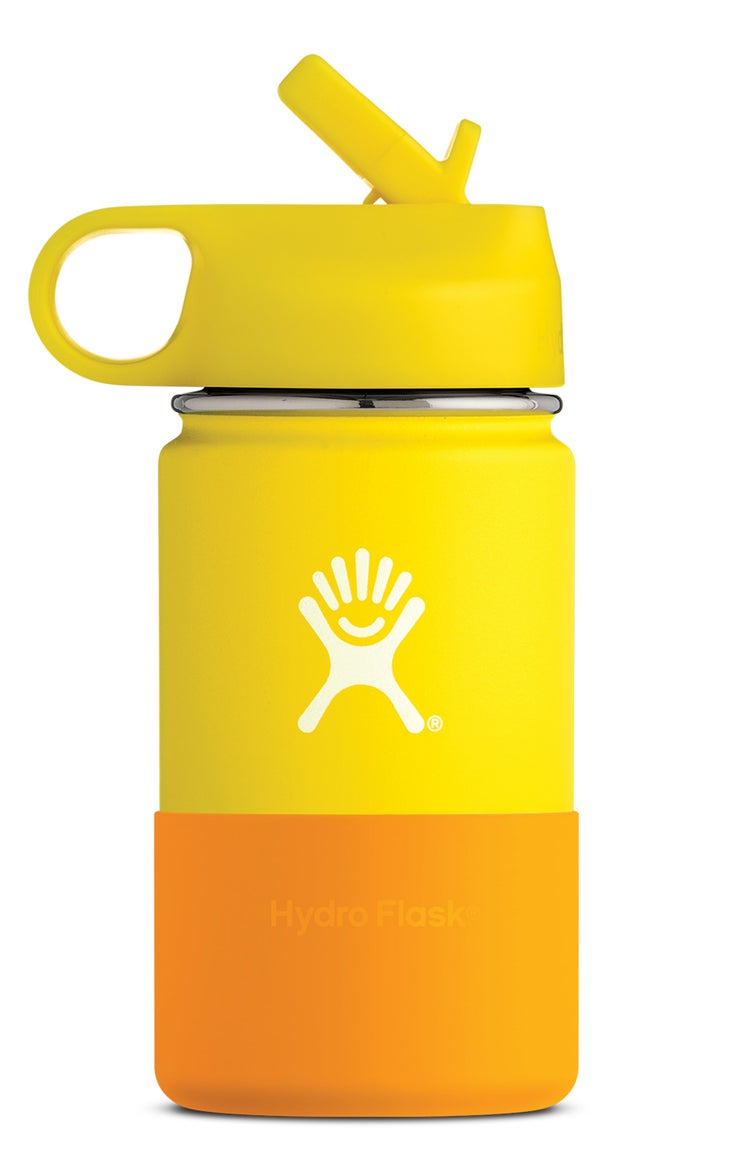 Our take Kids wreck water bottles faster than they change their opinions on cartoons, so we were impressed when—after a season of rough use—their Hydro Flasks looked no worse for the wear. The stainless steel was tough against drops, and the rigid straw stood up to our most nibbly testers and never leaked in our packs. Bonus: lifetime guarantee.
The details Double-wall insulation keeps drinks cold, which our little testers appreciated on a hot hike to Utah's Corona Arch. The silicone bottom adds traction, reducing spills, but makes the bottle harder to slip into mesh pockets.
Trail cred "They come in a range of colors so we let our kiddos pick their favorite. Upside: We don't have to remind them to hydrate as often," our tester says.
$30; 10 oz. Buy Hydro Flask 12 oz. Kids Wide Mouth Now
Kelty Tru.Comfort Kids 35
Our take "My kids stay put in this bag without the straightjacket feel," one staffer said of the Tru.Comfort, which uses an integrated blanket to keep little thrashers tucked in. The synthetic blanket folds over the opposite side of the zipper closure, keeping sleepers covered—even when the bag isn't zipped. "It feels more like their beds at home than a standard sleeping bag," one mom says, "and the pad loops keep them in place, so they don't end up in the crevice between mattresses in the middle of the night."
The details An oversized hood fits a pillow. In its included stuffsack, the bag is watermelon size. It fits kids up to 5 feet tall.
Trail cred "During a trip in Rocky Mountain National Park, we got a surprise snow storm. Our water froze but my daughter slept like a rock," one mom says.
$70; 2 lbs. 14 oz.; Buy Kelty Tru.Comfort Kids 35 Now
Klymit Static V Junior
Our take Adult testers praise the full-size Static V for its smart design, weight, and price, and our kid testers liked the downsized version just as much. The V-shape baffle system creates a "side rail" that keeps sleepers in place. Thanks to 2.5 inches of cushion, one 4-year-old slept comfortably for four nights at Goose Island Campground in Moab, Utah. Caution: It's air only (no insulation), so best for temps above 40°F. There's no insulated version for kids, so in colder temps, pop a closed-cell pad on top for extra warmth.
The details The flap valve allows inflation in four to five (parent-size) breaths. At roughly 4 feet long, it should fit testers up to about 8 years old.
Trail cred "We tried to enforce the 'sleeping pads are not for jumping' rule," one tester says. "We failed, but the Static V didn't."
$45; 13.5 oz.; 50 x 23 x 2.5 inches Buy Klymit Static V Junior Now
Fjällräven Kid's Vidda Trousers

Our take Kids don't just hike. They slide down rocks and climb trees, shredding most pants in high-wear areas like knees and bottoms. That's why we appreciated the Vidda's densely-woven poly/cotton blend reinforcements in those spots. "These pants have held up to a season of scrambling, sliding, falling, and bushwhacking," a tester says. "My daughter calls them her Mission Impossible pants."
The details The Vidda's waist and cuffs are adjustable, so they size up to last longer, a feature we appreciated given the price. The fit is loose enough for layering underneath.
Trail cred "During a hike in Colorado's Never Summer Wilderness, my 3-year-old turned every trailside rock into a boulder problem," a tester says. "She definitely wasn't restricted by the pants."
$90; 9.2 oz. (age 8); unisex Euro sizing (ages 2-14) Buy Fjällräven Kid's Vidda Trousers Now
Luvmother Aha Merino Hoody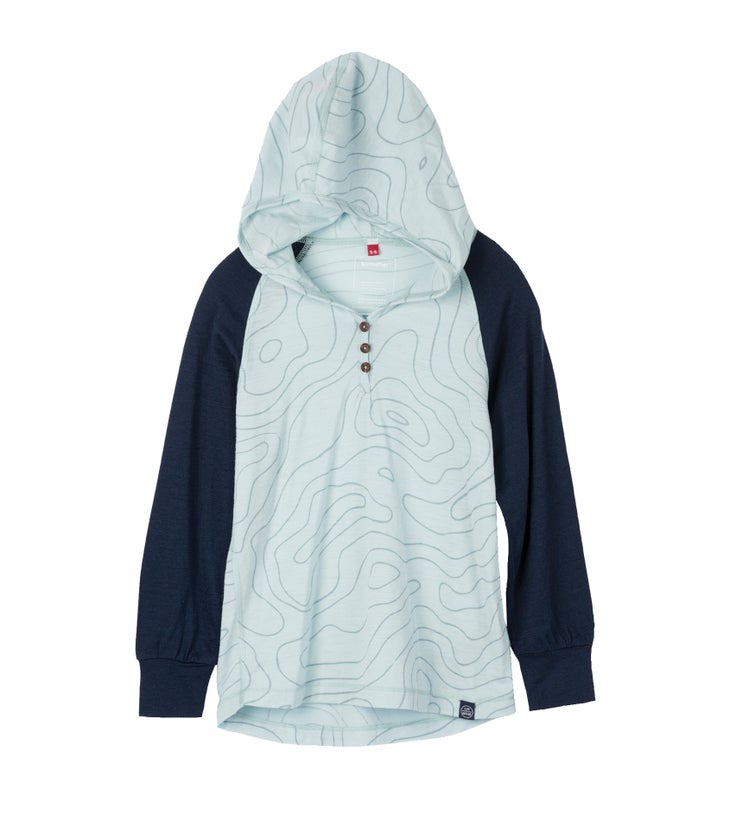 Our take Old or young, everyone loves a soft merino top. But not many brands use the best wool for kids. Luvmother, a kids'-specific brand out of Montreal, Canada, makes this hooded baselayer with 18-micron merino from Australia. During a late-spring trip to the desert where temps dropped into the low 40s, the Aha kept one tester's 4-year-old warm under a fleece on an alpine-start hike to see the sunrise.
The details A drop hem prevents cold, exposed backs on scrambles up rocks and over logs. After seven months of use, the Aha hasn't pilled, stretched, or suffered any other noticeable wear. We liked the topo print option best; its
neutral design works well for both girls and boys.
Trail cred "When your kid picks out a shirt again and again that doesn't have Cars or Moana on it, that gets your attention,"one parent says.
$59; 3.5 oz. (6); sizes 2-12 Buy Luvmother Aha Merino Hoody Now
KEEN Little Kids' Hikeport Waterproof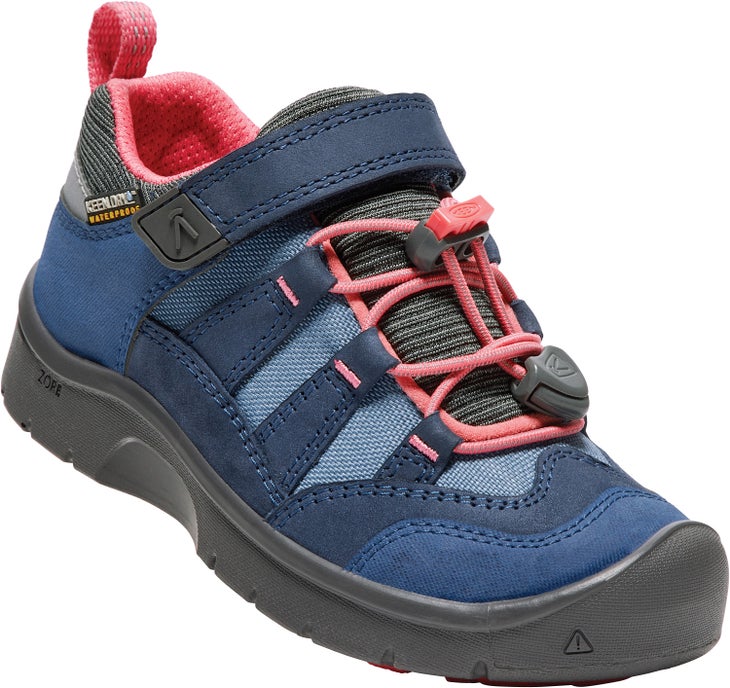 Our take These kiddie kicks do just as well on dusty singletrack as they do on playgrounds, which is great for parents who resist buying multiple shoes that kids will quickly outgrow. The leather upper protects from rocks, but the Hikeport's slim profile makes it manageable for first-time hikers who may not be used to a larger boot. "My son was prone to stumbling in other boots that were too clunky, but he did fine with these," one mom says.
The details A waterproof membrane kept our kids' feet dry on muddy, wet trails in Rocky Mountain National Park, and the rubber soles, with irregular geometric lugs, gripped well on slickrock scrambles in Arches National Park.
Trail cred "We're big fans of the drawcord/hook-and-loop adjustment system, as opposed to laces," one parent reports. "They let our 2-year-old tighten the shoes without needing us to stop and retie them."
$70; 7 oz. (size 10); 8-13 Buy KEEN Little Kids' Hikeport Waterproof Now
Osprey Jet 12 Kids Day Pack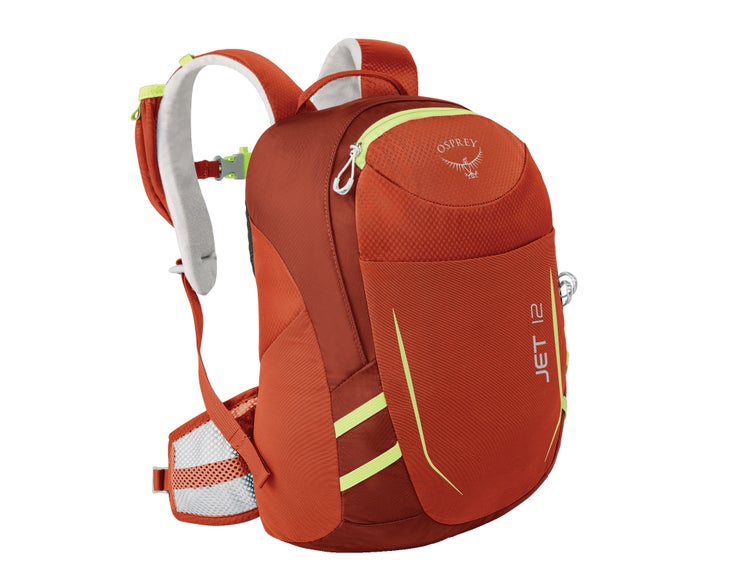 Our take The key to getting kids to pack and carry their own stuff? Start them early, with just a few items they love (like a headlamp and book). The Jet 12 is sized for the littlest hikers, and its intuitive pocket organization helps them own the packing process. Two side pockets stash a water bottle and snacks, and a shove-it pocket is perfect for a shell (or stuffed animal). An external zippered pocket and smaller internal pockets hold trail treasures.
The details A padded backpanel, mesh hipbelt, and webbing sternum strap keep the pack comfy and secure (beware of the dreaded sternum strap whistle—kid-approved, adult-feared). Bonus: It includes a reservoir compartment for kids old enough to handle the hose.
Trail cred "Our 4-year-old daughter took the Jet on a 3-mile hike to Mallory Cave near Boulder, Colorado, with 7 pounds in it. The pack's harness did its job, and she never complained about the weight or any sore spots," one parent notes.
$50; 13.8 oz.; one size Buy Osprey Jet 12 Kids Day Pack Now
La Sportiva GripIt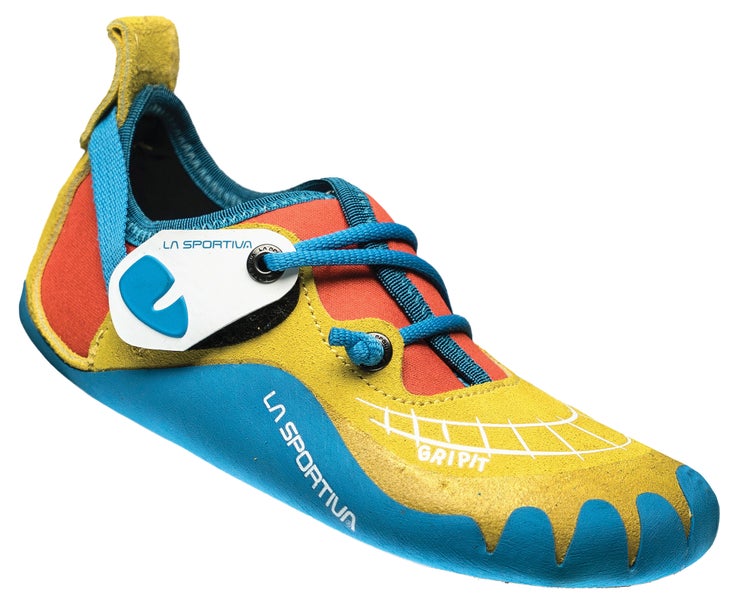 Our take Rocks, trees, trail signs. If you have a climber, don't fight it. Get the Gripit, which uses a kid-specific last that works to avoid squished toes or pressure points. La Sportiva's FriXion soles add extra stickiness, and are thin so kids can feel what's beneath their feet better. "Our son was frustrated he couldn't keep up with his big sister on beginner routes—until he got this shoe," a tester says.
The details The Gripit's single hook-and-loop strap, attached to a lacing system, makes for easy entry and adjustment. Our tester noted that over a full season of kiddie climbing, her son's pair didn't suffer any unusual wear and tear, even after he insisted on wearing them on approaches.
Trail cred "These shoes gave our tiny risk-taker just the right amount of grip and confidence to boulder outside of Moab, Utah," our tester says. "He progressed quickly and the next day we set up a toprope nearby."
$75; 14 oz. (toddler 11); toddler 9.5-kid 4.5 Buy La Sportiva GripIt Now