The Best Hydration Packs for Backpackers
Keep your H20 handy with these handy water carriers.
Heading out the door? Read this article on the new Outside+ app available now on iOS devices for members! Download the app.
We love water bottles, but for maximum hydration on long days, there's no more convenient way to camel up that with the best hydration packs on the market. Fill up one of these backpack-canteens and sip away.
CamelBak Franconia LR 24 / Sundowner LR 22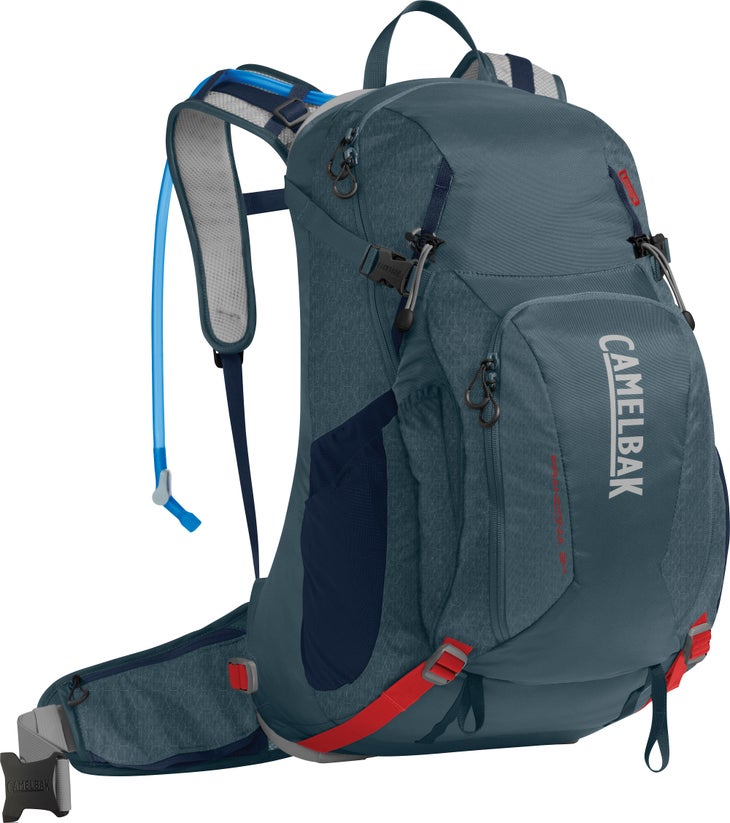 Hydration The 3-liter reservoir's circular mouth and wide shape—which facilitate its comfy lower-lumbar positioning—make it more difficult to clean than the envelope-style bladders found on all other packs here except the Gregory. The drinking tube unclips from the bladder for easy refills.
Comfort This pack from Camelbak has the most robust suspension of any in the test. An aluminum perimeter wire adds rigid support, and a compartment at the bottom of the packbag holds the reservoir at your hips, easing strain on your back. "I carried 3 liters of water, a growler, and gear—about 20 pounds—up Oregon's 10,358-foot South Sister," says one tester. "My shoulders and hips never felt sore." Tradeoff: It's heavy.
Organization A large, U-shaped zipper that accesses the interior sits above a 2.5-liter stuff pouch, and compression straps over the packbag cinch down low-volume loads. However, testers deemed the exterior too crowded with straps, buckles, and pockets.
Ventilation A trampoline-style frame kept air circulating over testers' backs, and its gentle curve didn't cramp the main packbag. The mesh straps and hipbelt feature pea-size perforations.
$160; 3 lbs, 1 oz; Buy CamelBak Franconia LR 24 / Sundowner LR 22 Now
Osprey Skarab 24 / Skimmer 22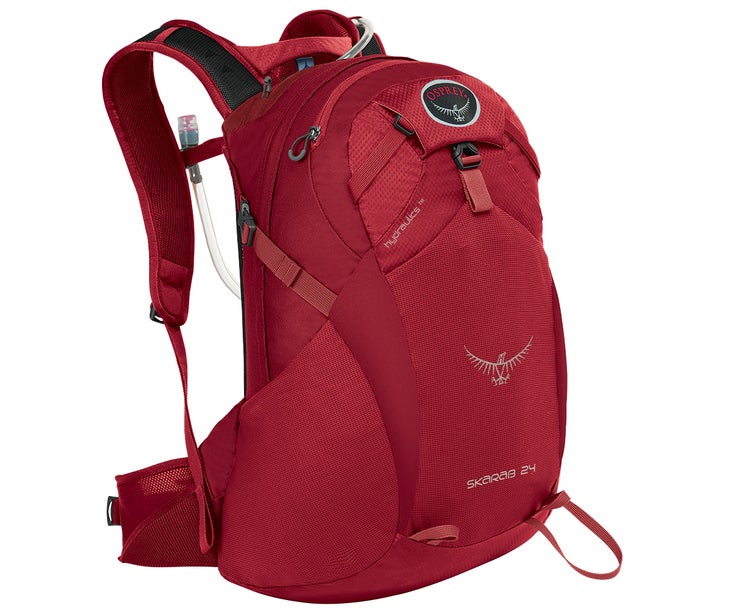 Hydration A long, narrow reservoir holds 2.5 liters of water. Two internal baffles keep sloshing to a minimum and prop it open for faster drying. The Skarab's bite valve magnet is strongest in the test; it never jostled loose.
Comfort The mesh shoulder straps feature rounded edges that are rolled away from the skin. "There was no discomfort on my clavicle, even when I loaded up with 16 pounds of hardware to hike to Washington's Index Wall for a day of climbing," our tester says. Oblong hipbelt wings are foam at the bottom and mesh up top. "They wrapped my hips like a bear hug," he says. "No dead space meant great load transfer and zero pack-sway."
Organization A 28-inch zipper let us open the packbag wide for easy loading, and the Skarab holds trekking poles better than any other pack in the test. The bladder stows between the framesheet and the packbag, making for easy access when the pack is loaded. Bummer: no hipbelt pockets.
Ventilation Chevron-shaped cutouts on the backpanel improve breathability. "The shoulder straps, which have inch-long horizontal slots for venting, didn't wet out my shirt," our tester reports.
$100; 1 lbs, 8 oz; Buy Osprey Skarab 24 / Skimmer 22 Now
Gregory Citro 30 / Juno 30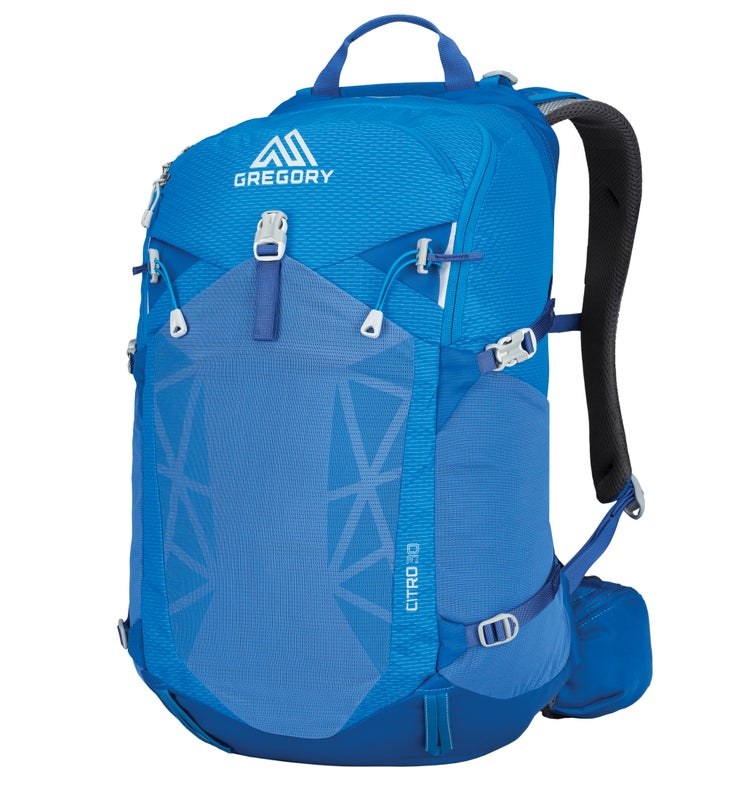 Hydration A 3-liter reservoir features a hook for hang drying. The simple-yet-sturdy clip system made securing the bladder a cinch and prevented unwanted movement, while a thumb lock let us easily flick open the bite valve. The reservoir sleeve is contoured to fit the bladder, maximizing packable space. Ding: A circular opening made it the hardest bladder to clean.
Comfort The Citro easily handled 25 pounds on a dawn-to-dusk hike in the Washington Cascades. "I never felt unbalanced," says our tester. A wire perimeter frame offered sturdy support, and load stabilizer straps kept the weight tight against her back.
Organization Organizers beware: This pack has only a sandwich-size zippered mesh pouch for your keys and wallet. Articulated hipbelt pockets are big enough for a cell phone (not a large one, though) and energy bars. Drawback: The 28-inch zipper mouth is small for a pack this size.
Ventilation Two-inch-long horizontal cutouts in the EVA foam shoulder straps enhance airflow. The trampoline-style backpanel affords 1 inch of space between back and pack—good, but not as cool as the Platypus.
$150; 2 lbs, 7 oz; Buy Gregory Citro 30 / Juno 30 Now
Platypus Duthie A.M. 15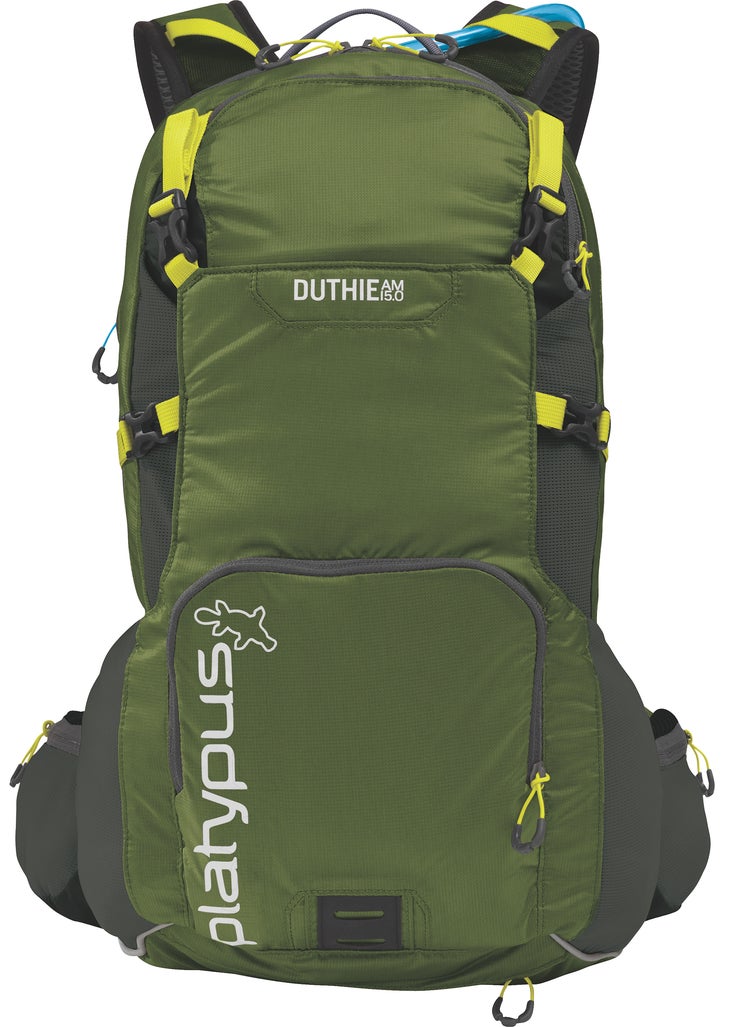 Hydration The 3-liter bladder locks into place with two hooks, which we found easier to use than the usual webbing-and-buckle system. The bite valve has the best flow of any pack we tested, and the hose unclips.
Comfort Lightly padded hipbelt wings and foam shoulder straps support loads up to 15 pounds. "The pack was stable and comfortable, even when I was jumping over creeks and climbing over deadfall," says a tester who hiked in Oregon's Malheur Wildlife Refuge. Ding: The backpanel didn't fit testers with torsos longer than 18 inches.
Organization In addition to a zippered front pocket and stuff pouch, there's a microfiber sunglasses pocket. The packbag has six segmented sleeves for gear and accessories. The Duthie is also the only pack with a raincover. Ding: The stuff pouch's four fussy buckles hinder entry.
Ventilation The Duthie's mesh trampoline backpanel was the best of any we tested. It sets the packbag 2 inches from your back, so there's always airflow, yet no drop in stability. "My back stayed sweat-free during a hot hike through Petra, Jordan," says one tester. Tradeoff: The backpanel pinches off the packbag at the top.
$150; 2 lbs, 2 oz; Buy Platypus Duthie A.M. 15 Now
Cotopaxi Veloz 6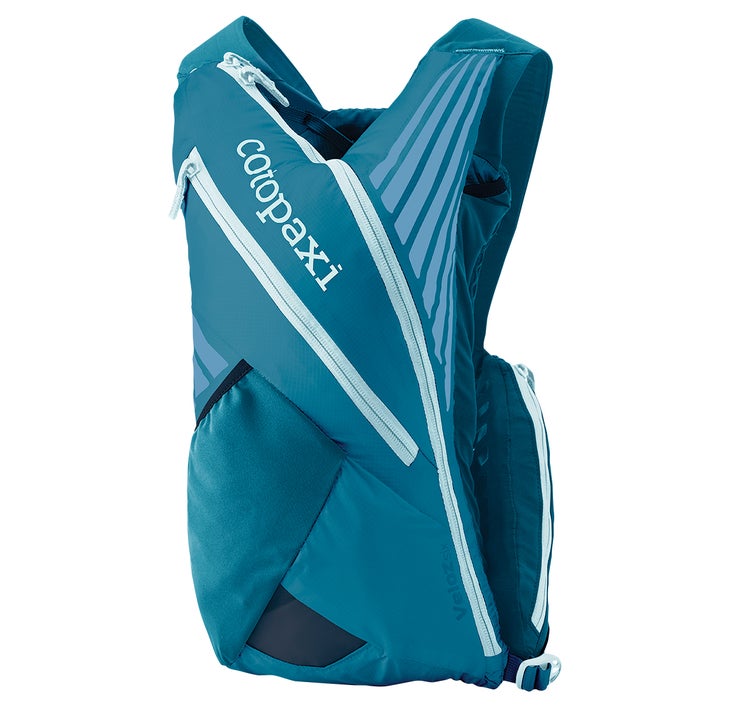 Hydration The 2-liter reservoir has an internal baffle that prevents bulging and sloshing. Ding: This pack is the only one in the test with no bite valve lock.
Comfort Vest-style nylon shoulder straps form a snug "V" around the neck and chest for stability while trail running. "While hiking to Tamolitch Pool in Oregon, the pack nestled comfortably between my shoulders," our tester says. Drawback: He wanted a hipbelt for times when the bag was fully loaded.
Organization Although the Veloz is the smallest pack in the test, clever pocket placements impressed obsessive organizers. The Veloz's 20-inch diagonal main zipper allows easy access to the packbag, which features a wallet-size mesh pouch. It also has a 10-inch-long diagonal pocket on the outside for sunblock and bug spray. Skinny, zippered bandolier-style pockets on the straps are perfect for stashing energy bars.
Ventilation There's no framesheet, as befits a pack made for the lightest loads, so the pack sits against your back. "The mesh backpanel got pretty sweaty," reported a tester after a long, hot dayhike on Schweitzer Mountain, Idaho.
$139; 13 oz; Buy Cotopaxi Veloz 6 Now