The Best Hiking Boots for Backpackers
Need a little extra support on the trail? These mid-cut boots are here to help.
Heading out the door? Read this article on the new Outside+ app available now on iOS devices for members! Download the app.
It's a basic rule of backpacking: use the lightest shoes possible, and you'll save energy. So why are we rounding up the best hiking boots of the year? While trail runners are nice for moving light and fast, you'll want something burlier and more supportive for big loads or rough, muddy terrain. 
Now, with modern construction techniques, the best hiking boots let you enjoy that support without feeling like you're dragging bricks around on your feet. Start with one of our picks below.
Merrell MQM Flex Mid Waterproof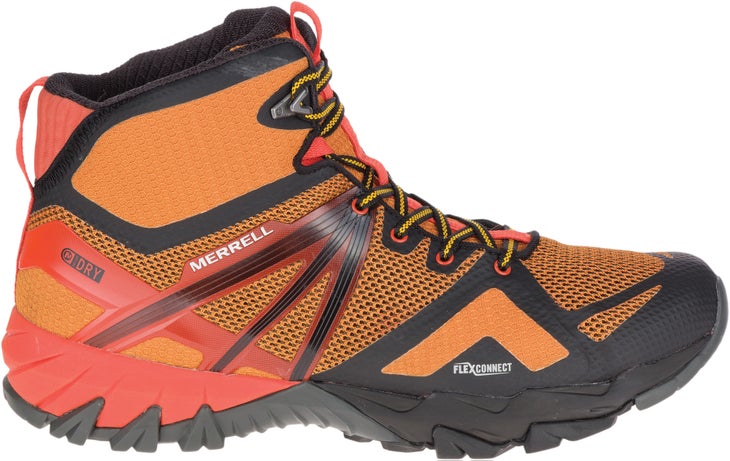 Our take If we were in the business of reviewing testers, we'd give the one that logged 560 miles on New Zealand's Te Araroa track our highest score, and that tester gave the MQM Flex Mid her stamp of approval. "Both my hiking shirt and socks are in tatters, but the boots are intact," she says. A TPU overlay on the meshy, running shoe-like upper acts as a rough-and-tough barrier against debris, and the burly M Select Grip+ outsole showed little sign of wear. (Though the MQM Flex Mids offer enough ankle support for overnight loads, the EVA midsole and running shoe feel make these boots best for fast-and-light missions.)
The details A unique TPU heel counter locked our feet down on technical descents, while proprietary M Select DRY waterproofing kept moisture out on low creek crossings in New Zealand. With M Select DRY, Merrell puts a super-thin waterproof layer (the same one the brand uses in rainshells) beneath the MQM Flex's upper. But, because of the hiking boot's mostly-mesh makeup, dry time didn't suffer, even with the waterproof membrane: "I happily crossed streams higher than my ankles, knowing my feet would dry out in a few hours," our tester says. Check fit before buying: Our wider-footed testers suffered blisters.
Trail cred "You'd only need two pairs of these for an Appalachian Trail or Pacific Crest Trail thru-hike, which is a great money saver," says our New Zealand tester, who logged 34 days straight in the MQMs.
$140; 1 lb. 11 oz.; m's 7-15, w's 5-11; Buy Merrell MQM Flex Mid Waterproof Now
LOWA Locarno GTX Mid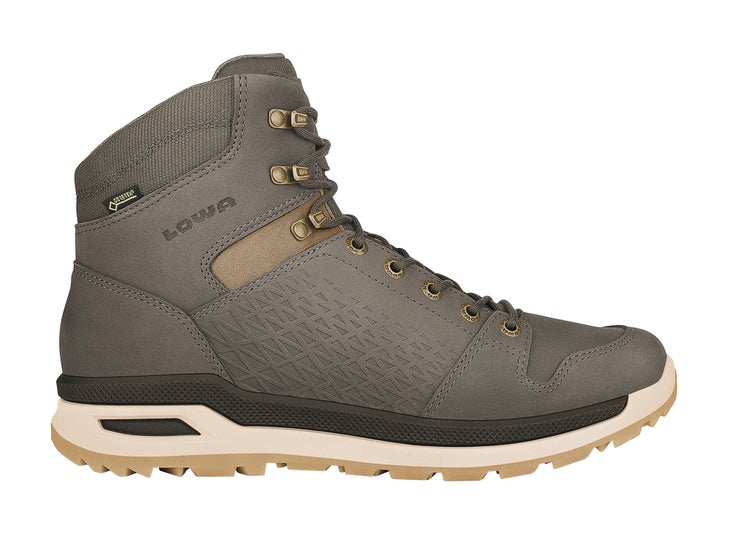 Our take Hikers know that "trail-to-town" is the gear industry's version of fake news, so we were skeptical of the slick-looking Locarno's technical chops. But a season of hard use has us thinking this hiking boot is the real deal. Its PU midsole is more supportive than EVA, and we had no problems toting 25-pound loads or scouting boulder problems near Long Lake in the Eastern Sierra. True: The package is svelte and the outsole thin, but our testers reported that they actually felt quicker and more nimble in the Locarnos than typical midcuts. Credit the internal PU frame for the low-profile support—which also happens to make the boots look pretty good with jeans or slacks. (Drawback: Though the nubuck-and-fabric upper is around town-ready, it doesn't breathe very well on the trail.)
The details The proprietary rubber outsole has shallow, 3mm, arrowhead-shaped lugs, which kept us steady when navigating loose granite on California's Bishop Pass, and a Gore-Tex membrane seals water out. Fit note: The Locarnos don't have enough support for high arches.
Trail cred "Thanks to a snug fit in the heel and the cushioned ankle, I hiked 6 miles the day the boots arrived, and I never experienced any hot spots," said our California-based tester after her initial trek in the East Bay.
$210; 2 lbs. 1 oz.; m's 7.5-14, w's 5.5-11; LOWA Locarno GTX Mid
Oboz Sapphire Mid Waterproof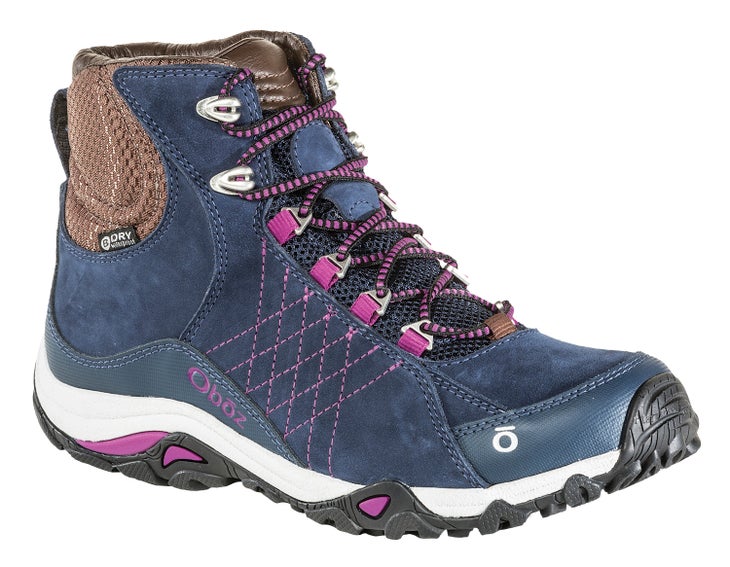 Our take A women's-specific last is one thing, but volume isn't the only thing that tends to differ between men's and women's feet. That's why our ladies reached for the Sapphire Mid, a women's-only model that not only has a smaller forefoot, but that supports their more slender ankles with an asymmetrical collar. "I felt at home in this hiking boot right out of the box," our tester affirmed after her first outing. "I did a 3-mile hike on Canada's Prince Edward Island the first day and didn't experience any break-in blues." But comfy doesn't mean dainty. One tester, who tallied 33 miles over three days with a 35-pound pack on a rough coastline in Nova Scotia, proclaimed that her feet barely felt tired. (Three densities of EVA in the midsole provide varying levels of comfort and support.)
The details Oboz uses its B-DRY waterproof-breathable membrane in this version of the Sapphire Mid. (With B-DRY, Oboz places a PU bootie in the boot's core.) The waterproofing works, but combined with the nubuck upper, the Sapphire Mid left our feet steamy on an 85°F day on Prince Edward Island's Confederation Trail.
Trail cred "I covered a lot of terrain in these boots—rocks, roots, gravel, and streams—but they don't look any worse for the wear after 150 miles," our tester said of the Sapphires. (Style points: The outsole has a molded topo map of Glacier National Park.)
$160; 1 lb. 12 oz. (w's 7); w's 6-11; Buy Oboz Sapphire Mid Waterproof Now
Salomon X Ultra 3 Mid GTX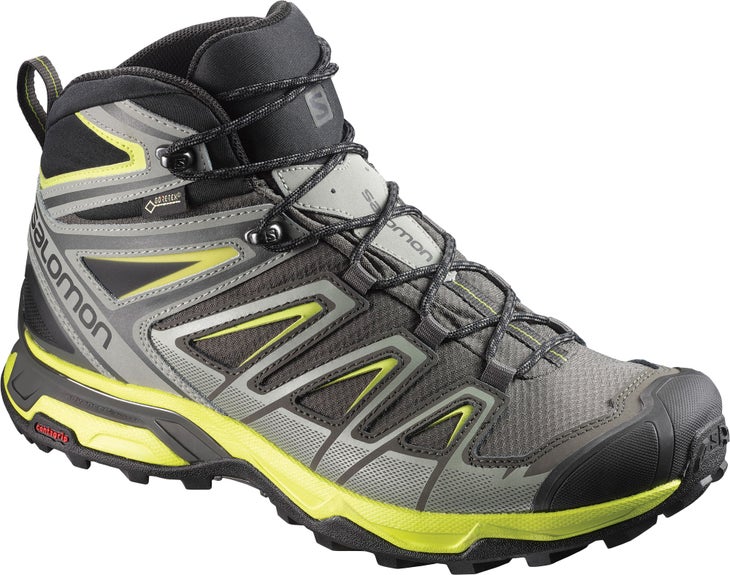 Our take "These soles stick to everything," raved one tester after a jaunt up Manastash Ridge in central Washington. We can't argue. On feedback forms, our testers listed talus, steep scree, sand, wet rock, mud, and snowfields as terrain that the X Ultra 3s quelled. The Contagrip outsole is Salomon's stickiest, and mixed chevron- and T-shaped lugs gripped well on sloppy descents. (A unique chassis between the outsole and midsole also helps with control on technical downhills.) But whereas super-sticky outsoles tend to wear down faster, these didn't: Salomon uses a density gradient, so high-use sections of the sole (like the outer edge) have a harder rubber, while lower-wear areas (like the central column) are softer.
The details The X Ultra 3s have a snug heel cup and a memory foam-like OrthoLite sock liner. The Gore-Tex membrane kept water out during a slushy, 9-mile trek in the Okanogan-Wenatchee National Forests, but doesn't breathe as well as Gore's Surround (page 47), and we had sweaty feet.
Trail cred "The footbeds on these Salomons make them feel more like trail runners than any other midcut I've tried," says one tester.
$165; 1 lb. 15 oz.; m's 7-13, w's 5-10; Buy Salomon X Ultra 3 Mid GTX Now
Zamberlan 491 Trackmaster GTX RR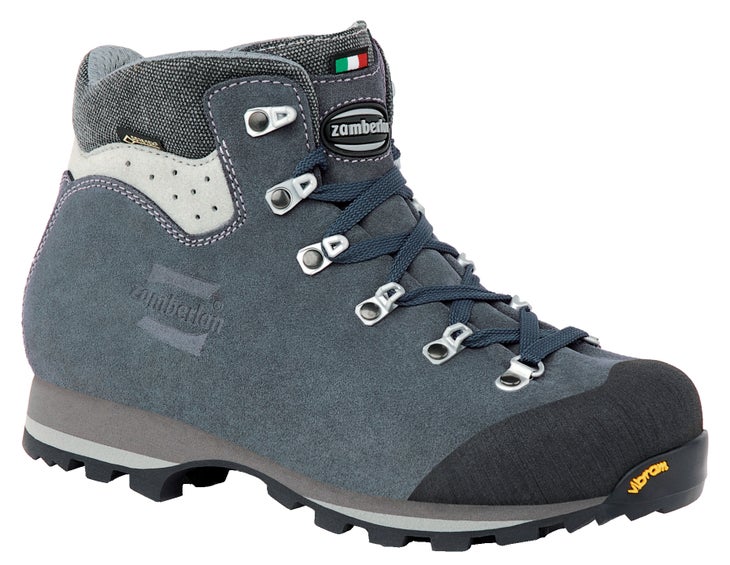 Our take It's rare when our tester evaluation forms showcase such consistency as those for the Trackmaster did: "Extremely sturdy lateral support," one read. "Never worried about rolling an ankle," read another. "Excellent support in snow, ice, mud, and muck," read another. A rigid Vibram outsole kept our ankles from buckling on a slope of sliding boulders, while the single-piece leather upper keeps the boot stiff, locking in our ankles more like a mountaineering boot. Unlike a mountaineering boot, however, the midsole is made of EVA—making it cushier than expected.

The details Chunky, rectangular lugs clung to gravel near Mills River in North Carolina, and a burly PU reinforcement on the toe adds approach shoe-like protection. The Gore-Tex waterproofing earned high marks—even slushy snowmelt didn't penetrate—but the combination of membrane and all-leather upper made for sub-par breathability.
Trail cred "The Trackmasters were stiff enough for kicking steps into snowfields on shoulder-season hikes," says one New England-based tester.
$220; 2 lbs. 2 oz.; m's 8-13, w's 6-11; Buy Zamberlan 491 Trackmaster GTX RR Now
Vasque Saga GTX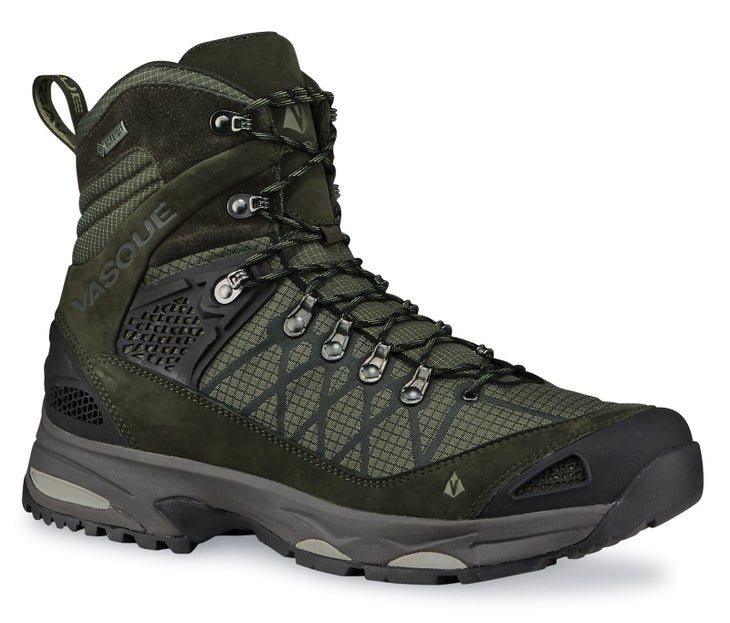 Our take For long-haul trips when we needed a boot that could bash through anything, we reached for the full-coverage Sagas. They're taller than typical midweights, stretching high above the ankle bone to seal out debris, and made with a tough synthetic upper that's naturally hydrophobic. A burly rand protects the boot—and toes—while a wishbone-shaped TPU plate in the midsole keeps the Sagas stiff and stable on uneven terrain, which one tester appreciated when she found herself chasing her friend's flock of goats down a scree field outside of Santa Fe.
The details The Vibram Megagrip outsole offers above-average traction. Five toe and heel vents keep the Sagas airier than expected for a waterproof midweight, which we appreciated on a humid, three-day trip on Vermont's Long Trail in September.
Trail cred "My feet stayed dry even when I taught an entire aquatic biology class standing in a stream," one New Mexico tester says.
$230; 2 lbs. 14 oz.; m's 7-14, w's 6-11 (plus wide options); Buy Vasque Saga GTX Now