The Best Camping Hammocks for Backpackers
Rest easy and swing free in the best camping hammocks
Heading out the door? Read this article on the new Outside+ app available now on iOS devices for members! Download the app.
Hammocks can be a cozy place to lay your head at the end of a long day—but with a little practice, they can be even more. Experience an alternative way of getting your Z's by using these, the best camping hammocks for backpackers, and hanging from the trees.
Therm-a-Rest Slacker Snuggler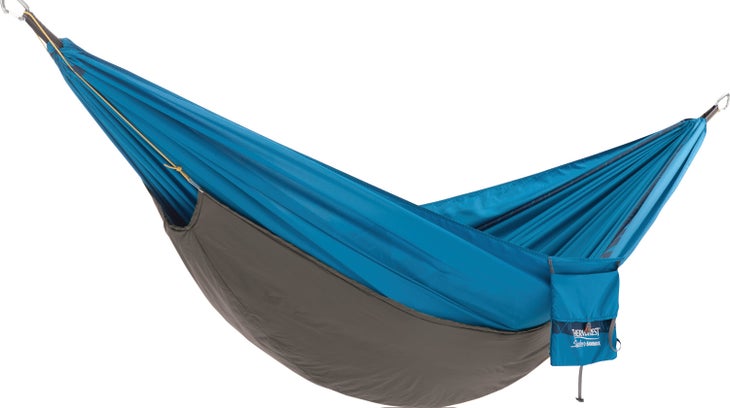 Our tester slept cozily down to 35°F while camping near New York's Wallface Mountain with this polyster-fill underquilt set up beneath his hammock. A 20-denier ripstop polyster shell resisted scrapes when it was accidentally dragged across the ground. The Snuggler garnered points for low weight and packability as well; it takes up about the same space as a rolled-up fleece when compressed. Bonus: "It was big enough for four of us to use as a blanket and huddle under while eating breakfast in chilly temps," our tester reports.
$80; 15 oz. Buy Therm-a-Rest Slacker Snuggler Now
Klymit Insulated Hammock V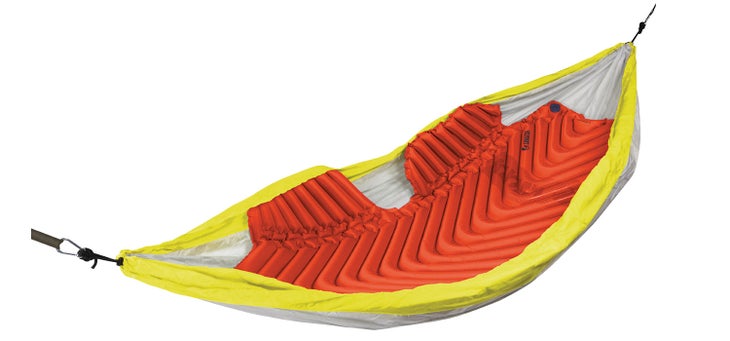 Good luck trying to get a standard sleeping pad to fit and stay put in a hammock. For that reason, under-quilts have long been the go-to defense against cold while hammocking, but they're often bulky. New solution: this uniquely shaped pad, which has four wings that contour to the hammock's shape and sticky rubber grips that keep the mat in place. The pad's synthetic fill and 4.4 R-value kept our tester toasty in 3°F temps during a cold snap in Virginia's Jefferson National Forest. But he noted that, although it didn't affect performance, the wings spilled over the sides of a single hammock and were a bit of a nuisance when climbing in and out. Caveat: All that warmth means high price and weight.
$170; 2 lbs. Buy Klymit Insulated Hammock V Now
Sea to Summit Ultralight Hammock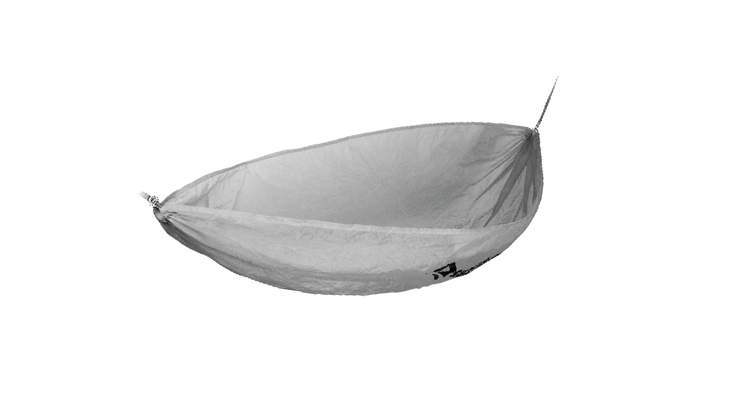 Weight is only half the story with this hammock. Despite the Ultralight's gauzy look, our tester lauded its durability. High-tenacity nylon fibers blended with monofilament nylon—made from single threads rather than multifilament yarn—result in a fabric that's just as strong as regular ripstop nylon but much thinner. This hammock shows no signs of wear after seven months in the field.
Testers praised the Ultralight's ability to squish down to the size of an orange in its stuff sack. Its slim profile makes for cramped quarters, though, and our 6'2" tester couldn't lay diagonally for fear of falling out.
"This hammock excels in warm weather, as cooling air easily passes through the material. I was able to stay comfortable on muggy and calm evenings," said our tester after a trek through North Carolina's Pisgah National Forest. 
$90; 5.4 oz. Buy Sea to Summit Ultralight Hammock Now
Exped Ergo Hammock Combi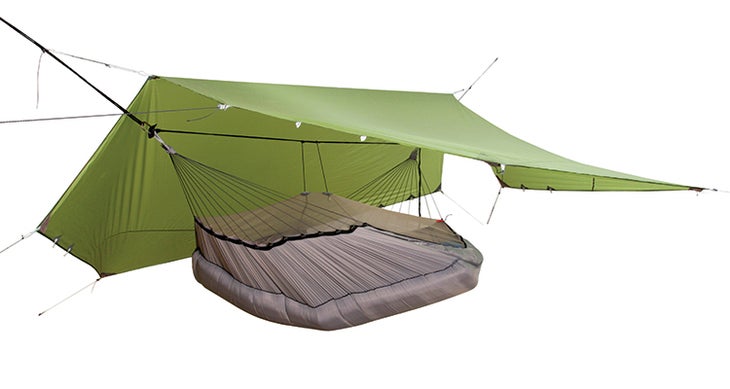 After four different testers used the Ergo in everything from subzero temps (-26°F in Minnesota) to subtropical (80°F in Georgia), here's the verdict: It's the king of comfort, and it managed to convert several hammock skeptics, thanks to its innovative flat hang. It works like a suspension bridge to create a sleeping surface that's perpendicular to your two hanging trees, and supported by a fan of cordage all along each side of your body, not just the head and foot (goodbye, banana shape). You can pitch the 7-by-9-foot tarp alone or over the hammock; open it wide for max ventilation or close it down to keep the weather out. The integrated bug netting stows into its own pocket, and a sleeve under the hammock its a pad in cold weather or can be used for storage. Caveat: It's a little short; people over 6' felt cramped. 
$379; 2 lbs. 14 oz.; Buy Exped Ergo Hammock Combi Now
Grand Trunk OneMade Double Trunktech Hammock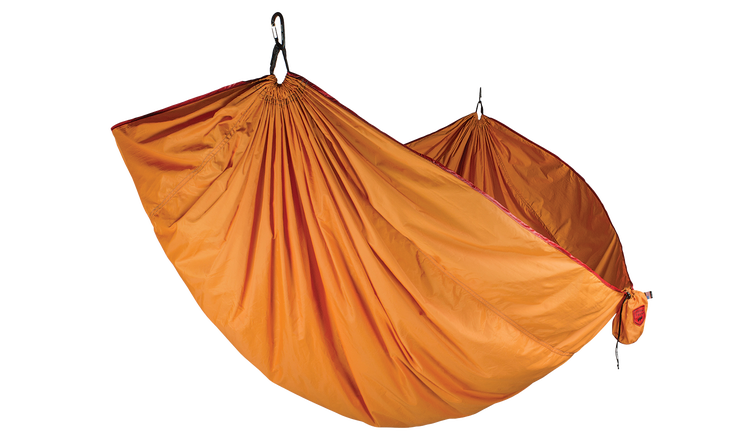 Most double-wide hammocks are too bulky for the backcountry. At less than a pound the Trunktech is lighter than many single hammocks and packs down to the size of a Nalgene. The 78-inch width and 126-inch length easily accommodate two adults, and our husband-and-wife testers regularly climbed in together to read in camp. The Trunktech's size-to-weight ratio also makes it a good option for larger hikers that feel constricted when sleeping in a single hammock.
"The fabric is softer than my sheets at home," one of our testers says of Grand Trunk's proprietary ripstop nylon. The material is also sturdy enough to endure puppy claws without suffering a single scratch.
"It takes up so little space in my pack I brought it everywhere, even if I was sleeping in a tent," says our New York tester.
$119; 1 lb. Buy Grand Trunk OneMade Double Trunktech Hammock Now
Kammok Roo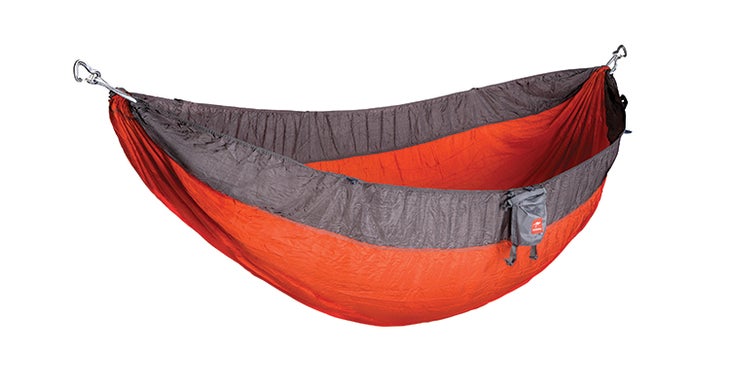 There are plenty of two-person hammocks out there, but the Roo is the best we've found. It's longer (10 feet, so you can sleep staggered head to toe or stretch out diagonally) and stronger (500-pound capacity) than most competitors. And the silky-soft ripstop nylon is untreated, so it doesn't feel crinkly or stick to bare backs, even in the sweltering 100°F temps we encountered in the Dominican Republic. (It has no weather protection, but when the Roo got damp, it dried within minutes.)
$99; 1 lb. 7 oz.; Buy Kammok Roo Now