The Best Backpacking Food of 2018
Don't just fuel up: indulge with these excellent backcountry-ready meals, snacks, and drinks.
Heading out the door? Read this article on the new Outside+ app available now on iOS devices for members! Download the app.
Mountain Standard Carrot Cake Pancakes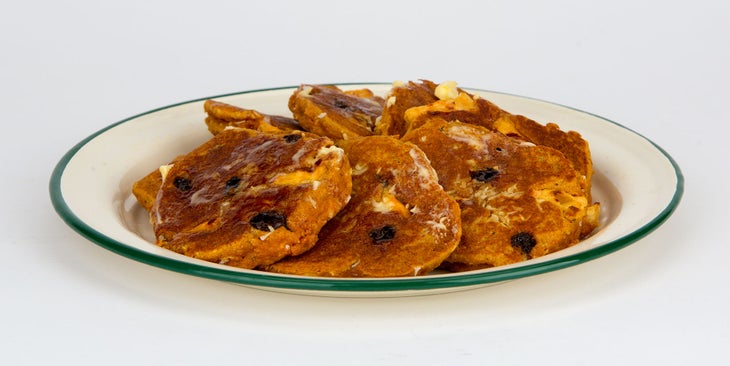 Calling these mere carrot cakes doesn't do the ingredients justice. You also get pineapple, raisins, coconut, hemp, and quinoa in a just-add-water batter. "The packaging says it serves two, but our family of three thought it was more than enough for the crew," one tester says. The fluffy, gluten-free cakes have 9 grams of protein per serving; add to that by topping them with a dollop of nut butter.
$13 (2 servings); 520 calories per serving; 9 oz.; Buy Mountain Standard Carrot Cake Pancakes Now
Mountain House Spicy Southwest Breakfast Hash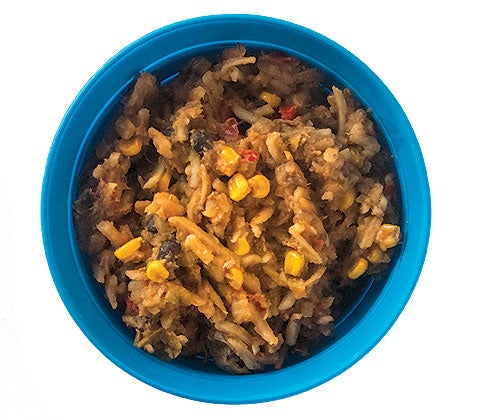 Hash from scratch sounds like a chore even at home. But this camp version is quick (add boiling water, wait 10 minutes) and tasty (hash browns, shredded beef, veggies, and a dash of Cholula Hot Sauce). "The hash itself is 250 calories per serving, so I combine it with scrambled eggs to make the ultimate power breakfast," one tester says. She added that she likes being able to identify individual ingredients.
$9 (2 servings); 250 calories per serving; 3.9 oz.; Buy Mountain House Spicy Southwest Breakfast Hash Now
Alpine Start Original Blend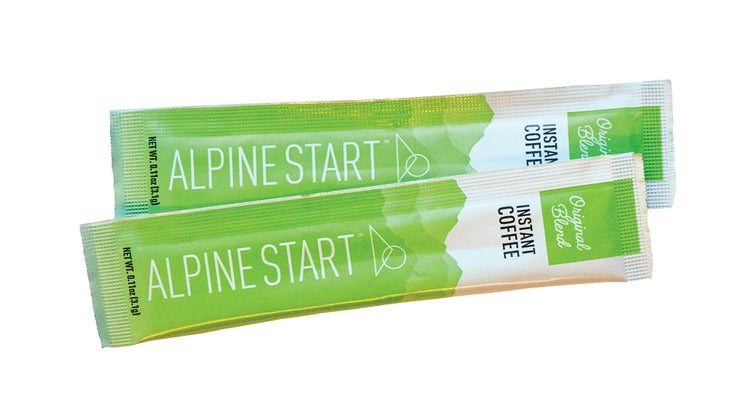 This may be the golden era of camp coffee. Beyond the various contraptions and pourovers, instant has finally gotten good—and you don't need to enrich a Seattle megachain to have it. "Even if I have time to make my favorite pourover, sometimes I still choose Alpine Start," says one reformed coffee snob. It's packed full of bold flavor, with notes of dark chocolate and roasted hazelnuts, but isn't bitter.
$9 (8 servings); 0.9 oz. (each); Buy Alpine Start Original Blend Now
Backpacker's Pantry Thai Style Peanut Curry & Rice With Beef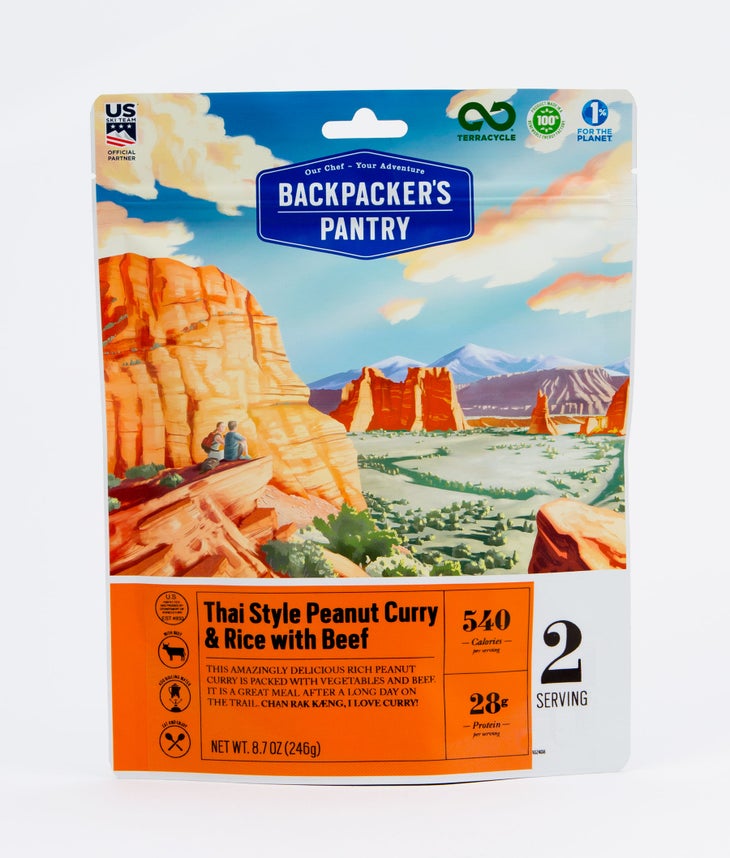 A twist on a Southeast Asian street food staple, this meal packs 1,080 furnace-feeding calories and 56 grams of protein into each two-serving pouch. Testers especially liked the thick peanut sauce, contained in separate packets. "The preparation can be messy, but it's worth it for the long-lasting energy boost," said one tester after wolfing down a bowl on a chilly night in Colorado's Elk Mountain Range.
$13 (2 servings); 540 calories per serving; 8.7 oz.; Buy Backpacker's Pantry Thai Style Peanut Curry & Rice With Beef Now
Good-to-go Chicken Gumbo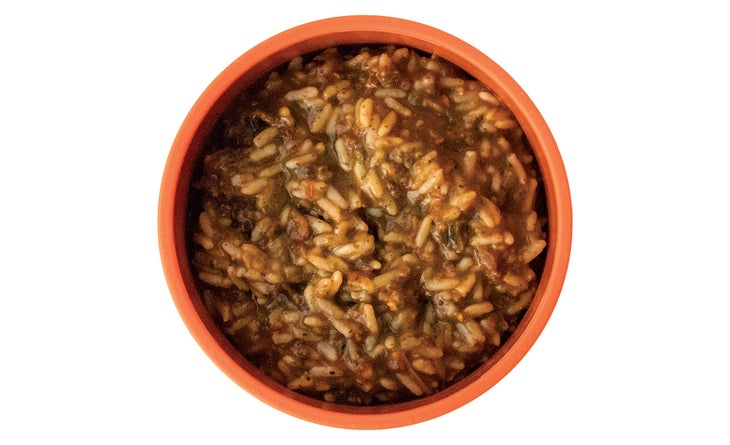 This New Orleans-style chicken stew is the real deal, thanks to traditional ingredients like okra and filé powder—a thickening spice blend of marjoram, thyme, and sassafras leaves with a rich, sweet taste. Other ingredients include chicken, long-grain rice, and a trio of onions, celery, and peppers, already simmered in a mix of Cajun spices. One packet is filling on its own, but we liked to pair the gumbo with cornbread or instant potatoes to soak up the tasty sauce.
$7.25 (1 serving); 330 calories per serving; 3.4 oz.; 
Buy Good-to-go Chicken Gumbo Now
AlpineAire Spicy Chicken Curry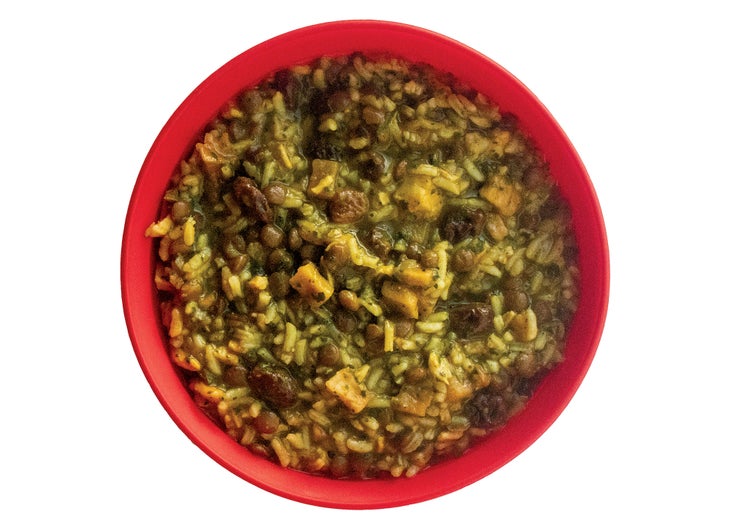 Unlike many freeze-dried meals, the individual ingredients in this Indian-inspired curry dish are recognizable. Go ahead and cherry pick, if that's your thing: Currants and apple chunks provide bursts of sweetness within a mildly spiced mix of chicken, lentils, vegetables, and rice in a coconut cream sauce. The set-it-and-forget-it prep is easy (add boiling water, wait 12 minutes).
$7.43 (2 servings); 300 calories per serving; 6 oz.; Buy AlpineAire Spicy Chicken Curry Now
Packit Gourmet Pasta Beef Bolognese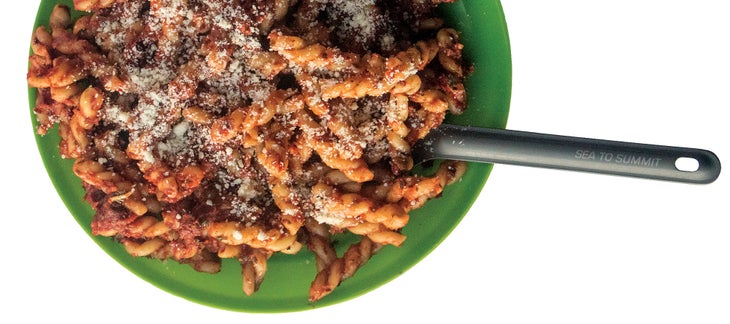 The next-best thing to bringing your Nonna on the trail? Pasta that would do her proud. A hearty sauce of tomatoes, ground beef, carrots, onions, garlic, bell peppers, and basil mix with spiral-shape gemelli pasta for a classic Italian dish. (Real olive oil and parmesan cheese are the kicker.) Tradeoff: Prep is relatively complex compared to just-add-water meals, and requires boiling the pasta in a pot while simultaneously rehydrating the sauce.
$8 (1 serving); 830 calories per serving; 8.7 oz.; Buy Packit Gourmet Pasta Beef Bolognese
NATTi Bars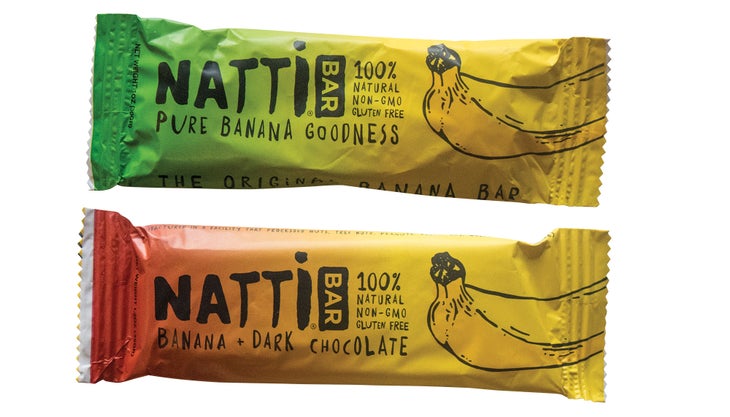 Bananas are high in potassium—great for preventing muscle cramps—but they don't travel well. These chewy morsels, about the size of a pack of gum, won't get smushed and contain a max of just two ingredients: unprocessed, dehydrated bananas and either cacao nibs or dark chocolate (there's a plain version, too). Don't mind the color: Due to a lack of artificial preservatives, the oxidized bananas take on a dark brown hue, but that doesn't mean they've gone bad. And they taste darn good.
$24 (box of 16 bars); 110 calories per serving; 1 oz.; Buy NATTi Bars Now
BoBo's Bites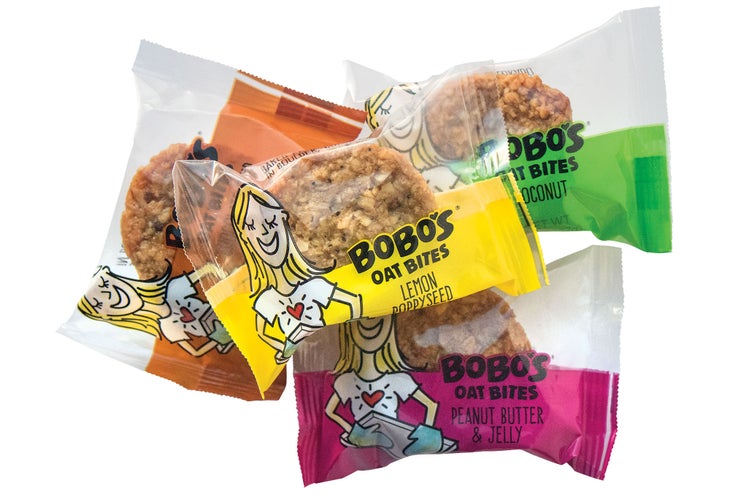 This two-bite morsel is a mini version—just under half the size—of a longtime tester favorite. The 140-calorie snacks, made of rolled oats and brown rice syrup, go down easy. "I don't like eating a gut-bomb bar all at once while moving, so these are the perfect quick-hit fuel," says one fan who munched on them while hiking in Karukinka Natural Park, Chile. The gluten-free and vegan bites come in six flavors: Original, Coconut, Lemon Poppyseed, Apple Pie, PB&J, and Maple Pecan (our favorite).
$5.49 (box of 5); 1.3 oz. (each); 140 calories per serving; Buy BoBo's Bites Now
Skinny Dipped Almonds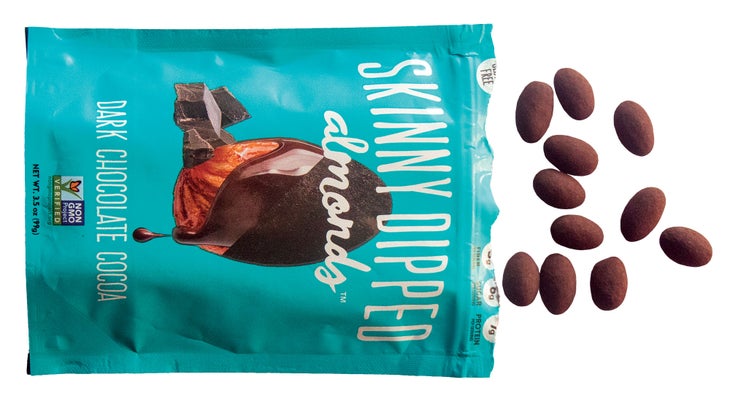 These almonds are covered with only the faintest coating of dark chocolate—enough to boost taste without sweetening. With only 6 grams of sugar balanced by 7 grams of protein and 5 grams of fiber, this sweet treat hit the spot for all testers. The nuts come in three flavors (all dark chocolate-based) and they don't melt or freeze into teeth-breaking rocks.
$30 (box of five 3.5-ounce packs); 180 calories per serving; 3.5 oz. (each); Buy Skinny Dipped Almonds Now