The Best Headlamps for Backpackers
Let these versatile lights illuminate your path.
Heading out the door? Read this article on the new Outside+ app available now on iOS devices for members! Download the app.
The best headlamps don't just help you see in the dark. They do it without getting in your way, with easy controls and consistent lighting that lets you focus on what you're doing, now how you're doing it. From minimalist lights to powerful beams, these headlamps manage just that.
Rechargeable or Disposable?
In the past few years, rechargeable headlamps have gone from curiosities to common; many manufacturers now offer models that juice up through a normal micro-USB cable. But there's a tradeoff: most headlamps with rechargeable packs have a shorter runtime than their AA- or AAA-using variants. For ultimate versatility, pick a model, like the Petzl ACTIK CORE or the Uco X-120R, that can use either. 
Ledlenser MH10

Our take The MH10 is a head cannon. With a beastly 600 lumens, it can illuminate terrain up to about 500 feet away, which let one tester scout climbing routes up the Flatirons in Boulder, Colorado, before dawn. The MH10 combines a reflector with an adjustable lens, allowing you to focus the light by twisting the bezel for a concentrated beam that lacks the dark spots or dimming around the edges that often plague reflector-only lights. The tradeoff for all that juice? A chunky, cigar-size rechargeable battery pack that sits at the back of your head, and the MH10 lasts only 10 hours on its highest setting (120 hours on low). But at least it has a rear-facing red LED on there, too.
Trail cred "On pre-dawn patrols at our local ski resort, I have to ski at half speed with normal headlamps," our tester says. "With the MH10, I can rip and not worry about outpacing my field of view."
$80; 5.6 oz. Buy Ledlenser MH10 Now
Black Diamond Storm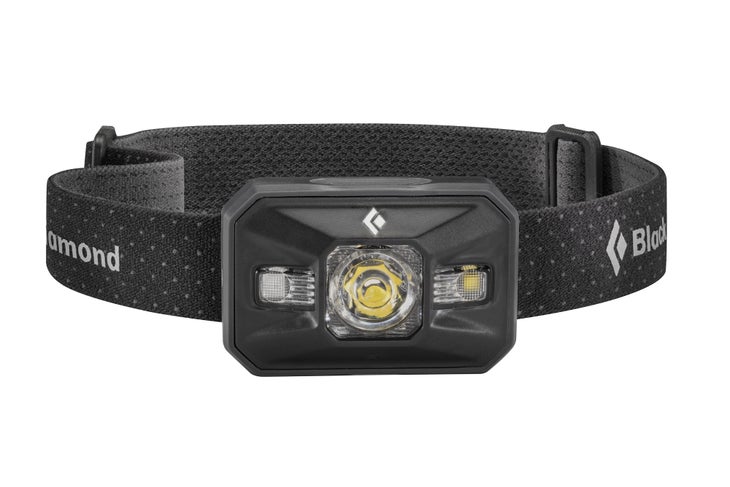 Our take Near, far, and all-around, the Storm has reliably lit our campsites and nighttime adventures for years. And now it'll light them brighter—it's up to 350 lumens from the previous 250—and in more colors now that a blue mode joins the existing green and red. The power boost is the biggest upgrade, giving us the confidence to get started earlier on dawn-patrol ski tours through heavily treed terrain in Colorado's Butler Gulch. Also cool: A brightness memory returns the headlamp to your previous setting when you turn it on, and the lamp dims with the same simple touch as previous versions. In other ways, it's delightfully retro. The Storm runs on four AAA batteries, which keep it going for about 160 hours on low. Bonus: It's waterproof to one meter.
Trail cred "The three colored lights may sound like overkill, but they were clutch for reading the lines on multicolored topo maps," says our tester. "The green light makes brown lines pop, while blue light turns green lines black." 
$50; 3.9 oz. Buy Black Diamond Storm Headlamp Now
Uco AIR

Our take At a featherweight 1.6 ounces, the AIR is one of the lightest full-featured headlamps we've ever tested. "It felt like I was wearing a headband, not a piece of hardware," says our tester. Users control the AIR with an intuitive dial around the bulb: Twist left to turn on the white LED, which was bright enough (150 lumens on max setting) for night hiking in rocky terrain in Arizona's Saguaro National Park; twist right to trigger the red beam. Tradeoff: The Air's miniscule 170 mAh rechargeable battery lasts five hours on low and just under an hour on high. If you're headed out for more than a night or two, plan on topping it off from a power bank; otherwise, it's best as an emergency option for dayhikes.
Trail cred "I frequently took it on evening trail runs in the hills outside Boulder, Colorado," our tester says. "I didn't feel the Air shifting around on my head like a heavier headlamp does."
$35; 1.6 oz. Buy UCO AIR Headlamp Now
Petzl ACTIK CORE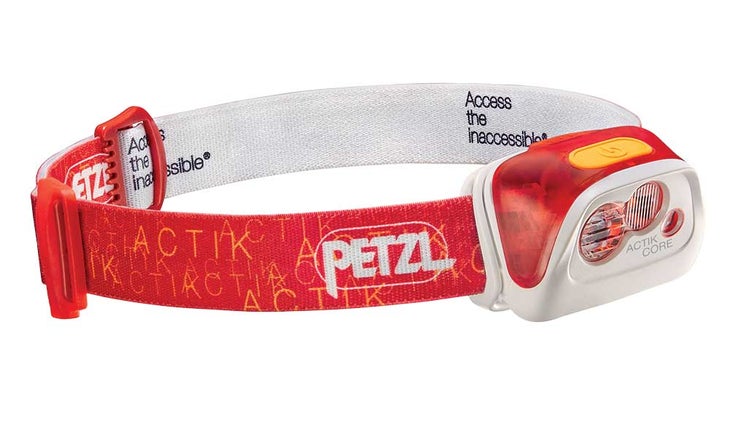 Our take If brighter is better, Petzl's new ACTIK CORE is one of the best headlamps of its category out there. It packs 350 lumens into a compact, multi-beam headlamp that cut through the darkness on night runs up Boulder's Mesa Trail, providing enough power to scope out hazards in the distance. You get steady, strobe, and red light modes. The headlamp can run on either three AAAs or the Petzl CORE, a removable, micro-USB-rechargeable battery that can power the ACTIK for up to 160 hours on low (5 lumens) or 2 hours on full blast.
Trail cred "If I had to pick one headlamp for a multisport trip, it would be the ACTIK CORE," says our trail running, night-skiing editor. "It doesn't take up much room, but it's powerful enough to let me move fast."
$60; 3 oz; Buy Petzl ACTIK CORE Now
Black Diamond Ion

Our take At just 1.9 ounces including two AAA batteries, the redesigned Ion is the perfect just-in-case light. But unlike most just-in-case lights, this compact headlamp is more than an insurance policy: It boasts a respectable 100 lumens and also includes Black Diamond's low-power red light for close-quarters use. Testers kept it in their packs for after-work cragging sessions that had us hiking down scree fields and steep trails in the dark. It has serious staying power, lasting up to 180 hours on low, and includes a lock mode to stop it from accidentally turning on in your pack. Bonus: An IPX8 waterproofing rating means it can be submerged a meter underwater, light on, for up to half an hour.

Trail cred "It's so light, there's no reason not to carry it," says one editor who took it on trail runs and trad climbs in Boulder's Flatirons. "I liked the simple, one-piece size adjustment on the back of the strap, too."
$25; 1.9 oz; Buy Black Diamond Ion Now
Uco X-120R

Our take This USB-rechargeable headlamp was made with one goal: ease of use. Instead of a finicky push-button, the X-120R has an oversize miner's helmet-style dial on the front that makes adjustments instinctive. Turn the dial counterclockwise to engage the red light without blasting out your night vision; turn it clockwise to dial up the brightness on the 120-lumen LED. All testers agreed that the two-piece, plastic-and-neoprene headband, which adjusts like a trucker hat on the sides and fine-tunes via a dial on the back, snugs comfortably on the head. But we were split on its value: Some hailed the lack of a skull-squeezing elastic strap, while others bemoaned having more parts to lose. Like the Petzl ACTIK CORE (right), it works with either a removable, USB-rechargeable battery or three AAAs. Ding: The rigid headband makes it awkward to pack (it comes with a bulky carrying case).
Trail cred "I liked the simple operation, which doesn't require a look at the manual, and the turn dial was easy to operate with gloves on," says an editor who used it while backpacking in Colombia.
$80; 3 oz; Buy UCO X-120R Now