The 5 Best Camp Booties to Keep Your Toes Toasty on the Coldest Nights
Keep your toes warm this winter with these ultra-insulated loungers.
Heading out the door? Read this article on the new Outside+ app available now on iOS devices for members! Download the app.
Don't get us wrong: We appreciate a good pair of boots. They're great for ripping backcountry laps or snowshoeing to a yurt. But when the day's adventures are over and it's time to kick back, there's nothing we want more to get out of them and into a cozy pair of booties.
By letting the blood rush back into your toes while you do chores around camp or the hut, and using generous insulation to keep your feet toasty while sitting by the fire or in your sleeping bag, booties help ensurethat your feet will be ready to slide back into your boots the next morning. But not all booties are made alike: After extensive testing, these are our favorites on the market.
Best Overall Camp Booties: Western Mountaineering Standard Down
During a two-night hut trip in Colorado's Never Summer Mountains, our tester put these booties through the wringer. While stargazing in 14° F temperatures, his feet were almost too hot, thanks to a generous amount of 800-fill down. A non-slip rubber outsole and DWR-treated nylon face fabric kept the down dry and intact, and a cinch on the upper cuff sealed out even 17 inches of fluffy Colorado powder while trudging to the outhouse. And with all that, the booties packed flat in his backpack, hardly taking up more space than a thin paperback book. —Ryan Wichelns
Best Camp Booties for Tent Camping: 40 Below Camp Booties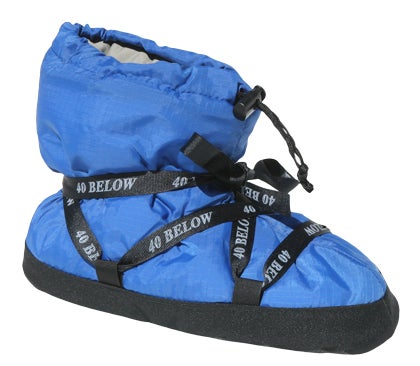 When one tester finally worked up the courage to exit his sleeping bag to shovel snow for water in Colorado's Indian Peaks, there was no need to slip into damp ski boot liners. Instead, he jammed his durable 40 Below booties straight into his shells. Thanks to a super tough silicone-treated synthetic insulation, a durable nylon face fabric, and a removable footbed, the booties are nigh-indestructible. They never wet out either, even when our tester waded through four inches of wet snow at Shrine Hut outside Vail Pass. A zig-zagging strap over the top cinches tight to your foot to make walking in them comfortable. Caveat: Those durable synthetic materials take up more space in your pack than other options we tested. —Ryan Wichelns
Best Camp Booties for Cold Sleepers: Exped Down Sock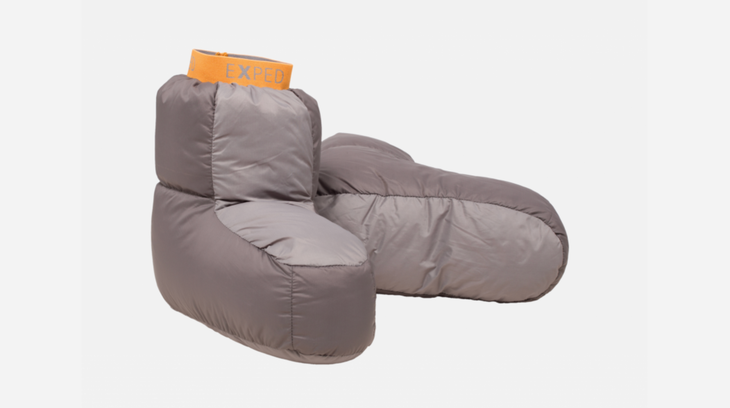 The lack of a sole on these Down Socks means that while they don't hike well, they're perfect when paired with a sleeping bag on the edge of its abilities. On a windy 30° F night in Alaska's Chugach State Park, the extra insulation on the bottom kept our tester's feet toasty when 40 mph winds threatened to collapse his tent. They're packable, too: The lightweight nylon face fabric and 700-fill down meant our tester could shove them into the stuff sack with his sleeping bag, keeping them close at hand for when he was forced inside. And an elastic cuff, rather than a cinch cord, kept them snug on our testers feet at night without cutting off his circulation. —Ryan Wichelns
Best Hut Slipper: Baffin Cush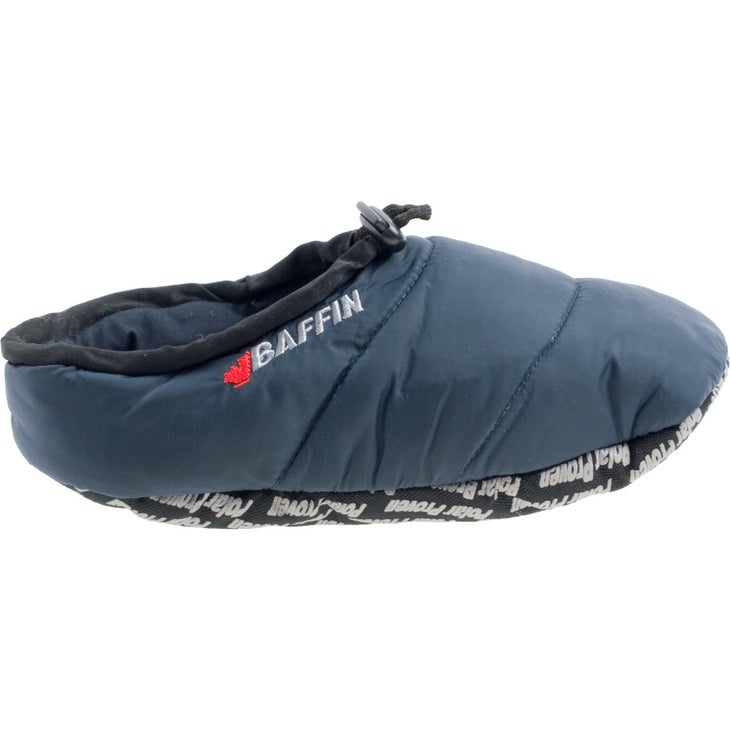 Sometimes, on the right trip, all you want is a warm slipper. The Cush's low ankle-height upper made them lightweight, easy to slip on and off, and comfortable while hanging out at a cabin in Glacier National Park, and sticky surfaces on the bottom kept us from slipping on wood floors. The synthetic insulation and cinch at the top locked in heat when temps dropped below 0 outside (we wore them with midweight socks). On warmer nights, the fuzzy insole let our tester ditch the socks entirely. —Ryan Wichelns
Warmest Camp Booties: Outdoor Research Tundra Aerogel Booties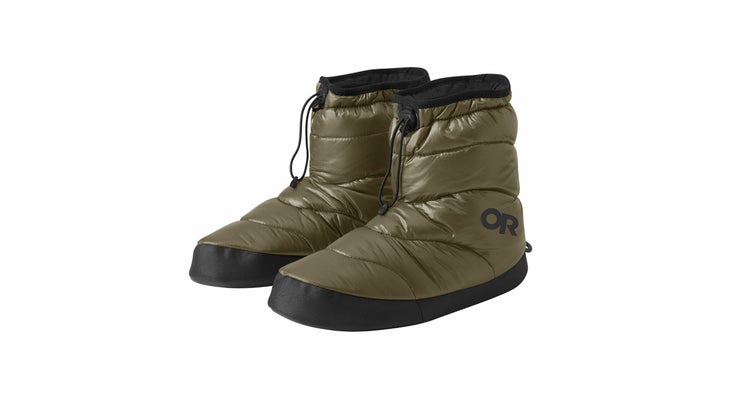 When a blizzard rolled into his camp on Banff National Park's Freshfield Glacier, bringing gusts of up to 70 miles per hour and dropping temperatures to 0 Fahenheit, these heavy-duty booties kept our gear editor's feet toasty while he hung out in the group's tent. These booties have a little more structure, and didn't transmit cold through their soles at all; credit the 1.5-millimeter Aerogel insert, a NASA-developed material which doesn't compress like down or synthetic insulation and effectively blocks out cold. Minimal tread on the bottom meant these were slippery on anything but rock, dirt, or soft snow. —Adam Roy
What a Backpacker Editor Looks For in a Camping Stove
Adam Roy, Senior Digital Editor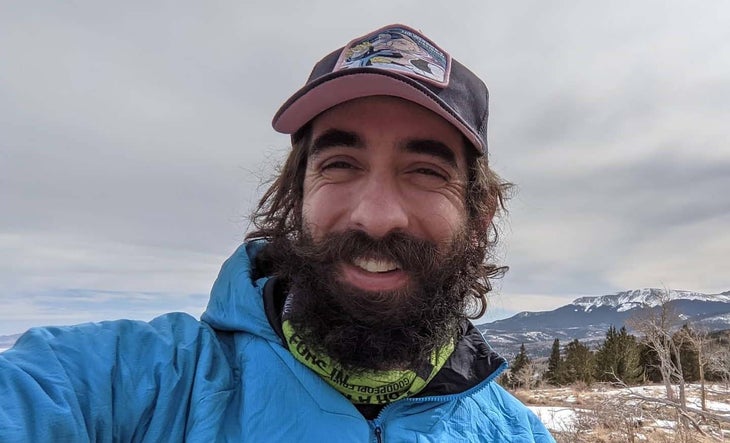 "Camp booties are a luxury I rarely bring, so when I do, I want them to be able to do more than keep my feet warm. One thing that's non-negotiable: a durable outsole. I've been rocking the same pair of synthetic Timberland camp booties for more than a decade; their tough rubber sole has let me press them into service for everything from fireside hangouts in New Mexico to climbing approaches in Colorado to splitting firewood at a fire lookout in Montana. When I do finally replace them, I'll go for a pair that can stand up to the same punishment without breaking.
Originally published February 2020; last updated January 2022