Peter Whittaker's 100,000-foot Promise
American mountaineering royalty flips the apparel industry on its head with the launch of Bight Gear, a line of clothing for mountaineers, by mountaineers.
Heading out the door? Read this article on the new Outside+ app available now on iOS devices for members! Download the app.
Peter Whittaker was just 12 years old when he first climbed Mount Rainier. Back then, tweens were still a rarity on Washington's 14,411-foot summit, yet Whittaker's climb didn't take the local mountaineering community by surprise.
The son of legendary alpinist Lou Whittaker, who led the first American ascent of Mount Everest's north face in 1984; and nephew to Jim Whittaker, the first American to summit Everest in 1963, Peter Whittaker and his family are American mountaineering royalty. The climb—and his future as the owner of America's largest guiding service, Rainier Mountaineering Inc.—was preordained.
Whittaker, who just notched his 250th Rainier summit, has learned the hard way that bad apparel design can make or break an expedition. Tiny flaws can be disastrous above the treeline: Metal buttons cut into thighs, overly constrictive hoods reduce mobility, and ill-constructed puffy jackets lead to jammed zippers. In 2016, he decided that if he wanted to provide his stable of 60 RMI guides with the ultimate alpine kit, he'd need to build it himself.
That dream is now reality. Bight Gear, a specialty outdoor apparel brand named after the bend of a climbing rope, just launched online and comes with an unprecedented promise: every Bight product has gone through a minimum of 100,000 vertical feet of mountain testing.
"We're high up on the mountains. Corporations aren't up there," Whittaker said. "Our focus is building apparel, so it's built right. We select the best fabrics and materials, and then worry about cost later. Not the other way around. Our products need to be the best."
This mentality—coupled with Whittaker's Rainier test lab—makes Bight unique in a sea of outdoor-apparel brands. Whittaker and his RMI guides have spent the last two years developing the perfect alpine kit. The guides spend a combined 10,000 days a year at or above treeline and directly contribute their end-user experience into the final designs.
RMI guide Christina Dale, a 34-year-old guide who has tested Bight on summits in both North and South America, used to gripe about her jacket's restrictive cuffs and how they made it nearly impossible to view her altimeter watch.
"Last year, I was guiding on Rainier's DC Route and it was super low visibility. I needed to know where I was on the route and if there were any nearby hazards," she said. "I couldn't get my sleeve up. That's when I wanted to cut it off."
That kind of real-world data allows Whittaker to translate ah-ha moments into smart designs like the Caldera Down Parka: a slim down parka with stretchy cuffs that allow guides to easily check their watches.
"My guides are tied to people, in a dangerous place, and they need to be able to look at their watches consistently," said Whittaker. "Other companies don't recognize that. We do."
The guides love it too; sometimes too much.
"I know it's a good design when the guide tests it and it doesn't come back," Whittaker laughed.
Bight Gear: The Ultimate Alpine Kit
The Flaw: Overstuffed Jackets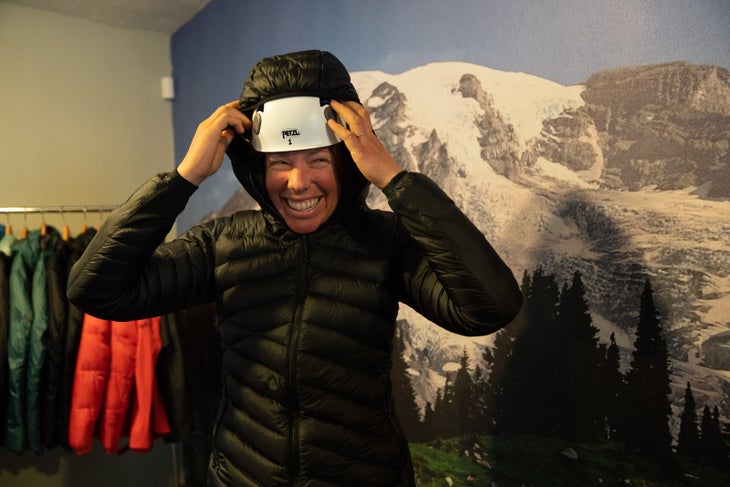 Ill-designed apparel can lead to potential disaster above treeline. Christina Dale, 34, has worked on Rainier since her twenties; first as a ski patroller, and now as an RMI guide. She almost destroyed her sleeve when her down jacket's cuff melted as she cooked her clients' dinner near Rainier's summit. "My jacket was six inches from my actual body. I didn't even know until I smelled it," Dale said. "With jackets that big, you don't know where you are in space. It's a real problem."
The Fix: Caldera Down Parka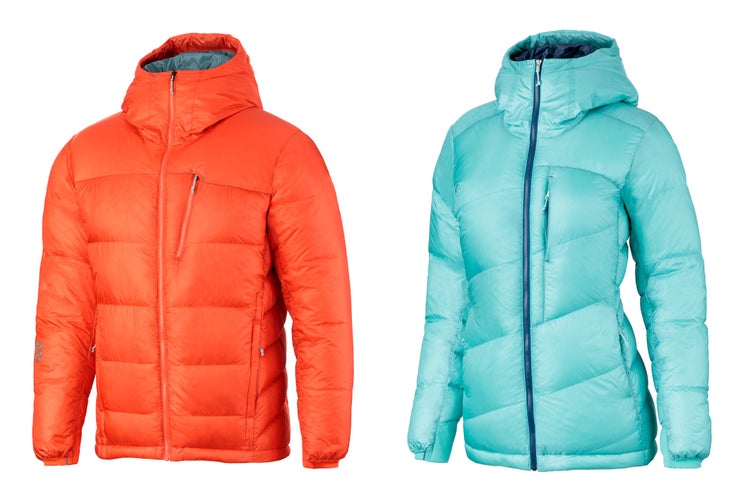 Whittaker can relate. Puffy jackets often leave him feeling like the Michelin Man. Summit jackets are non-negotiable, so Whittaker designed the Caldera Down Parka: A 850-fill down jacket with the same level of sleeping bag-like warmth but with a much slimmer silhouette thanks to its interior I-beam construction. "It's impressive how much slimmer the cut is, while providing a high-level of warmth," said Dale. "It's so much easier to move. Plus, the cuffs are stretchy, so I can check my altimeter watch."
The Flaw: Painful Seams and Hardware
On fair-weather expeditions, Dale climbs—and sleeps—in her softshell pants. "There's no reason to take them off," she said. "Sometimes our alarms are set for 10 p.m. We're like firefighters, sleeping in our pants and ready to go." That daily habitual wear can lead to serious problems if the pant's hardware or seams don't line up perfectly with the guide's pack straps, hipbelt, and climbing harness. "I've gotten bruises and abrasions around my hips just from the interface of pants to harness to backpack," she added.
The Fix: Moraine Pant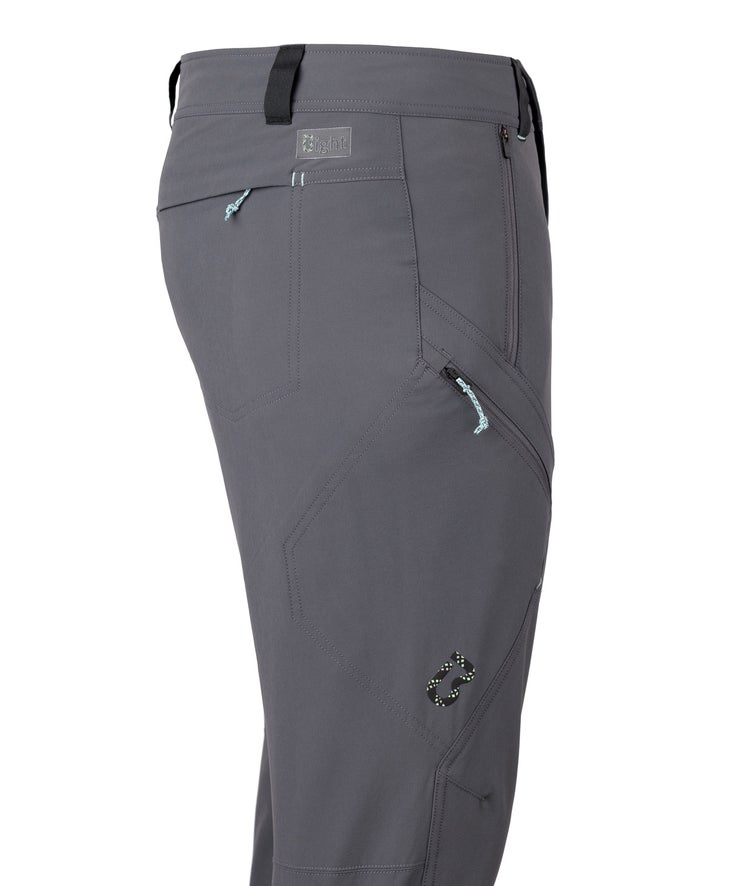 Whittaker designed Bight to be the ultimate alpine kit. Each layer is designed to interface perfectly with the next. To achieve the Moraine Pant's fit, he moved the seams forward and eliminated surplus hardware around the waist. And, by Dale's request, he added a yoga pant-like waistband to the women's version to ensure it accommodated different body sizes and shapes. "Oh man! It's amazing!" she says. "They're so comfortable. It fits perfectly under my harness and heavy backpack. It's the best." It's such a hit that Whittaker's male guides just this week requested he add the same waistband to the men's 2019 pant.
The Flaw: Stacked Zippers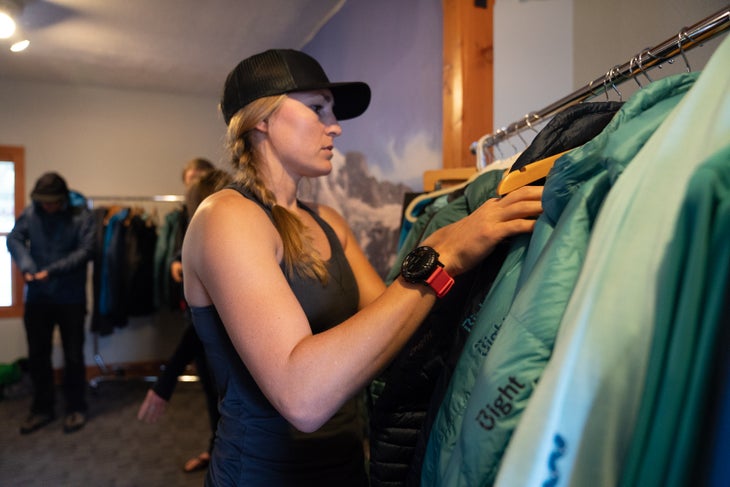 Jess Matthews, 35, has notched 32 Rainier summits since she joined RMI in 2014. She's poured blood and sweat into her job. Literally. Repetitive motions—like pulling a 60-pound sled up 13,000-feet on Denali—can exacerbate poorly placed seams to the point of creating raw open sores. "At high altitude, you don't heal," she said. "I had to live with that injury for weeks. It just really sucked."
The Fix: NeoShell Nuker Pant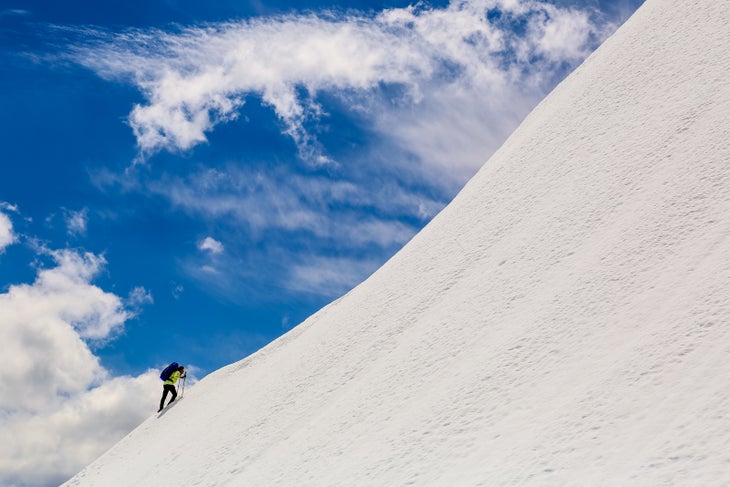 Whittaker added side zips that travel 7/8th up the NeoShell Nuker Pant to keep transitions easy. Reduced brackets and zippers around the waist and upper thighs translates into less discomfort. "The Nuker is designed to perfectly layer over the Moraine Pant, which reduces pressure points and suffering. Boom," said Whittaker. 
The Fix: NeoShell Nuker Jacket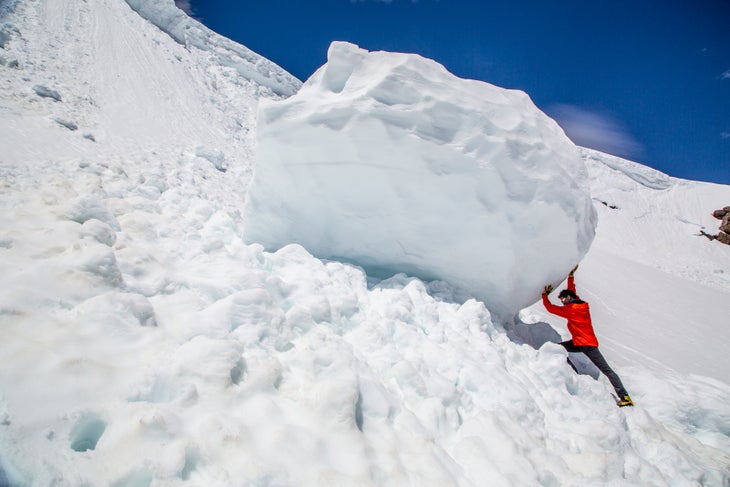 The NeoShell Nuker Jacket utilizes Polartec's new NeoShell fabric—known for its highly aerobic air permeability—to drive moisture vapor away from the user's core. "I love this jacket. It breathes so well that I no longer wet out. Plus, it doesn't feel like you're wearing an empty potato chip bag. It's quiet," King said. "I'm now a one-jacket man." Whittaker also enlarged the jacket's cuffs to make it easier for guides to check their altimeter watches—a design fix that King's fellow guide, Matthews, called a game changer.
The Flaw: Dark Colors Absorb Heat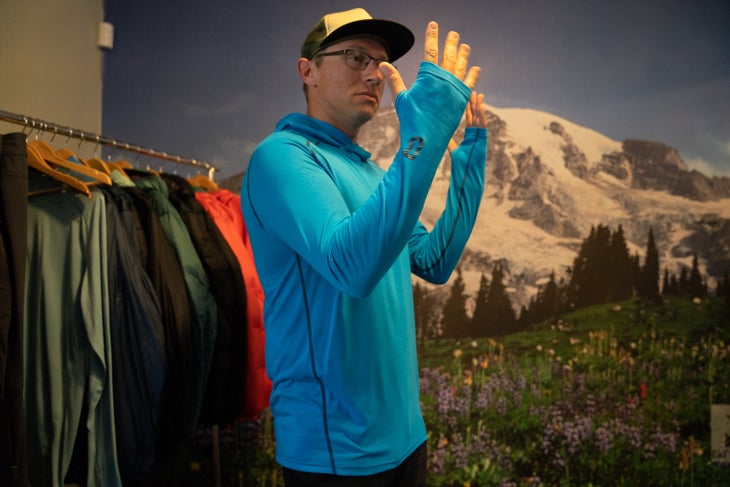 Guides avoid black-colored tops at all costs. "It gets hot above treeline. Baking hot," says King. "Before the sun hoody arrived on the scene, there wasn't much choice in color." That's because consumers gravitated toward black, dark red, and dark blue baselayers. But dark colors absorb the sun's rays and reduce the shirt's ability to keep users cool. The result: sweat—and a lot of it.
The Fix: The Solstice Hoody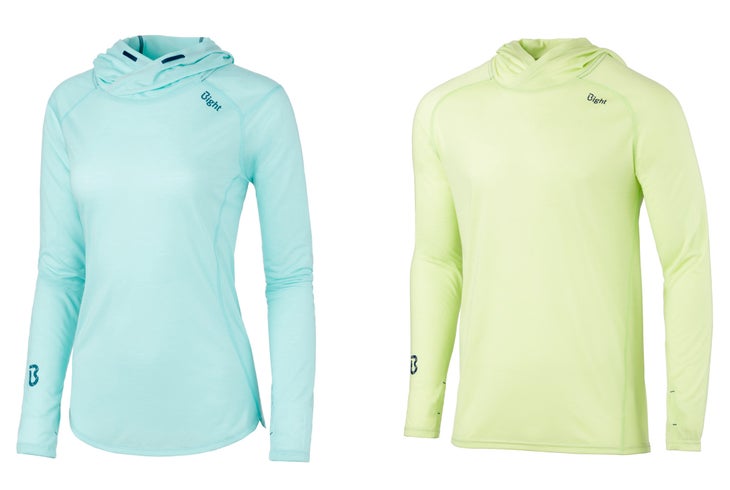 Sweating through your baselayer above treeline can create havoc when it comes to staying warm and comfortable. Whittaker's solution: The Solstice Hoody, a pastel-hued breathable baselayer with an oversized hood, extra-long sleeves to block harmful UV rays, and a generous silhouette that allows maximum airflow. "It's the only baselayer I wear now—no matter what mountain I'm working on," King said. "I wore it for 24 days straight on Aconcagua in Argentina. It breathes so well, and it doesn't stink."
The Flaw: Wetting Out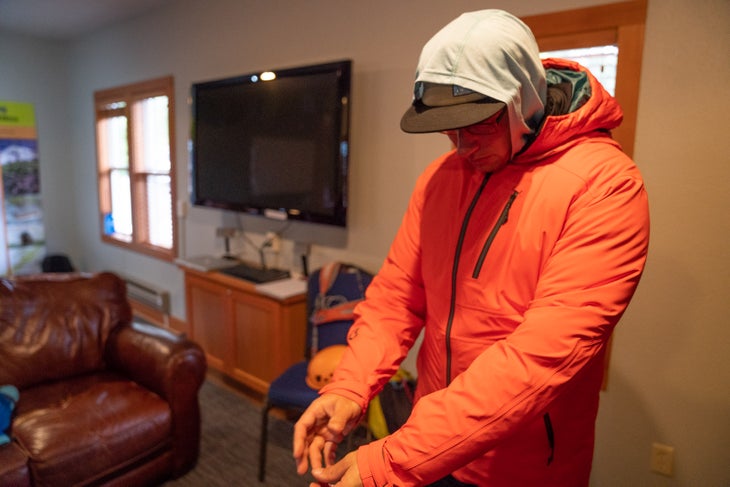 The Pacific Northwest is synonymous with rain. It's so omnipresent that RMI guide Mike King used to pack two lightweight shells for his Rainier trips—just to stay dry. Guides avoid packing extra weight but King made an exception because his shell kept wetting out from the inside. "You never want to carry more than what you need," King said. "But I needed to stay dry, so I packed two jackets. They just didn't breathe."