Test Kitchen: Cooking Trail Eggs
We cracked dozens of eggs to find the perfect camping prep. Here's how to pack them efficiently, use them in trail-worthy recipes, and clean up quickly.
Heading out the door? Read this article on the new Outside+ app available now on iOS devices for members! Download the app.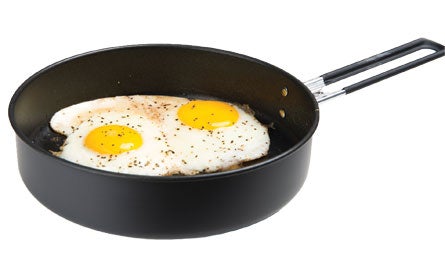 Eggs are a protein-rich backcountry food. (A. Bydlon)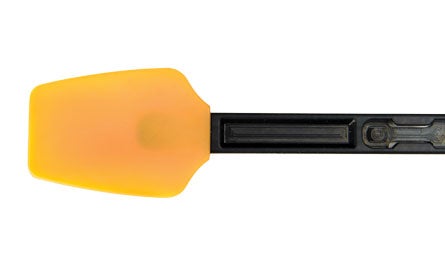 Snow Peak's Hybrid Silicone Spatula (A. Bydlon)
Fresh

Crystalized

Gear

Preparation
>> Fresh



Best for Short overnights, cold weather, and breakfast on day two



Beta Studies have shown that fresh, never-refrigerated, neverwashed eggs from farmers' markets are safe and edible stored at room temp for several months; unwashed eggs have a natural antibacterial coating. Store-bought eggs are washed and cooled, and many also have thinner shells, which allow bacteria growth— the FDA takes a conservative line and says to never keep storebought eggs at temps above 45°F. We left our store-bought eggs out (at 65°F) and they were edible after a week. Freshness test: Don't eat any egg that smells bad, like sulfur. Put an egg (in its shell) into a pot of water; if it floats, pitch it. If an egg smells fresh and sinks, salmonella risk is low if you cook the egg completely.



Storage Avoid damaging shells by carrying uncracked eggs in a purpose-built egg holder (below). On winter outings, skip the spillage hazard by cracking eggs into a leakproof container and freezing them. A 1-quart container will hold 15 large eggs.
Prep Cook both the white and yolk until firm. Avoid undercooked preps like over-easy in favor of scrambled, boiled, or omelets. Tip Inspect whole eggs carefully. Smooth, crack-free eggs carry a lower risk of salmonella (and of breaking in your pack).
>> Crystallized
Best for Extended trips and protein-craving ultralighters
Beta Crystallized eggs—sold under the brand name Ova Easy— are dehydrated at lower temps than traditional powdered eggs. The result: They taste more natural, cook like real eggs, and are a huge upgrade from the old-fashioned dehydrated kind. They're slightly denser than in-the-shell eggs when prepared, but there are perks: They're pasteurized so there's no salmonella risk; opened packages are shelf-stable for a season; the crystals are compact and light (0.6 oz. per egg versus 2 oz. per fresh egg); and they're available in most grocery stores.
Storage Carry meals (two to three eggs per person per meal) in individual zip-top bags to reduce potential moisture exposure, which can cause spoilage. Label bags with the amount of water required (a 2:3 ratio of powder to water).
Prep Measure water into a bowl or bag and mix in powder until dissolved; the ideal consistency is the same as whole milk. Scramble like you would with fresh eggs (see chart, below).
Tip The dense texture is ideal for wraps, veggie-filled scrambles (sometimes wet when made with fresh eggs), and French toast. Sprinkle the powder into soups for a thickening calorie boost.

—-
Gear: Breakfast Tools



» Carry Pack unbroken eggs in Coghlan's plastic 6-Egg Holder ($3; 3 oz.; coghlans.com), or crack whole eggs into a leakproof container like OXO's Locktop Containers (various sizes; oxo.com).

» Cook A good nonstick pan is essential for easy cleanup. We like MSR's aluminum Flex Skillet ($30; 7 oz.; cascadedesigns .com) for heat transfer and size—it can hold a six-egg scramble. Protect the nonstick surface with Snow Peak's soft-but-sturdy Hybrid Silicone Spatula ($10; 1 oz.; snowpeak.com), which also connects to a spork to create a longhandled utensil for eating out of a bag.

—-


*Hot Water Microwave-safe bags are okay to heat to 195ºF (simmering temp). Boiling plastic may be unsafe, and it's overkill—eggs cook fully at 184ºF.