Our Favorite Women's Gear That Actually Fits
Despite huge advances in women's gear, women are about twice as likely to have trouble getting a good fit. Here are our contributors' best solutions.
Heading out the door? Read this article on the new Outside+ app available now on iOS devices for members! Download the app.
The Problem
When I first started testing gear for this magazine 21 years ago, I didn't know a whole lot about, well, anything. My new job was almost too good to be true. Companies sent me stuff, and, in order to assess it, I had to go backpacking—a lot. It didn't bother me a bit that the size-small men's shells I wore were 2 inches too long in the sleeves, billowy around the shoulders and armpits, and snug across the hips. Testing those ill-fitting jackets was my ticket outside. They kept me dry during torrential storms, and, at the time, it didn't occur to me that they would have performed—and felt—so much better if they actually fit.
A year or so into my job, women's apparel started to trickle onto the scene. Having grown weary of red, black, and forest green, I was stoked about the more-feminine colors and the vastly better fit, but bummed to discover that this girl gear was decidedly less technical. Pockets were low on my hips, so my pack's hipbelt blocked them. Fabrics were softer and drapier, but heavier and less durable.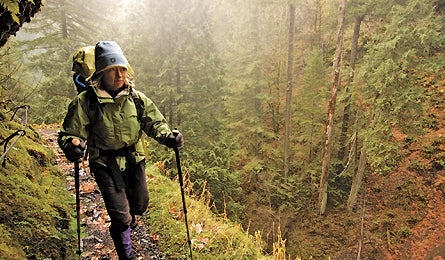 Walk into a gear store today, and it's a different world. Top brands now make full lines of women's apparel that perform as well as the men's versions, and they often look cute, too.
Yet our research—and experience—shows many women still struggle to find gear that fits well. The obvious question: Why? "Fitting women is a greater challenge than men," explains Cassie Tweed, Director of Design at Osprey Packs. "Our bodies have more complex curves than men and a wider variety of shapes."
There's another force at work here, though, too: our own pickiness. "Women in general pay more attention to how a garment looks and not just its feature set for its intended purpose," explains Melanie Sirirot, the Technical Apparel Product Manager for Outdoor Research. "For example, a slightly oversize rain jacket will actually fit and function fine, but it won't look as flattering as it could if it were sized down a bit. In general men will accept, or even seek out, a looser fit, so this tends to be less of an issue for them."
That said, the fit problem is clearly not just a matter of taste. Even though we women now have more no-compromise options than ever before, we still have some common gripes. So we turned to our regular female contributors to learn more about their chronic fit issues—from head to toe—and how they've learned to solve them. Did we miss your personal complaint? If so, let me know at backpacker.com/askkristin, and I'll try to help.
—Kristin Hostetter, Gear Editor
The Fixes
Touch to read about our contributor's favorite gear solutions: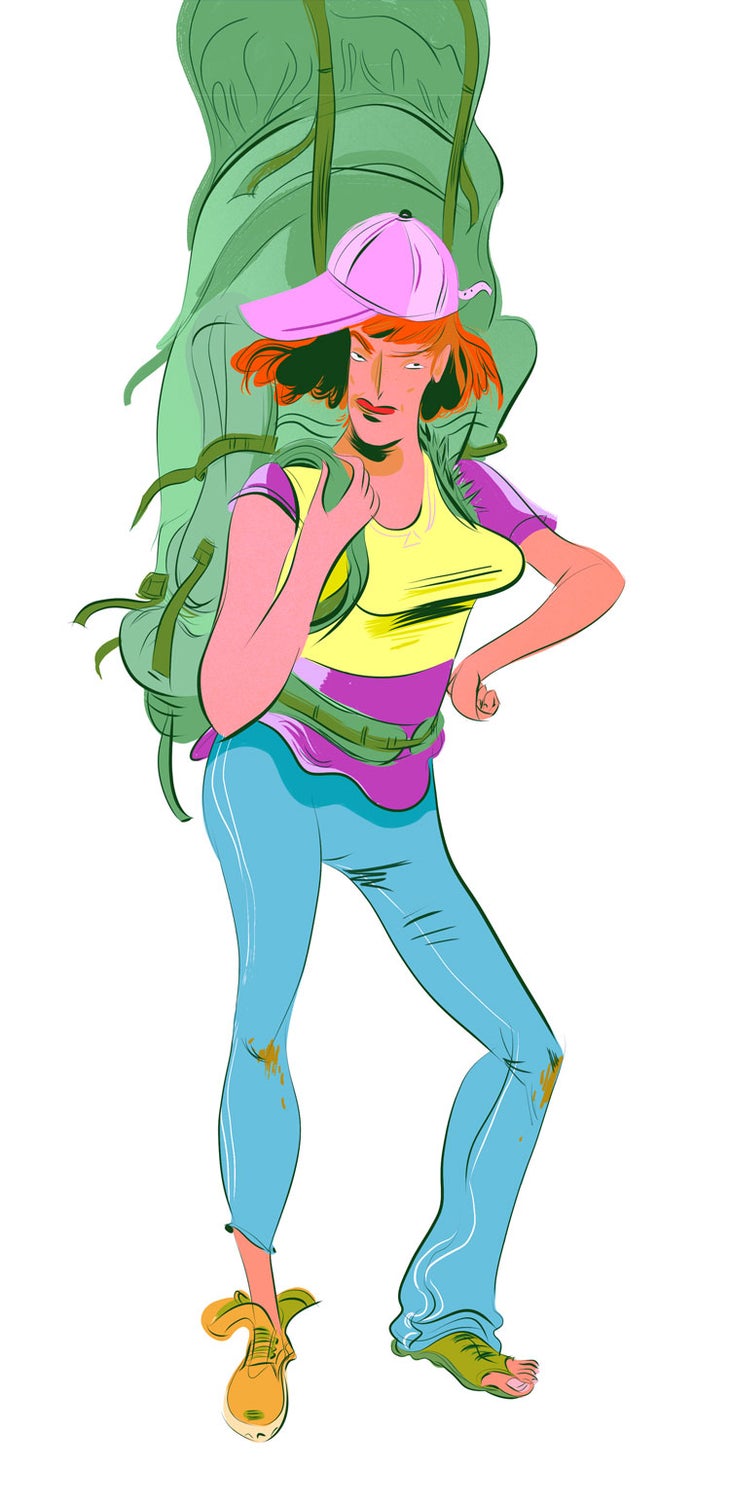 Problem: Oversized caps
Petite women sometimes feel dwarfed by standard baseball or trucker caps. The bill is often way too big, blocking vision. Discovering Pistil caps was an "aha" moment for one pint-size tester, who loves the Dara ($28; pistildesigns.com), with its short, contoured brim, adjustability, and quick-dry polyester fabric.
Problem: Uncomfortable pack straps
Especially if you're on the curvier side, check out women's-specific packs.
Two of our favorites: Gregory's Deva 60 ($299; gregorypacks.com) and Osprey's Aura AG 65 ($260; ospreypacks.com), both of which have super-curvacious shoulder straps that don't chafe on the outside of the breasts, sternum straps that you can adjust to above the breasts, and conical hipbelts that adapt to shapely hips.
Problem: Towering packs
Women with shorter torsos (less than 16 inches) often turn toward packs with adjustable torso lengths. But as the shoulder straps slide closer to the hip belt, the load grows skyward, creating a Leaning Tower of Pisa overhead. Associate Editor Maren Horjus reaches for Gregory packs instead (see above), which come in a true extra-small.
Problem: Uniboob
After 21 years, Gear Editor Kristin Hostetter has yet to find the perfect backpacking bra. "Manufacturers: Want to clinch an Editors' Choice Award? Make a bra in a technical fabric that supports and separates, dries quickly, and has clean, seam-free shoulder straps," she pleads.
Problem: Short Long Sleeves
Southwest Field Editor Annette McGivney is tall (6 feet), thin, and long-limbed, so she looks for long-sleeve tops that have thumbholes. "The holes are at my wrists, and I don't use them, but the extra length gives me the wrist coverage I want," she says. Favorite model: Icebreaker Long Sleeve Tech Top Half Zip ($120; icebreaker.com).
Problem: Crop tops
"My torso is as long as most of the guys I work with," says Senior Content Editor Rachel Zurer. "That means shirts often bare my stomach." And even average-size gals can suffer from ride-up if their top doesn't tuck below a pack belt. Her favorite alternative: Bergans Bloom Wool Lady Tee ($75; bergans.com), which sits well below the hips and has a flattering v-neck to boot.
Problem: Shrink-wrap tops
"Form-fitting tops can be awesome for say, running a 10K on a rainy, cold October day," says Photo Assistant Jenny Jakubowski. But many of us a) don't want to sport the clingy look and b) feel (and smell) better in a breezier cut on multiday trips. Try Mountain Hardwear's Mighty Stripe Short Sleeve T ($50; mountainhardwear.com).
Problem: Tight fit around the thighs
Gear tester Dina Mishev has a slender waist (size 6) but muscular legs and has struggled with finding shorts. Her solution: skirts. "I was skeptical at first, but they let me stay cool in hot weather without feeling constricting." Her favorite: Sierra Designs' Silicone Trail Skirt ($59; sierradesigns.com), which is made from a stretchy, nylon/spandex blend with a water-resistant silicone treatment in the butt.
Problem: Highwater pants
Our Northwest Field Editor, Elisabeth Kwak-Hefferan, falls into the tall (5'9") and lean category. For warm weather hiking, she recommends capris (a great pick: Prana Bliss Capris; $65; prana.com) because of their two-way stretch and comfy, clean waistband. Another great find: Athleta Palisade Pants ($89; athleta.gap.com), which come in tall sizes that offer 3 inches of extra length.
Problem: Pants that drag
Contributing Editor Kelly Bastone, at 5 feet zilch, custom-hems pants that fit her up top but billow at the ankles. ("If you know what you're doing, it only takes 15 minutes," she says.) But for shorties who don't know a whip-stitch from whiplash, capris are a good option. Or try these great pants in short sizes: REI's Endeavor ($79; rei.com), Prana's Halle ($80; prana.com), and Columbia's Just Right Straight Leg ($60; columbia.com).
Problem: Cold feet
Tester Arianne Zwartjes has battled this common problem for years with some clever solutions. First, she buys boots a full size too big, so they can accommodate two pairs of socks plus chemical warmer packs. "In cold and wet conditions, I wear neoprene socks (like Sealskinz' Mid Weight Mid-Length; $50; sealskinz.com), and in camp, I'll put plastic bags over my socks and under my camp shoes," she says.
Problem: Boots loose in the heels
Tester Nancy Bouchard recommends a professional boot fitter (find one at bootfitters.com) to help you pick insoles, which can reduce slippage and foot fatigue, improve stability, and relieve foot, knee, hip, and lower back pain. She likes EZ-fit ($40; ezfitinsoles.com).
Problem: Sleeping cold
"I struggle to heat up voluminous sleeping bags," says one cool-blooded tester, "but the smaller bags marketed toward women can be too short." So she looks for unisex bags with an extra-trim, heat-efficient cut, like Sea to Summit's Spark Sp III ($439; seatosummit.com). "Another tip: Throw extra clothing layers into the foot of your bag. It sucks up extra space so you don't have to work extra to heat it up."