Meet Me Here: a Map, a Watch, and a Surprise
Emma's friend set her up with a ViewRanger map and let the app guide her to a backcountry surprise.
Heading out the door? Read this article on the new Outside+ app available now on iOS devices for members! Download the app.
It's not everyday you get to feel like Nancy Drew or one of the Hardy boys faced with a mysterious adventure. Here's how mine began–with an email from a friend, inviting me to meet her at a mystery point in Staunton State Park, just west of Denver.
A surprise, she told me, will be waiting at this mystery location. Knowing my friend Leslie, the surprise would be worth discovering—and I knew she'd take good care of me along the way.
Getting on track
My adventure began with a pre-plotted route on the app ViewRanger, which was downloaded to a Casio Pro Trek smartwatch awaiting me at the trail head. I scrolled through the watch's easy-to-navigate, bright interface, opened the route labeled "Staunton State Park," and hit "Start." I looked around and took a deep breath. From there on out, I was entering Staunton's criss-crossing trail system depending solely on the ViewRanger app's directions.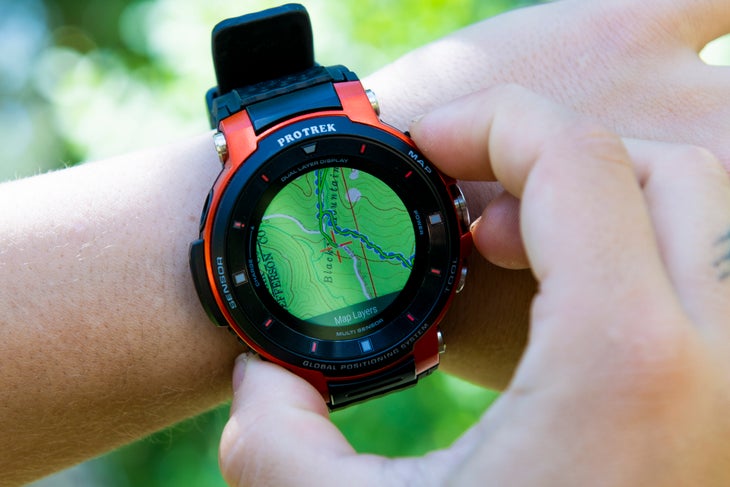 Immediately, the watch interface buzzed and a message popped up on the screen: "Turn left on Staunton Ranch Trail." So I turned left and started picking my way up the shaded, graded trail. The watch buzzed again: "Head north on Staunton Ranch Trail." Staunton is Colorado's newest state park and the trails were nearly empty, save a few mountain bikers and a family walking their dog. All around the 3,828-acre property, tall slabs of exposed granite rise above the grassy valleys and mixed aspen-pine groves. As I continued hiking, I passed trail spur after spur, all leading climbers to the various rock formations. Knowing ViewRanger had the navigation covered, soaking in the fresh smells and new sights of this wild place was easy.
I glanced at the watch again, just to make sure I was still heading in the right direction. The interface read: "15 min ago: Head north on Staunton Ranch Trail." I scrolled down the touch-screen and could see my next move: "337 yards: Turn right on Old Mill Trail." At the top of the screen, an arrow pointed in the direction I walked. As the trail curved, the arrow pivoted, keeping me on track.
Immediately I felt more at ease. Because ViewRanger uses Casio's internal GPS, the app doesn't require any data signals while it navigates, tracks routes, or browses downloaded maps. I swiped right on the screen and a colored, high-resolution topographical map appeared. Intuitively, I zoomed in and out, observing my exact location, which was being live-tracked by the built-in GPS. This signal can even be boosted and result in more accurate positioning if connected via bluetooth to hikers' phones.
As I approached the junction for Old Mill Trail, the watch buzzed again: "Turn right on Old Mill Trail." I turned right; the arrow turned with me. I continued up, following a creek further into the park.
To check on my time and distance, I swiped right twice on the screen and my metrics were instantly available. A little less than an hour and two miles in, I'd gained over 300 feet in elevation. I really hoped Leslie's surprised involved food and cold drinks.
Normally when I plan on hiking in a new area, I research routes on my computer screen and then download information to my phone (sometimes map screenshots, sometimes data for a trail app). Then, when I'm hiking, I'm constantly pulling out my phone to check where I'm going or, in much rarer circumstances, checking a physical map. With ViewRanger's information available on my wrist, I saved time, my phone's battery life, and reduced the stress I sometimes feel when relying on my phone for outdoor navigation—what if it rains? What if I drop my phone on the rocky trail? None of that mattered with ViewRanger's prompted directions and high-resolution interface.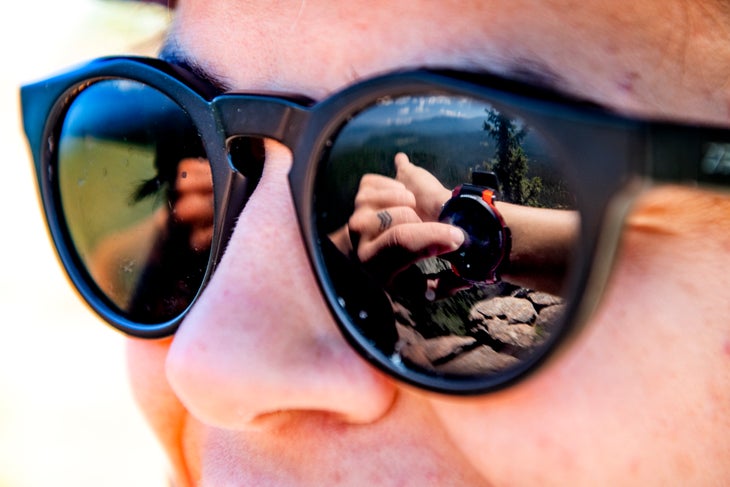 Using every tool in a toolbox
After almost a mile on Old Mill Trail, I approached another junction and my watched buzzed: "Turn left on Border Line Trail." I turned left and started up a series of switchbacks climbing alongside more granite cliffs. A few minutes later, I checked my watch again to verify my position, and the arrow was gone. The GPS was searching, discombobulated by the steep terrain. I scanned my brain: What would Nancy Drew do? She'd work with the tools she had. 
I swiped right to the map screen, found the Old Mill-Border Line trail junction on the map, zoomed in, and easily pinpointed where I was using the bright contour lines and pre-plotted points. (Routes like the one Leslie planned for me can be quickly constructed and downloaded via ViewRanger's website or phone app, which contains the largest outdoor map library of any Wear OS-compatible smartwatch software). Even with a momentary lapse in active GPS, understanding where I was supposed to go was still easy: onward, toward Leslie, and, hopefully, cookies.
The Border Line Trail traverses the northern end of Staunton State Park and eventually rises above most trees. I scrambled along rocky blocks to catch the view. Looking south, 14,115-foot Pikes Peak loomed in mountain glory, while out west, I could see the ridges crawling up toward another fourteneer, Mt. Evans.
A cheesy ending
Looking down at my watch, the next instructions on ViewRanger read: "27 yards: Meet me here." I followed the arrow and scrambled across the mini ridge, pushed past a pine tree, and found Leslie, sitting on a boulder with a picnic? spread before her. I smiled wide, hugging Leslie and couldn't help but think how Nancy Drew, my original adventure idol always ready to face the unknown, would've been utterly at home on the side of a cliff with a cheese plate, sliced salami, and refreshing tart, green grapes.
Leslie prepares the surprise.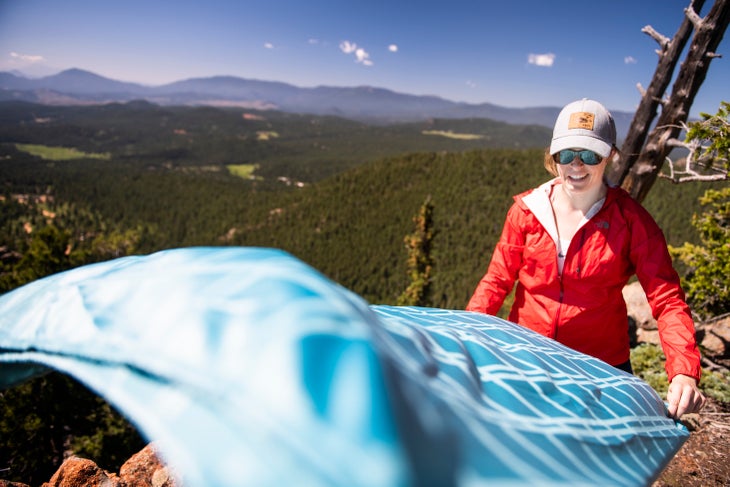 Charcuterie for two.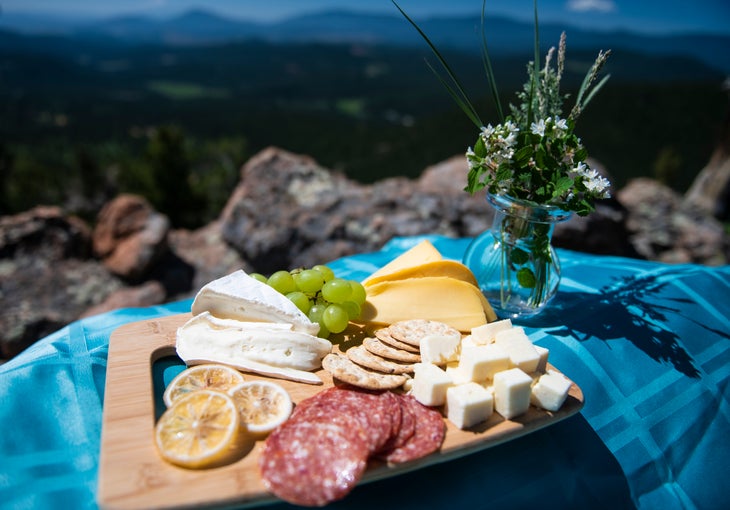 The reward is here.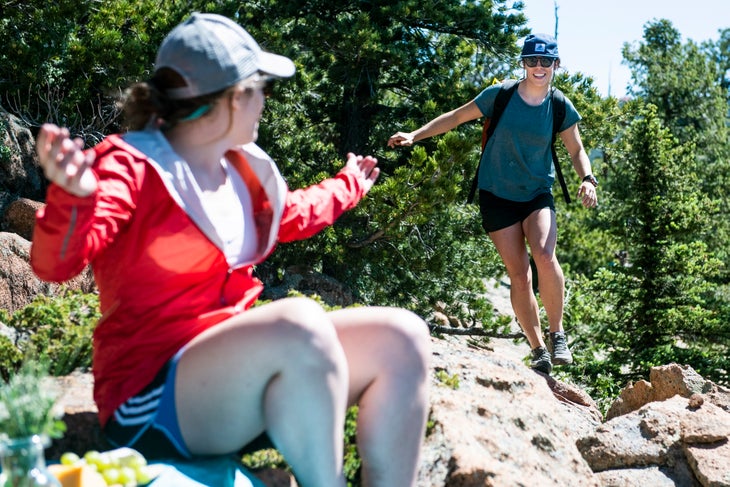 A warm welcome.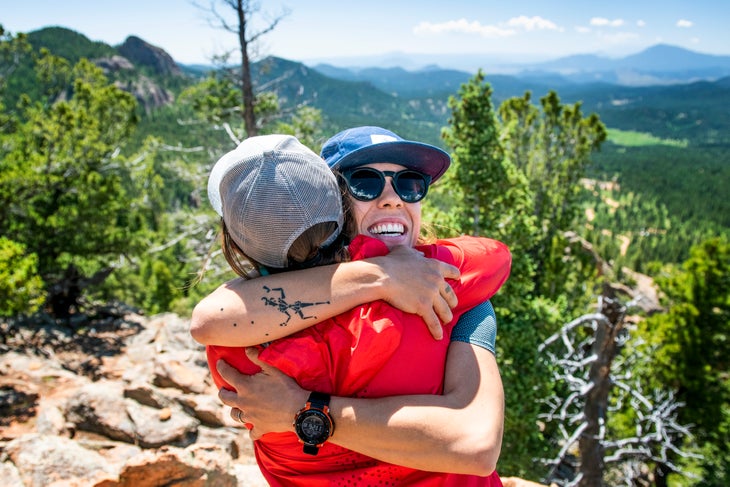 The cheesy ending.