Little Big Shoes: Lightweight Hikers That Hold Up
These lightweight, low-cut hikers are stronger than you think.
Heading out the door? Read this article on the new Outside+ app available now on iOS devices for members! Download the app.
Do your feet a favor: Downsize to footwear that's light and low-cut, with the feel of a sneaker and the support and protection of a bigger boot. You'll love the comfort on dayhikes and the performance on weekend trips. To find the best models for every hiker, our crew of ultrarunners, mountaineers, and hikers tested dozens of shoes all over the planet: on glaciers in Nepal, over peat fields in Ireland, and through waterfalls deep in the Grand Canyon. These six pairs came out on top.
Test data: 333 test days / 10,580 miles hiked / 8 boots sawed in half (to inspect midsole construction)
Criteria: low-cut; supportive enough for at least 20-pound packs; designed for hiking
The Scale 1=save your money / 5=perfect gear
*Overall score is not an average of other scores; it's a gut-level assessment of performance and value.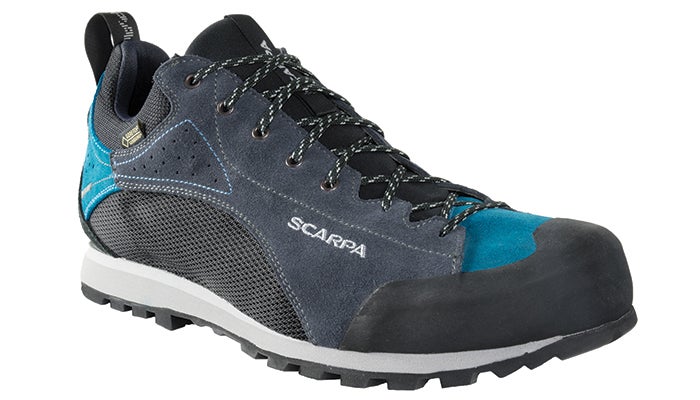 Scarpa Oxygen GTX
$189; 1 lb. 15 oz.; scarpa.com
Why we like it: A sock-like fit earned it a perfect comfort score.
Support: 3.9 Two layers of EVA in the mid- sole (one dense, one soft) provide stability without sacrificing flex in the toes. You get striding comfort with plenty of support for a 30-pound pack.
Comfort: 5.0 A padded tongue attaches to the elastic cuff around the ankle and hugs the foot like a slipper. "Taking them off is the last thing on my mind when I get to camp," one tester says. Fit is best for narrow to average feet.
Breathability: 4.7 The shoe's construction—with wide swaths of mesh along the perimeter—makes the most of Gore- Tex Surround technology*. After postholing (with gaiters) on a 70°F day on Mt. Shasta, one tester said, "I was sweating buck- ets the whole time, but my feet were dry when I took my shoes off."
Durability: 4.0 A thick rubber toe rand and the mostly suede upper held up to months of scree scrambles and off- trail hiking in California's Trinity Alps. Even the mesh sidewalls proved resistant to fraying.
Traction: 4.0 The Vibram rubber—which balances the stickiness of an ap- proach shoe with the durability of a hiking shoe—held firm on granite, snow, and during wet river crossings.
Overall: 4.3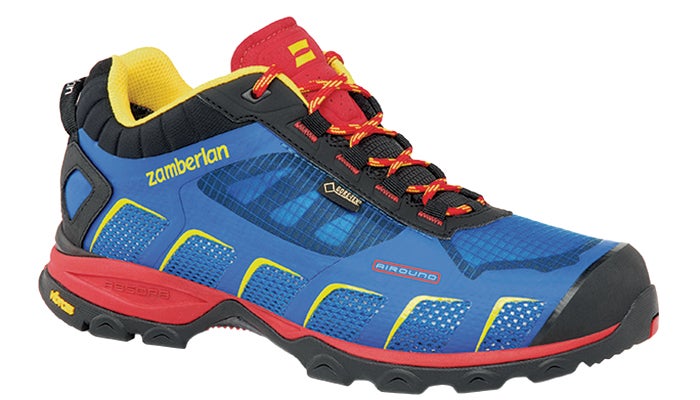 Zamberlan 132 Air Round GTX RR
$180; 1 lb. 15 oz.; zamberlanusa.com
Why we like it: It looks and feels like a sneaker, but performs like a light hiker.
Support: 3.5 The soft EVA midsole provides cushion and the plastic under-arch shank offers good support for a 20-pound load, reports a tester who hiked to Everest basecamp in them. "I usually like beefier boots, but my feet only felt tired after the longest days."
Comfort: 4.4 The soft midsole absorbs the shock of rough trails, and the padded tongue prevents pressure points when you ratchet down the laces. Best for high-volume/wide feet.
Breathability: 4.7 Gore-Tex Surround kept our feet sweat-free on Northern California trails in 90°F heat.
Durability: 4.0 The mesh upper is much tougher than it looks, thanks to the laminate plastic overlay. After more than 100 miles, some scratches and slight fraying are all we can see, and the midsole shows no creasing or delamination.
Traction: 3.5 The 3mm lugs and firm rubber proved grippy on hard dirt but lost purchase when terrain got wet. "I slipped on a wet rock and took a digger into a creek," says one tester.
Overall: 4.2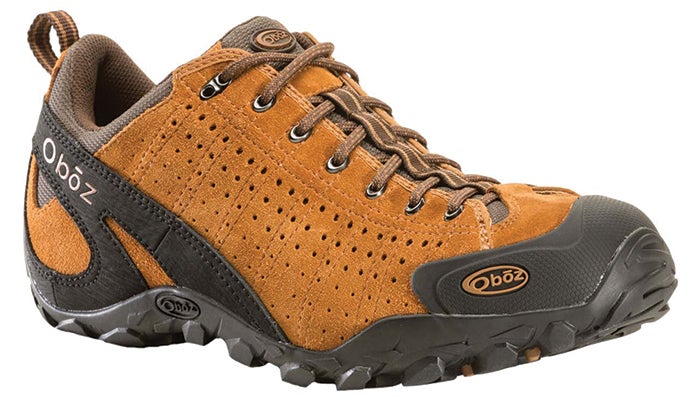 Oboz Teewinot
$120; 2 lbs. 2 oz.; obozfootwear.com
Why we like it: This is the toughest shoe in the lineup.
Support: 4.0 A nylon shank runs from heel to midfoot, so the Teewinot has some flexibility. But the firm EVA midsole gave us plenty of support with a 35-pound pack and protection on the uneven and rocky trails of California's Lassen Volcanic National Park.
Comfort: 3.9 The soft foam under the heel and ball boost shock absorption. We like the deep heelcup, but the laces don't crank down tight enough on the high-volume uppers, which led to toe- bump on downhills for some testers.
Breathability: 3.5 A full suede upper does wonders for durability, but limits breathability (even without a water- proof liner). Rows of small perfora- tions along both sides of the shoe enhanced ventilation in dry-weather temps up to 80°F, but were less ef- fective when the suede got wet.
Durability: 4.5 Thick rubber covers the entire toebox. The upper is unscathed aftfter months of testing that included wading through a field of thorny manzanita bushes in California's Castle Crags State Park.
Traction: 4.0 The 4mm multidirectional lugs held firm on steep, gravelly descents, and the tacky rubber stuck to wet rock near California's Boulder Creek Falls.
Overall: 4.0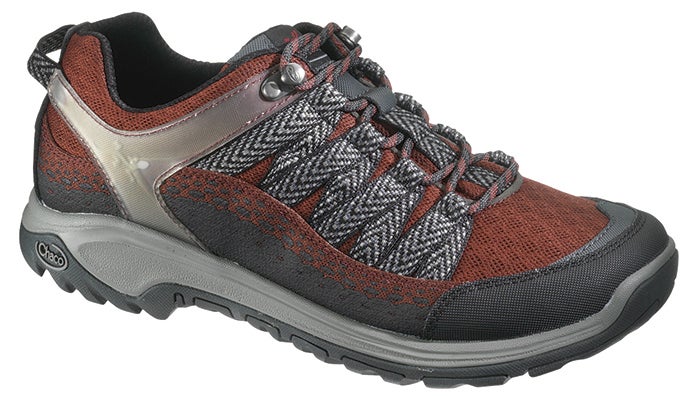 Chaco Outcross Evo 3
$119; 1 lb. 11 oz.; chaco.com
Why we like it: The breathable and quick-drying mesh upper make this the best hiker for hot weather.
Support: 3.0 The footbed provides excellent arch support, but the soft midsole lacks torsional stability with packs heavier than 20 pounds. Also, that soft midsole caused sore feet on rough trails.
Comfort: 4.8 These shoes are soft as butter. Wear them with or without socks, thanks to the smooth polyester liner and a non-removable footbed made of soft yet supportive EVA.
Breathability: 5.0 Short of sandals, these are as breathable as shoes get. The mesh and webbing upper is open enough to allow air to pass through, but still kept grit out when we crossed silty creeks. Bonus: The non-waterproof, open mesh dries quickly.
Durability: 3.4 The nylon webbing and lami- nated sidewalls held up well during on-trail testing, but they suffered some fraying once we started going off-trail. The midsole shows zero wear after 85 miles, which is surpris- ing, considering how soft it is.
Traction: 3.9 The shallow 2mm lugs had trouble holding on mud and scree, but the soft rubber shined during waterfall scrambles and river crossings.
Overall: 3.9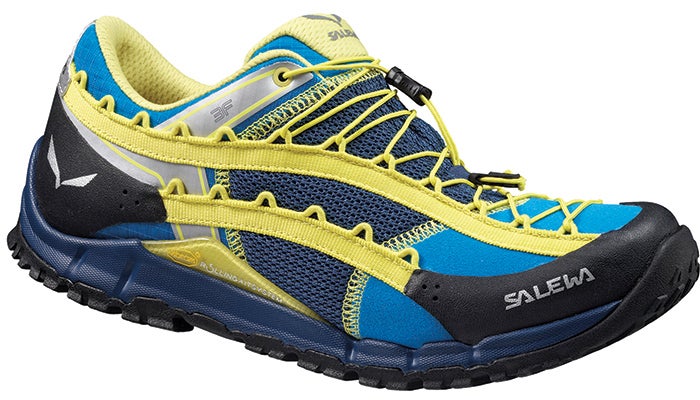 Salewa Speed Ascent
$140; 1 lb. 4 oz.; salewa.com
Why we like it: Enjoy a rolling gait that makes it easy to eat up the miles.
Support: 3.9 A firm plastic plate creeps up the sides of the midfoot, acting as a cradle, so our feet felt stable under the weight of 30-pound packs. The aggressive sole rocker redistributes pressure to the heel and ball of the foot (the parts that are best at handling impact).
Comfort: 4.3 The rockered sole also enhances comfort by encouraging a smoother stride with less stomping and more gliding. The unique double-row lacing system let us widen or narrow the up- per for a universally perfect fit.
Breathability: 3.0 The tightly woven synthetic and leather upper is more durable than breathable. Our feet felt clammy at the end of 10-mile hikes in Colorado.
Durability: 4.0 The rubber toe and heel caps and suede toebox held up well to scree fields in Death Valley.
Traction: 3.8 The Vibram sole excelled when we were scrambling up Thimble Peak in Death Valley. The 3mm to 5mm lugs are shaped like tiny horseshoes, providing great hold on soft terrain.
Overall: 3.8
Columbia Peakfreak XCRSN XCEL OutDry
$110; 1 lb. 10 oz.; columbia.com
Why we like it: It has the most support of any shoe in the test.
Support: 4.2 The stiff midsole's plastic shank is the longest (at 4.25 inches, it runs from heel to ball) and thickest (tied with Oboz) in the lineup—giving this shoe enough support to handle hikes with a 40-pound pack.
Comfort: 3.0 "Good, not great," was the consensus among our testers, most of whom felt that the shoes needed more cushion. Best for average feet.
Breathability: 4.5 We were surprised by the breathability of the proprietary waterproof membrane on warm- weather hikes in California. But our feet overheated on dayhikes when the mercury hit 90°F and above.
Durability: 3.2 The TPU and mesh upper only showed light scuffing after months of testing, but the midsole started to show wrinkles after just 80 miles.
Traction: 3.5 The multidirectional lugs gripped on dry terrain, but their shal- low depth (3mm) proved inferior in muddy conditions.
Overall: 3.7
Learn why Gore's Surround technology breathes so well at backpacker.com/surround.