Hydration through Hell: How the CamelBak changed the way we drink
Thanks to a 100-degree bike ride and some innovation push from desert-stationed soldiers, the CamelBak permanently changed the course of hydration history.
Heading out the door? Read this article on the new Outside+ app available now on iOS devices for members! Download the app.
In 1989, Michael Eidson decided to ride through hell.
At least, that's how the Wichita Falls, Texas, road bike race advertised itself.
In 1982, the town's local bike club conjured up an idea to celebrate their centennial birthday: 100 miles in 100-degree heat in a toast to 100 years. They dubbed it the Hotter'N Hell Hundred.
Before the race, Eidson, an EMT, stood over his bike, scratching his head and contemplating the brutal course's hydration demands. A bike frame can only accommodate so many bottles. And the mortal peril involved in unzipping a backpack mid-ride just doesn't jive with someone trained in emergency medicine.
So he pinned a tube sock to his jersey and dropped in an IV bag full of water, puckering shut the over-shoulder tube with a clothespin.
The contraption made him a first-glance laughingstock at the race, but second takes started changing minds. Pretty soon friends were calling in orders, and he started manufacturing more of them at home, fashioned out of purple plastic (his wife's favorite color), ordered special from a blood bag manufacturer.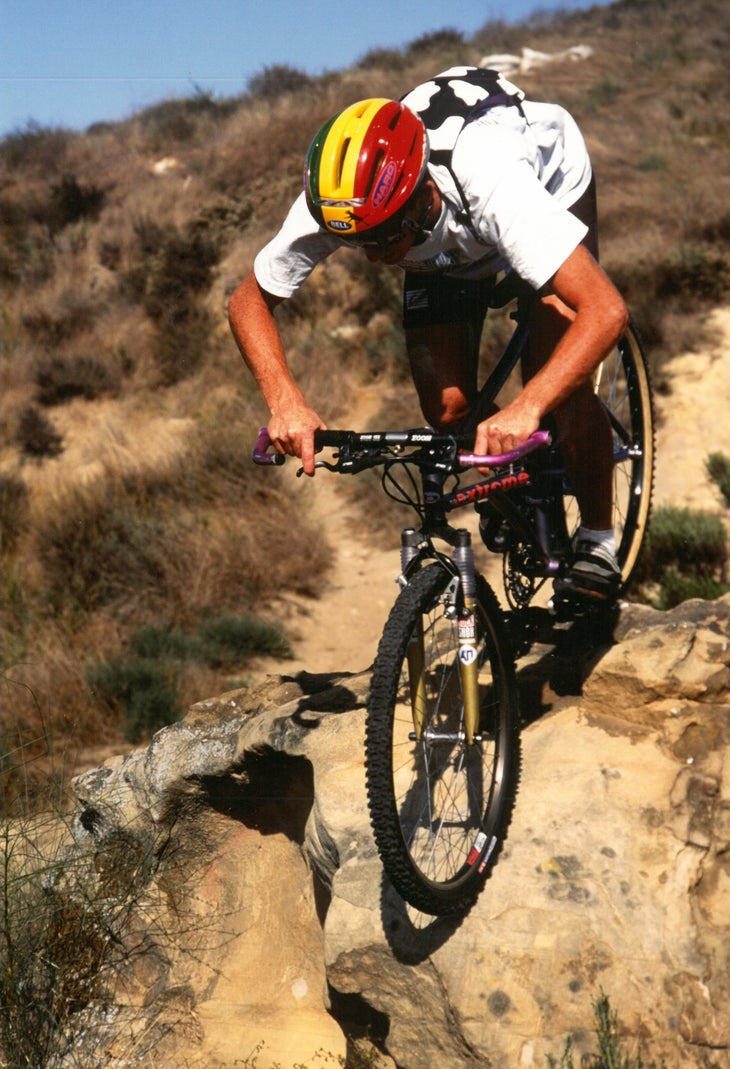 Business started to pick up, and the man to go the distance was motorcycle sales rep Jeff Wemmer. A low budget kept him sleeping under the stars most nights as he traveled around the country, bike and merchandise by his side.
The product shape shifted over time: reservoirs got bigger, packs grew pockets, and the plastic became blue instead of purple, but some of the most interesting innovations grew from necessity a little more serious than convenience or color preference.
In 1991, Soldiers started carrying CamelBaks with tubes wrapped in black electrical tape into Gulf War deployments. Desert warfare meant frequent canteen drinking, a two-handed maneuver in a landscape where moving your gaze or your trigger finger could spell death.
Wearable hydration quickly replaced clunky bottles, and CamelBak now supplies hundreds of thousands of reservoirs to the U.S. military annually as well as providing bite valves for both NASCAR drivers and NASA astronauts. The legions of gear testers turned out to be a good thing for recreational hikers and backpackers.
"Unsurprisingly, the military has the most extreme demands you can place on a product in terms of performance and durability," said Jon Austen, Sr. Director of Product Management.
Aside from durability, there are plenty of tech features that give hikers cause to thank their troops. For one, CamelBak packs' strap management system was born of soldiers' concern about loose straps getting caught in vehicle doors, endangering their lives during combat. The external port, which makes water treatment easier on the trail and refills faster during adventure race aid station stops, was originally created so troops could "buddy fill" instead of wasting time removing and refilling their own reservoirs.
Originally designed for mountain bikers, CamelBak's Mule hydration pack started to catch on with hikers and backpackers in the late 90s when it moved out of bike shops and into venues like REI and general outdoor specialty shops. Now, hip belts, multi-tool pockets, and even a Low-Rider pack designed to balance the reservoir's weight over the hips for better back support cater specifically to fast-packers.
In their nearly 30 years of history, CamelBak packs have made the difference between life and death on fronts beside hydration. U.S soldiers have reported CamelBaks stopping bullets and breaking otherwise spine-shattering falls, and kayakers have reported empty reservoirs buoying them to the surface after a roll. A new mountain biking impact protector comes with a plate designed to protect your back for falls at up to 60 miles per hour.
Need to get through hell? Take something that was designed for the job. 
This story was written as a collaborative effort between CamelBak and Backpacker Magazine's content specialists. Featured content is advertising material and does not reflect the opinion of Backpacker Magazine's editors.