How to Take Your Family Camping on a Budget With Rental Gear
No gear? No problem. Rental programs make camping with kids affordable.
Heading out the door? Read this article on the new Outside+ app available now on iOS devices for members! Download the app.
Camping season is among us, folks. It's time for getting your kids hooked on the smell of campfires and burnt marshmallows, playing in the dirt, and stargazing. But what's a family to do if they don't own the essential gear, much less the extra stuff that makes car camping with kids doable? To avoid spending hundreds (if not more) dollars at the local outdoors store, consider renting gear. Renting is also a great way to test gear before investing in items that could last your family through years of adventures. Bonus: some retailers even apply the rental fee to a full purchase if you fall in love along the way.
Where to Start Looking for Rental Gear
Many outdoor retailers like REI and EMS rent camping gear. Contact your local shop ahead of time for details on inventory, pricing, and reservations. Some rent items a la cart, and some offer ready-to-go packages with everything you need. If you live in a college town, check out the school's gear closet. Many university outdoor programs rent equipment to the general public—usually at unbeatable rates.
Here are some of our favorite rental programs:
• Arrive outdoor company recently partnered with Reserve America. The partnership allows families to reserve campgrounds and the gear they need at he same time. (When you book a site on Reserve America, there will be pop ups offering rental gear for your trip via Arrive.)
• United By Blue's "Get Out of Town," where Philadelphia-based renters can reserve and pick up what's called a "Crew Camping Kit Rental." It includes everything from the basics—a four-person tent, four sleeping bags, and four sleeping pads—to a cooler, tea kettle, wash bin, and Dr. Bonner's All Purpose Cleaner. ($380 for a 3-day rental)
• Gearo, a Colorado-based network that streamlines the rental process by allowing consumers to search availability for all shops in their area by activity, so you can find exactly what you're looking for at the best price.
• Some online retailers will ship rental camping gear anywhere in the U.S. We love Outdoors Geek's "Family Camping Package" that includes the basics, plus a stove and cookware for four, a camp table, and four camp towels and washcloths. ($234 for 1-3 days)
• Xscape Pod will deliver a ready-made kit to your door by an employee who can show you how to use the gear before you head out. Their Campsite Concierge service will even pick out campsites just for you. ($240 for a Pod for 4 for 3 days)
• LowerGear Outdoors out of Arizona rents camping gear by category, like "Sleeping Gear" or "Camp Lights and Lanterns," and will also ship rental items anywhere in the U.S.—which includes your home or destination. ($299 for a Family Camping Package for Four for 3 days)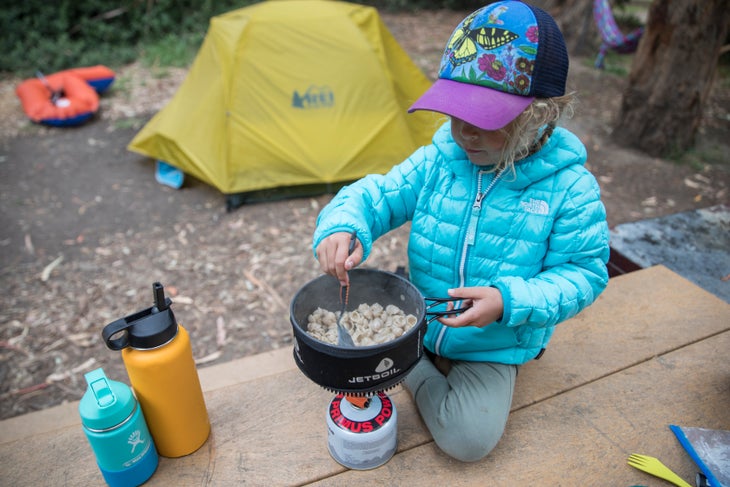 Family Car Camping Packing List
Even choosing the right rental package can be confusing for parents planning their first family outing. Follow this gear checklist to leave nothing behind.
Sleeping
– Tent with rainfly 
– Tarp or footprint to go under the tent
– Mallet for tent stakes (or use rocks found in campground)
– Sleeping pads for each person, or a double sleeping pad for a parent and child (couples with a baby could get by with two individual sleeping pads next to each other)
– Sleeping bags 
– Blanket for extra warmth on colder nights
– Pillows, if desired (plus your kids' favorite stuffies and blankies)
Eating and Drinking
– Cooler with ice and food
– Water cooler/container
– Camp stove with fuel (can also use campsite fire rings with built-in grills)
– Matches or lighters (bring two)
– Firewood and kindling, often sold in campgrounds by camp hosts
– Cookware (you can use pots, pans, dishware, cups/mugs, silverware, spatula, cooking spoons, etc. from your home kitchen)
– Eating utensils
– Paper towels
– Trash bags (one for every day of camping)
– Dish towel and sponge
– Camp soap
– Tarp and guyline for rigging shelter over a picnic table in foul weather or for a sun shade
– Water bottles or reservoir
Clothing (pack the following for each child and adult)
– 1 pair pants
– 1 pair shorts
– Underwear/sports bras
– 2 pair socks
– 2 shirts (plus one extra for kids under 10 because of spills, etc.)
– Sweatshirt/fleece
– Baselayers/long underwear (can double-up as sleepwear)
– Warm jacket
– Rain jacket
– Beanie
– Sun hat
– Gloves
– Camp shoes (slip-on for easy on and off in and out of the tent)
– Hiking shoes and/or water shoes
– Daypack
– Sunglasses
Toiletries
– Toothbrush
– Toothpaste
– Sunblock
– Insect repellent
– Hand sanitizer
– Toilet paper
– Personal towels/washcloth
Extras
– First aid kit
– Wallet and cell phone
– Maps 
– Campsite reservation information  
Family-Friendly Optional Items
While rentable family packages cover the essentials, a successful and kid-friendly camping trip requires some creature comforts. Here's my list of out-of-the-ordinary items to bring from home, buy, borrow, or rent to keep everyone happy:
– Games. Imaginative play in the dirt and with rocks and sticks is great, but bringing games—actual games; leave the electronics at home—boost the fun in camp. Bringing my kids' favorite toys from home, like Lego sets and Pokemon cards, has come in handy while adults cook dinner, or while waiting out storms in the tent.
– Camp chairs. Just about every frontcountry campground has a picnic table, and some have tree stumps for sitting. But having camp chairs—and better yet, kid-sized camp chairs—can ensure everyone's comfortable when playing games and sitting around the campfire.
– Mugs with lids. Handing a little one a mug of hot chocolate on a cold morning, or anytime of day, always brightens the mood. But having them spill it on themselves is a drag (especially in bear country). This is where mugs with lids come in very, very handy.
– S'mores! 'Nuff said.
– Kids books. Having children's books can entice little ones to crawl into sleeping bags and snuggle up with Mom or Dad, and are a nice way to wind down after a long day outdoors.
– Pillows, blankies, and stuffies. Speaking of snuggling up, bringing your child's favorite pillow, blankie, or stuffed animal (or all three) can make the transition to sleeping in a tent a lot easier for kids.
Happy camping!