How the Garmin fēnix 6 Series Makes You a Better Backpacker
Stay more present on the trail with the features on the latest watch from Garmin.
Heading out the door? Read this article on the new Outside+ app available now on iOS devices for members! Download the app.
Once upon a (not so long-ago) time, the brains of our backpacks were filled with a slew of electronics. A handheld GPS. An emergency beacon. Maybe an iPod. A watch on your wrist. And probably a power bank—even a solar panel—to charge it all up on longer trips. For weight-conscious backpackers (aren't we all, to some degree?), that mess of computer chips, individual batteries, wires, and plastic is a maddening failure of consolidation.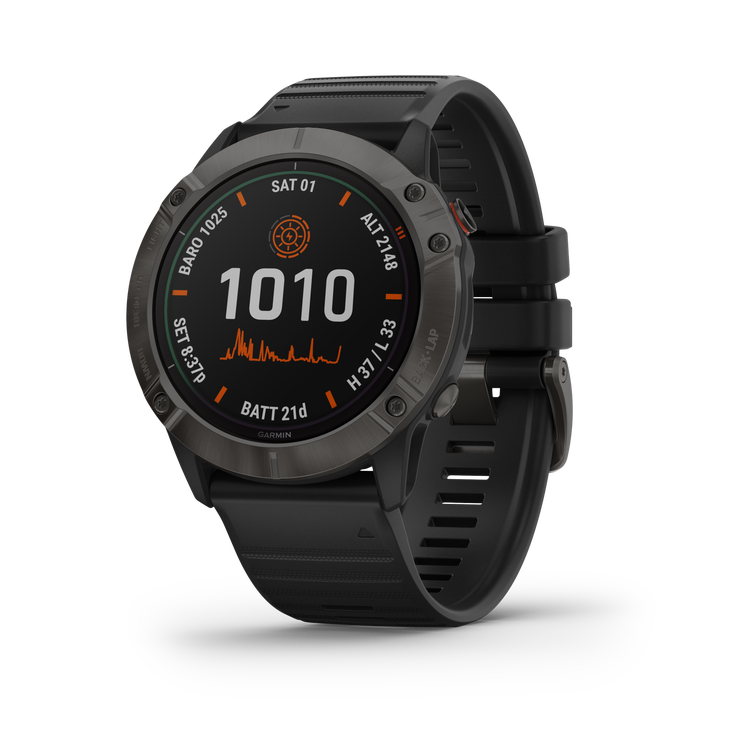 Thankfully, we don't live in those times anymore, which means backpackers can head into the wilderness with a single wrist-mounted supercomputer like the Garmin fēnix 6 Pro capable of navigating, entertaining, increasing efficiency, and even keeping you safe—all without a charging cable in sight. The latest installment of the fēnix line is crammed with so many features, ­sensors, and smart software, it's a miracle it hangs lightly enough from your wrist to be forgotten as you head down the trail.
Topo Maps within Arms' Reach
A GPS unit is only as good as a hiker's ability to reference it. While a handheld unit with a big screen will always be easier to use when mapping and planning the day ahead and getting the big-picture, strapping a topographic map to your wrist so you can reference it as often as you need, makes staying on route far easier and more efficient. Loading the fēnix 6 Pro with topographic maps makes identifying nearby peaks, following the shores of water bodies, or picking the right direction at a trail intersection as easy as lifting your arm. The watch uses three global navigation satellite systems (the standard GPS satellite array, GLONASS, and Galileo) to give you a better location fix in challenging environments and weather conditions, so you always know exactly where you are.
Expertly Plan for Upcoming Climbs
Getting advance notice before the trail begins climbing or descending, seeing your progress toward the summit, and gauging the steepness of a trail can all help you plan your effort for the day. It becomes easier to choose the best place for a lunch break, where to tighten up your boot laces for a descent, and when to kick it into high gear for the summit push. The fēnix 6 gives you an easy-to-read profile of your day's mission. It shows you where you are on the climb and gives you data about how much more you have to go, as well as stats on your climbing rate.
Breathe Easy
Elevation is the silent killer. It's easy to forget that you drove from sea level to 5,000 feet and then started hiking even higher in a single day—at least until the headaches and exhaustion kick in. The Pulse Ox sensor in the fēnix 6 bounces beams of light onto your wrist to gauge how well your body is absorbing the oxygen in the atmosphere and how acclimated you are to the elevation. It simplifies decision making around how much elevation to gain and when you've gone high enough for the day.
Safety and Tracking
Nothing will ever replace a dedicated two-way satellite messenger (like the inReach® Mini from Garmin), but if your watch senses an accident (or you hold down a button to signal it), it will automatically send a message to your emergency contacts via the Garmin Connect app on your phone. Cell service is required, but if you're hurt or unconscious and are unable to call for help yourself, your watch could take over to keep you safe. You can also pair your fēnix 6 with an inReach device so your watch can display messages received on your inReach and send messages using its satellite communication technology. Plus, beyond sending a notification to your emergency contacts, you can trigger an SOS alert to contact the GEOS 24/7 emergency response team. 
No Charger Required
For those of us on seriously long trips, maybe the best part of the fēnix 6 is that even with all these features, you can go the length of the trip without needing to plug it in or lug along a heavy power pack or solar panel. By scrolling through the Power Manager page, you can see how individual sensors and tools are draining your battery and make changes on the move to trim as many juice-draining features as needed. For long missions, drop into Expedition Mode, which sips battery while still giving you quality GPS tracking, lasting for weeks. The result? The fēnix 6 Pro will last up to 14 days in smartwatch mode, 10 hours in GPS mode with music, and up to 48 days in Battery Saver mode.