How This Palm-Sized Device Saves Lives
A personal locator beacon could be the difference between coming home or not.
Heading out the door? Read this article on the new Outside+ app available now on iOS devices for members! Download the app.
The wilderness provides a type of solitude and connection that is nearly impossible to find in our regular daily lives. Part of the peace we find comes from the lack of cell service preventing email pings from disrupting the melodic sounds of nature.
But what happens if things go awry and you need help? As much as we love the occasional Type-II sufferfest of an adventure, no one actually wants to saw their arm off in order to save themselves from a canyon.
That's when personal locator beacons (PLBs) come in handy. A PLB is a satellite-linked device that sends SOS messages along with your location to rescue agencies. Unlike two-way satellite messenger devices, a PLB is simpler with a single alert button allowing users to retain their solitude (from the chatter of family and friends) while having access to a rescue team should the need arise.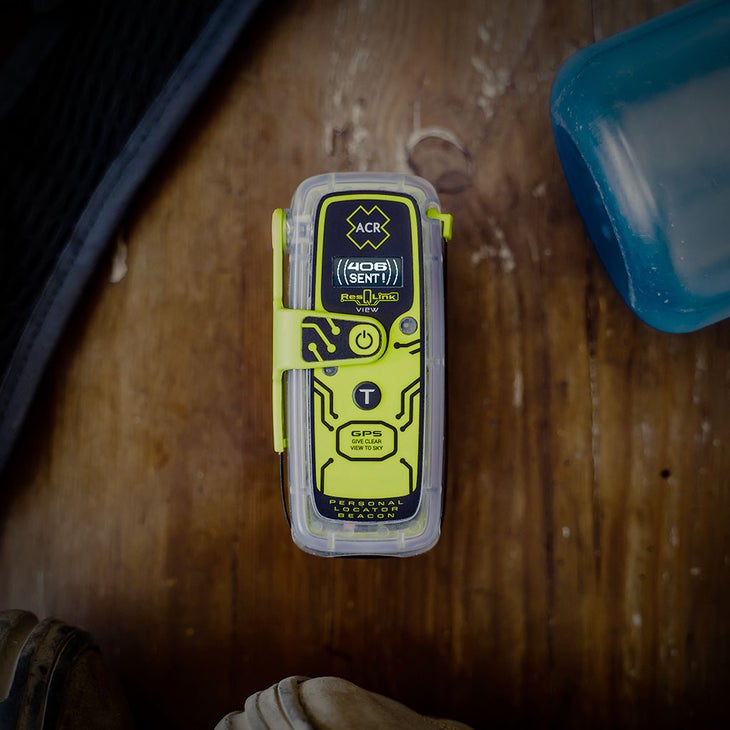 ACR is one company that makes PLBs where users don't have to worry about subscription fees because they communicate with government agencies for rescue rather than third party companies. Making a one-time investment that lasts for over 5 years may be the difference between returning home or getting stuck in the wilderness for good.
No one knows this better than Jim, a 72-year-old man whose four-week trip along Europe's Haute Route de Pyrenees was cut abruptly short. Jim and his two hiking buddies had just entered their second week of trekking and were descending from the Breche de Roland when Jim felt a telltale pain in his left shoulder that was spreading down his arm. Alarmed and aware of the potential implications, his two companions immediately triggered their ACR beacon. An hour later, a rescue helicopter arrived and loaded Jim inside. At this point, he had severe pain in his chest and struggled to breathe, so the doctors administered medication before swooping him off to the nearest hospital where he received an emergency life-saving treatment. It took his two friends over 24 hours to hike back to civilization: critical time that Jim never would have survived without his PLB.
Vanessa experienced a similar crisis while hiking the Mo'ole Valley Falls Trail in Hawaii. She and her friends were exploring a lesser known spur that spans seven waterfalls, but she slipped while crossing the slick terrain and tumbled down the face of the 60-foot waterfall. Her friends found her unconscious in a pool of water at the base. Cell service was nonexistent and they couldn't carry her out, so they turned on their ACR beacon. Unsure if it worked, they kept trying their cell phones, eventually getting ahold of Search and Rescue who informed them that the Coast Guard had already received their coordinates thanks to the PLB and a helicopter was only 10 minutes away. In the end, Vanessa had two broken wrists and 21 stitches across her face, but she is alive.
Emergencies happen to all of us, even experienced trip leaders. A group of eight Kiwis with the Wanganui Tramping Club set about a full-day hike in New Zealand's Ruahine Range but their leader Tracey soon broke her ankle after a run-in with a large tree root. Unable to bear weight, she and one other stayed behind while the other six people returned to the trailhead. After connecting with Search and Rescue on the phone, they were advised to trigger their ACR beacon due to a sketchy signal and an unclear line of communication. A helicopter arrived and three hours later, she was taken to the hospital where she was treated.
We have no way of knowing what would have happened to these three hikers without their beacon, but it surely wouldn't be good. Ditch your cell phone and earbuds on that next hike, but consider keeping a PLB tucked inside your pack for good measure. You never know when that little gadget will save your life.