Gear Review: Ultra Light Kettle Co. mKettle
A cool way to boil and carry water, all in one package.
Heading out the door? Read this article on the new Outside+ app available now on iOS devices for members! Download the app.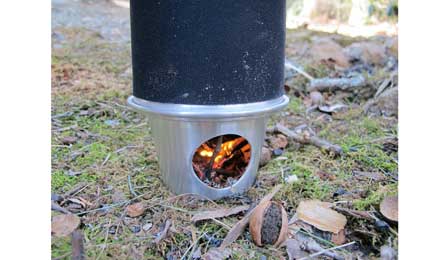 mkettle3_445x260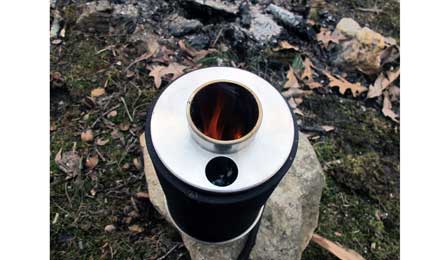 mkettle2_445x260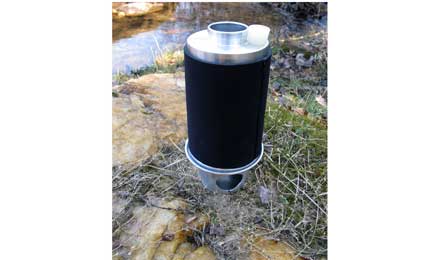 mkettle1_445x260
There are countless backpacker meals that require the simple task of boiling water, and many hikers haul stoves for this reason alone. The new mKettle by UK-based Ultra Light Kettle Company features a cool way to carry and boil water in the same container.
This "chimney" kettle design uses an opening through the middle to carry heat throughout the entire "inside" of the aluminum canteen. The odd canteen has a funneled hole, from top to bottom. Think of it as a long, vertical metal donut with a hole (See photo 2 and 3 above); the yummy part of the donut holds water.
First you make a tiny camp fire in the supplied fire base. (See photo 1 above.) The fire blasts up through the middle. The water is isolated and heated throughout the length of the kettle, and the flames come out the top.
The fuel can be anything from simple twigs to solid fuel bars (we tested wet-fire tinder) and alcohol burners (there's a hole on the side of the fire base for easy lighting). The twig burning method was incredibly fun during a three-day trip on the Santee River in South Carolina. I found that using a higher number of smaller sticks and twigs provided better results than going from small to large twigs, as it kept a consistent flame. The website states that it can take up to 10 minutes to get the 18 oz. of water boiling, and I averaged about 8 minutes at the beginning. (Compare this to 4 minutes and 9 seconds with a MSR Pocket Rocket on full blast, no wind.) Once you figure it out, it becomes easy to have water boiling in six minutes; the quickest we managed was 5 minutes 38 seconds using sticks.
The mKettle comes with a removable neoprene liner around the outside that did not burn or smolder, and helps insulate the kettle and keeps fingers from getting burned when picking up the hot kettle. A rubber stopper prevents spillage during transport and in camp, but do not use it when boiling water as you may have a missile! (Another cool part is that the stove base flips up inside the middle, and you can store your fire-making materials in there when not in use.) Bring a camp cup and bowl though, as the small hole does not make the kettle suitable for anything other than water. Small-mouth aside, many backpackers that enjoy unique camping gear, like my friend Bob in upstate New York, enjoy this chimney style kettle due to the small size and ease of use.
Update: 10-26-11 Also, check out Joe's review of the Boilerwerks Backcountry Boiler. another chimney kettle model.