The 4 Best Sleeping Pads of 2018
Snooze like royalty on these backcountry beds.
Heading out the door? Read this article on the new Outside+ app available now on iOS devices for members! Download the app.
Mountain Equipment Aerostat Down 7.0

Our take Short of packing a space heater, this pad, with its unmatched, 8.8 R-value, is your best bet for winter warmth (when paired with an appropriate bag, of course). It compresses to the size of a loaf of bread, which earned praise from one Alaska tester. "I need every cubic inch I can get in my expedition pack," he says, "and the warmth-to-bulk ratio on this pad is superb." Mountain Equipment rates it to -40°F; we didn't see any nights that cold, but our tester stayed cozy in single digits.
The details The warmth derives from 4.2 ounces of duck down packed into 72-inch baffles with interior walls that twist like DNA strands, preventing down migration. Extra credit: We found the included inflation sack, with narrower-than-most dimensions, to be more manageable than larger blow-up bags.
Trail cred "Closed-cell pads were my preference for winter trips, but this pad changed my mind," says our Alaska tester. "It's light and easy to inflate, even in cold weather when motor skills suffer."
$200; 1 lb. 4 oz.; 72.8 x 21.2 x 2.7 inches
Klymit Armored V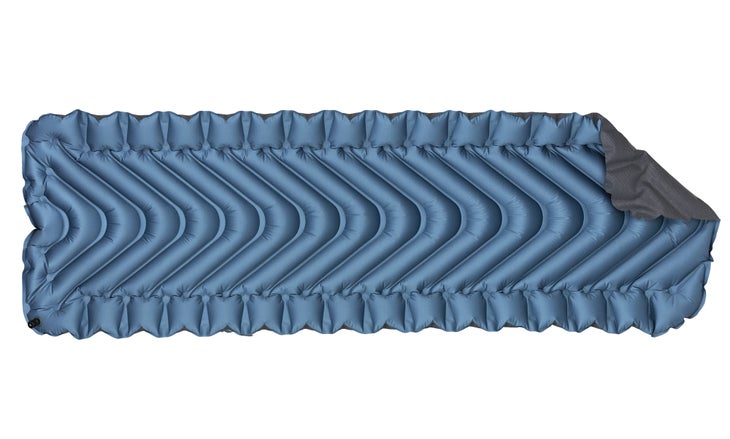 Our take Stargazers, cowboy campers, and everyone else who prefers nights al fresco: This one's for you. The base of this 2.5-inch thick Klymit pad has a 100-denier (not a typo) nylon base, armored with a layer of hexagonal resin plates. It was impenetrable: Our 6'2", 220-pound park ranger tester laid it out on a patch of rocks in Joshua Tree National Park that was too sharp to walk on barefoot—and he slept like a log. Downside: Security like this comes with a significant weight penalty.
The details The 50-denier nylon top fabric has four-way stretch, which our testers credit for give that felt more natural than letting out a bit of air. The pad is 23 inches wide—3 more than standard—which helps claim space in a multi-person tent, but may not pair well with some sleeping pad sleeves.
Trail cred "I like the 3.5-inch-wide side rails," says one tester. "I'm an active sleeper, and these keep me securely on the pad."
$200; 2 lbs. 14 oz.; 72 x 23 x 2.5 inches
Paria Outdoor Products ReCharge UL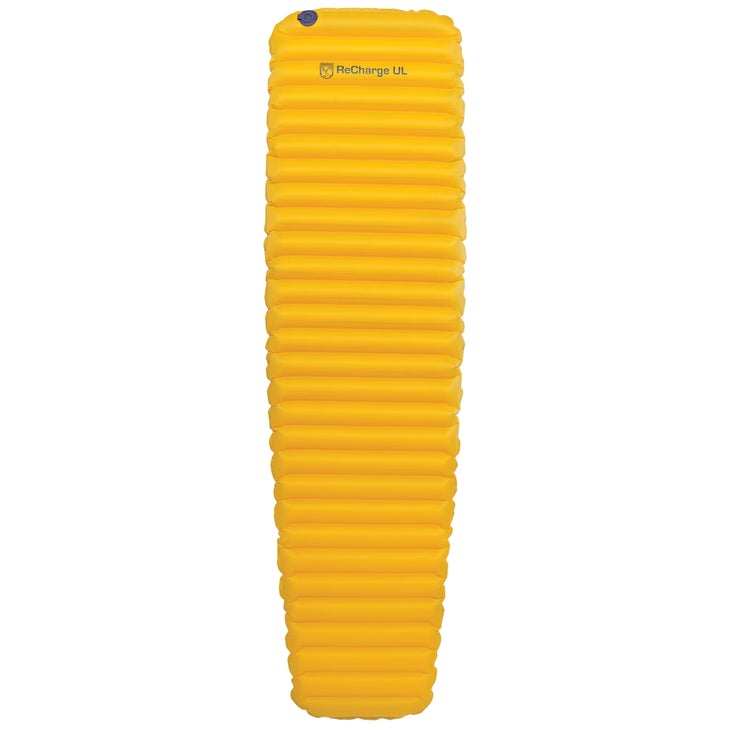 Our take As sleeping pads have gotten lighter and thicker over the years, prices have gone up commensurately. But if you just want a pad that's comfortable enough (2.5 inches of cushion) and light enough (1 lb. 4 oz.), this pad delivers. We used the ReCharge on treks in the Grand Canyon and the Rockies, and slept warm in the high 20s thanks to its microfiber insulation (R-value is 3.5). And the 40-denier ripstop nylon survived two trips with pad-puncturing teenagers.
The details A single valve helps offset weight and cost. Inflation is average for an air pad, and the valve cover folds back for fast, no-hands deflation. If you want more bed than the mummy shape offers, the ReCharge XL ($80; 1 lb. 10 oz.) is a few inches longer, wider, and thicker.
Trail cred "On an early-summer trip to Colorado's Huron Peak, temps dipped below freezing, but I slept well on the frozen ground," our tester says.
$70; 1 lb. 4 oz.; 20 x 72 x 2.5 inches
Exped MegaMat Lite 12
Our take No shame in wanting a princess-thick mattress. A 4.7-inch height and synthetic fill offer glamping-caliber cush in this pad. Designers bonded a single panel of insulation to the top and bottom of the baffles, resulting in full loft and a healthy 5.3 R-value. Just be prepared to carry the bulk. "I mistook the packed pad for my sleeping bag," one tester says.
The details Once you get the hang of it, inflation takes less than five minutes with the included air sack, and deflation is quick thanks to an oversized dump valve. Extra credit: We frequently used the MegaMat around camp like a Roman daybed, and the burly 75-denier polyester on the base never popped. It comes in two lengths and three widths.
Trail cred "I thought my camping days were done when I passed the halfway point of my pregnancy," said our tester after a trip to California's Calaveras Big Trees State Park. "But even at six months, I could sleep on my side with this pad. If it works for a picky pregnant woman, it'll work for anyone."
$219; 2 lbs. 2 oz.; 72 x 20.5 x 4.7 inches
OWNER'S MANUAL
Stay off the rocks. We seek them out to test, but even a ruggedized pad (like the Armored V) will last longer if you clear debris before hitting the hay.
To troubleshoot leaks, submerse your pad in water and look for bubbles or listen for hissing. Find a puncture? Deflate the pad, clean around the hole, and patch with repair tape.
If you can get an inflation sack compatible with your bag's valve, use it, especially with insulated models. Moisture from your breath can build up inside the pad, compromising loft and causing mildew.