Fall/Winter Gear Guide 2012: Food
Fuel the biggest cold-weather adventures.
Heading out the door? Read this article on the new Outside+ app available now on iOS devices for members! Download the app.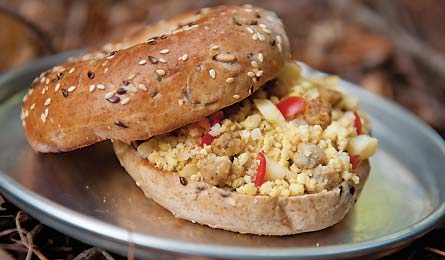 Three Sisters Scramble (Photo by Andrew Bydlon)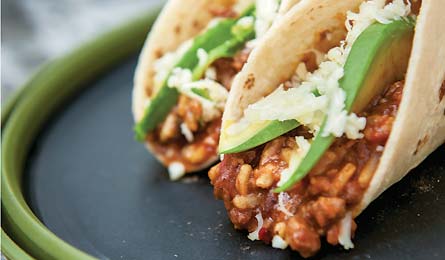 Fiesta Tacos (Photo by Andrew Bydlon)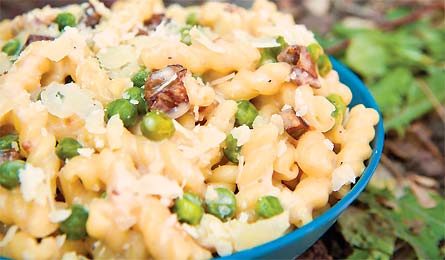 Carbonara Gemelli Pasta (Photo by Andrew Bydlon)
Breakfast



Hungry Hikers Three Sisters Scramble

Packed with sausage, potatoes, onions, and cheese, this double-serving, egg-based scramble is hearty enough as a meal on its own, but also works well as a protein-packed bagel or tortilla topper. "Fresh from the kitchen" is how one tester described the texture of the sausage and eggs, adding, "let it rehydrate for a few minutes longer than the recommended four minutes to avoid dry, spongy-textured potatoes." $6 (2 servings); hungryhikers.com



Adventure Appetites Sleeping Bag Hashbrown Burrito

Warm up chilly mornings with this hearty egg-and-potato wrap. The ship-to-you meal company combines dry goods (dehydrated hash browns, eggs, and veggies) with relatively shelf-stable staples (cream cheese, tortillas, butter, and fresh salsa) for meals that balance low weight with well-placed bursts of freshness. "Opening the package, I was pulling out one surprise after another—there's real butter and a packet of Tapatío hot sauce for a warming kick," says one tester. Note: Follow "use or freeze by" directions so fresh ingredients don't spoil before you hit the trail. $8 (1 serving); adventureappetites.com
Mazama Bar Hazelnut Mocha Bar

Fuel chilly alpine starts with this coffee-flavored, all-natural meal-replacement bar. "At 410 calories, it's high-powered, and the hefty dose of protein [10g], fiber [6g], and fat [21g] kept me full for hours," says one tester, adding "if it freezes solid, you can still bite into it." The subtle coffee flavor makes the Hazelnut Mocha bar a natural fit for morning, but testers also loved the Chocolate Banana and Wild Berry flavors. $4 (1 serving); mazamabar.com


Enertia Trail Foods Fiesta Taco

This beef-flavored soy, rice, and bean mix cooks in the bag in five minutes with just one cup of hot water. "It's meant to eat as a taco or wrap, but it's hearty enough to eat out of the bag," says one tester who added sliced avocado and cheese. "Mix-ins aren't necessary, but they boost the fat and calories, which I appreciate when it's cold." $5 (1 serving); trailfoods.com
Journey Bar Pizza Marinara

Savory energy bars are hit-or-miss among our testers, but this recipe won over a majority with a blend of tomato, basil, oregano, and red pepper flavors. "It gets more nuanced with every bite, and when I need a salt fix, I love not having to resort to high-protein foods, which can increase dehydration on winter trips," says one tester. $2 (1 bar); journeybar.com
Wild Squirrel Cinnamon Raisin Peanut Butter

A single-serving packet of this flavored peanut butter has 180 calories, and 77 percent of them come from healthy fat, which will help boost your body's heat production. Real raisin chunks are sweet and add texture for spreading on bread, topping fruit, or mixing into oatmeal. Another favorite flavor: almond-based Vanilla Espresso. $1 (1 serving); wildsquirrelnutbutter.com
Dinner/Dessert
Adventure Appetites Carbonara Gemelli Pasta

Rich and savory applewood-smoked bacon—along with fresh Parmesan, butter, and garlic—helped catapult this pasta dish toward the top of our testing lineup. "The bacon chunks are salty, fatty, and probably the best I've ever encountered in a packaged meal," says one tester. Prep requires two pots, a vessel for rehydrating peas, and some smelly garlic slicing, but the cleanup is worth it, say testers, who raved about the Alfredo-sauce-based comfort food on cool, rainy nights in the Colorado backcountry. $9 (1 serving); adventureappetites.com
[Editors' Choice Award]

Bear Creek Country Kitchens Dry Soup Mixes

Plenty of veggies, winter-worthy servings, a wonderfully rich texture, easy-prep cooking, and 15 flavorful varieties earned these value-priced soups an Editors' Choice Snow Award. $4 (four 2-cup servings); bearcreekcountrykitchens.com
Hungry Hikers Chicken Pot Pie

With a buttery mashed potato base, real chunks of chicken, and a medley of veggies that rehydrated to their original texture, this meal was a winner with testers. "It tastes like real food—it's in a totally different league than other pre-packaged pot pies," says one. To soften the veggies and meat and fully thicken the gravy requires at least 10 minutes of simmer time; pack sufficient fuel. $9 (2 servings); hungryhikers.com
Backpacker's Pantry Crème Brulée

When you sprinkle the caramel-flavored sugar topping on this custard-based sweet, it creates a crust that you can crack with a spoon. "Like a real brulée!" say testers. It mixes in the bag with cold water, so in a pinch it's an anytime energy booster. $6 (2 servings); backpackerspantry.com
Backcountry Bartender

Upgrade chilly evenings—responsibly!—with packable booze and brews.
Stacked Wines Chardonnay, Merlot, and Pino Grigio

Four classy cups stack vertically and snap apart into individual containers pre-filled with fruity chardonnay, complex merlot, or crisp pinot grigio. "A classy 'glass' of wine is the perfect end to a long trail day, and the shatterproof plastic cups reseal, so they're perfect for storing leftovers," says one tester who recommends the warming red. $15 (750 ml); stackedwines.com



Clif Family Winery Climber Pouch Wines

This bulk-style wine bag packs a liter and a half of bold cabernet sauvignon or chardonnay in a 1.4-ounce sack that saves you 1.75 pounds of bottle weight. The push-button dispenser also keeps air out, so your wine stays fresh on extended trips. $17 (1.5 L); cliffamilywinery.com
Kru 82 Vodka

Sealed in lightweight, water-bottle-style stainless-steel bottles ranging in size from a 1.75-liter jug to a 200-ml flask stand-in, this crisp vodka is perfect for trailside martinis or cocktails. Reuse the shatterproof bottle for water to hydrate post-party. $6 (200 ml); kru82.com
Oskar Blues Deviant Dale's India Pale Ale

Dale's hit the backcountry-beer bull's-eye by pairing this 8-percent brew with a 16-ounce, tall-boy-style can. "With twice the alcohol of other beers and a bit more to sip on, I could carry one Deviant Dale's instead of a sixer of lesser brew," says one tester. $13 (4-pack); oskarblues.com
Shot Pak STR8UP Spirits

Packing one of these 1.7-ounce liquor pouches makes it easier than ever to mix a hot-buttered rum, Irish coffee, or brandy toddy to sip campfire-side. Testers report that these liquors are stiff enough to mix, and smooth enough to serve as a martini. All six varieties of the straight stuff are good, but stay clear of Shot Pak's mixed shooters, which testers didn't like. $3 (50 ml); shotpakinc.com
Widmer Brothers Brewing Hefeweizen mini-keg

On winter trips when pulling a sled makes it possible to tote luxe cargo, the party-sized capacity of this mini-keg (equivalent to 10-plus pints) is perfect for hut trips. The pourer dispenses a perfect head for every cup of the unfiltered, American-style hefeweizen. The only catch: You have to finish the brew within eight hours, before it goes flat. Bring friends. $22 (5 L); widmerbrothers.com
Energy Snacks
Honey Stinger Lemon Organic Stinger Waffle

These moist, 160-calorie, wafer-and-honey sandwiches have been a tester favorite since their 2010 debut, and the newest flavors, Lemon and Chocolate, scored high marks. "The citrus is refreshing, and the chocolate goes great with PB," says one tester. Pro: They don't freeze. Con: They crumble unless packed carefully. $1.39 (1 waffle); honeystinger.com
Lärabar über

Testers loved the chewiness and high fat content (16 g) of Lärabar's nut-packed lineup of sweet and salty übers, which are made without added sugar. "The Bananas Foster tasted like my grandma's banana bread," says one tester. Other flavors include Cherry Cobbler, Apple Turnover, and Roasted Nut Roll. $2 (1 bar); larabar.com
Navitas Naturals Blueberry Hemp Superfood

Our allergy-sensitive and vegetarian testers loved these all-natural nuggets, which are packed with chia, sesame, sunflower seeds, and exotic fruits that add vitamins and nutrients. "Popping a few of these bites offered about 100 calories, enough to stay fueled for an hour of tough climbing," says one editor. $9 (8-serving bag); navitasnaturals.com
Sharkies Original Organic Sports Chews

For a pick-me-up, testers reached for these gummies that stayed soft even in freezing temps. "I love the tang," says one tester, adding that eating a handful (each piece is about 10 calories) didn't make him thirsty like larger, stickier chews do. $2 (1 serving); sharkiesinc.com