Editors' Choice 2009: The Best Backpacking Gear of the Year
The best new gear. That's what earns our seal of approval, and only after months of hardcore testing. This year, we subjected dozens of products to heinous trail conditions from Alaska to Wales. In the end, 18 survived to take our top honor.
Heading out the door? Read this article on the new Outside+ app available now on iOS devices for members! Download the app.
We have a new high bar in gear testing: Wales in November, where the spectacularly wet and windy weather is matched only by the magnificently craggy scenery. From the Pembrokeshire coast to the peaks of Snowdonia, we carried our Editors' Choice finalists into the worst Welsh conditions—after months of testing on trips from the Sierra Nevada to Spain. The damage: three tents destroyed, two leaky boots … and one of the strongest groups of winners ever.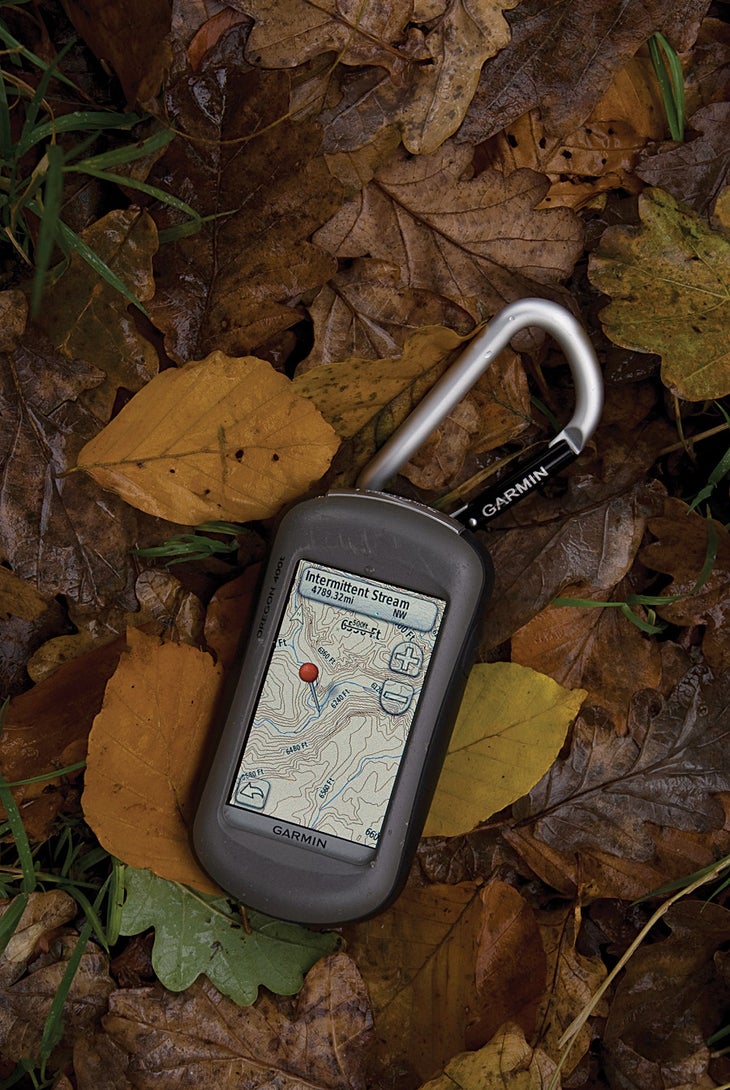 Garmin Oregon 400t
Meet the ultimate GPS: simple enough for beginners, wonky enough for experts, powerful enough for all.
In the old days, say 2007, even the most basic backcountry GPS units challenged novices with complex menus. Not the Oregon 400t. It uses universal icons and a three-inch touch screen to simplify the user interface. All of our testers, including two GPS newbies who served as "controls," were navigating within minutes of turning it on. In just half an hour, each of us had mastered the essentials. But idiot-proof operation is just the start. Expert users will geek out on preloaded topo and 3D maps (United States or Europe), elevation profiles, and trip stats like average pace and hike time. In Wales's Brecon Beacons National Park, where trails literally vanished in the foggy moorlands, we navigated with help from the electronic compass and altimeter. Clipped to our tester's pack, the rugged body survived constant rain and ran 16 hours on two AA batteries.
Thanks to HotFix technology, which predicts your location before the GPS is even turned on, the Oregon 400t often locked onto satellites faster than the competition—even other Garmin models. The onboard memory can store up to 20 tracks and 1,000 waypoints. Upload data to a PC or Mac and into your map software, Google Earth, or website. Or wirelessly share info with other Garmin Oregon or Colorado owners.
And it's not just a hiking tool. Fitness buffs can link the Oregon 400t to a Garmin heart-rate monitor and bike-cadence sensor. Geocachers can upload the locations of thousands of caches. And none of it takes more than an outing or two to master. $599 ($459 street price); 7 oz.; 2 AAs; micro SD expandable memory.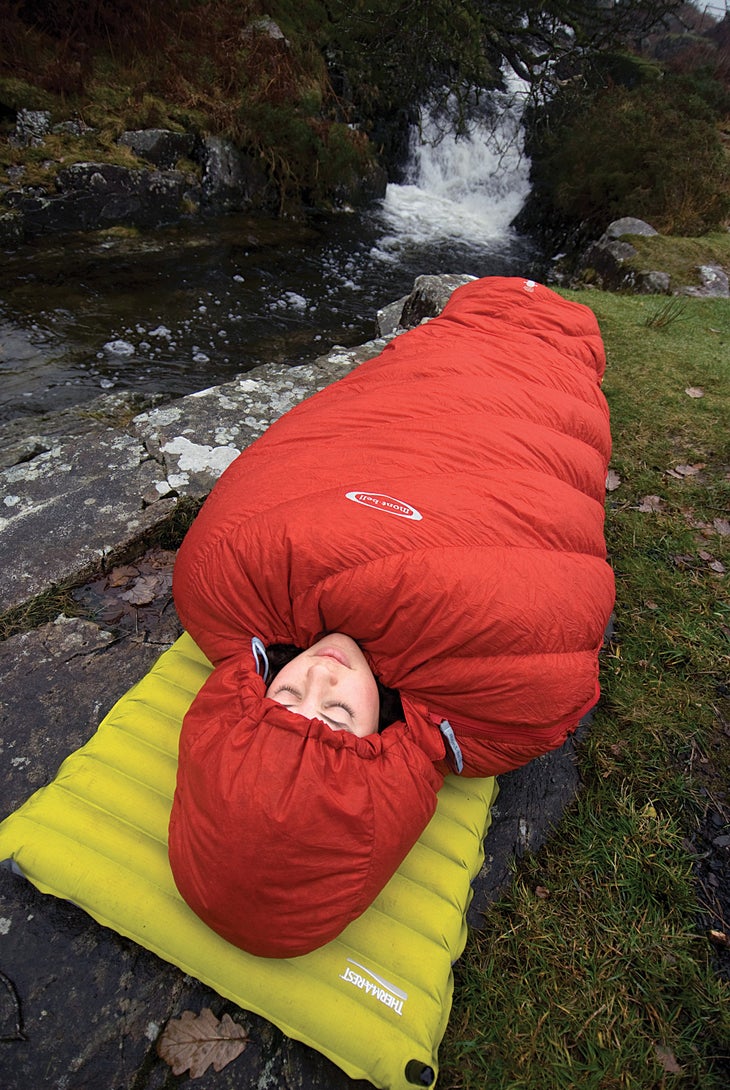 MontBell UL Spiral Down Hugger #1
Ultralight meets ultra-comfortable in this roomy bag.
We've tested plenty of two-pound, 15°F sleeping bags, and we know this to be true: They're either crazy expensive, crazy narrow, or crazy to claim a 15°F rating. Enter this precedent-setting 800-fill down mummy, which is warm, spacious, and affordable. How? It starts with a continuous spiral baffle that drapes insulation around your body more snugly than standard horizontal chambers, while also adding some stretch without the weight and cost of extra seams. Next, the fabric is cut on a diagonal, which enhances flex. The stretch doesn't compare with MontBell's heavier Down Hugger line, which actually has elastic built in, but testers were unanimous: This bag felt roomy to everyone—despite different body shapes—but it never had excess space to heat.
Every other detail is dialed. The hood closes easily around the face, and the zipper runs snag-free despite the wispy 12-denier shell fabric. The DWR-treated microfiber cover proved water resistant enough to keep the down dry in soggy Wales. The fabric breathed well in the humid conditions, and showed no weakness despite the ultra-thin construction. The minimalist design includes no frills—like stash pockets—but testers slept too soundly to complain. The bag packs down to minus-football size, and comes in short (5'6"), regular (5'10"), and long (6'4"). $299; 2 lbs. (reg.); 15°F.
Mammut X-Zoom
Forget brightest or lightest—get the most versatile headlamp. Ever.
Yes, you could have a drawer full of headlamps that do everything the X-Zoom does—but then you'd have to pack a drawer full of headlamps. This groundbreaking model adjusts from broad flood to tightly focused spot with a twist of the wrist, so it does it all—from nailing a trail sign a hundred yards out (on maximum brightness) to lighting a book without blinding you (on the lowest, most diffuse setting). The X-Zoom tilts easily and securely, and rides in stable style thanks to a very lightweight bulb housing and wide head strap. Battery life is superior: Our test model burned for 36 hours straight on high beam using alkalines. It weighs a few ounces more than some hikers will want for fast-and-light trips, but for trekkers who deal with alpine starts, midnight finishes, after-dark cooking, camp chores, and tent reading—all on one trek—this is your lamp. $100; 7.3 oz with 3 AAAs.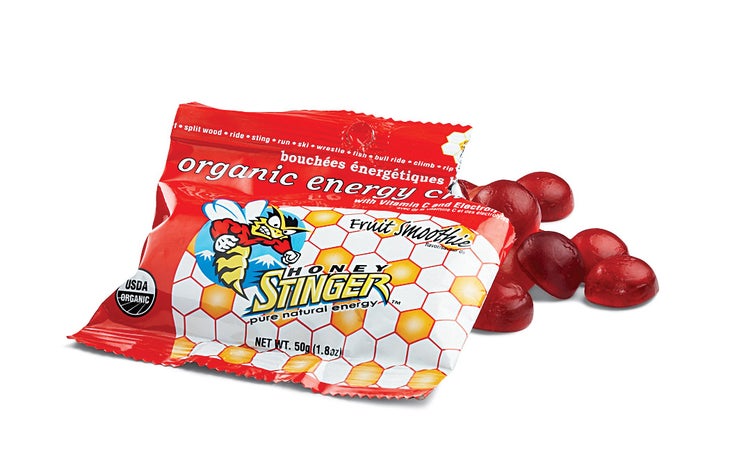 Honey Stinger Organic Energy Chews
Our favorite new fast snack proves that healthy can be tasty, too.
Okay, so there are energy gels that supply a longer-lasting kick and bars that pack more nutrition, but that doesn't matter if those snacks stay in your pack. In the real world—miles to go, tank on empty—flavor makes the fuel. And these gummi bear-like blobs beat all comers in the taste department. Not too sweet, not too salty, the two flavors burst with slightly tart cherry (Cherry Blossom) and a berry-citrus blend (Fruit Smoothie). Credit the use of organic honey and tapioca syrup, which supply carbs without the synthetic aftertaste of artificial sweeteners. And try to eat just one. Even editors who normally shun packaged snacks gobbled them up. Bonus: No gooey mess, no dry mouth. We'll stick with bars for meal replacement and gels for fast electrolytes, but as a midmorning boost, these 160-calorie (per pack) treats can't be beat. $1.89 per packet (or $22 for 12); 1.8 oz.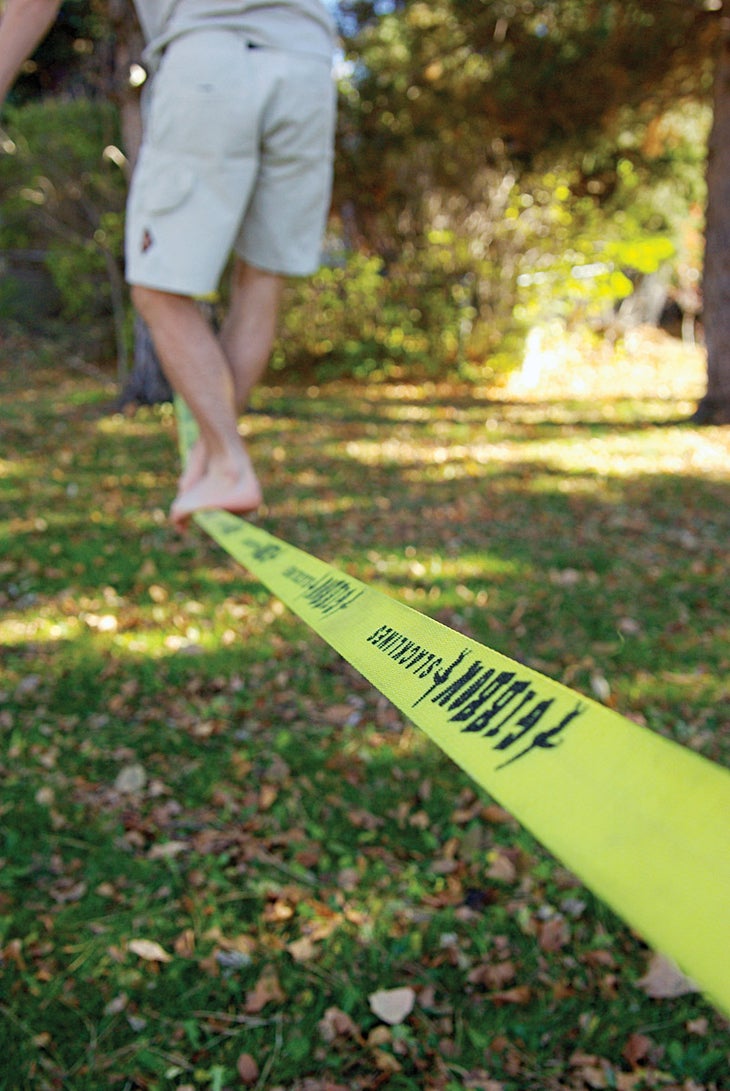 Gibbon Slacklines
Here's a cheap, crazy-fun way to build mountain skills.
Teetering across greasy shards of Snowdonian slate, we were glad to have spent time pre-trip improving our balance on this German company's new-age tightrope. Popularized by Yosemite climbers, slacklines are the best tool we've seen for building stability for steep or sketchy trails. They're also the most fun you and the kids can have in the backyard without marshmallow guns. Use the simple cam-and-loop system to string the webbing knee-high between two trees. Put one bare foot up and weight it until your leg stops quivering (the shakes are natural), then stand up and try to walk across. Price, construction, and setup are all top-notch, and Gibbon's two-inch-wide webbing beats the usual one-inch line, which requires a Yosemite climber's equilibrium to master. $79/$99 (15 meter or 25 meter).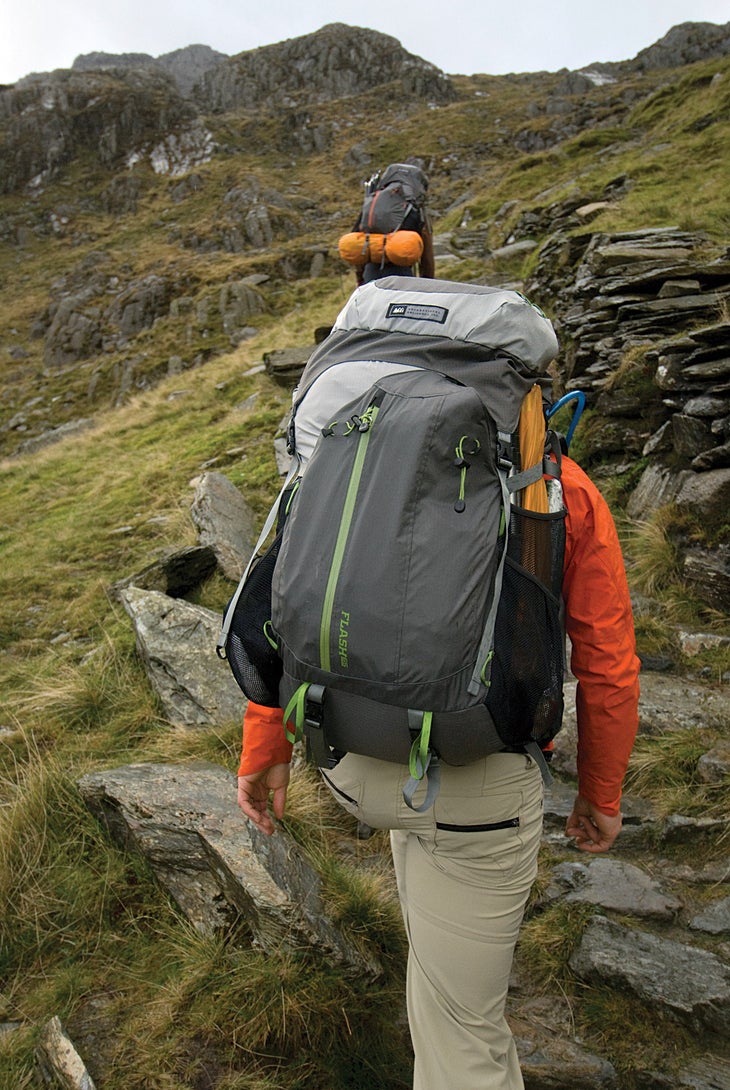 REI Flash 65
Want a one-pack quiver? Get this versatile lightweight.
Wrong question: Who should get this pack? Right question: Who shouldn't? Every tester who carried the REI Flash 65—whether for fast-and-light weekends or long-and-overloaded weeks—thought it worked perfectly for the job. And that's just the start of its versatility. Rough terrain ahead? A rigid plastic framesheet controls the load, and the back-hugging fit eliminates sway. Long day of trail striding? The wide hipbelt and shoulder straps wrap with gratifying comfort, and the broad backpanel provides welcome cushion and ventilation, thanks to a cover of mesh and foam.
The top-loading packbag (with floating lid) is deceptively large: In Wales, when one tester's pack didn't arrive with our baggage, another tester was able to compensate by overfilling the Flash with extra gear. "It swallowed everything without a hiccup," he said. And the storage options will please organizers and minimalists alike, as the pack has smart but unobtrusive details, like a large shove-it pocket, low-profile lashing loops, and hipbelt pocket—and the whole thing cinches down with quick-release straps for a balanced, streamlined load. The sweet price-to-performance ratio makes it appealing whether you're buying your first pack or tenth. Bonus: Hydration clips accommodate all major reservoir brands. $149; 3,966 cubic inches; 3 sizes each for men/women; 3 lbs. 2 oz. (men's reg).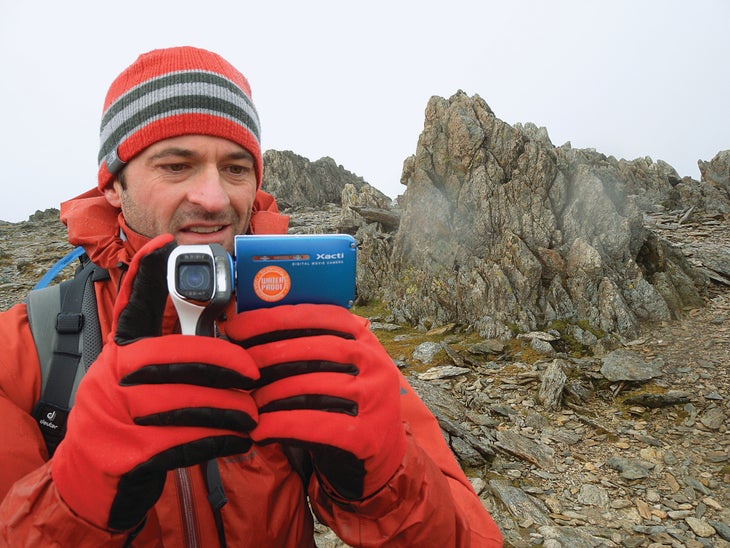 Sanyo Xacti VPC-E2
This light and totally waterproof camcorder changes the game for backcountry moviemaking.
You could spend all day trying to tell your friends what it's like to swim through The Jug, a slot canyon in Arizona's Salome Wilderness. But you would fail. It's just too awesome for words. So save your breath and show them. The Xacti survived the aforementioned swim (it's waterproof to five feet) and pounding rain in Wales, capturing quality video in conditions that fried a lesser unit.
We also like the Xacti because it's made for plug-and-play viewing—it shoots video in five web and TV formats (MPEG-4), with resolution up to 640×480 pixels (think YouTube, not Sundance). At home, connect the camcorder directly to your TV for instant gratification, or upload to your computer for easy sharing online or with your iPod. And the features and image quality are surprisingly good for such a rugged, lightweight, low-cost camcorder. You get a 5x optical zoom, a 2.5-inch swivel screen, and the ability to shoot 8-megapixel still photos without interrupting filming. The intuitive buttons are easy to operate even with gloves. One complaint: The rechargeable lithium-ion battery lasts only one to two hours. Budget for an extra battery or two ($20 each). $399 ($185 street price); 8 oz.; SD/SDHC expandable memory (up to 32GB)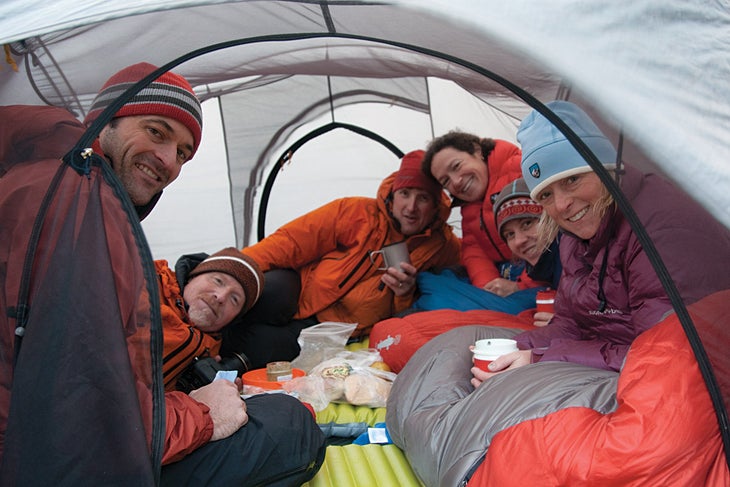 Sierra Designs Lightning XT 4
Four is not a crowd in this family-size featherweight.
Through the summer and fall, this shelter won plenty of fans on test trips from Colorado to Vermont. But then came the clinching moment in Wales. In a rain- and hail-blasted camp high on the Glyders—a sharply rising 3,000-foot range in Snowdonia National Park—with 40-mph gusts that knocked testers off their feet, seven staffers sat comfortably in the Lightning, playing cards and toasting the creation of an all-new tent category: ultralight and ultra-large.
At just under seven pounds, this three-season, freestanding shelter is as light as some two-person tents, yet it legitimately fits four adults (and offers palatial digs for two parents and kids). With a 49-inch peak height, even our tallest tester (6'6") could sit up—in a camp chair, no less—while we rode out that storm in Snowdonia. To trim weight without shrinking interior space, Sierra Designs developed an innovative hubbed pole configuration that yields a stable structure while using fewer inches of aluminum (it's a cinch to pitch after one practice round to master the asymmetrical design). But it's not size alone, as they say, that matters. Fully guyed, the Lightning survived gusts that would've shredded lesser shelters, and it didn't leak a drop in driving sleet and puddling rain. The 20-denier nylon all-mesh canopy saves ounces and enhances ventilation, making condensation a non-issue—even when we packed it full to capacity in humid conditions. Two big doors ensured fuss-free exits on that overcrowded game night. The two vestibules (totaling 27.5 square feet) proved spacious enough for cooking and storing boots, but backpacks stacked there blocked the entrance—our only gripe. $450; 92-by-95-inch floor; 6 lbs. 13 oz.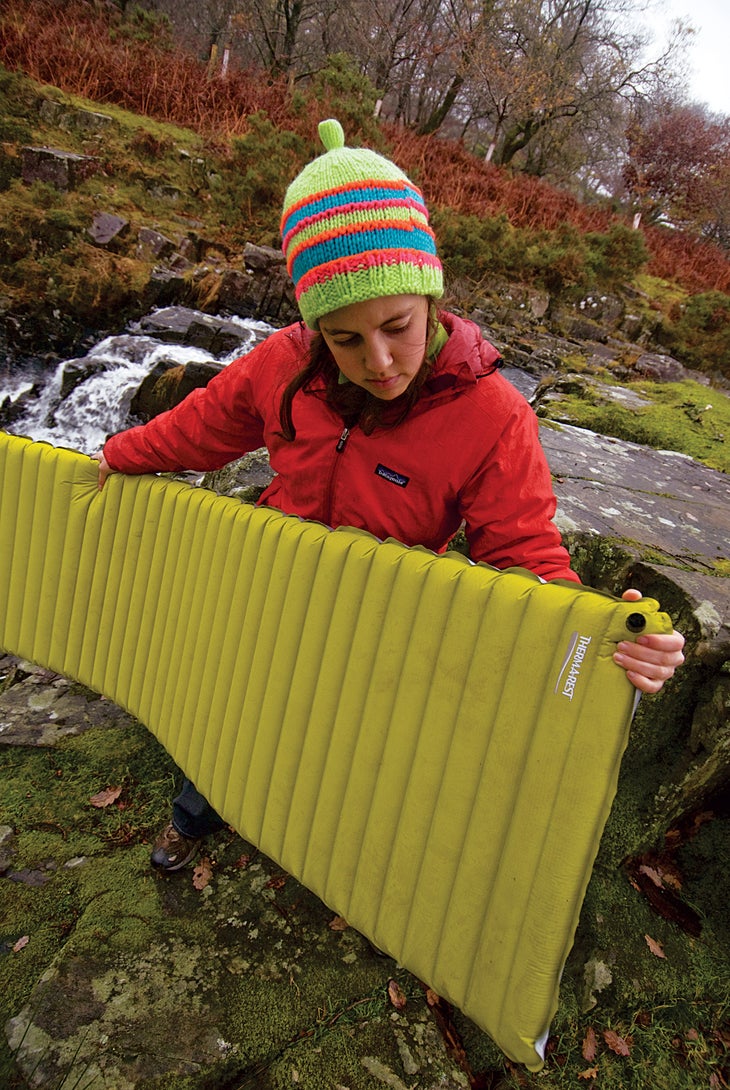 Therm-a-Rest NeoAir
Carry less, sleep more with this light-and-luxe mattress.
You'd think this pad had a built-in espresso maker after seeing the way testers bounced up in the morning. "I'd sleep on this at home!" gushed one. "Best rest I've ever had in the backcountry!" enthused another. The only downside was how annoying these perky fans became to testers not sleeping on the 2.5-inch thick NeoAir.
And that's before the NeoAir disappeared into their packs. Deflated, it's pint-glass size. And at just 13 ounces (for a 72-incher), the pad is in a class by itself in terms of warmth and comfort for the weight. The secret? There are two, actually. First, a horizontal network of internal baffles creates a mattresslike coziness that's both more level and less bouncy than other inflatables we've tried. Second, it's warmer than other pads that lack bulky internal insulation, thanks to a micro-thin layer of aluminum that retains and reflects body heat. It's rated to 30°F, but one tester stayed toasty on an 18°F night in Utah's Bryce Canyon.
The 30-denier nylon shell feels paper thin, but it withstood more than 50 nights of abuse, including throw-down bivies in the open desert. Bonus: A thin layer of silicone gives the pad superior grip on tent floors and against the slippery taffeta of sleeping bags. Caveat: Our XXL testers thought the regular pad (72"x20") felt too narrow; the large is five inches longer and wider (and a fair bit pricier). The cost gave us pause, but as one bright-eyed tester said after a cold night atop the Glyder Range in Wales, "You can't put a price on a good night's sleep." $120-170 (four sizes); 13 oz. (regular);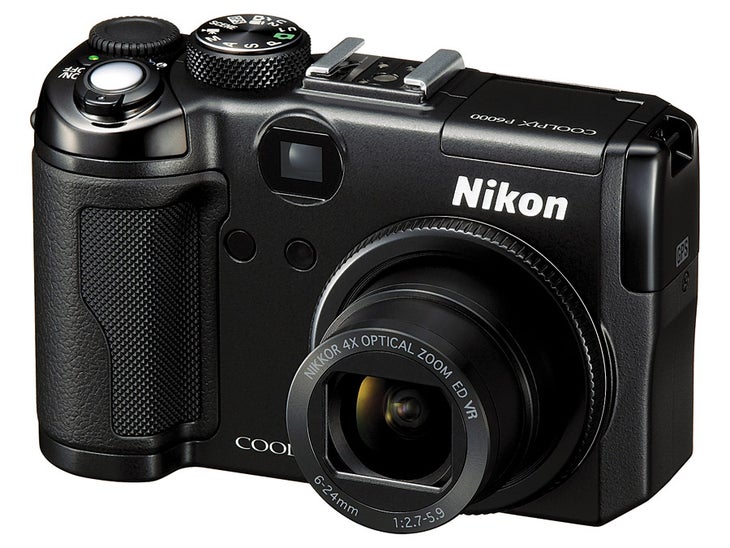 Nikon Coolpix P6000
Backpackers get a made-to-order digital camera with the first affordable GPS-enabled shooter.
There must be a hiker in the R&D department at Nikon. Who else could come up with a camera that treats map coordinates with the same attention as it gives to image quality? The P6000 is simply in a class by itself, thanks to an internal GPS that digitally stamps photos with latitude and longitude data. Translation: It creates geotagged photos that you can easily and instantly download to Google Earth, Nikon Picturetown, or our own site. On our site, just upload the photos into a trip report and watch as the images zoom to the map—and the precise spot on the planet where they were taken.
This camera will also upgrade your slideshows—and not just because you can now integrate maps. The 13.5-megapixel P6000 outperforms most point-and-shoot cameras in photo quality, and even rivals bulkier, more expensive digital SLRs (see the proof above and on page 42). The retractable lens captured crisp, color-rich photos in sun (Arizona desert), snow (Vail, Colorado), and rain (Wales). We also found that the P6000 picked up subtle highlights and shadows that other digital cameras missed. And when the sun was too bright to read the 2.7-inch LCD screen, we loved the old-school viewfinder for framing shots. It also has pop-up flash, full manual options, high-speed Internet port, panorama stitching mode, and optional wide-angle lens.
And how good is the GPS? In the field, whether the camera is on or off, the internal computer periodically updates its location in order to shorten the time it takes to acquire satellite reception (about two minutes from cold start to satellite lock, depending on terrain and weather). We cross-checked more than 200 geotagged photos shot in two countries and three states with a high-end handheld GPS, and each was placed within spitting distance—literally—of the correct location. Our only complaint? That guy in the R&D department must be a dayhiker, or the P6000 would accept lithium AA batteries. Expect about 11 hours with the onboard rechargeable cell. $449 ($350 street price); 8.5 oz.; 4x optical (28-112mm) lens; SD or SDHC expandable memory; lithium-ion battery.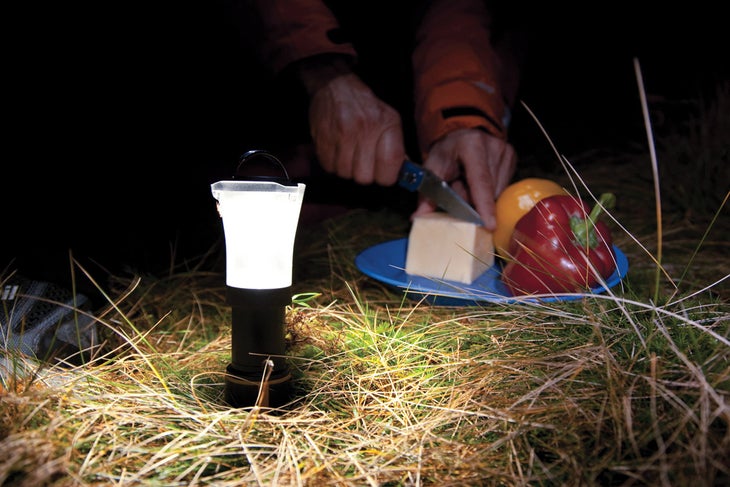 Black Diamond Orbit
Bright, light, and rechargeable—the perfect camp lantern is here.
No, you don't need a lantern. But you'll want this one. It's a kitchen light, campfire, and reading lamp wrapped into 4.4 ounces. And it's so packable that even our staff minimalists deigned to carry it. We love the adjustable LED, which dims for candlelight dinners or brightens for poker games. It collapses to four inches for packing (it's five and a half fully extended). And during six months of testing, we never had a failure despite dropping it, leaving it out in storms, and carelessly cramming it into packs. Battery life is also superior: 11 hours on the brightest setting. Green bonus: A plug-in rechargeable battery pack (six-hour life) is now available as well ($30, sold separately). $30; 4.4 oz. with 4 AAA batteries.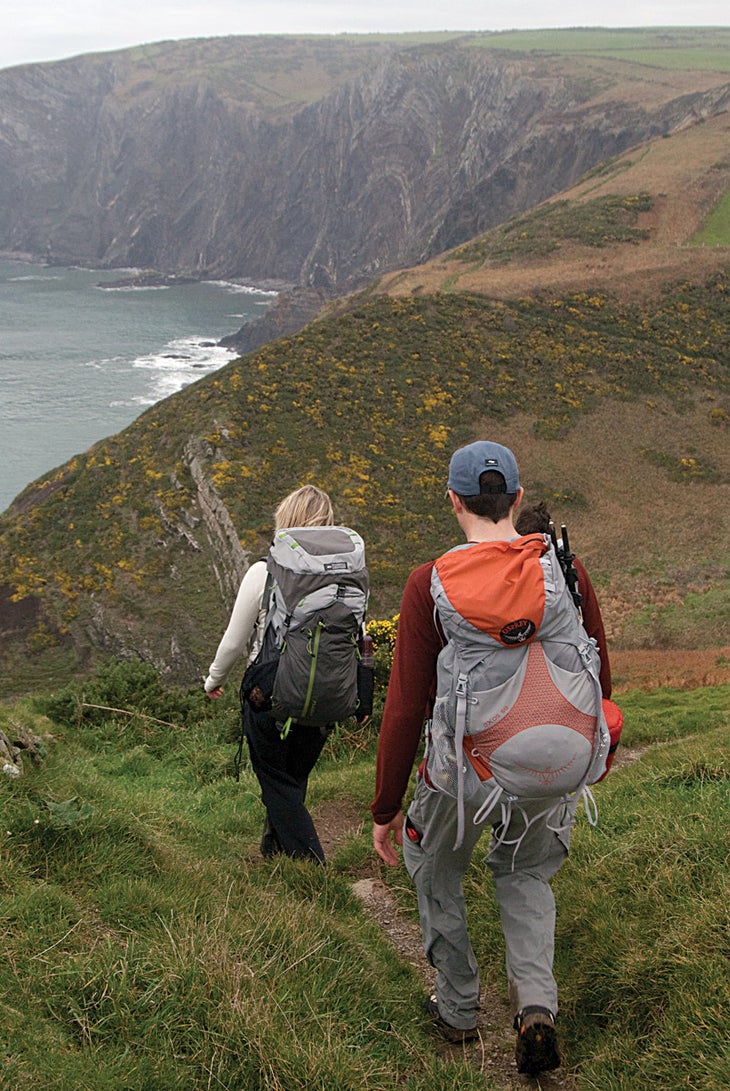 Osprey Sprint Series
Tell the kids—finally, real packs for them, too.
The problem with 11-year-old gear testers is they write comments like this: "The hipbelt pouches are the perfect size for almond M&Ms." Gee thanks, Austin. Really technical stuff there, buddy.
Of course, there were other ways we could tell that Osprey's new Ace, Jib (pictured), and Imp represent a sea change in comfort, features, and durability among youth backpacks. For one, the usual complaints—"Dad, my shoulders hurt"—virtually disappeared. Our kids actually volunteered to take more weight. And we were able to tackle more demanding terrain, including several rugged multiday routes in the Grand Canyon that would have been dangerous—even impossible—with less stable packs.
Credit a suspension and frame sized for narrower hips, shoulders, and backs, and a harness that wraps as snugly as grown-up Ospreys. Torso length adjusts on the fly to fit everyone from pint-size 8-year-olds to women with medium torsos.
The clincher: features every bit as good as we expect on most adult packs. Kids get a hydration sleeve, water-bottle pockets, lashing/compression straps, an integrated raincover, rugged fabrics, and a pear-shaped packbag wide enough for a small 0°F sleeping bag.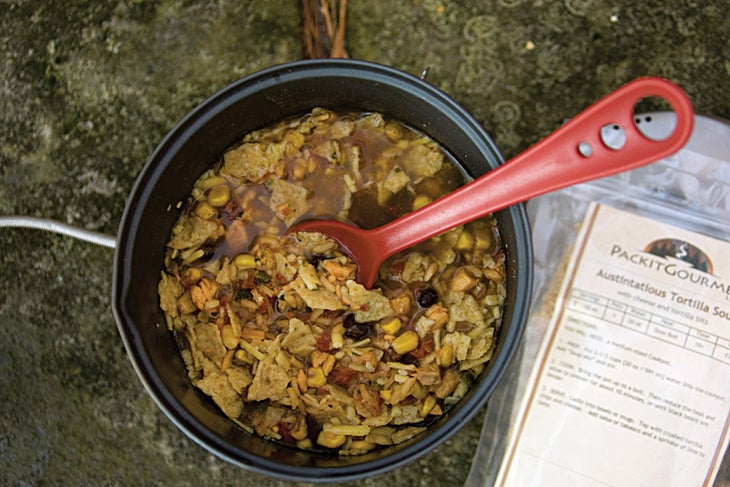 PackIt Gourmet Austintacious Tortilla Soup
Put this meal on the menu for any trip: It's easy-prep trail food that will wow every palate.
Sure, everything tastes better in camp. So we tried this dehydrated meal at home, too, just to confirm our field findings: It is delicious. The soup is the perfect appetizer for hungry troops, a satisfying belly warmer in cold weather, and substantial enough to pass for dinner when only a light meal is needed. Plus, it takes only 10 minutes to prepare. Ingredients are simple: chicken breast, red peppers, corn, tomatoes, cilantro, spices, and rice. But the result is gourmet. "It tastes like it's been simmering in the kitchen all day," summed up one satisfied tester. Serving size is legit for two hungry guys, and it comes with toppings that make it easy to customize according to taste: freeze-dried Monterey jack, tortilla chips, Tabasco sauce, and lime juice. Demerit: The packaging seems excessive, though you can reuse the tough plastic bags and decline the optional (free) Tool Kit, which includes salt and pepper packets, wet wipes, and other single-use paper products. $8.50, serves 2.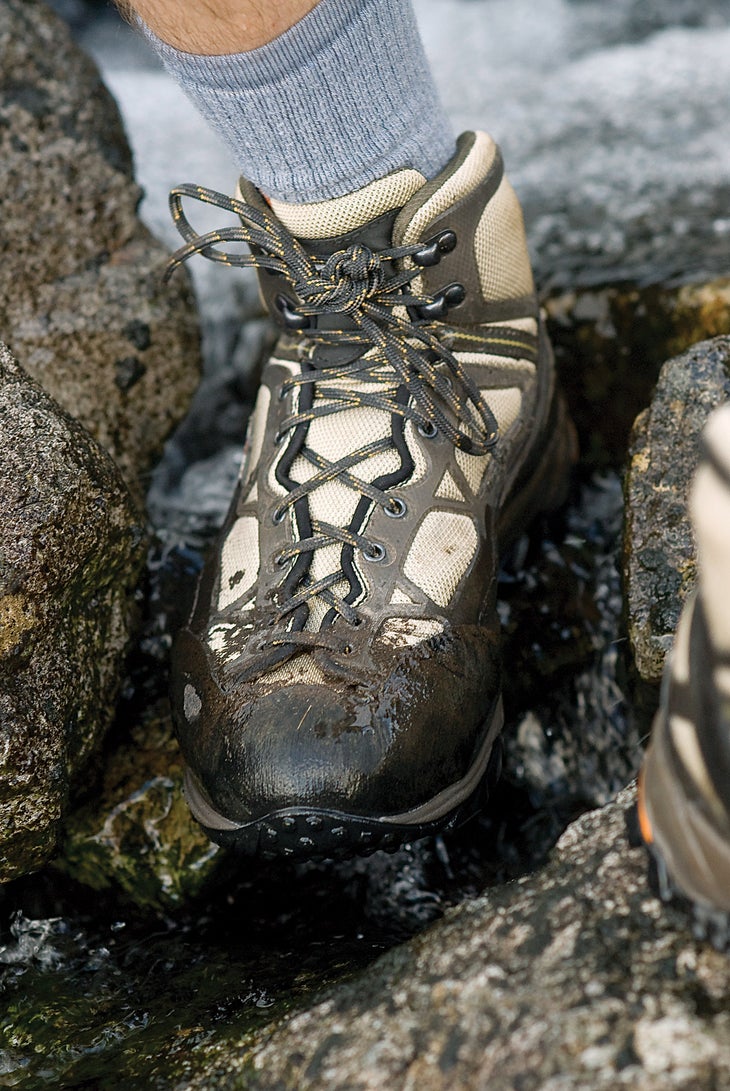 Kayland Zephyr
Can't decide which boots are right for the trip? Stop wondering and start hiking with this all-purpose midweight.
Let's be clear: Gear testing has its glory moments, but putting your feet through the new-boot grinder to find blisterproof footwear is not one of them. Unless the new boot in question is the Zephyr. It worked for nearly every trip and load—out of the box—with the support and stability for carrying 50-pound packs in rough terrain, and a low-bulk design for fast striding on dayhikes.
How does Kayland achieve the superior versatility? For starters, a polyurethane exoskeleton enhances both durability and stability without adding much weight. And a secure heel cup, reinforced by the exoskeleton, locked our feet in place. Fit and all-day comfort are improved by a series of small but smart details: the forefoot has plenty of wiggle room for swollen toes; the lace holes link to the exoskeleton, so it's easy to either suck in or let out the sides of the boot to adjust width without adding pressure points; the gusseted tongue never budges; an ergonomic pad at the Achilles notch gives the midcut Zephyr the ankle support of a higher-cut boot on uphills, but it flexes on the way down for comfort; and an EVA midsole and plastic shank provide just-right cushion and support. It all adds up to this: "The Zephyrs are by far the most comfortable boots I've worn all year," said one tester. "It's almost like they propel you forward when you walk."
To complete the package, the Vibram sole's aggressive tread grips like a crampon—testers scrambled surefooted over rain-slick rocks in Wales while others slipped. And the eVent liner provides dependable waterproofing with superior beathability. Bonus: Testers who usually use aftermarket insoles reported that the insoles included with the Zephyrs are so supportive that there was no need to replace them. Best for medium-volume, medium-width feet. $190; men's 8-12, 13; women's 6-10; 2 lbs. 7 oz. (men's 9).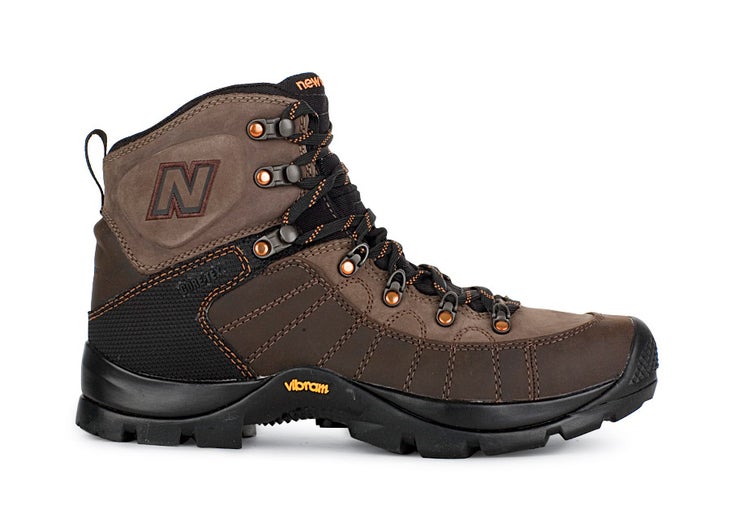 New Balance 1500 Rainier
Bring us your narrow feet, your wide feet, or the freakishly long—these boots are the answer.
When it comes to hiking-boot comfort, fit is always the first priority. That's fine for people with average-shaped feet, as there are plenty of great shoes made for them. But for the many hikers with, um, uncommon feet? Normally, you have to buy expensive custom boots, or suffer. Until now.
This full-grain leather midweight changes everything for the hard-to-fit crowd. The 1500 comes in four widths for men and three for women, with sizes up to a men's 15 and women's 13. Whether your feet are long and narrow, short and wide, or any other combination, the 1500s are simply the closest thing we've found to off-the-shelf custom boots.
All-around performance makes it a classic midweight, ideal for backpacking with moderate loads and dayhiking in rough-and-wet terrain. One tester carried a 40-pound pack across Snowdonia's scrambly ridges and tippy tussock grass and reported plenty of support from the stiff polyurethane midsoles. Even during the sloppiest moorland hikes in Wales—some of the most challenging wet conditions we've seen—the 1500s never leaked a drop, thanks to a Gore-Tex liner. The lugs got slick on wet rock, and the asymmetrical tongue needed some break-in before the ankles snugged firmly, but those quibbles were minor compared to the "ahh, finally" comfort one wide-footed tester got from his EEEE pair. Bonus: Hikers in retail-challenged areas can order them online with a "perfect fit" guarantee. Even the shipping is reimbursed if they don't work. $170; men's 7-15 in B, D, EE, and EEEE widths; women's 6-13 in AA, B, or D widths; 2 lbs. 11 oz./pair (men's 9).
Green Award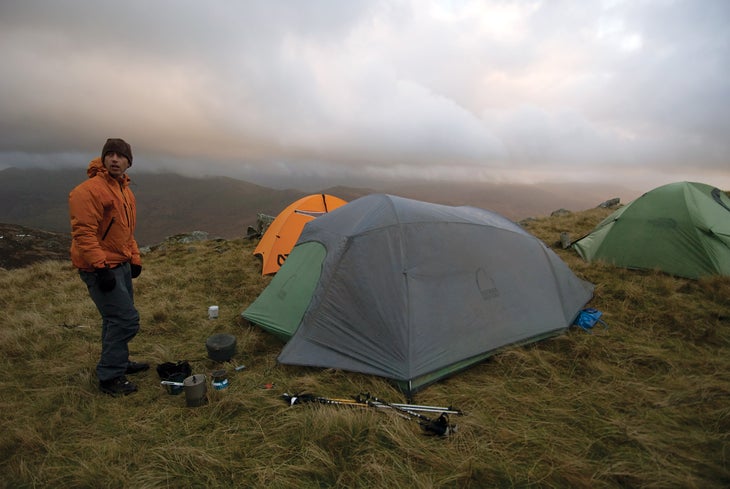 Big Agnes Salt Creek Recycled
"Habitat for humanity" gets a new meaning with this eco-friendly tent.
White is the new green. This three-season tent is made with 100-percent-recycled materials—fabrics, plastic pole clips, even the guylines. And the distinctive white fly and canopy? It's the result of dispensing with toxic dyes. Big Agnes had to start from scratch to build the Salt Creek—pioneering the materials needed to build a sustainable double-wall shelter—but eco-innovation is only one half of the story. This tent also works.
Wind and rain whipped the Salt Creek on trips from high-alpine Colorado to the peaks of northern Wales, and everywhere the green construction proved both durable and weatherproof. And while it's no lightweight for a two-person tent—the recycled fabric isn't ultralight (yet)—the large 36-square-foot floor, near-vertical walls (think tons of headroom), and spacious 17-square-foot vestibule mitigate the extra ounces. The white fabric is a shocker at first, but testers dubbed the Salt Creek the "happy room" after taking refuge in it during a gray, soggy trip in Brecon Beacons. Bonus: The vestibule converts to a flat-roofed awning when staked out with two trekking poles. Bummer: The door is large, but there's only one. $350; 90-by-58-inch floor; 6 lbs.
Gold Awards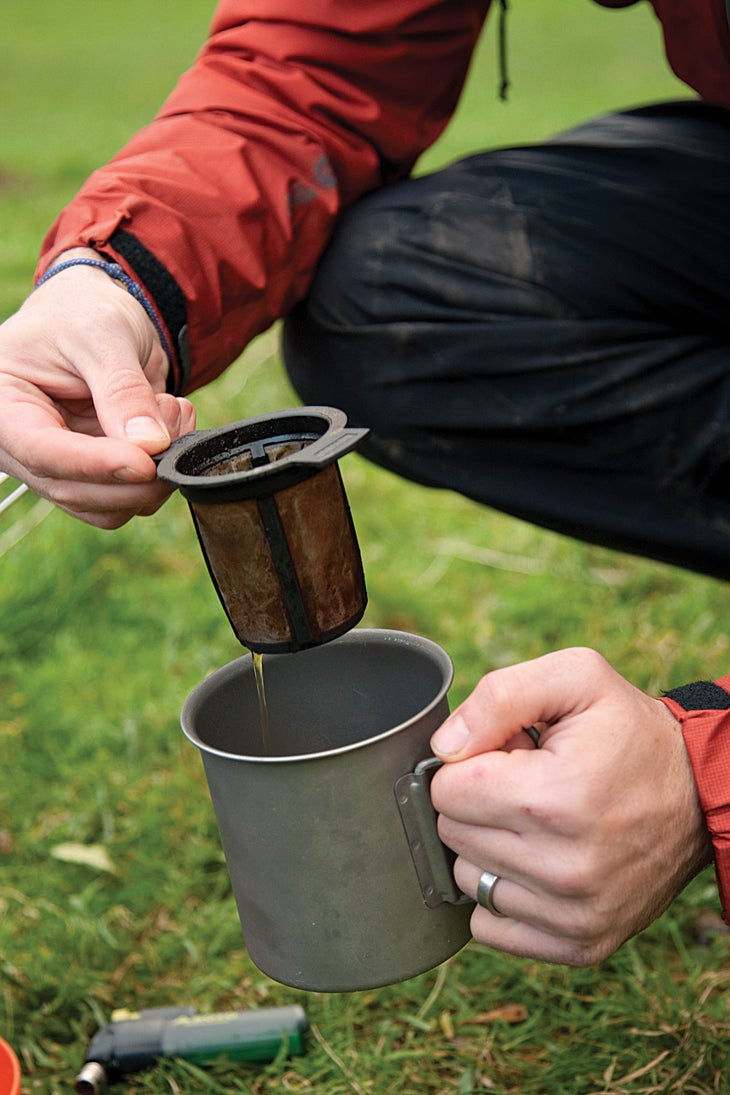 MSR MugMate
The ultimate solution for backcountry coffee—fast, ultralight, and fuss-free.
We've seen Editors' Choice trips nearly implode when coffee ran short. So when our staff java fiends say the one-ounce MSR MugMate, introduced in 1997, makes lethal-strength joe with less weight and hassle than any other method, you can be certain of this—we've tried everything else. Think of it like a camp coffee cone without the paper filter. Just fill it half full with medium-grind coffee, set it in your cup, and pour hot water through. Want a stronger brew? Swish your spork around in the grounds a couple of times. To clean, simply shake the grounds into your garbage bag (or fire) and rinse the gold-plated steel screen. It nests in a standard 12-ounce insulated mug, and it lasts—one editor has used the same MugMate for a decade of highly caffeinated treks. Another even uses hers at home, for brewing tea. $17; 1 oz.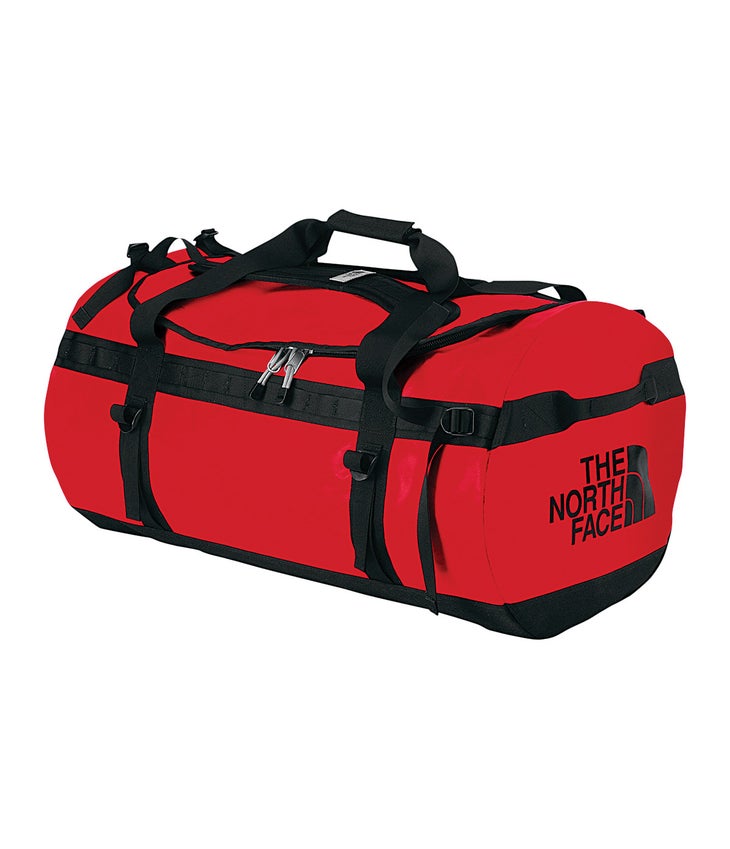 The North Face Base Camp Duffel
There might be a journey too daunting for this load hauler. But it's not on this planet.
No one should fall in love with vinyl luggage. But Google "North Face Duffel" and "love" and you get 485 entries (at press time). And only six of them are BACKPACKER editors! Sure, we've shared lots of big adventures with these indestructible carriers. But our affection is totally practical: Its gaping U-shaped opening makes short work of stowing and sorting all our junk; beefy zippers have never failed despite years of overstuffing; padded shoulder straps let us carry it too far over rough terrain; handles and daisy chain webbing loops have not met a bus/camel/yak to which they couldn't be secured; and the phthalate-free (a toxic chemical) PVC vinyl hasn't punctured, melted, or worn through. Proof: BACKPACKER crews, while producing TV shows in the '90s, dragged six of these bags from Tasmania to Iceland over the course of seven years, 13 weeks each year. A decade later, those duffels—the same ones!—still get constant abuse on test trips. On the way back from our Editors' Choice trip to Wales, a luggage handler at O'Hare—among the nation's busiest airports—spotted one of our well-used bags. "Oh, a North Face duffel!" she exclaimed, pure love in her voice. "I've had one for years. They're the best!" Available in five sizes. Specs for the XL: $160; 9,070 cu.in.; 4 lbs. 15 oz.