Editors' Choice 2007: The Best Backpacking Gear of the Year
From the perfect backpacking pack to the coolest stargazing tool we've ever seen, here's this year's most innovative and trailworthy new hiking gear.
Heading out the door? Read this article on the new Outside+ app available now on iOS devices for members! Download the app.
The plotting and planning starts a year in advance. BACKPACKER editors descend on the biannual Outdoor Retailer trade show in Salt Lake City, a gigantic wilderness of toys that makes even the most seasoned gearheads salivate. We roam from booth to booth, on the prowl for standout innovation, value, and cutting-edge design. We huddle in quiet corners of the convention center to mainline caffeine and compare notes. We whisper about prospects like CIA recruiters.
Back home, the fun starts. We call in the contenders—49 products this year—and start testing the crap out of them. Every editor is involved. So is every type of terrain, weather, and trail we can find. With each passing month, we chip away at the list, nixing a pack here and a boot there. By mid-November, with our list honed to about 20 finalists, we rally for one last week of hard-core testing.
This year found six of us in Oregon amid the biblical rains that caused mudslides all over the Northwest. Perfect. We marched south on the PCT from Bridge of the Gods at the Columbia River Gorge, then hopped over to Mt. Hood for a day of wind-whipped snow on the Cooper Spur route.
Twelve products made our final cut, in addition to one Gold Award winner, a product we commend for long-term excellence. We're also giving three companies our Editors' Choice Green Award for raising the bar in sustainable manufacturing.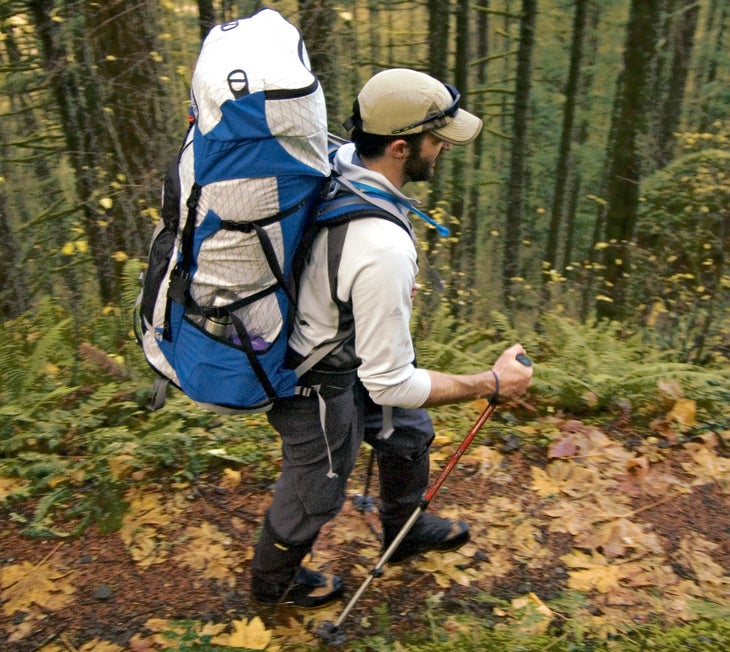 JanSport Whittaker LR Backpack
This super-versatile pack combines a full-on suspension with an ultra-simple packbag—just like it oughta be.
Backpacks have a pretty simple mission, really: They have to carry your stuff comfortably, offer reasonable access, and not throw you off balance. Yet so many packs scrimp on the guts of load-carrying while piling on straps, zippers, and superfluous compartments. Standing out from this year's crowd is JanSport's Whittaker LR, which marries a clean, lightweight packbag to a rock-steady harness. Organizational compulsives need not apply, but for everyone else—from weekend warriors to expedition climbers—it'll be one of the most comfortable, sensible, and durable packs you've carried.
On test trips around New England and the Southwest, as well as our soggy finale in Oregon, the Whittaker's contoured straps draped closely around our shoulders, with no abrasive edge taping or uncomfortable rolling. Each strap attaches to the packbag individually, with a simple peg that slots into a nylon grid, offering lightning-fast independent adjustments for torso length and shoulder width. The solid attachment creates a sway-free ride that makes the Whittaker LR scrambler- and skier-friendly. Resilient padding in the harness, hipbelt, and backpanel provide comfort and load control. "The compact hipbelt has the rigidity to maintain its shape under a serious load, but also the cushion and clean wrap to prevent bruising," wrote one tester. The sculpted polyethylene framesheet is narrower at the bottom, to permit a more flexible hipbelt attachment and thus greater freedom of motion. "This thing feels welded to my back, but it never gets in the way," another tester said. The result: 50 pounds will feel like 30.
The top-loading packbag is made of super-tough, waterproof sailcloth, with ballistic nylon reinforcements. The single-compartment sack swallows the bulkiest gear, and the only pocket is a small zip pouch on the front for a headlamp or munchies. A short zipper runs down one side of the gear-lashing patch, to let you dig for items deep in the pack. Wand pockets, side-compression straps, and front straps handle everything you'd want to lash on. Buckles and sliders are modest in size, but not so thin they'll break, like the fittings on some ultralight packs. Also comes in a tall version, the Whittaker LT. $315; 4,400 cu. in.; one unisex size (17–19" torso); 5 lbs. Reader service #101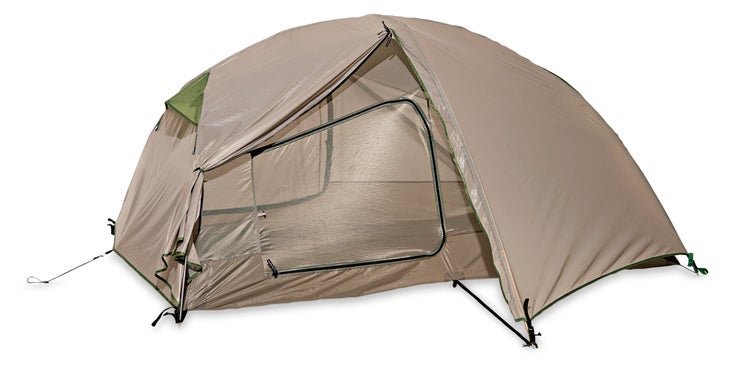 Big Sky SummitShelters
Now you can design the ultralight tent you've always wanted.
Of the 70-plus tents we slept in last year, Big Sky's shelters offered, bar none, the best space-to-weight ratios for freestanding one- and two-person tents. More impressive: You can customize your own shelter on the company's website. Want carbon fiber poles? Done. Prefer a single-wall canopy? It's yours—and for a price that's surprisingly competitive.
We tested three models over 8 months in a myriad of conditions; despite their lightweight design, these shelters offer plenty of sturdiness, space, and ventilation.
On a 5-day Grand Canyon trip, we used a two-person double-wall Evolution (3 lbs. 6 oz.) tricked out with pole sleeves (instead of clips), carbon poles, and dual doors and vestibules. The all-mesh canopy allowed plenty of air movement, even on a steamy 70°F night near the Colorado River. Two days later, with the silnylon rainfly on, this featherweight tent repelled heavy rains that triggered a flash flood in Thunder Creek.
The same tent, fitted out with more durable aluminum poles (add 5 ounces), spent 2 weeks in the Colorado Rockies. It resisted rainstorms, hail and sleet, 30-mph winds, and a heavy, slushy snow that collapsed several other three-season tents. The only scars were a small tear in the pole pocket and a slightly bent pole. When fully guyed out, the X-pole design on all models had great stability in light-to-moderate winds.
We ordered our third sample—the freestanding, single-wall Revolution (3 lbs. 1 oz.)—built as a two-person tent with two doors and vestibules. On cold, humid nights and while snow camping, the Znorkel waterproof/breathable fabric collected less condensation than other single-wall tents in camp. A closable hook-and-loop vent in the ceiling allows you to control air flow. One strike against it: Several untaped seams in the ceiling have to be hand-sealed. It's a tedious chore; Big Sky says it's exploring sealing options at its new factory this spring.
If a storm rolls into camp, the two-person tents have ample hangout space, both in length and width, for two big guys. Folks taller than 6'5" can simply order a custom length. Four smaller interior pockets keep glasses and headlamps off the floor. $220 and up; 1 lb. 12 oz. and up. Reader service #102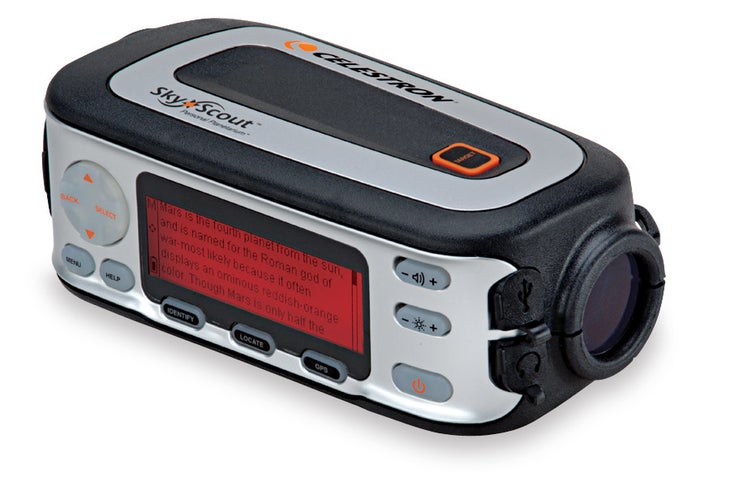 Celestron SkyScout
Take your star knowledge beyond the Big Dipper.
This handheld gadget boldly goes where no stargazing device has gone before. It unlocks the mysteries of space and creates order out of the spinning blanket of stars and planets in the midnight sky. Most importantly, it answers a question we've all asked: "I wonder what that star is called?"
The SkyScout's internal GPS determines your exact location and the angle at which you're holding the device. Once that's established, just point it skyward, center a star in the viewfinder, and press a button; the SkyScout will ID the object of your interest and display fun facts from its huge database. You can also scroll through a list of more than 6,000 celestial objects and let the SkyScout guide you to it. Just pick one—Polaris, say—and put the SkyScout to your eye; directional arrows in the viewfinder direct you to the North Star's exact location.
Identifying constellations may be the most entertaining thing you can do with the SkyScout, but it's also packed with fascinating trivia (Polaris is the 46th brightest star in the sky, and marks the end of the Little Dipper handle) that you can listen to (via ear buds) or read on the night-vision screen. The SkyScout always knows the date and time, so you can check the "Highlights" screen to find out what's in store for the night—maybe a meteor shower or a sweet view of Mars.
The rugged, plastic-armored body runs on two AAs. Minimalist backpackers may balk at the Sky Scout's bulk (it's slightly smaller than a liter bottle), but won't have anything critical to say about its star-studded performance. The only thing the SkyScout can't do is make Pluto a planet again. $399; 15.3 oz. Reader service #103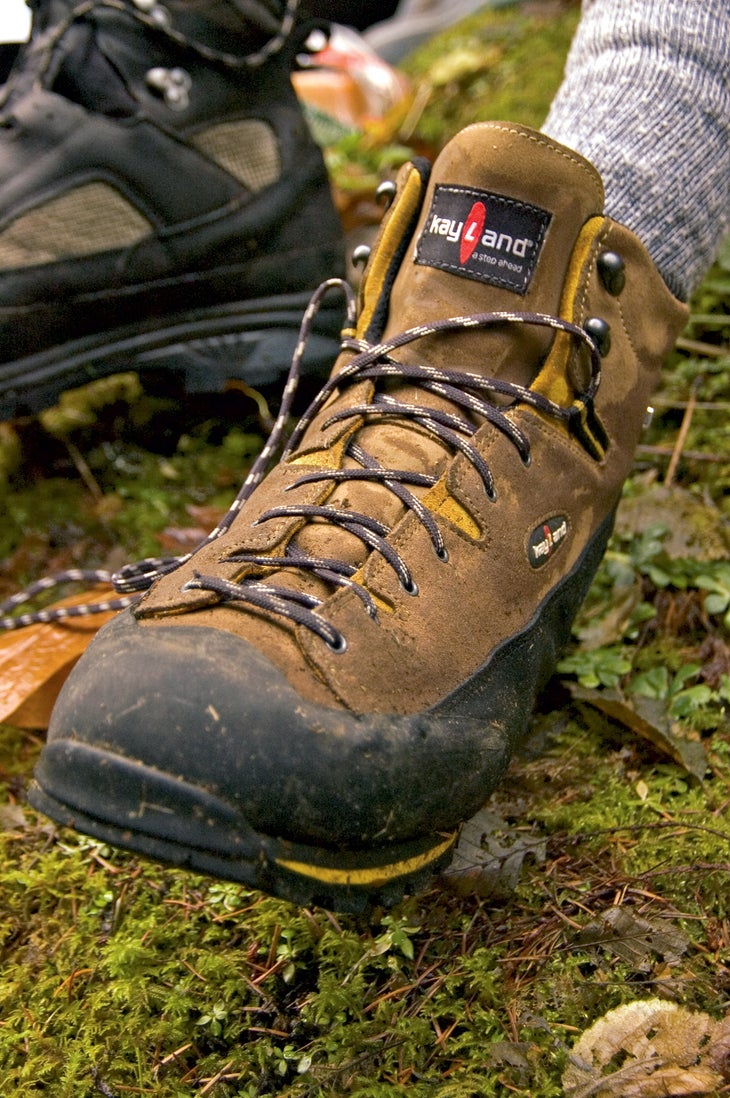 Kayland Vertigo High
Light, dry, and nimble, this boot was our favorite among 110 models we tested this year.
Hiking out of Eagle Creek in a rain so persistent it soaked double-bagged food in the bellies of our packs, one editor remarked, "My feet are the only part of me that's dry." That says as much about these all-leather midweights as it does about the Gorge's notorious sogginess.
It also bears out a truism many hikers don't appreciate: Keeping feet dry can depend as much on a boot's breathability as its waterproofing. That's where the Kayland's eVent membrane excels. It proved waterproof through days of stream crossings and wet snow. Yet when several of us misjudged a stream's depth and dunked our feet ankle-deep, we were amazed at how quickly our socks—and the boots—dried. In the dark, humid, rainy cold, there's only one way to dry out a sodden boot: with the heat of your foot. And that works only if the waterproof membrane breathes well enough for moisture to escape. In the most challenging conditions, our Vertigo Highs did just that.
Of six editors who tested the Vertigo, only the one with very wide feet didn't find the fit acceptable; that's an impressively universal last. The boot holds even skinny heels in place, cradles the midfoot, and gives toes wiggle room. It's stiff underfoot, yet flexible where needed, and the curved shape of the sole (aka rocker) allows a natural stride while lending support for 50-pound loads. Comfort was outstanding whether ascending or descending, cruising on easy trail, or scrambling off-trail. From the PCT to Idaho's Seven Devils, the widely spaced outsole lugs gave solid traction on mud and wet snow, while the rubber stuck to greasy log bridges and snow-covered talus.
The Vertigo doesn't have as much midsole cushion as many boots, but the resulting low-to-the-ground platform is reassuringly stable. One editor noted, "I always twist my right ankle—but not in these boots." The laces lock to prevent forefoot loosening, and like rock-climbing shoes, they extend to the toes for a custom fit that improves sensitivity. Construction is superb, with an extended rubber rand, few seams, and reinforced leather on the high-abuse outer side. $200; men's 7–13, women's 6½–10; 3 lbs. 5 oz. (men's 9). Reader service #104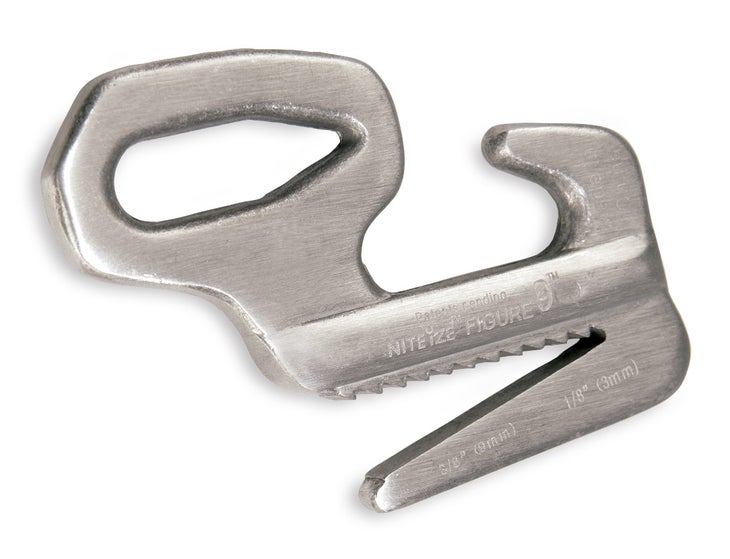 Nite Ize Figure 9 Rope Tightener
Never tie (or untie) a trucker's hitch—or any other knot—again.
Applied to camping, the domino effect usually means one disaster cascading to the next until you're a miserable, shivering heap. As in: You forget the stakes, so the fly sags and collects water that drips onto your sleeping bag, soaking it through and ruining a good night of sleep. Bad stuff.
But the Figure 9 sets off a chain reaction of a different sort, one with purely positive results. This tiny, practically weightless (about an ounce) piece of aluminum makes tightening a line a knot- and curse-free task. Which in turn cuts the time and effort it takes to rig a tarp, which keeps you and your gear drier and more comfortable, which makes tarp camping feel more viable, which will cut your pack weight and help you cover more miles. Which will, well, you get the idea. Good stuff.
At a cold, wet campsite on the banks of Wahtum Lake in the Gorge, two editors were able to pitch a kitchen tarp across uneven terrain in a fraction of the time it'd take to wrestle with knots and hitches. Says our editor-in-chief: "Numb fingers? No worries. Adjustments? In seconds. Versatility? You bet—we rigged clotheslines, guylines, roof-rack tiedowns, even bear bags." And just in case you forget how it works, the instructions are laser-etched on the side. Comes in two sizes (for maximum 50-lb. and 150-lb. loads, respectively); you can also order a combo pack with cord. $2 (S), $4 (L). Reader service #105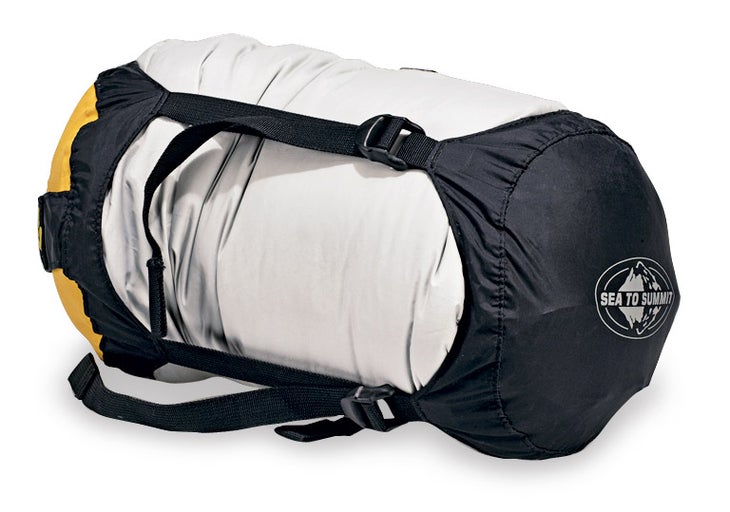 Sea to Summit eVent Compression Dry Sacks
These featherweight drybags make pack liners and covers obsolete.
This could happen to you—it did to us. You're 2 days into a 4-day trip. It's drizzling and 35°F, and your hydration bladder leaks inside your backpack, flooding your gear with 30 ounces of purified streamwater.
Abandon trip? Nope. Your clothes are safely stashed inside Sea to Summit eVent Compression Dry Sacks. "Misery averted," our map editor reports. "My fleece, down jacket, extra socks—which I packed directly beneath my water bladder—were bone-dry."
But why buy one of these bags when you could grab a lighter and less expensive stuff sack like one of Sea to Summit's roll-top waterproof ultralights, which won an Editors' Choice Award last year? For starters, there's the compression, which lets you shrink a bulky sleeping bag. Then there's the superior impermeability of the eVent membrane—a better choice if you're paddling or headed to a chronically wet location. These sacks are also less bulky and up to 50 percent lighter than traditional drybags. Their genius, though, lies in the breathable membrane, which moves trapped air out of the sack more easily for better compression and a more efficient fit inside your pack. In fact, the eVent sacks compress so well that two testers removed the four compression straps and then used them as straight rolltop dry sacks (hint, hint, Sea to Summit designers). The construction is impeccable; each seam is double-stitched and taped. $27–40; XS–XL; 3.7–7.4 oz. Reader service #106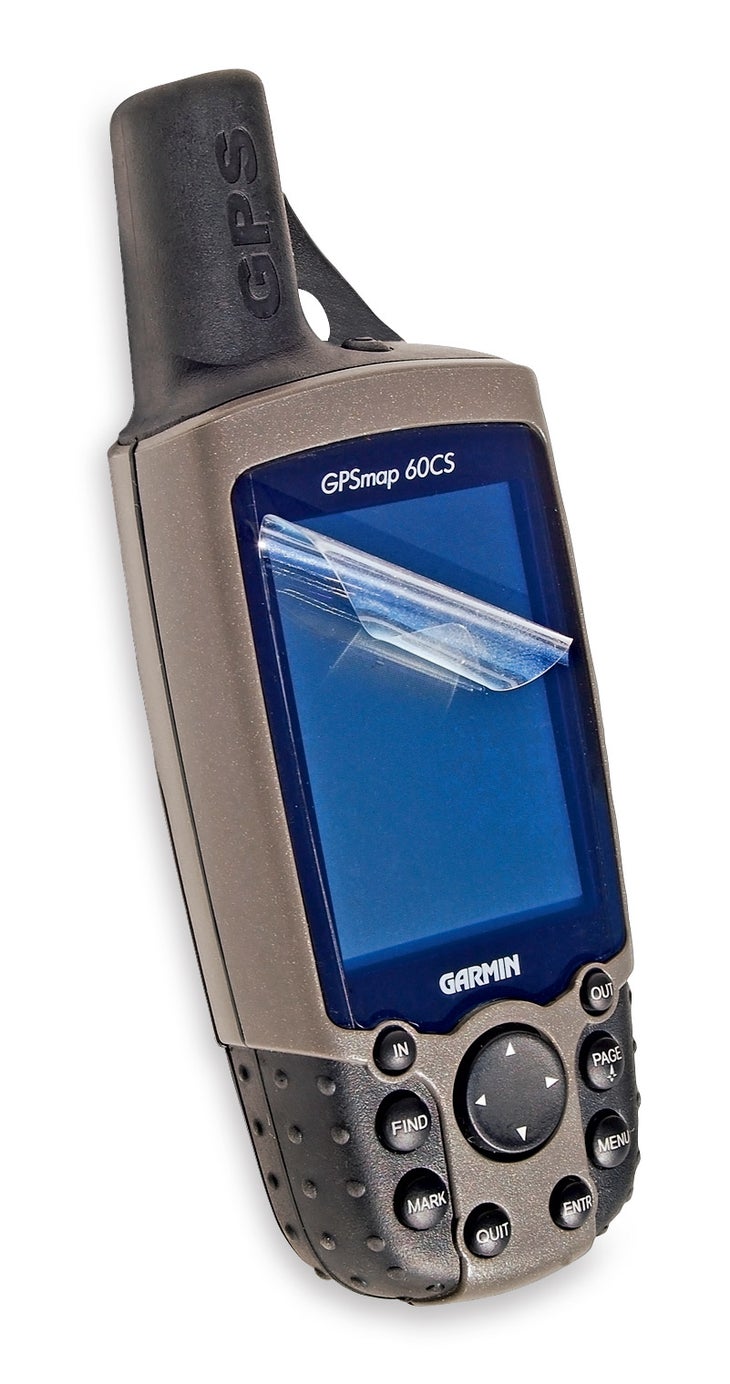 Shield Zone InvisibleShield
Get affordable protection for your outdoor electronics.
Our testers retired five gadgets worth a total of $2,000-plus last season. Reason: Scuffed screens rendered them impossible to use (yep—we hammer stuff). Now, we have a $10 insurance plan. We just slap InvisibleShield, a clear plastic adhesive skin, on the screens of all our pricey gadgets, from digital cameras to GPS units to altimeter watches and MP3 players.
"My GPS took a cheese-grater fall on the trail, and the screen suffered no dings or divots," said an editor who logged nearly 250 scratch-free miles with the unit clipped to the outside of his pack. "Other protective films peel away like dead skin, but this one stays on in the nastiest conditions."
Shield Zone precuts pieces for most electronics, but custom orders are available, too; see the website for the full list of products covered. Application is easy; we armored three screens without air bubbles in 5 minutes. $5 and up. Reader service #107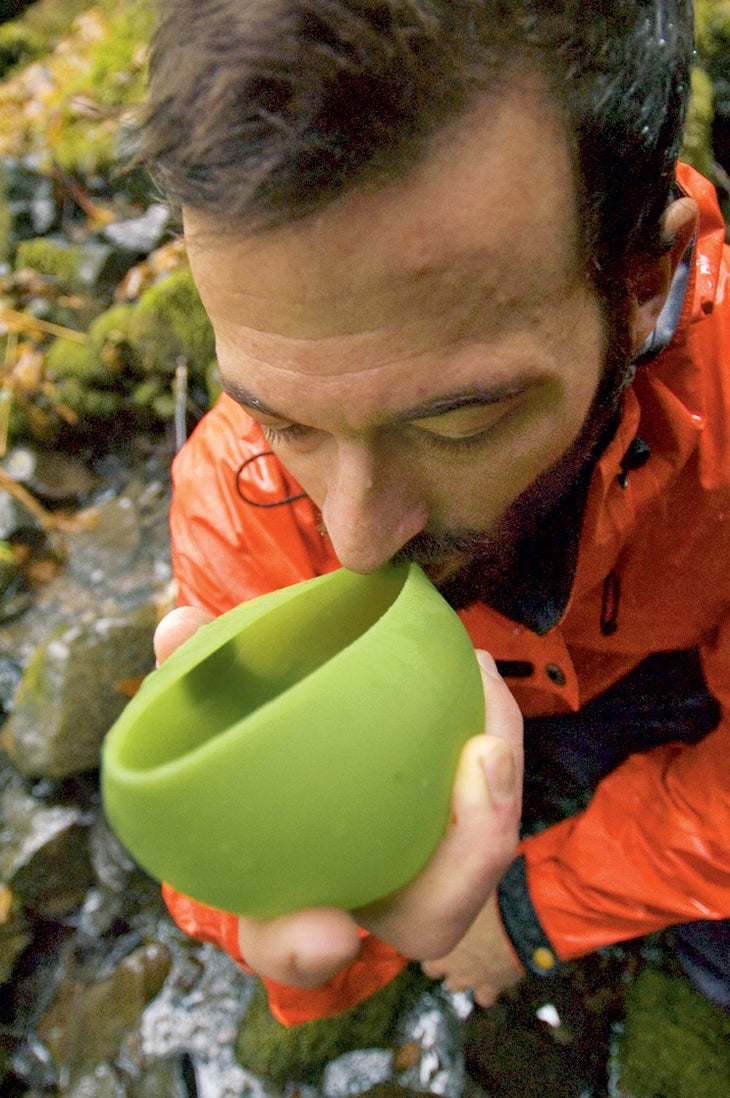 Guyot Designs MealGear Bowls
This is the most fun you'll ever have with a meal.
On a cold, wet night amid towering Douglas firs, six editors eyeballed each other across a pile of dirty pots and plates. Who would step up to the plate, so to speak, and tackle the dishes? Were we a team, or was it every editor for him/herself? Three of us—the lucky ones—simply smirked, flipped our silicone "squishy bowls" inside out, and smugly licked them clean. (So much for the team.) The suckers sighed, groaned, and pulled out their scrubby pads.
Such effortless cleanup is only one of the reasons we love these ingenious bowls. They'll also mash into a tiny crevice of your pack; they're impervious to heat, cold, and hard knocks. Plus, the deep, globelike shape is ideal for both drinks and food. $15; 4.8 oz. (nesting pair of 1- and 2-cup sizes). Reader service #108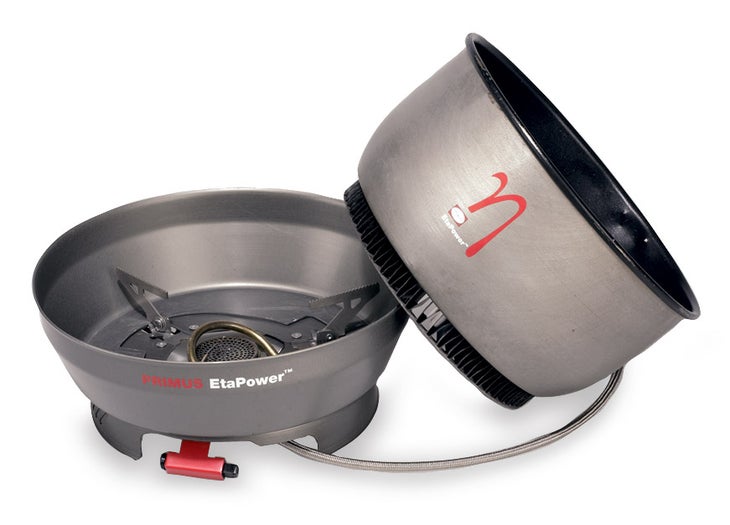 MSR Reactor and Primus EtaPower
These new cooking systems offer remarkable power, efficiency, and wind resistance to gourmet cooks and noodle boilers alike. 
As Oregon's weather pounded us, all went well in the kitchen, thanks to two excellent new stoves that advance the integrated burner/pot/heat exchanger system pioneered several years ago by Jetboil.
The MSR Reactor and Primus EtaPower are virtually immune to wind, and their near-total heat capture makes for unprecedented boil times and fuel efficiency. Side by side, these two stoves churned out a succession of fast gourmet meals in challenging conditions. The devotees of speedy, no-brainer, add-water-and-eat meals voted for the Reactor. Those of us with families to feed and more demanding tastes preferred the versatile EtaPower. After much debate, we decided to honor them both. (For the results of our extensive efficiency testing, see "The Next Generation of Camp Stoves," 3/07.)
For weight-minded alpinists and simple eaters looking for a two-person cook kit to whip up one-pot meals in even a stiff gale, the MSR Reactor offers a whole new level of convenience, speed, and trailworthiness. The tall, 1.7-liter pot has molded aluminum heat-exchange fins on the bottom. A full-circle flange around the perimeter protects the fins, forms a stable pot support, and creates a fully sealed chamber, so barely a BTU gets lost due to wind or radiation. Staff foodies were disappointed by the lack of a low-simmer setting, but they loved the secure foldover handle, the half-liter volume markings, and the clear lid that let them examine the rice without losing heat and steam.
In the field, the Reactor was eerily silent; we kept lifting the pot to check on the glowing heat element. But it burned hot—its 1-liter boil time hovered at a blisteringly fast 3:30. At pack-up time, the burner and attached canister drop neatly into the cookpot (albeit with a bit of rattling), and a sturdy metal handle folds over the lid, locking the system into a well-armored 5×6" cylinder that fits seamlessly into most ultralight packs.
The Primus, by contrast, uses separate burner and canister attachments connected by a flexible fuel tube. The wide-footed burner sits directly on the ground, completely surrounded by a removable windscreen that looks like a large bottomless pan. The broad footprint makes for foolproof stability and means it'll take most any pot, even an Outback Oven. The system currently comes with a 2.1-liter pot with integrated heat exchanger and a frying-pan lid; this combination posted the fastest boil times our testers have ever seen (2:40 for a room-temp liter of water in summer at sea level). Gourmets will be impressed by its delicate simmer, which can handle the most finicky Alfredo sauce, and penny pinchers will appreciate that it costs $30 less than the Reactor.
Our test EtaPower emanated a moderately loud hiss, though we had no problem carrying on camp conversations. Its long, flexible hose lets you invert the fuel canister upside down to burn liquid fuel first, then drain every last gasp of fuel vapor. In cold weather, the EtaPower burned hotter when the cartridge was upside down, but also sputtered briefly whenever the canister was tipped back and forth. The system makes for a bulky package (9×5¼"), but comes with a padded zip case to corral the contents and act as an insulated pot cover. A 1.7-liter heat-exchange pot is available separately ($37).
MSR Reactor $140; 1 lb. 2 oz. Reader service #109
Primus EtaPower $110; 1 lb. 14 oz.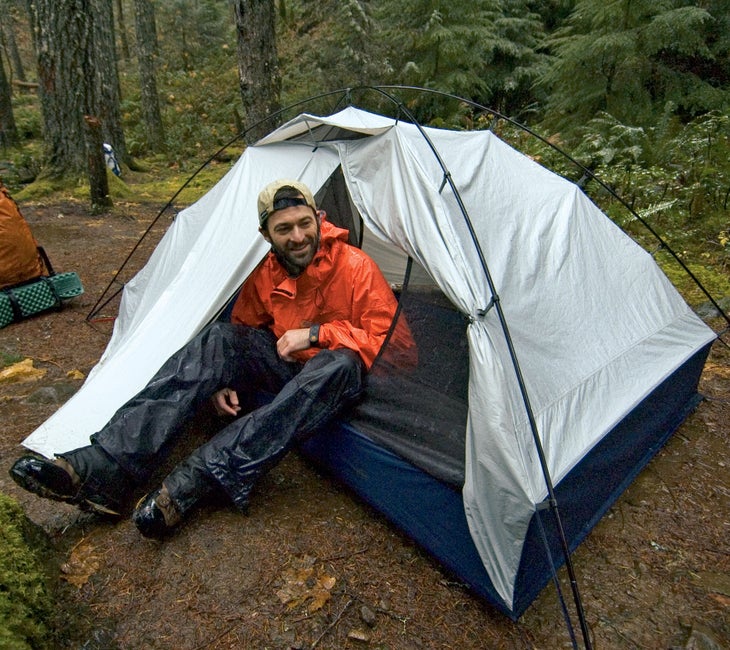 Big Agnes EmeraldMountain SL3
This three-person castle has room to spare, shrugs off mountain weather, and packs up light.
With all due respect to Big Agnes, we prefer to call this tent "The Plaza," a nickname our map editor coined after it kept him, his wife, and a pile of mountain-biking gear dry through a weekend of downpours in southern Utah. Even our 6'6" editor-in-chief emerged smiling after sharing it with his wife and two school-age girls. And here's the kicker: The SL3 is no heavier than many freestanding two-person tents, making it the new poster child for space-to-weight ratio in the suddenly intriguing category of three-person shelters.
What's the trick? A unique skeleton—an H-shaped configuration of pole sections connected by two hubs, plus a long pole that goes from side to side—elevates the roof all around, creating excellent headroom from end to end. Weight savings come from the DAC Featherlite NSL poles, which vary in diameter from thick at the middle (stronger) to thin at the ends (lighter), and from the 100 percent mesh canopy. Vestibules (yes, there are two) are equally roomy; they swallow three campers' wet gear and leave space for cooking. If you need even more space, you can zip out the smaller vestibule and replace it with an optional, 28.5-square-footer ($149) that accommodates three Labs or a mountain of gear, while adding a net 14 ounces.
The Emerald delivers in all other departments, too. The new DAC Twist Clips are the easiest and quickest pole attachment hardware we've used. The tent doesn't bend in wind, thanks to the poles' inherent strength and plentiful guyout points. Lots of cross-ventilation, ample mesh, and good clearance between the rainfly and canopy translated to no dampness inside, even in the Gorge's rain, snow, and fog—conditions that created dripping condensation inside two other tents.
The larger vestibule door opens nearly to the roof's peak: Tie it back and you've got a planetarium view of the stars. An optional fastpacking footprint ($55) allows a sturdy poles-and-rainfly setup for bug-free areas; this configuration weighs an almost laughable 3 lbs. 15 oz. We do have one complaint: The doorways are low, even for testers of average height. $399; 5 lbs. 3 oz. Reader service #111 
Green Awards
Kudos for two companies launching big-picture initiatives and one humble sleeping pad that showcases environmentally responsible manufacturing.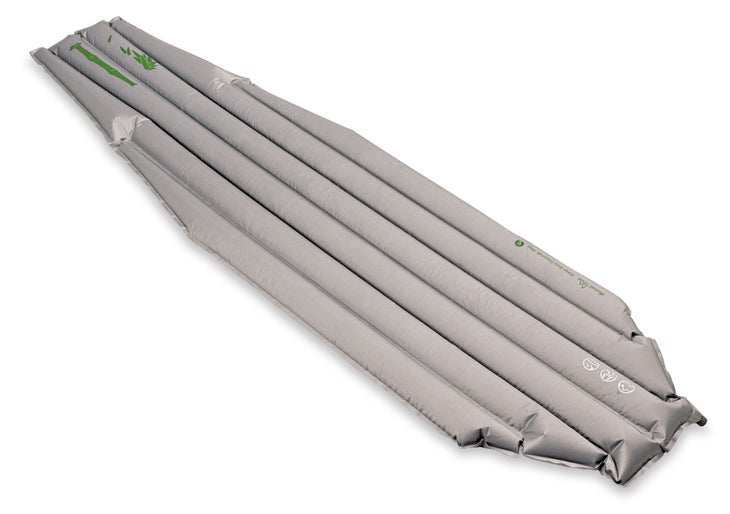 Pacific Outdoor ECO Thermo 6 Sleeping Pad 
Snooze guilt-free on the world's first carbon-neutral air mattress. 
Let's face it—a sleeping pad alone won't save the world from global climate change, but when a small company pioneers green-manufacturing techniques, uses sustainable materials in a unique way, and offers consumers a feel-good choice, it gets our attention—even if it is just a drab-looking, gray air mattress.
Looks are probably the only unremarkable thing about the ECO Thermo 6. Both the fabric and insulation are made of bamboo, the world's fastest-growing woody plant. In this case, it's "carbonized" bamboo; heat and pressure are used to break down the plant's cellulose, thus avoiding the more common (and toxic) acetate-style manufacturing process. The insulation in the mattress tubes is a raw form of this fiber; the cover is the same material woven into a cloth. The shell is dye-free, the valve is recycled aluminum, and the stuff-sack cord is hemp. The only petroleum-based material (besides the cord lock and valve cover) is the polyurethane fabric coating, which is a lesser evil than the toxic byproducts of PVC; Pacific Outdoor offsets this use by buying carbon credits.
Manufacturing and distribution account for much of any product's carbon footprint, so Pacific Outdoor purchases credits to offset those, too. "To take each [ECO Thermo 6] pad from raw material to our warehouse, the consumption of power is approximately 5.87 kilowatt hours per pad," general manager Greg Garrigues explains. "To account for it, we purchase a 10 kilowatt-hour REC [Renewable Energy Certificate] Green Tag for each one."
Equally important: Twenty-plus nights of testing confirmed that the 2.5-inch-thick pad is light and very cushy, with a refreshingly slip-resistant cover. Like other tapered pads, it feels slightly narrow, especially for taller hikers, but it hides gravel and roots, and we slept warm even on 2 inches of snow. The only downside? Feel-good technology costs more. Available in men's ($150, 72×20") and women's ($145, 66×20"). 1 lb. 9 oz. Reader service #112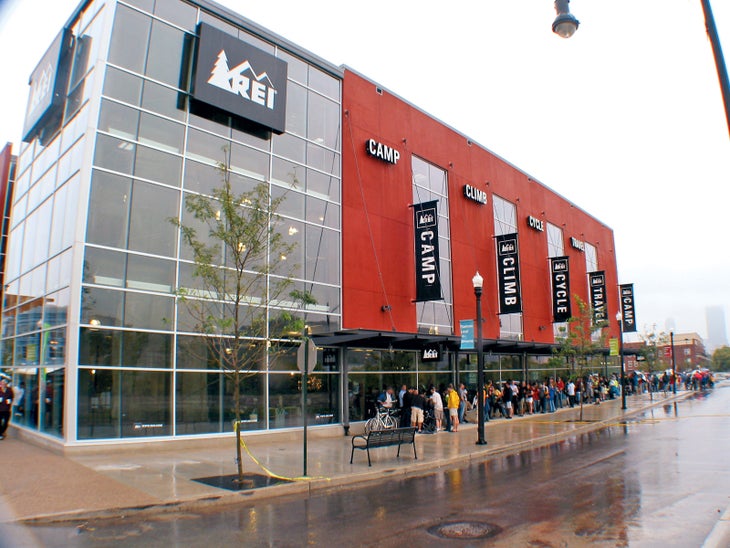 REI Global Warming Initiative 
The outdoor retailing giant takes a huge step to reduce its carbon output.
When REI rolls out a fledgling tentmaker's hot new ultralight shelter, the reverberations are felt in every corner of the tent business. Colors change, zippers move, fabric prices go up (or down), and designers everywhere lose a few more hairs wondering how they can catch the retail behemoth's eye next time around. With 89 stores and enormous buying power, REI is just that influential.
With any luck, the company's campaign to become "planet-neutral" will have the same ripple effect. In the last year, REI— voted favorite outdoor retailer in a recent survey of BACKPACKER subscribers—has undertaken several programs to minimize its ecological impact. They fall into three broad categories: converting to green energy, offsetting emissions, and reducing waste.
In 2006, REI purchased 11 million kWh of green power—about 20 percent of its annual electricity consumption. By doing so, it offset the CO2 emissions of 1,100 cars and became a top 10 retail member of the EPA's Green Power Partnership. Twenty REI stores are now powered completely by renewable resources. In 2007, the company will purchase carbon credits to counteract greenhouse gas emissions from travel associated with REI Adventures and the Outdoor School, offsetting 36,000 more tons of CO2 emissions. Perhaps the most noticeable impact will come from REI's plan to cut its landfill waste in half by 2009, which will require manufacturers to eliminate the acres of nonrecyclable packaging on store shelves now.
By themselves, none of these initiatives are truly groundbreaking, but REI is acting on a scale that's unprecedented in the outdoor industry. Our Green Award recognizes the audacity of REI's ambition, the difficulty of moving a large company forward so swiftly, and the changes these actions will trigger among its numerous vendors.
And there's one more positive: REI is disproving the old shibboleth that sustainable practices are bad for business. New energy-efficient lighting at its Sumner, WA distribution center is saving the company $100,000 annually. And purchasing renewable energy in 2006 not only slashed REI's electricity-generated carbon emissions by 30 percent, it saved the company $100,000 through contracts with long-term fixed pricing. Sometimes, it seems, doing the right thing is also pretty profitable.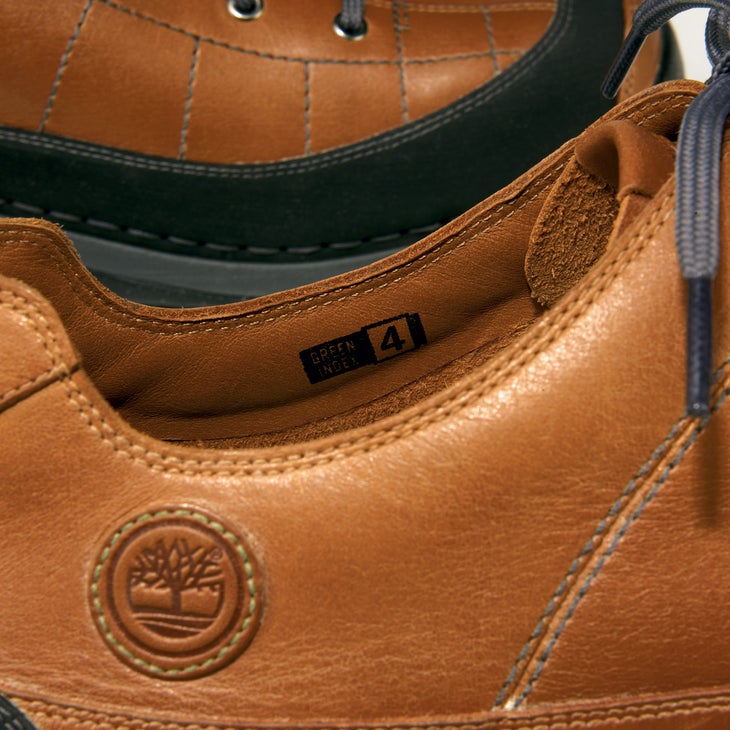 Timberland Green Index
Another big company makes a bold move toward eco-honesty.
"Greenwashing" is getting a lot of ink lately, and for good reason. The practice of cloaking products in environmentally friendly marketing hype is increasing, and it's arousing suspicion among consumers about the authenticity of all eco-claims, even legitimate ones. That's one reason we're thrilled to see Timberland take a meaningful step toward transparency with the company's new Green Index.
Under this program, shoes in Timberland's new Greenscapes collection will be labeled with a numerical score that measures the shoe's environmental impact. Imagine a nutritional label that rates sustainability instead of calories from fat, and you get the basic idea. The two models currently on the market get a 3.5 and 4.5 on a scale of 0 (no impact) to 10 (yuck). The company plans to label its GoLite and Mi¯on footwear brands in 2008, and its entire outdoor collection by 2010. It's also offered to share the idea with other gear makers.
For Timberland, which won Editors' Choice Green in 2004 for its pioneering use of water-based adhesives, the Green Index is an instrumental step toward a long-term corporate goal of radically lightening its customers' footprints. In the near future, a perfect score will be difficult to achieve. "In order to get a zero," says a company representative, "we would have to offset all of the carbon emissions associated with our materials and manufacturing; eliminate 100 percent of the PVC, solvent adhesives, and chrome leather in the shoe; and use only 100 percent rapidly renewable, recycled content, or organic materials."
Something tells us this company will find a way. We hope a few more follow suit.
The Greenscapes Mountain Sneaker comes in all-leather and hemp/ leather. $85–90; 7–12, 13, 14, 15. Reader service #113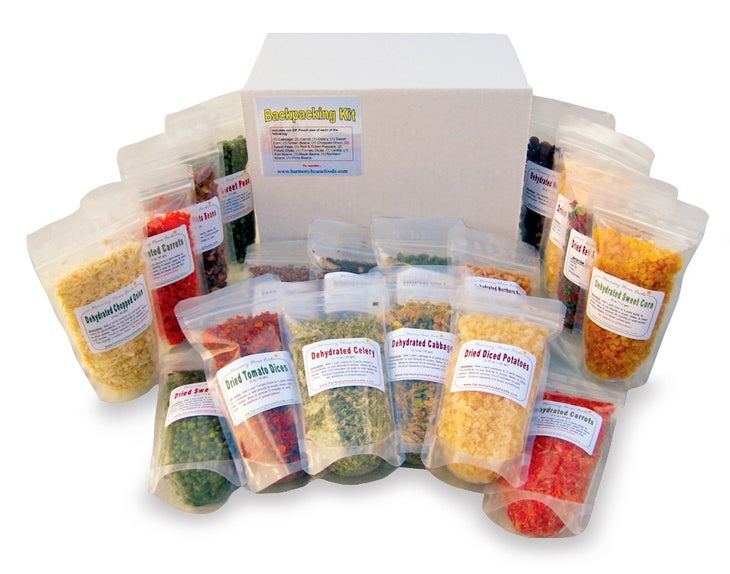 Harmony House Foods Backpacking Kit
It's like having a farmer's market in your pack.
When we opened the big box from Harmony House, we actually checked the packing slip to make sure the company hadn't made a mistake. Inside was a cornucopia of dried ingredents—enough for more than 100 meals, we guessed—yet we'd paid only $40. As we dug through, the nature of the bargain became even more evident. Carrots, potatoes, onions, peas, tomatoes, celery, green beans, sweet corn, red and green bell peppers, cabbage, lentils, and four types of legumes—if you'd gotten it all at the supermarket, you could spend twice that. And what about the hours it would take to chop, blanch, and dehydrate this stuff at home?
No doubt about it, this is an insane deal, one that will lift your backwoods chow to new heights. Each Backpacking Kit contains 18 zipper-lock packets, each with about a cup of meticulously chopped and prepped dehydrated produce. Now all those fancy recipes are doable, because the ingredients are at your fingertips. We laced our pastas with veggies and our rices with beans (all beans are precooked, then dehydrated for quick prep). We dehydrated our own hamburger and made scrumptious bowls of beef stroganoff and chop suey. We turned plain spaghetti into hearty, healthy feasts.
The clincher: Lack of time and money is no longer a valid excuse for eating plain old ramen. With this kit, we can all be gourmets. $40. Reader service #114 
Gold Award
A good idea––and a great performer––gets the BACKPACKER nod.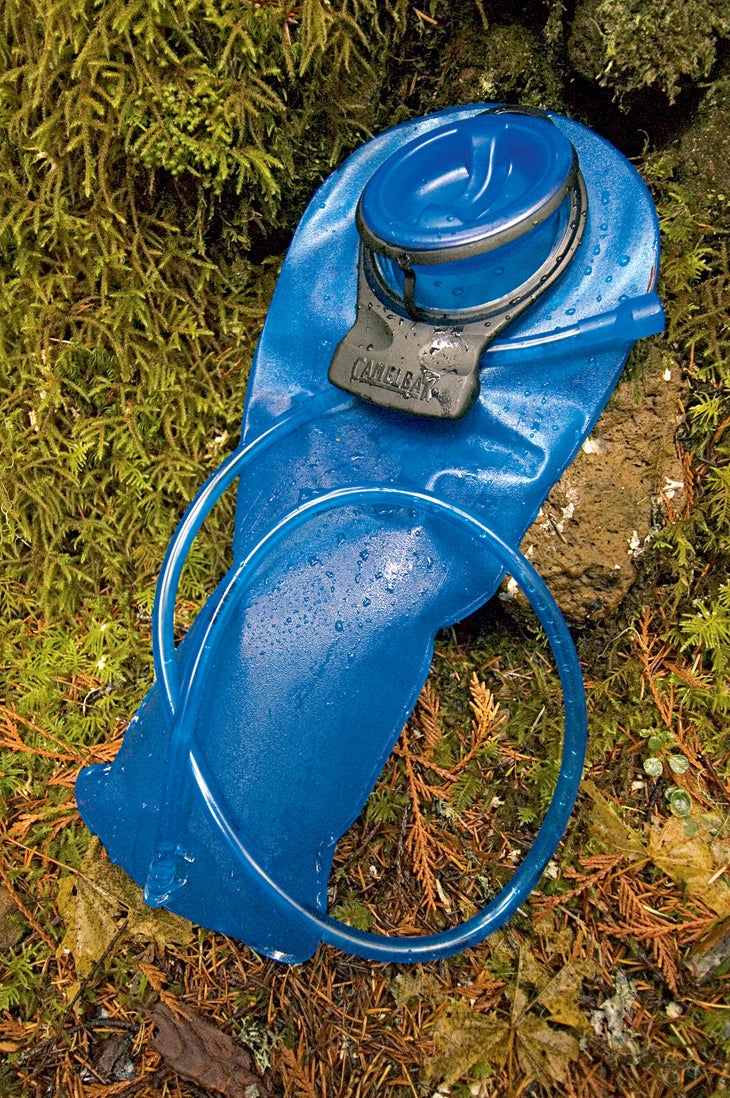 CamelBak Hydration Reservoir
The product that invented the category and keeps raising the bar is still our favorite drinking buddy.
The year was 1988, and Mike Edison was thirsty as hell. Two bike bottles just weren't enough for his grueling century rides in West Texas, so he sewed an IV bag and tube into his jersey for extra hydrating capacity. People pointed. Some probably laughed. But Mike quenched his thirst—and CamelBak was born.
The first model on the market (called the Thermo Bak) was just a couple of layers of laminated film and a sipping device in a makeshift fabric backpack. The years have seen numerous innovations. In 1998, the Big Bite valve was added, increasing flow by more than 50 percent; in 2001 came a wider screw cap for easy filling and cleaning, and a shutoff switch to prevent bite-valve leakage.
Finally, in 2006, the company made the reservoir so bomber that it didn't pop when we drove a truck over it. Seriously. CamelBak's lab guys told us that the reservoir's burst resistance is about 2,000 pounds of direct force, so we ran one over with a Jeep Cherokee. Other reservoirs popped like water balloons, but the CamelBak was unfazed. So we parked the left-front tire right on top. "The reservoir stretched a bit under the weight of the Jeep, but didn't leak a drop," says map editor Kris Wagner, who calls it "the toughest bladder out there." And from the icing-on-the-cake department, this ultra-reliable reservoir comes with a lifetime warranty. $30 (100 fl. oz., 7.2 oz.), $28 (70 fl. oz., 6.3 oz.). Reader service #115