Editors' Choice 2006: The Best Backpacking Gear of the Year
Cutting-edge technology, category-defining comfort, and exceptional value earn these 12 new products the BACKPACKER seal of approval.
Heading out the door? Read this article on the new Outside+ app available now on iOS devices for members! Download the app.
Last summer, we started our Editors' Choice testing with 52 promising products, each designed to make your backcountry adventures more pleasurable. Five months and many miles later, we'd whittled the batch down to 22 finalists, which we packed up for our big six-person sufferfest in Glen Canyon. (The gear suffered, not us.) The winners that emerged 6 days later had survived the toughest and most diverse testing process in the outdoors—in all types of environments, by men and women, by warm sleepers and cold, by tall guys and short, wide-footed and narrow. In the end, each winner sets a new standard in its category for innovation, comfort, or value. In this issue, we also recognize two time-tested favorites (Editors' Choice Gold) and one eco-aware company that significantly lowered its environmental impact this year (Editors' Choice Green).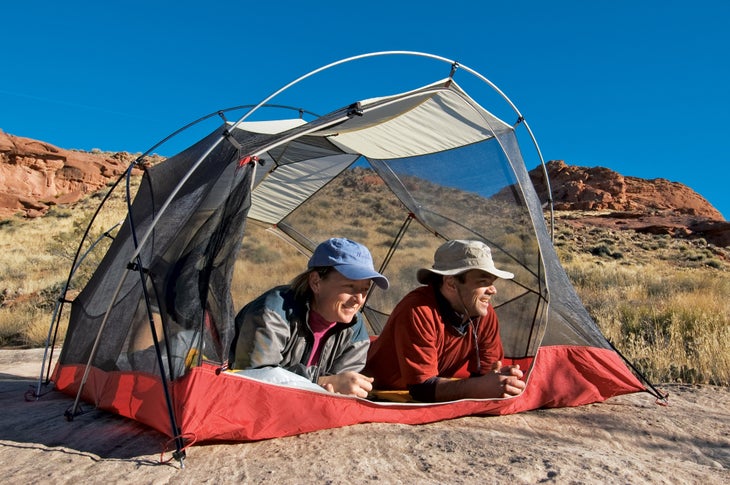 MSR Mutha Hubba
At long last, we find a shelter with more space than most three-person tents that weighs less than many two-person tents.
We had just about given up on three-person double-wall tents. Every one we tested was seemingly made for Oompa Loompas—too narrow, too short, or too low for three average-sized adults. But along came the Mutha Hubba. This breezy shelter finally offers an alternative to condensation-prone single-wall tents, which used to be the only way to get weight savings in a three-person tent without slashing space.
Following the tradition of MSR's two-person Hubba Hubba (which took Editors' Choice honors last year), the 6 lb. 13 oz. Mutha offers loads of room for just over 2 pounds per camper. This freestanding dome's 40 square feet of living space feels downright cavernous thanks to a unique hooped, hub-pole design, which pushes the canopy up and out. Because the walls are so steep, every inch of floor space is usable in the squarish footprint. And the 46-inch ceiling height allowed six of us to sit up and play cards. Two spacious vestibules easily accommodate packs, boots, and cooking gear. The two large doors, big storage pockets, and a gear loft make group living easy, especially if you're backpacking with kids or basecamping.
The double-wall design and great ventilation (through a mostly mesh canopy) makes the Mutha one of the most condensation-free shelters we've slept in. We experienced zero moisture buildup on cold nights in the Grand Canyon, and there was only minor condensation on the fly when a family of four slept in the Mutha on hot, humid summer nights on the East Coast. On clear nights, you can take the fly off for a 360-degree view of the stars.
The geodesic Mutha pitches tight and, when fully guyed out, didn't budge during microbursts on the exposed Tonto Plateau in the Grand Canyon. Setup is quick and easy, once you grasp the unique design. (Color-coding on poles and grommets would help.) Ounce-counters and overburdened dads have the option of shaving 25 ounces by just pitching the fly with an optional footprint ($50). $380; 6 lbs. 13 oz. Reader service #101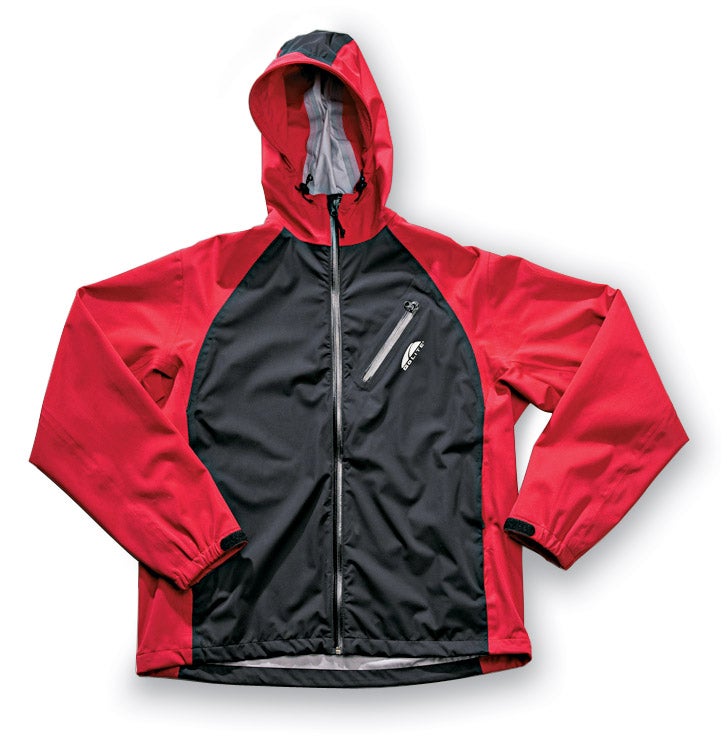 GoLite Xirtam and Mountain Hardwear Torch
Two soft shells introduce a new level of breathability to waterproof outerwear.
Some marriages of technology seem preordained. When soft shells hit the scene a few years back, we hailed their superior breathability and wind resistance and broad, multiseason comfort range. But they lacked the dependable rainproofing of a traditional hard shell. So we wondered: How long would it take for apparel makers to combine technologies into a truly waterproof soft shell? Finally, our ship has come in—two ships, actually. After putting the Torch and Xirtam through their paces in weather zones from Rainier to the Appalachians to the Rockies, we can now say these are the first three-season rain jackets we've tried that are breathable enough to wear while hiking—for hours, even all day. No more clammy raincoat, no more sweaty T-shirt when you take off a jacket that's supposed to be keeping you dry. Even on long, uphill slogs under backpacks, the Xirtam and Torch barely got moist inside.
Of the two, The Torch has a closer fit, more adaptable hood, and more features, including pit zips and four pockets to the Xirtam's three. It's also more windproof, and it's warm enough for activity in moderate winter temps. The Xirtam is stretchier, lighter, longer, cooler, and significantly less expensive than the Torch. The soft, stretchy exteriors of both jackets shed water well, but not like the smoother, beading surfaces of most hard shells.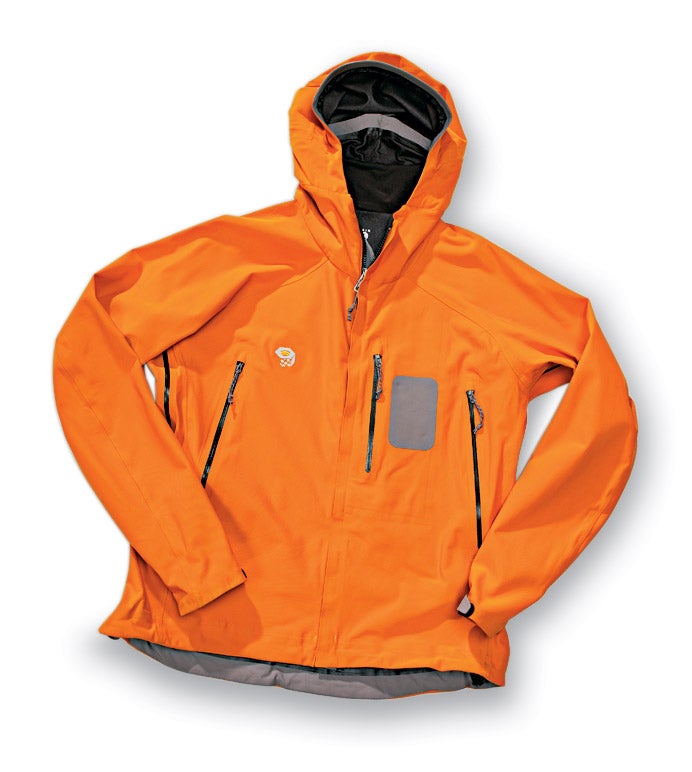 The jackets' waterproofing stories are slightly different. Mountain Hardwear doesn't call the Torch waterproof because of licensing arrangements with W.L. Gore, manufacturer of the Windstopper fabric used in the jacket. But thanks to its welded seams, the Torch is functionally waterproof; we showered in it and experienced leaks only through two tiny eyelets at the back of the hood. As for the Xirtam, GoLite doesn't deny that its Fusion fabric is waterproof, but this jacket is assembled with traditional stitched and taped seams.
Bottom line: While the Torch is cut more for climbing, both jackets are excellent choices for dry, comfortable hiking in a wide range of climates.
$200; men's S–XL, women's XS–L; 1 lb. (men's L). Reader service #102
$240; men's S–XXL, women's 4–14; 1 lb. 1.5 oz. (men's L). Reader service #103
Arc'teryx Naos 55
This pack will change the way other packs are made.
If it's possible for a backpack to achieve feng shui harmony, the Naos is the most exquisite rock garden we've ever gazed upon. Thanks to a new technology that welds rather than stitches components to the pack, form and function find themselves in perfect balance. The payoff is a beautiful midsize pack that is rugged, impressively light, and waterproof.
Part of the company's innovative AC2 line, the Naos sports a sleek packbag made from just two pieces of a lightweight, waterproof nylon that's urethane-coated on both sides and joined with two fully taped seams. Add waterproof zippers and a drybag-style roll-top closure, and the pack is as watertight as a submarine.
But the Naos is not a just a drybag with straps. The hipbelt is one of the most comfortable around. A pancake-sized plastic disc connects the belt to the packbag and rotates with every hip pivot. Whether we were scrambling up hillsides or downclimbing canyon walls, this system made 35-pound loads noticeably more comfortable and stable. The shoulder harness, with contoured straps of dense foam, is spare but adequate. One nitpick: Since the strap attachments are welded to the packbag, the shoulder harness is not adjustable for a fine-tuned fit.
Considering its weight (the Naos 55 is 2-plus pounds lighter than the Bora 65, its slightly bigger, older sibling), durability is impressive. We lowered it down rocky bluffs, rolled it into ravines, and dragged it over canyon chockstones without seeing any fraying.
In true feng shui fashion, the versatile Naos maximizes the function of its minimal parts. There's no useless clutter, and the hole for your hydration tube doubles as the drybag release valve. The roll-top waterproof closure accommodates a variety of load sizes. And the pack works equally well for backpacking, canyoneering, skiing, alpine climbing, and canoeing. This harmonic convergence is not cheap, but true innovation rarely is. $429; 3,970 cu. in.; short, regular, tall sizes; 4 lbs. 8 oz (regular). Reader service #104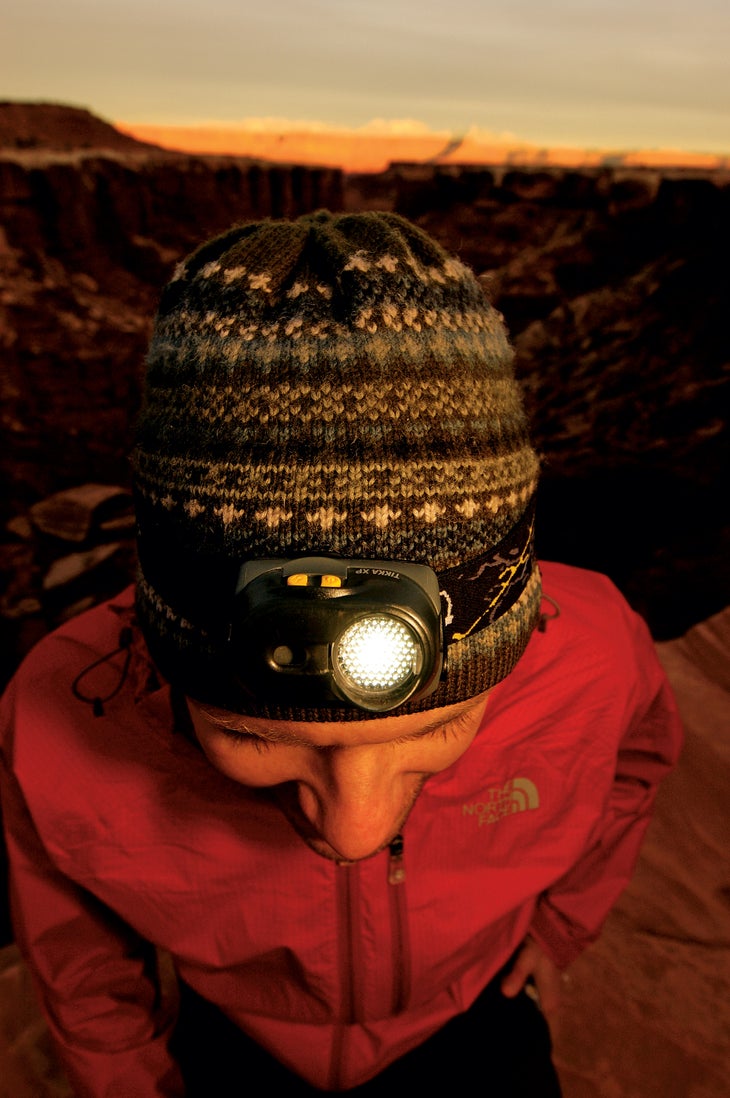 Petzl Tikka XP
For just over 3 ounces, you get a smart, powerhouse light with all the functions you'll ever need.
Picture this: You're night-hiking in a deep, boulder-strewn Utah canyon. There's no moon. It's so dark the owls are bumping into the canyon walls. Then you snap on your Tikka XP, a tiny, 1-watt LED headlamp powered by three AAAs. Just like that, you're a human lighthouse, and your beam illuminates detail on a rock face 100 feet away. The Tikka XP wowed five different editors during months of testing from the Berkshires to the Sierra. We loved the clear, razor-sharp light, the snug headstrap, and the secure tilt adjustment that held firm even during trail runs. Switching to a softer beam for camp use is simple; just slide the wide-angle diffuser across the bulb. The light also has three brightness settings and an emergency blinking mode. A separate boost button increases output from any mode to 150 percent of normal for spotlight searching; it also functions as an instant on/off for pot checks and SOS signaling. Battery changes won't bust your fingernails, and a flashing battery indicator glows orange at 30 percent remaining and red at 10. With fresh alkalines, the Tikka XP shined bright (no detectable light falloff) for 20 hours on high beam at room temperature. $50; 3.35 oz. with batteries (included). Reader service #105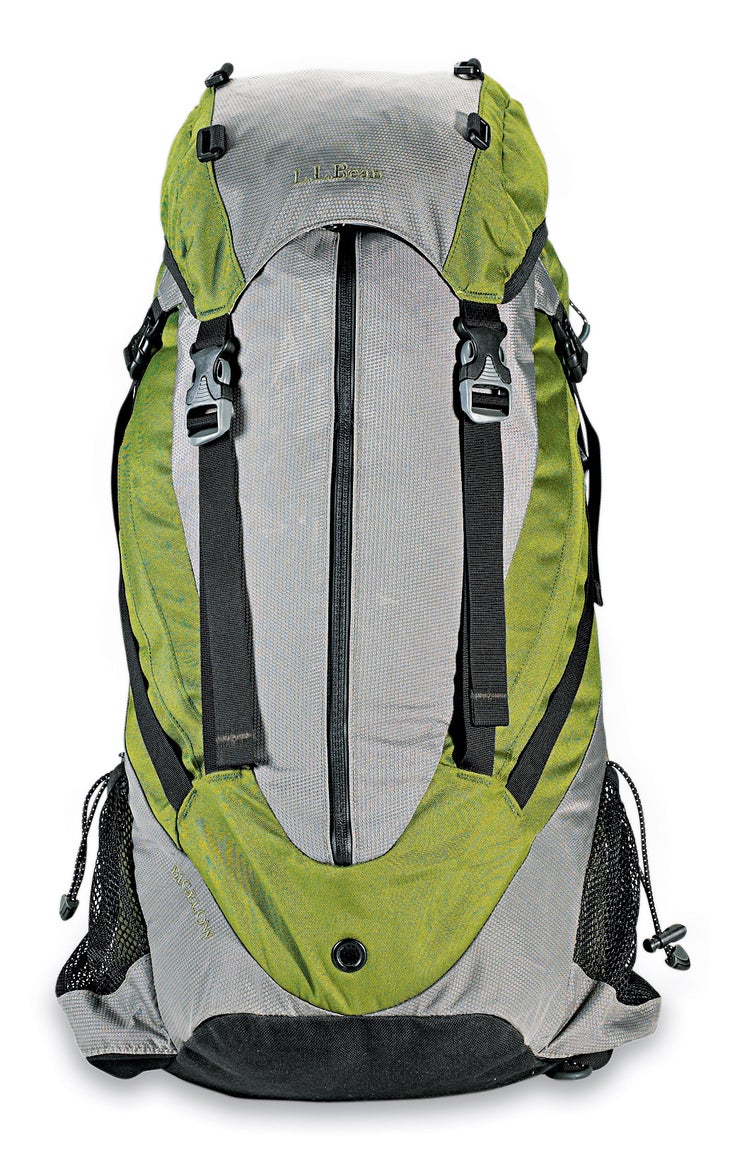 L.L. Bean Bigelow
This pack offers champagne features on a beer budget.
What would you expect to pay for a technical day-plus pack that comfortably hauls 25 pounds, bashes briers without a scratch, and comes with trick extras like an integrated raincover? A hundred bucks? One fifty? We've certainly seen prices that high, which is why we did a double take after seeing the Bigelow's $59 price tag.
But the real proof was in the performance. We carried the pack on summit bids in New Mexico and Colorado. Pushed, pulled, and dragged it through slots in Glen Canyon. Fastpacked on the Appalachian Trail. And the feedback from testers—after more than 60 total trail days—was a unanimous thumbs-up. "I turkey-stuffed 2 days of ultralight summer supplies in it," raved one editor, "and it still carried like a charm." Credit goes to a rigid plastic framesheet and well-placed foam padding (the Bigelow fits medium-to-large torsos best). Stabilizer straps on the 4-inch-wide hipbelt also help distribute pack weight across the hips.
Features includes stuff you'd normally find on a pack that costs $40 more: a hipbelt pocket, shove-it pocket, and two mesh water bottle pockets; hydration sleeve and port; and built-in raincover. Testers also liked the big zipper pulls (easy to grab with gloves) and the emergency whistle molded into the sternum-strap buckle. The tightly woven nylon fabric on our two test packs shows a few scuffs, but no pilling or tears.
The Bigelow comes as a top-loader (2,000 cu. in.; 3 lbs. 14 oz.) or panel-loader (1,800 cu. in.; 3 lbs. 13 oz.), in regular (18") and large (20") sizes. $59. Reader service #106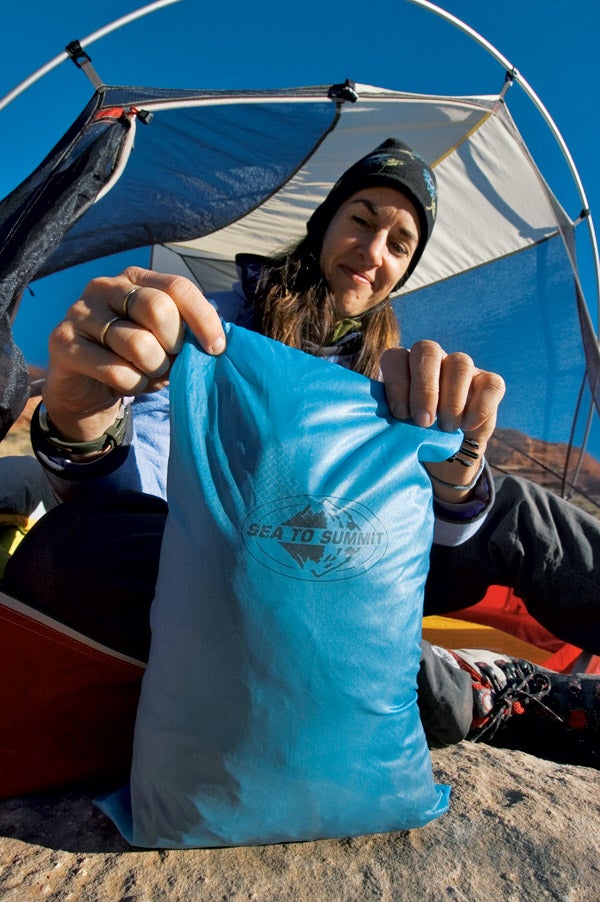 Sea to Summit Ultra-Sil Dry Sacks
Keep your gear dry with these superlight stuff sacks.
We beat the crap out of these bags—and drew no blood. Rain rolled right off the Cordura nylon fabric, which is treated with both silicone and polyurethane water repellents. Sandstone and granite failed to mar the exterior. The double-stitched seams held up to all of our yanking and stuffing. And then the real test: An editor dropped his Ultra-Sil-encased sleeping bag overboard during a canoe trip on the Delaware River. The sack bobbed once, twice, rolled over, then splashed through a set of riffles. But thanks to the Ultra-Sil's taped seams and roll-top closure, our editor slept bone-dry that night. You'll like the fabric's translucence (for viewing the gear inside), slippery finish (for easier packing), and superlight weight (to eliminate the need for a pack cover). The 2-liter size is perfect for a sleeping bag or clothes; the 20- and 35-liter models shine as pack liners. $9–$30; 7 sizes (1–35 liters), .7–2.3 oz. Reader service #107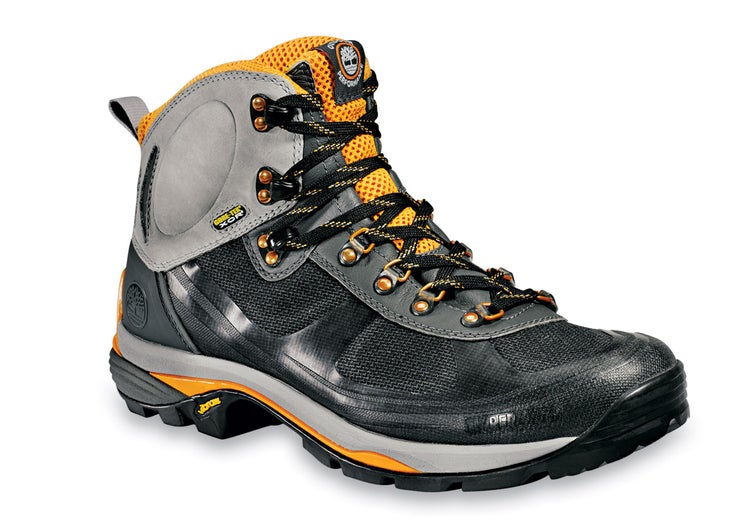 Timberland Cadion Waterproof Mid GTX XCR
Get killer ankle and underfoot support in an ultralight all-terrain boot that Ed Viesturs helped to design.
Sometimes it's agony deciding what footwear to bring on a trip. Do you go with a featherweight shoe to eat up the miles, or a beefier boot to support your ankles and arches? Should it be waterproof for carefree creek crossings, or breathable for all-day comfort? Should it have solid midsole protection for cobble and boulder-bashing in dry streambeds, or lots of forefoot flex and a grippy sole for frictioning up slickrock slabs?
Well, stop agonizing. We've finally found a boot that can do it all. The Cadion's trim upper is made from a light, abrasion-resistant Schoeller material welded to a plastic urethane rand for toe and sidefoot protection. The Gore-Tex XCR lining is waterproof, yet breathes well enough that things never get too steamy.
Perhaps the Cadion's best feature is its ankle support. "The cuff is high and rigid enough that I can balance on one foot on top of the tippiest rock and not worry about twisting my trick ankle," says one editor. "It's amazingly supportive, considering how light it is." The cuff's padding is memory foam—similar to the stuff found in high-end mattresses—and it cradles an ankle like an Ace bandage. The foam conforms to the foot, then slowly returns to its original state when the boot is removed. The forming process happens again and again each time you put on the boot, resulting in a total absence of pressure points and fresh padding and support with each wearing.
More good news: There's zero break-in time. We ripped open the boxes, laced them up, belted into our packs, and started walking. And if that's not enough for a boot that weighs only about a pound per foot, the Cadion is also crampon-compatible (a Viesturs touch). The svelte shape is ideal for low to mid-volume feet. $140; 1 lb. 14 oz (women's 8); available in women's 5–9½, 10, 11, men's 7–11½, 12, 13. Reader service #108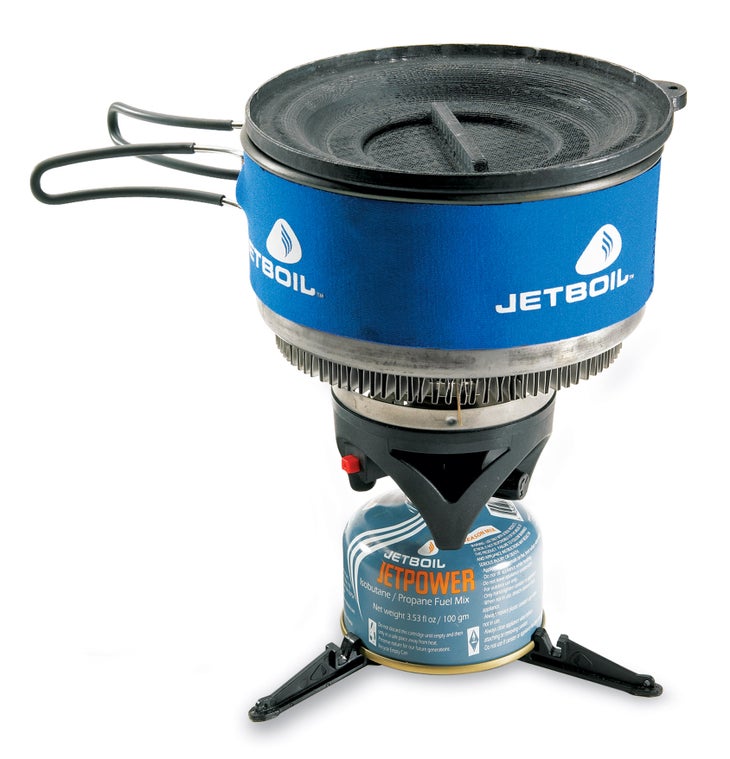 Jetboil GCS
The baby brother of a previous EC winner is bigger, better, and more versatile.
When we slapped an Editors' Choice Award on the original solo Jetboil PCS in April 2004, our only gripe was that its small New Hampshire manufacturer didn't make a comparable cooking system for groups, or one that we could use for frying and baking.
The new modular GCS grants both wishes at once, while retaining its predecessor's best-in-class fuel efficiency and boil times. The GCS's 1.6-liter pot easily holds soup for two or a rice dish for three, and its sturdy swing handles are insulated for safe lifting and pouring. An insulating wrap and a heat exchanger on the underside of the pot trap enough energy to produce 3-minute boils (for a liter) in warm weather and 4-minute boils in near-freezing temps—unheard of in a canister stove. The result: Less fossil fuel burned and less weight to carry, because your canisters last twice as long.
When the hot drinks are ready and it's time to sauté the garlic for your main course, you have two options: brown it in the nonstick GCS pot, or lift it off and use your own frying pan—the GCS burner doubles as a stand-alone stove. Making pancakes? Bring a bigger frying pan. Brownies? Set an Outback Oven on top (but watch the flame control closely to keep the canister from overheating and exploding). $110; 1 lb. 3 oz. Reader service #109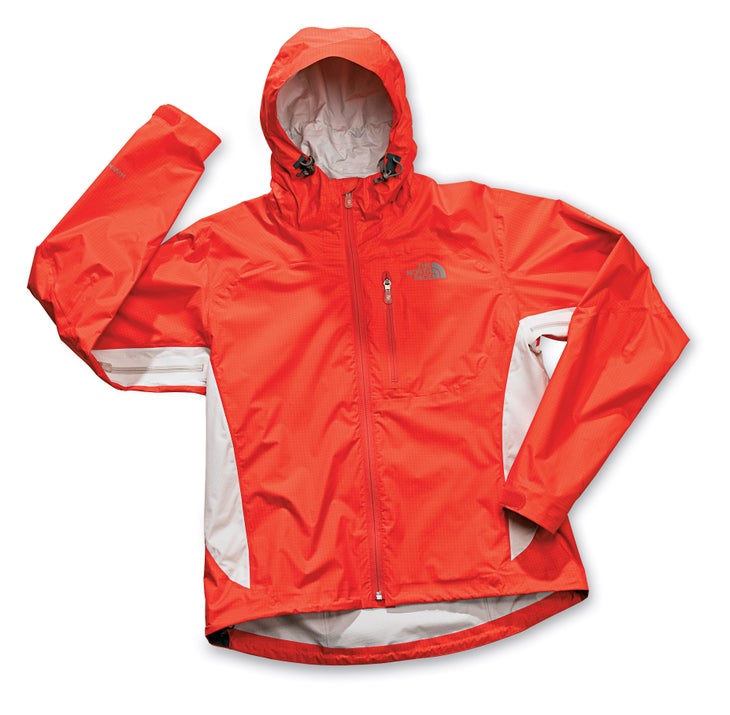 The North Face Diad Jacket
Testing confirms it: You can get a real rain jacket for less than 8 ounces.
If you're like us, you've been craving a rain jacket that combines the full-on water barrier of a hard shell with the featherweight packability of a windshirt. The North Face Diad fills that void. Solid wet-weather performance, wispy weight, and an extremely competitive price make this our favorite hard-shell jacket of the year. At a mere 6 ounces, the Diad can slip into the tiniest crevice of your pack and still offer up features like 6½-inch pit zips, an adjustable hood, cinchable waist cord, and chest pocket. The cut is on the short side, but roomy enough for layering. On snowshoeing trips in Colorado's Indian Peaks, the proprietary HyVent fabric steamed up only during a sunny 1,500-foot climb in knee-deep champagne—but pit zips allowed excess body heat to move out at mach speed. And during a very rainy Northeast autumn, the fabric fought back torrents day after day after day with no leakage. Quibble: The pit zips, while easy to open, tended to grab at closing time, often requiring the help of a friend. $199; men's S–XL, women's XS–L; 8 oz. (men's L), 6 oz. (women's M). Reader service #110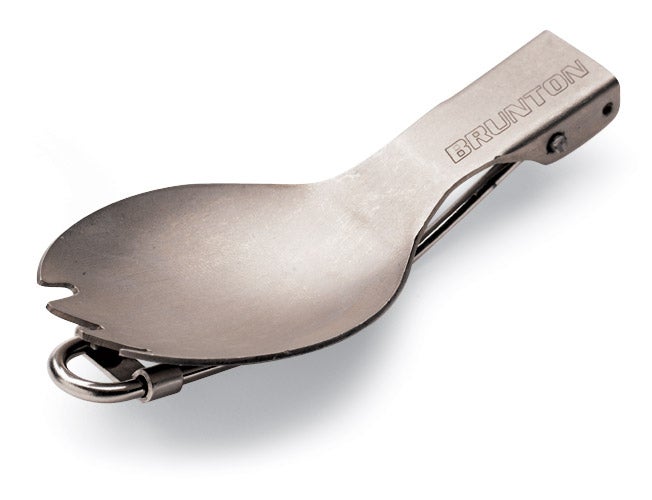 Brunton MY-Ti Folding Spork
Geek love comes to dinner.
The backpacking universe is divided into two types: people who understand why we'd drool over a folding spork, and those who still cook with cast-iron camp skillets. For the unenlightened, let's just say that Brunton has crafted the perfect outdoor eating utensil, a thing of geometric and practical beauty. This titanium and stainless steel spoon/fork hybrid can twirl pasta, scoop soup, stab veggies, even lift a full pot of water (thanks to a simple but secure locking mechanism). Best of all, it folds in half to nest neatly inside any mug or solo pot. $15; 6.5" long (3.5" folded); .6 oz. Reader service #111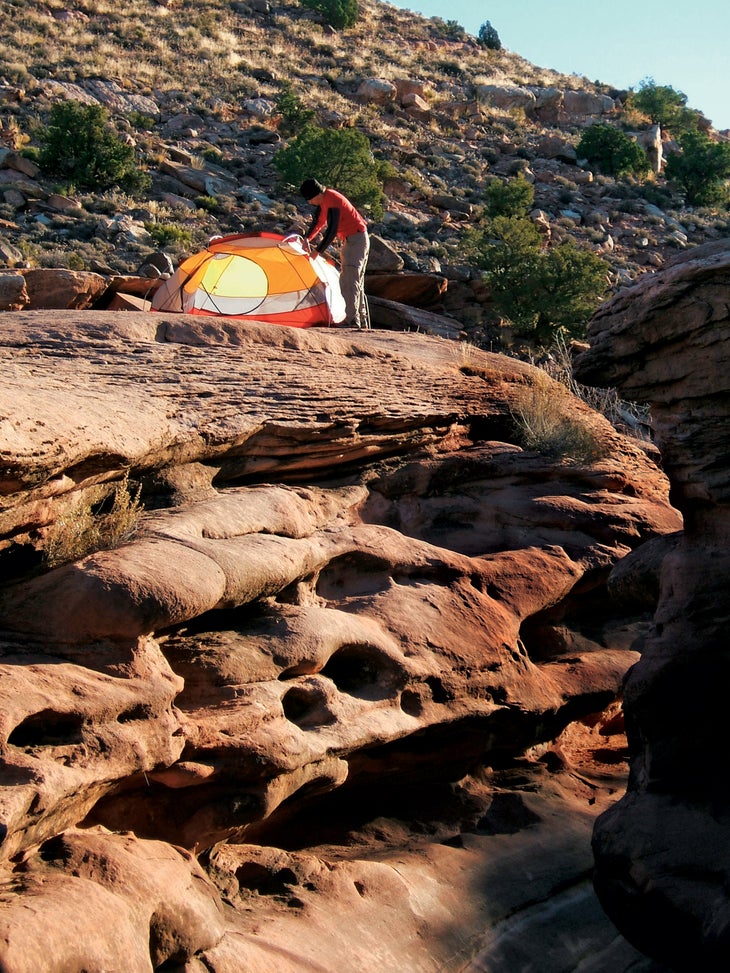 Marmot Aeolos 2P
This dome sets a new weight-to-space standard for double-wall tents.
Sure, we get pretty worked up over ultralight tents. But the truly rare find is a traditional double-wall that cuts weight without slashing features or stability. Enter the Aeolos. We slept in it through deluges in the Olympics, sandblasting winds in Utah, and dripping humidity in the Catskills, and we're still looking for something bad to say about it.
Marmot's design acumen comes through in details like the Aeolos's pole clips. Not only are these the strongest clips we've seen, but they also combine with smooth-sliding pole sleeves for an easy, secure pitch. One editor had it up in minutes—by headlamp—her first time out. Other stuff we like: the dual-diameter poles, which are thicker in the middle (where strength is crucial) and thinner at the ends (where weight-shaving makes sense). The large doors and vent that eliminate condensation even on soggy nights. The door design that keeps rain from dripping inside when we get in and out. The huge vestibules, which fit two big, drooly dogs, plus gear. And the rainfly-only pitch (with $40 optional footprint), which shaves nearly 2 pounds.
But this tent's most impressive feature is its awesome space-to-weight ratio. With Marmot's unique knee-pole design—the main crossing poles are prebent to create steeper sidewalls—and two short bridge poles across the roof, even our tallest testers were happy with the headroom. Four people can play cards here in a rainstorm, and two 6-footers could think they're sleeping alone. Yet the weight comes in under 5½ pounds.
OK, one nitpick: Instead of standard stake loops, the tent has strips of webbing whose slots aren't big enough for T or Y stakes, only Marmot's flexy needle stakes. $325; 5 lbs. 7 oz. Reader service #112
Green Award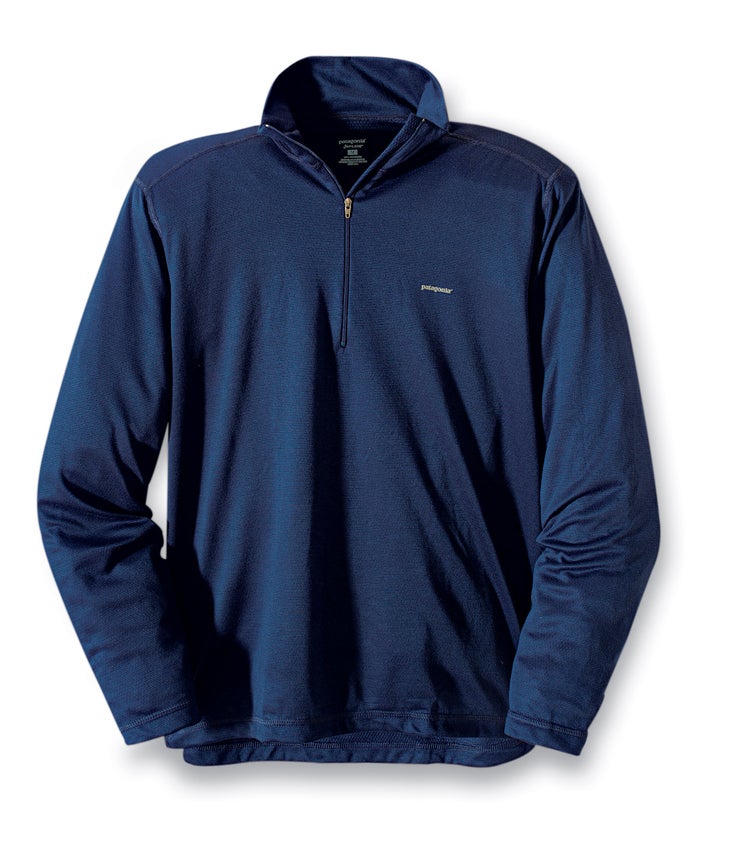 Patagonia Common Threads Recycling Program
Recycled underwear? It makes more sense than you might think.
Wanted: Your tattered, smelly, nasty old Capilene long johns. Yup, you read that right. Patagonia has developed another eco-friendly recycling initiative, one that turns old underwear into brand-new stuff.
We're not talking about patching holes and washing the stink out. Patagonia is actually breaking down long underwear tops and bottoms into polyester molecules, purifying them, and transforming the raw material into plastic chips that are then melted, spun into thread, and woven into new Capilene garments.
Once the program is fully online, the potential impact will be huge. Patagonia currently makes more than 1.4 million Capilene garments a year, and by September 2006 at least half of the polyester in that line will come from recycled soda bottles, shower curtains, and other waste. By September 2007, every Capilene garment will also contain fibers from recycled underwear. The net result will be a 76 percent energy savings and a 71 percent reduction in greenhouse gases compared to production methods that use only virgin materials.
For every 100 pieces of Capilene that Patagonia recycles, it can make 95 new garments. And the company is already working on the obvious next step: collecting other non-Capilene polyester products (like fleece and other manufacturers' long johns). Stay tuned for more on this later in the year.
Available in dozens of styles ($29–$78), Capilene has been a staple for backpackers since it was introduced in 1985. It's one of the best base layers money can buy—soft, quick to wick and dry, and incredibly durable. And it'll stay that way. "We've been working on using recycled polyester to make new Capilene for 10 years," says Jill Dumain, Patagonia's environmental analysis director. "And we finally have a process that has zero performance impact on our final product."
To participate, drop off your washed Capilene items at the nearest Patagonia store, or mail them to Patagonia Service Center, Common Threads Recycling Program, 8550 White Fir Street, Reno, NV 89523-8939.
Gold Award
Two tried and true inductees to Backpacker's Hall of Fame.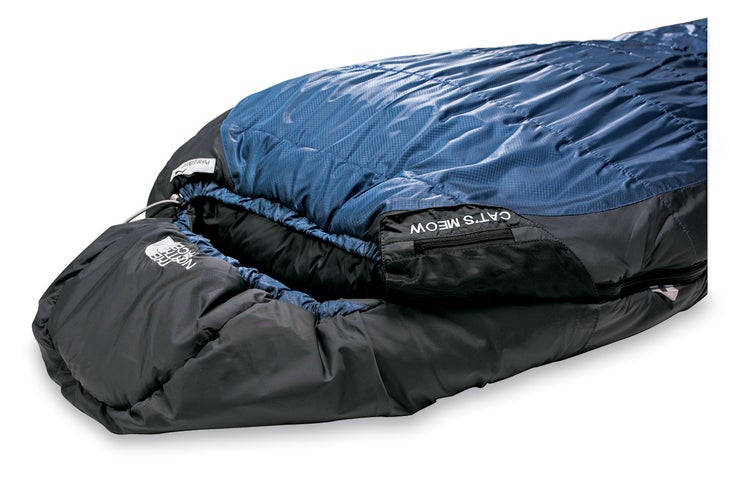 The North Face Cat's Meow
This three-season bag set the standard for a generation of synthetic-fill sacks.
$159. That's how much the Cat's Meow cost in 1993, when it was part of our inaugural class of Editors' Choice Award winners.
$159. That's how much this same 20°F synthetic-fill bag costs today, 13 years later, despite updates that have made it a tougher, lighter, and more compressible sack—and a paragon of workhorse reliability in the outdoors.
But price is just part of the story. The Cat's Meow still sits at the head of its class because its core design values haven't changed. This sack is meant to be warm, not just comfortable, so it's stuffed with a bit more insulation (Polarguard Delta) than many competitors' bags. That makes it a bit bulkier than some, but one cold-sleeping editor didn't chill on a 16°F bivy—and we'll take that tradeoff any day. This sack is also meant to be draft-free, so it features shingle construction (which keeps the insulation from shifting) and possibly the fattest draft tube on the market. And this sack is meant to be tough, so it goes bomber on things like zipper quality and snagproofing.
A generous girth from hips to shoulders makes the Cat's Meow a fine choice for active sleepers, wide bodies, and anyone who doesn't want to feel mummified. Length is a bit tighter; the long version was just adequate for our 6'6" tester, in part because the hood is quite shallow. Recent feature additions include a watch pocket and color-coded hood adjustments; the Velcro hood closure is also new, but we'd dial it back (it's unnecessarily tough to open). That said, we fully expect to be singing this bag's praises in another 13 years. $159; 2 lbs. 12 oz. Reader service #113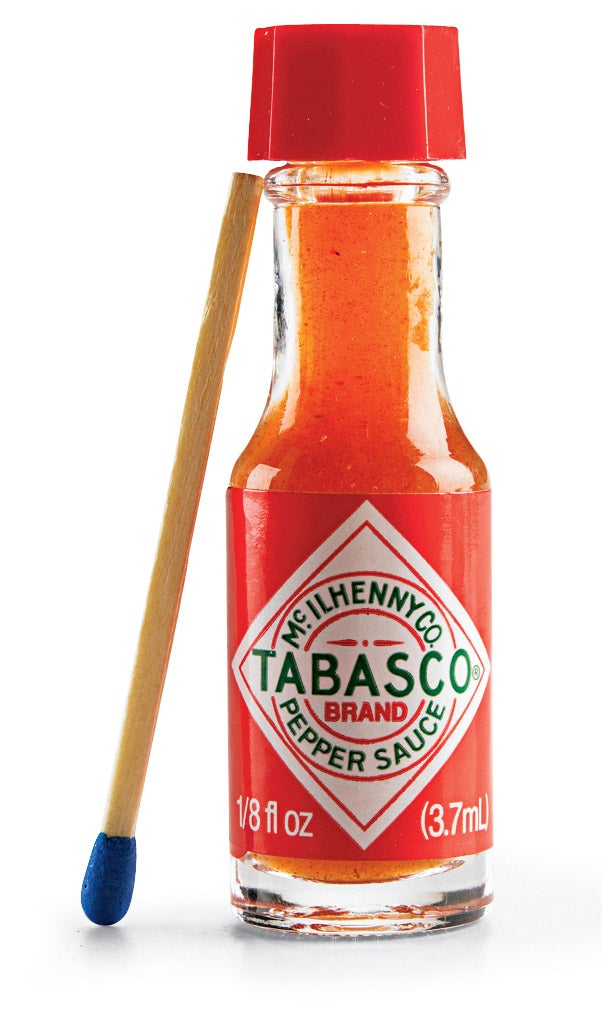 Tabasco Sauce
Spice up your backcountry life with this magic sauce.
We like it hot. Not sweaty hot, or heart-attack hot. Tingly, slightly-sweet-on-the-tongue hot. That's why we always stash a bottle of Tabasco in our cook kits. It spices any dish (and we do mean any), and it's sold in backpacker-friendly 1/8 oz. and 2 oz. bottles.
It may sound like hyperbole, but Tabasco has saved dozens of backcountry trips. Like the time one editor's girlfriend charred their last handful of egg noodles in Mt. Rainier National Park. Or the night another editor slopped mac and cheese on a muddy beach in Michigan's Sylvania Wilderness. In each case, a few splashes of the hot stuff made the meal edible. (An endorsement from another school of hard knocks: The U.S. military includes a mini-bottle in most of its MREs.)
Yes, there are other hot sauces on the market. But can you find them in places like Torrey, UT (pop. 171) or Glennallen, AK (pop. 554)? Nope. Do their makers list more than 200 recipes online that can be modified for the trail? Nope.
We also stash Tabasco in our first-aid kits, because it doubles as a warming lotion for cold hands and feet. And we hear pepper juice is handy for tentmates who snore. Just tap a few drops in their open mouths, and well … lesson learned.
The heavenly juice is sold in six flavors—original, sweet and spicy, chipotle, green, habanero, and garlic pepper. Original and green come in tiny bottles. $.50 and up. Reader service #114