Editors' Choice 2004: The Best Backpacking Gear of the Year
Innovation, value, unbeatable quality— here's the best stuff we've tested this year.
Heading out the door? Read this article on the new Outside+ app available now on iOS devices for members! Download the app.
The wind roared like a 747, sleet and snow tag-teamed all night long, and we hunkered down on the side of Mt. Hood, waiting for something to snap. It was early winter, during the final week of testing for our annual Editors' Choice Awards, and once again we'd come to exactly the right spot to determine which products would make the final cut. When the storm finally ended, we had more than a dozen winners, plus Editors' Choice Gold Awards for two time-tested favorites, and a pair of Green Awards for eco-breakthroughs.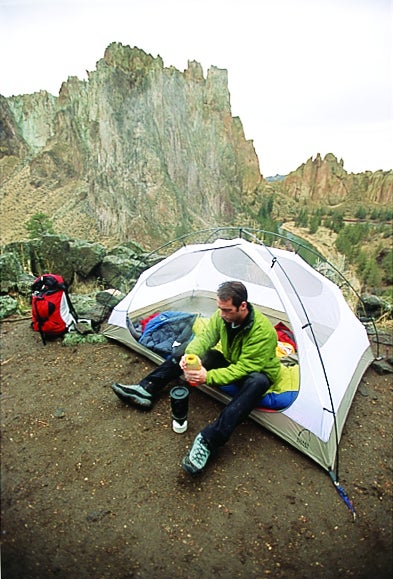 Jetboil Personal Cooking System
Go ahead, have a cup of tea. Have 20. There's no need to ration with this fuel miser.
We knew we were onto something when a gear-savvy outdoor guide kissed this cooker on a testing trip in the Grand Canyon. On Hood, our other canister stove had sputtered to a halt in the cold, windy weather, but Jetboil was cranking out hot drinks faster than we could down them. We wanted to kiss it, too.
What makes Jetboil so lovable is its ultra-efficient design, which integrates a 1-liter insulated pot, wind-protected burner, and heat exchanger into a single rugged unit. The heat exchanger is key; it captures a whopping 80 percent of the flame's heat—about twice that of most canister stoves. In mild weather, we boiled a dozen liters using one 110-gram fuel canister. Jetboil isn't spectacularly hot, but its lower BTU output improves reliability in cold temps and makes simmering easy. The stove is compatible with any standard threaded canister; when disassembled, the burner and a 110-gram canister nest inside the pot. Downsides: The plastic lid is difficult to remove when hot, and you can't fry up a quesadilla.
$80 • 14 oz.
Contact: Jetboil. Reader service #107. 
Nike ACG Air Zoom Tallac
Behold the most load-worthy lightweights we've tested.
At 2 pounds per pair, these innovative boots are almost as light as running shoes, yet they're supportive enough for backpacking with 40-pound loads. We reeled off 20-mile days from the Sierra to the Smokies trying to find fault, but came away with nothing but appreciation for their close fit, rock-hopping agility, and overall athletic performance.
Stiff plastic strut stabilizes the superlight upper.
Dual-density plastic shank is flexible in the forefoot for striding, rigid in back for support.
Air bags in the sole let the Tallac use less midsole cushion, producing weight savings and a better feel for the trail.
Shallow lugs bite well and clear muck easily.
Waterproof Gore-Tex XCR liner shines in the most breathable application we've seen.
Forgiving synthetic upper fits like a glove on all but the lowest- and highest-volume feet, and lacing is super secure.
Downside: Toe rand susceptible to gouging and tearing on rocky scrambles, but overall durability is surprising for such a light shoe.
$140 • men's 6–121/2, 13, 14, 15 • 2 lbs. (men's size 9)
Contact: Nike. Reader service #117.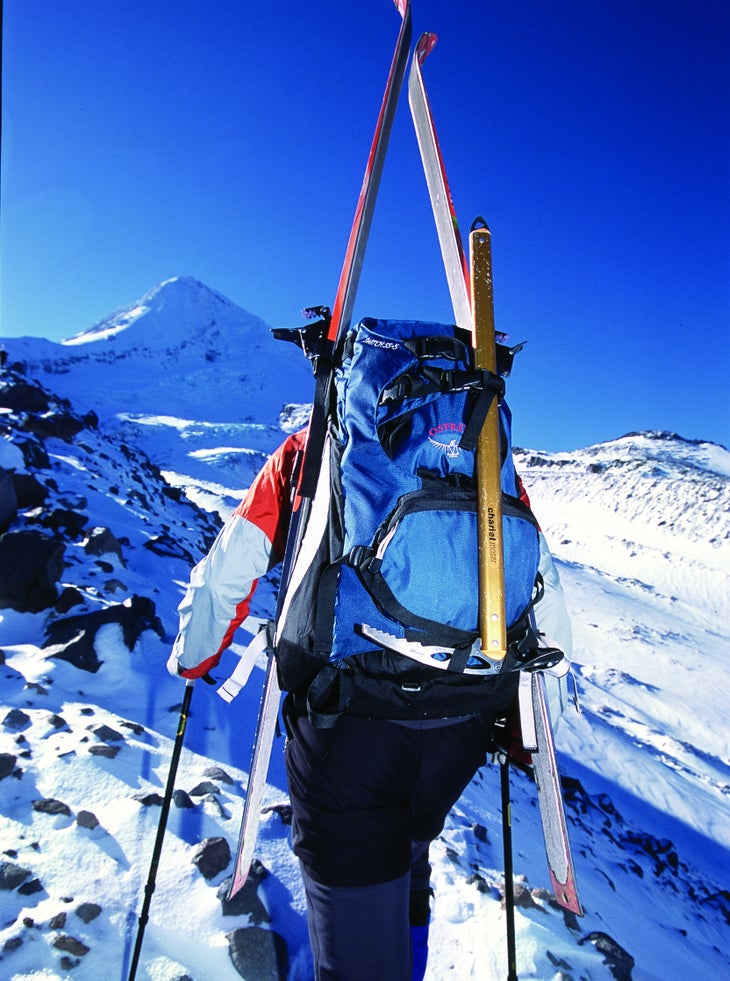 Osprey Switch 55+5
Weekend warriors rejoice: One pack can do it all.
True innovation sometimes looks, well, weird. But don't be daunted by this pack's nonconformist features. Once you get accustomed to the unique backside zippered access (difficult to overstuff) and the myriad straps, you'll enjoy the payoff—three packs in one, plus an integrated hydration system that's in a class by itself. Here's what you get.
A 700-cubic-inch removable daypack that's large enough for dawn-to-dusk adventures, and it doesn't bow out when fully loaded, despite the lack of a frame.
The AquaSource, a brilliant shoulder harness/hydration system that slips out of the pack for use alone (great for trail runs or bike rides) or with the detachable daypack. Bonus: The insulated drinking tube is winter-ready, and refills are a snap even with a fully loaded pack.
A thin hipbelt that wraps perfectly. Says one tester, "If I were ever to wear a girdle, this is how I'd want it to feel—no gaps, no creases, no stiffness to cause sore spots. Just a close, full-contact, cushioned ride." The suspension doesn't have the stability to be overloaded, but for moderate weekend carries, it's plenty supportive.
Attachments for skis, snowboard, shovel, and other winter toys, plus a snow safety gear organizing compartment.
A hook-and-loop adjustment that is quick and easy to fine tune—no need to resign yourself to an "almost there" fit.
Two hipbelt pockets—perfect for snacks, camera, sunscreen.
A narrow profile for great freedom of movement in snaggy terrain, and foam sidewalls that shape and protect the load.
$239 • 3,400 cu. in. • 3 sizes, fits 16–221/2-inch torsos • 5 lbs. 5 oz. (medium)
Contact: Osprey. Reader service #115.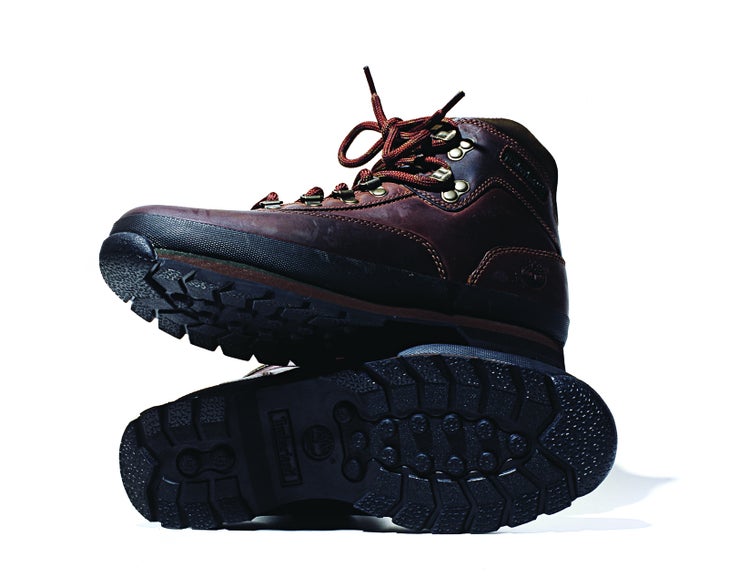 La Sportiva Trango S
Meet the best summer mountaineering boot for backpackers, period.
Long before ultralight zealots hit the AT, mountaineers knew the equation of weight savings: Lighten up, and you'll go higher, go faster, and do it in comfort. So it's no surprise our tester put on the stripped down Trango S and raced up 11,000 vertical feet on the Italian face of Mont Blanc. He came back raving about their svelte design, foot-friendly hiking, and masterful climbing. In one week, he and another tester marched miles under heavy packs, scrambled thousands of feet of talus, front-pointed up icefields, and climbed multiple cliffs (up to 5.10). Through it all, the Trango S proved stiff enough to hold a firm edge on any slope and support ankles even when flat-footing in crampons, yet flexed enough for comfortable trail walking. The shallow lugs grip well on rock (but don't bite into mud). The caveat? These mild-conditions boots are not insulated or waterproof. Also, the slender last isn't for wide feet.
$225 • Euro sizes 37–471/2 • 3 lbs. 1 oz. (size 42)
Contact: La Sportiva. Reader service #112.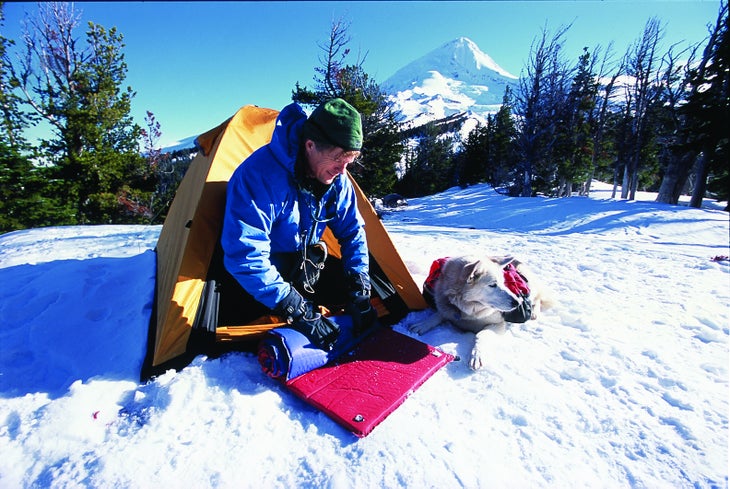 Integral Designs eVent Shelters
A bevy of coeds couldn't steam up this ultra-breathable new fabric.
Single-wall shelters have long been the only option for mountaineers in search of lightweight weather protection. But the price has been steep, both in dollars and comfort, because single-walls are pricey and notorious for condensation. Until now. We tested three Integral Designs shelters made with eVent, a waterproof/breathable fabric first used in raingear; the results were astounding. The material moves moisture so fast that even in a sleet-storm, our heaviest breathers couldn't frost more than a few square inches of ceiling. The secret is an ePTFE membrane that's similar to other laminates but doesn't require a breathability-busting polyurethane coating.
The two-person MK1Lite is a classic two-pole parabola that pitches from the inside, making blizzard camping a breeze. The low-profile design yields awesome strength for the weight, and the taut pitch hardly budged when guyed out on Mt. Hood. Interior space is perfect for one person with gear, tight for two, and cramped for anyone over 6 feet. There's no vestibule, and the angled door can't be left open in the rain. Integral Designs also uses eVent fabric in three bivy sacks: South Col ($235), Bugaboo ($245), and Unishelter Exp ($290). Bivy fans will love these condensation-free models.
eVent MK1Lite: $530 • 26 sq. ft. • 3 lbs. 5 oz.
Contact: Integral Designs. Reader service #110.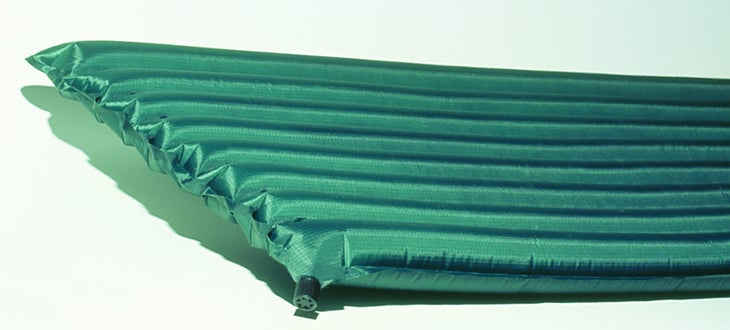 Big Agnes Insulated Air Core and Insul Mat max-thermo
These crash pads are so light you'll never tire of carrying them, and so cushy they
should come with an alarm.
One lightweight pad for near year-round use. That's the word on these new-wave mats, which add synthetic insulation to the cold, empty chambers of traditional air mattresses. The combination offers 21/2 inches of pillow-soft thickness, yet amazing weight and bulk savings compared to other pads of similar warmth. We stayed toasty even on snow-covered ground with temps in the high teens. They squash down like a six-pack of bagels, and inflate with a few minutes' blowing. Here's how to tell them apart.
Big Agnes Insulated Air Core (top): Mummy or rectangular with Primaloft fill and two lengths. $65 • 1 lb. 6 oz. (reg) Contact: Big Agnes. Reader service #118.
Insul Mat max-thermo (bottom): Can't beat the incredible price, but this mummy only comes in one length (72″). $55 • 1 lb. 7 oz. Contact: PacOutdoor. Reader service #119.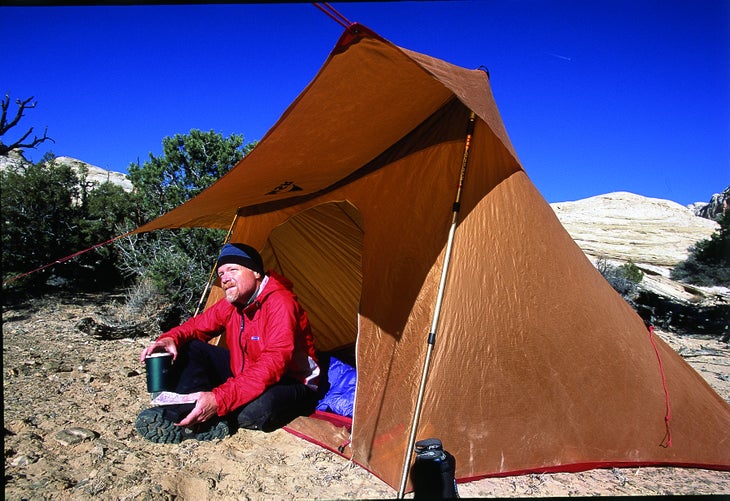 MSR Missing Link
Shaq could stretch out in this 3-pounder, and your kid could pitch it.
Forget everything you thought you knew about weight-to-space ratios, because this flying wedge proves you can enjoy luxurious space in an ultralight tent. The Link's single-wall construction trims pounds, while its roominess results from a radical tarp-meets-A-frame design. How big is it? Our perpetually cramped 6'6″ executive editor could throw his arms overhead while sitting up and store gear at his head and feet while lying down.
Icing on this cake comes in the form of wide-ranging weather capabilities. The tent barely rippled in a Mt. Rainier storm that brought 40 mph winds and 5 inches of rain, thanks to a super-taut pitch (two trekking poles and guylines). But it also shone in humid conditions, venting freely through its well-protected mesh door and rear screen. In calm weather, sit side-by-side with your honey enjoying awning-shaded views from the double-wide doorway.
$230 • 37 sq. ft. • 3 lbs.
Contact: MSR. Reader service #106.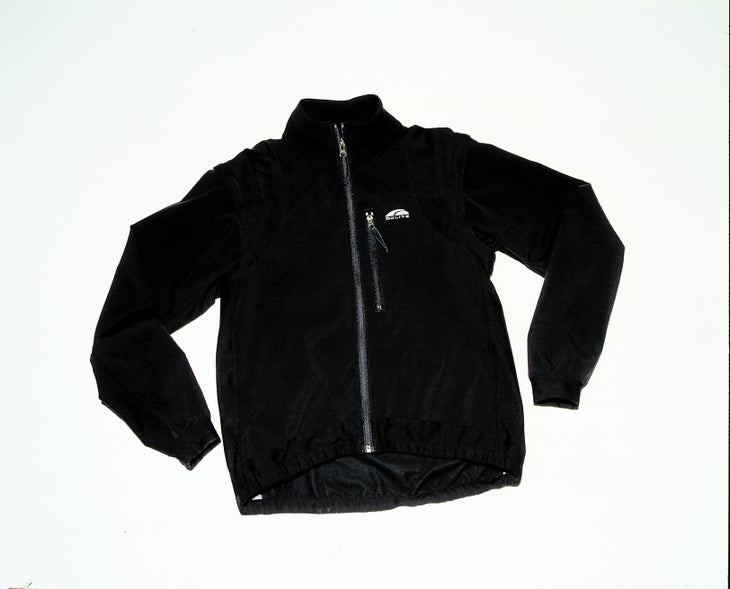 GoLite Kinetic Jacket
This top is the tortilla of soft shells: versatile enough for every trip.
Like a star utility infielder, this jacket earns its keep—and then some—with unsurpassed versatility. The Kinetic delivers the best of soft-shell performance—weather resistance, great breathability, stretch, and tough-skinned durability—in an adaptable design that kept us comfortable from the Canadian Rockies in summer to the Presidential Range in autumn.
The jacket is impressively light and breathable for the protection, thanks to Polartec's Power Shield Lightweight Ultra. The exclusive GoLite fabric blocks 98 percent of wind and has a DWR coating that sheds light rain and snow, yet it moved moisture well even when we sweated hard while skiing up Mt. Hood. Four-way stretch is enhanced by Power Stretch panels over the shoulders (though these are weak points in extremely wet conditions). The zip-off sleeve design, while initially setting off gimmick alarms, won us over with its versatility and unobtrusive zippers; we loved getting a jacket and vest for no extra weight. The close, athletic fit permits layering under and over. One concession: You'll have to make do with a single chest pocket.
$199 • men's S–XL; women's S–L • 14 oz. (men's medium)
Contact: GoLite. Reader service #108.
Sierra Designs
DriZone Down Bags
Stay dry, stay warm, stay under budget with these waterproof bags.
You don't need to be an eBay addict to appreciate this deal: a 20°F down sleeping bag that's true to its rating and sheds water like an umbrella for just $220. Add a 0°F version for $250, and it's a bargain hunters' free-for-all. The 600-fill-power Cloudripper (20°F) and Thor (0°F) are the highlights of Sierra Designs's new DriZone bags, which use a proprietary laminate to keep out the wet.
On a soggy Washington trek, the Cloudripper easily repelled condensation that would have turned lesser down bags into sodden lumps (though seams aren't taped so the bags themselves aren't truly waterproof). Add a comfortable cut, good hood wrap, serviceable draft collar, and snag-free zipper/draft tube, and it's not likely any of these bags will make it onto eBay as castoffs. Each comes in a women's model (Sun Ribbon and Starlight, respectively). Any catch? The sacks aren't as light or compressible as their pricier brethren.
Cloudripper: $220 • 3 lbs. 1 oz. Thor: $250 • 3 lbs. 13 oz. (both 80″, 88″)
Contact: Sierra Designs. Reader service #111.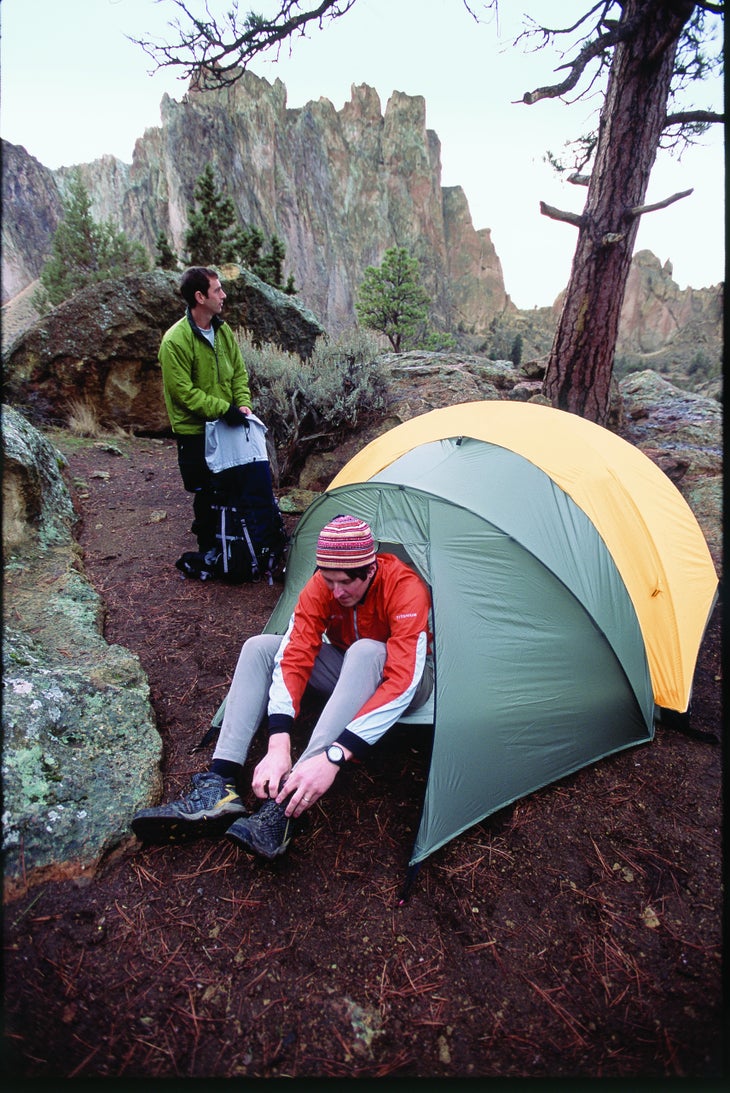 Lightning
What's the perfect balance between living space and low weight in a traditional backpacking tent? Pitch this beauty and find out.
It's no wonder freestanding double-wall tents are the most popular shelters in the backcountry. The traditional design offers easy pitching, affordable pricing, and superior ventilation all in one tidy package. But can you have all that and lightweight too?
Damn straight. We were amazed after the sub-4-pound Lightning rode out screaming December winds on Mt. Hood, produced zero condensation even on drippy humid nights, and made a great buggy/hot-weather hideout, thanks to extensive mesh panels on the ceiling and door. The two-pole, quick clip design pitches fast. The clincher: Living space is big enough that two full-size hikers can sit up easily and perch side-by-side in the extra-wide doorway. The vestibule has more than enough room for boots and foul-weather gear, though the elastic tieback is a bit fussy. Clutter caution: Interior pockets are AWOL.
$249 • 32 sq. ft. • 3 lbs. 15 oz.
Contact: Sierra Designs. Reader service #116.
BearVault
Lighter, more spacious, easier to use—you win, Yogi loses.
Our relationship with bear canisters used to go something like this: Love Yosemite, love Alaska, hate the bulky plastic canisters required for safe food storage. Our relationship has changed. After using the BearVault on a weeklong Sierra trip, our affection for bear-country backpacking is unconditional. Here's why.
It's lighter than other canisters we've tested, yet there's more usable space (up to 7 days' worth of food for one hiker).
The screw-on lid requires no tools to open or close, and the waterproof seal keeps contents dry come rain or deep stream crossings.
A wide opening and clear plastic construction make retrieving food easy.
Built-in strap guides let you lash the canister securely to your pack.
$80 • 2 lbs. 7 oz.
Contact: BearVault. Reader service #109.
Black Diamond Superlight Shelters
Welcome to a brave new world of bomber shelters at tarplike weights.
Three pounds. Make a note of it, because that's the new standard for a freestanding, two-person tent. Black Diamond achieved the milestone with its Lighthouse ($369), the heaviest in its new line of Superlight single-wall shelters. The others are the Firstlight ($299; 2 lbs. 9 oz., a smaller two-person) and the Lightsabre ($179; 1 lb. 4 oz.; a two-hoop bivy). All three use Epic by Nextec fabric, a breathable siliconized material, to create amazingly light, low-condensation, four-season shelters.
The best of the bunch for riding out bad weather in style is the Lighthouse. It's plenty spacious for two, with card-playing headroom, and when combined with its optional vestibule ($139; 1 lb. 1 oz.), the Lighthouse could sleep three people and gear in a pinch. The three-pole dome is taut and stable when guyed out, and pitches from the inside. In conditions ranging from Utah snowstorms to drizzling Oregon rain, all three shelters proved weatherproof and well ventilated (Epic fabric is rated "highly water resistant," but we couldn't get it to leak). Shorter-than-average pole sections make the Lighthouse a cinch to pack.
Lighthouse: $369 • 31 sq. ft. • 3 lbs.
Contact: Black Diamond. Reader service #113.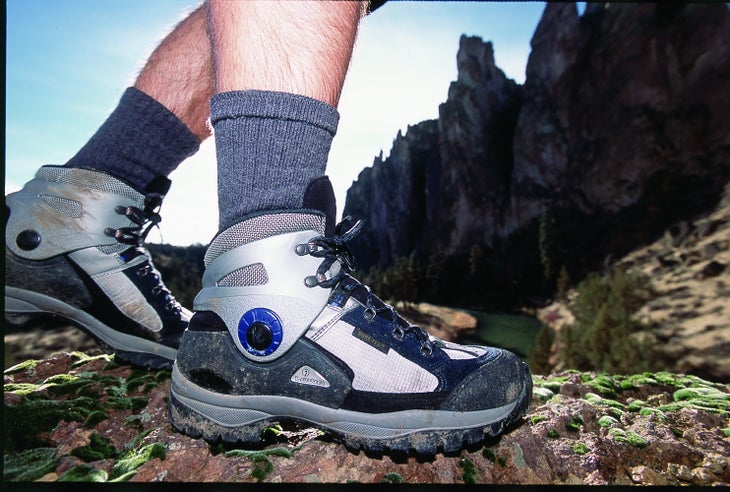 Lowa Biomex Vertex
Get tennis shoe comfort in a boot with big-load support.
Happy feet make a happy hiker, which must explain why our Rocky Mountain editor was sighted skipping through the Yellowstone backcountry this fall. He wore the Biomex Vertex for 3 weeks straight, carrying loads up to 50 pounds over rough terrain, and reported nothing but blister-free bliss. The all-purpose boot uses a hinged plastic cuff for big-load ankle support and a fabric/leather upper for a supple, lightweight feel, and stacks it all atop a cushioned, semi-rigid sole with shallow but effective lugs. The result: a shoe that's fully capable of hard-duty backpacking, but weighs less and feels better than boots with stiff leather uppers.
Other testers concurred after treks in Oregon, Idaho, and Utah. On slickrock scrambles, we appreciated solid lateral stability and edging power. The cuff gives the leverage needed to hold on small nubbins and steep sidehills, yet doesn't interfere with ankle freedom on flat and fast trails. A Gore-Tex liner keeps the wet out. The forgiving last fits a wide variety of feet.
$225 • men's 7–111/2, 12, 13; women's 6–91/2, 10 • 3 lbs. 4 oz. (men's size 9)
Contact: Lowa. Reader service #114.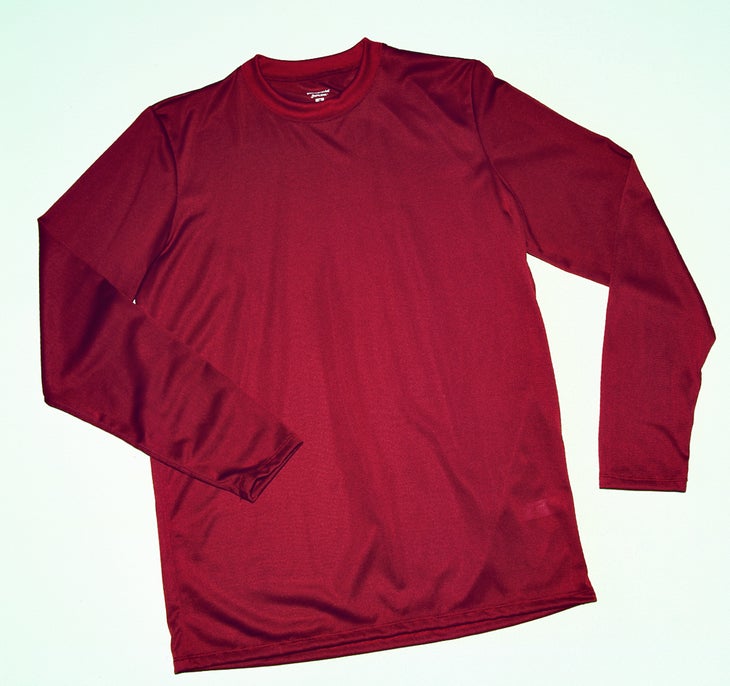 Patagonia Capilene
Who knew we'd still be living in the same underwear after 20 years?
In some circles, it's a badge of honor to carry the heaviest pack, blaze the roughest trail, remain stoic in the face of the worst weather. But nobody gets points for suffering through scratchy, clammy, stinky base layers. In 1985, Patagonia banished bad undies forever with the release of Capilene, a synthetic fabric that feels soft as cotton, wicks away sweat, dries fast, and lasts so long that some of us are still wearing the originals. Patagonia has continually updated the fabric, improving its odor-fighting properties and moisture-management, and adding one of the sharpest-looking T-shirt lines on the market.
Contact: Patagonia. Reader service #120.
Leki Makalu
When any old stick won't do, we trust these proven poles.
It takes exactly one second to learn the value of a dependable trekking pole. One moment you're scrambling down a near-vertical scree slope hauling a 70-pound pack; a second later you're falling ass-over-tea-kettle, flailing at thin air with a snapped stick. Lesson learned.
For years, we've relied on the Makalu series ($110 to $140) in steep, dicey terrain. We haven't bent or broken many of the competition's poles, but remarkably we've never snapped a Makalu. Credit goes to a slow heat-treating process that makes the aluminum shafts nearly unbreakable, and an easy-lock system that keeps the telescoping, three-section poles secure. Other proven attributes include sticky concave carbide tips, positive-angle grips that are comfortable all day, and long-lasting shock absorbers.
Contact: Leki. Reader service #121.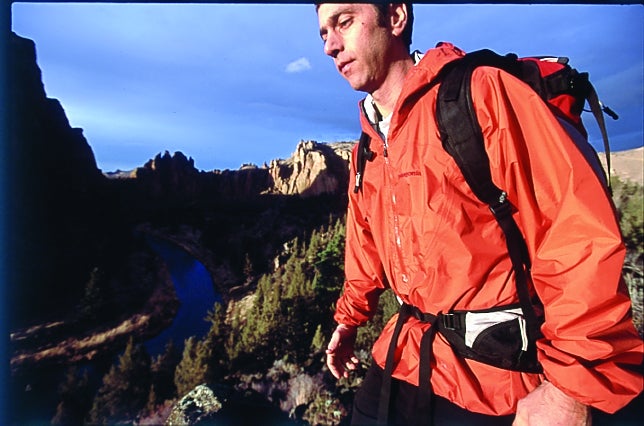 Patagonia PCR Filament Yarn
Your jacket lives again, and again, and again…
Eco-wear arrives for real this year, thanks to a new process that enables textile gurus to turn plastic soda bottles and polyester scrap into high-performance, high-tech fabrics. The new stuff has nothing in common with yesterday's recycled fleece, which proved to be more hype than hit. Patagonia helped develop the new technology and is the only company currently using the recycled materials. We tried the Ridge Runner shorts ($35) and Velocity shell ($95), both of which get a thumbs-up for softness, weight, and speedy drying times. In the future, the revolutionary yarn may appear in everything from rainwear to tents to sleeping bags.
Contact: Patagonia. Reader service #123.
Timberland Water-Based Adhesives
Boot making kicks a toxic habit with a dose of HO.
Your boots have a dirty little secret. Shoe factories must use noxious, solvent-based adhesives to glue outsoles to midsoles. Otherwise, we'd be walking the tread right off our feet. But now you can have a greener shoe without losing your sole. Timberland has pioneered a water-based adhesive that accomplishes the same task without the harsh chemicals. (Nike previously developed the greener glue for athletic shoes, but Timberland is the first traditional boot maker to do so.) The company has implemented the new process in three factories, reducing its solvent use by 54 percent, and hopes to increase that number in the years ahead. Twenty percent of Timberland models currently use water-based cements, including the classic Euro Hiker ($110).
Contact: Timberland. Reader service #122.